Carolina Panthers vs. Philadelphia Eagles: Live Score, Highlights and Analysis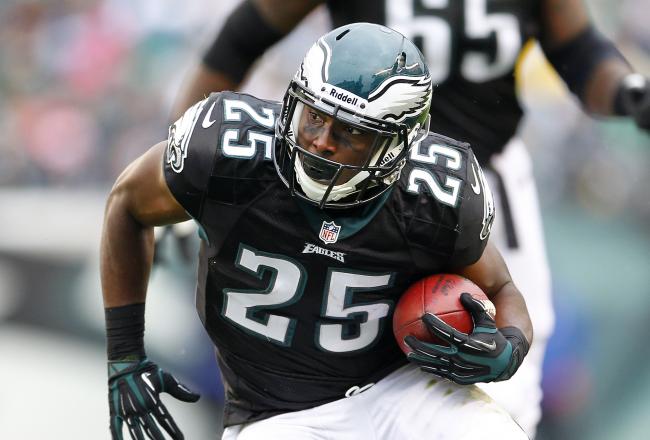 Rich Schultz/Getty Images
Cam Newton and the Carolina Panthers hold off the Philadelphia Eagles, 30-22, for their third win of the season.
To find out how we got to our final score, continue on to my closing thoughts.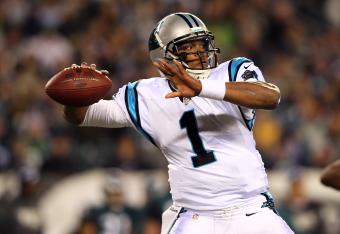 Final Score

Panthers - 30, Eagles - 22
Final Thoughts:
- The Eagles were forced to rely on rookies with so many starters out, and they sure played like it during crunch time. Although Bryce Brown set an Eagles' franchise record for most rushing yards by a rookie with 178 yards, he still lost two fumbles. Mychal Kendricks also sparked a streak of three consecutive defensive penalties against Philadelphia late in the fourth. Brandon Boykin sealed the deal when he lost a fumble on a kickoff after a missed extra point attempt by Carolina.
- Aside from a failed fourth-and-inches attempt by the Eagles, they seemingly dominated the Panthers and ran the ball as they pleased. This is a good sign for a team that has struggled to move the ball all year long, especially if Nick Foles is going to continue as the starter.
- I get the feeling that Andy Reid and his coaching staff are all but done in Philadelphia. The Eagles are still playing with effort. They just aren't playing well or with much discipline. Penalties on offense, defense and special teams have absolutely crippled a team that isn't very good to begin with. For a coach with so much influence on personnel decisions, it's hard to defend him at this point.
- Cam Newton was great to start the game, and even better to end it. He threw for two touchdowns on the Panthers' first two drives, and continued to lead his team in the second half. Newton completed 16 of 28 passes for 306 yards and rushed for 52 yards and two more scores. He commanded the huddle and utilized hard counts to draw the Eagles offsides when it mattered the most. It's these types of games that remind you why he was a former first overall pick. Game ball goes to him.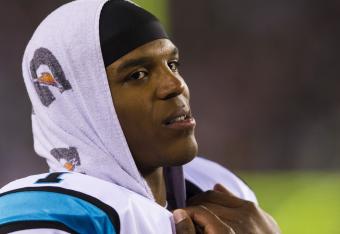 The Panthers take their first knee as they begin to wind down the clock. Ballgame.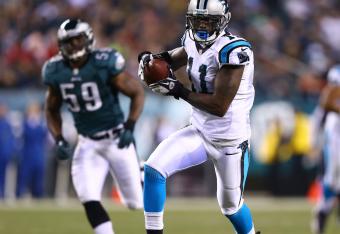 A Louis Murphy first-down all but assures the Panthers of their third victory. He only has two catches on the night, but both have been very timely receptions.
He and Brandon LaFell have hurt the Eagles, who have tried to limit Steve Smith.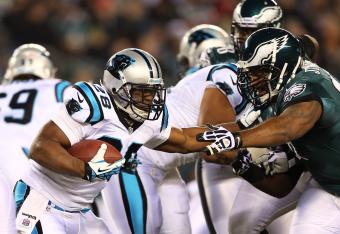 Eagles spend their first timeout with 4:15 left in the game. Signs of desperation.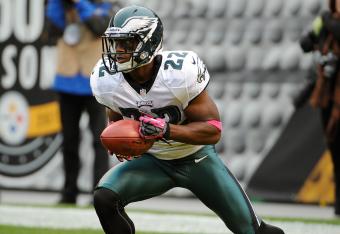 After breaking out a nice return on the ensuing kickoff, Brandon Boykin catches fumblitis and turns the ball over.
The Eagles need to force a turnover here or it just might be done.
4:40 Q4
Panthers - 30, Eagles - 22
Newton adds to his impressive performance and the Panthers' lead with a two-yard run at the goal line.
A missed extra point by Gano leaves it as a one-possession game.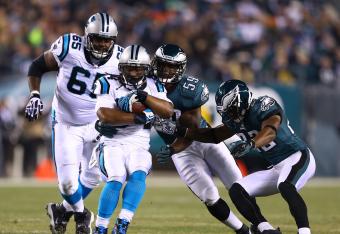 Three pre-snap penalties have given Carolina two crucial first downs. Terrible job by the defensive line when they can least afford it.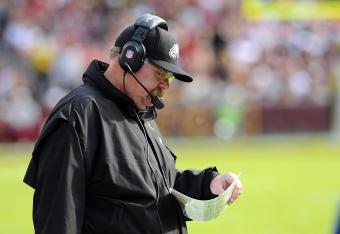 After a failed gutsy call on fourth down, Andy Reid and the Eagles hand over great field position. With Philadelphia running all over the Panthers' defense, I can't say I blame the decision to go for it.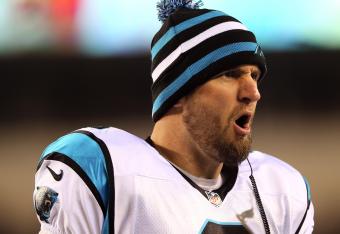 12:40 Q4
Panthers - 24, Eagles - 22
The Eagles hold the Panthers in the red zone and force a Graham Gano field goal.
Thoughts: Philadelphia can't afford any more miscues on offense.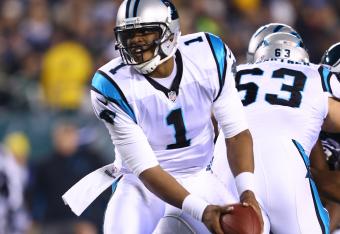 Newton does an amazing job of tucking the ball into his running back and pulling out. Can't fault defenders for biting on those fakes.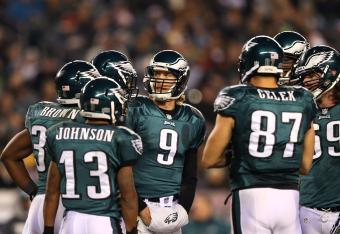 Bryce Brown has lost two fumbles now, but it's still hard to get upset with the way he's carried the Eagles' offensive attack. He just needs to clean it up a bit.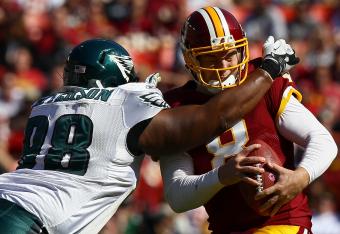 It's good to see Mike Patterson back on the field. It's even better to see him making plays on Newton.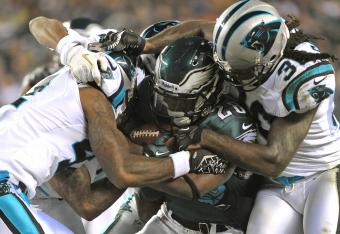 3:30 Q3
Panthers - 21, Eagles - 22
One play after drawing a penalty, the Eagles give the ball to Brown and take it in for a five-yard score. I like Reid's decision here, even though Brown fumbled away his last carry.
Foles has looked iffy all night reading the defense, but this run game should alleviate some pressure off him.
Foles shows off his big arm and throws a beautiful pass 51 yards down the field. Although the pass was incomplete to Maclin, the Panthers were flagged for a penalty.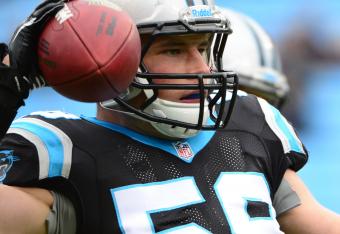 Luke Kuechly shows why he was so highly touted out of college and comes up with a Bryce Brown fumble recovery after whiffing on a tackle.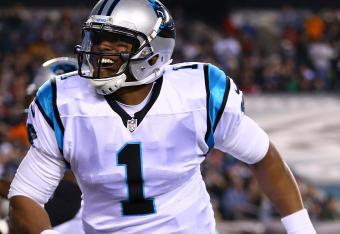 9:13 Q3
Panthers - 21, Eagles - 15
The Panthers score on a one-yard run by Newton. It wouldn't be out of the question if the Eagles assigned someone to spy him on the next drive.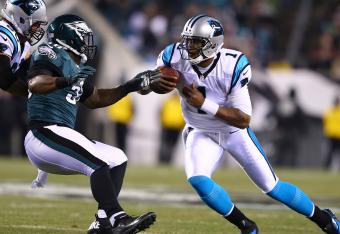 Cam Newton is hurting Philadelphia with his feet. Eagles' defensive ends are lining up very wide and are having a difficult time getting to Newton in the backfield.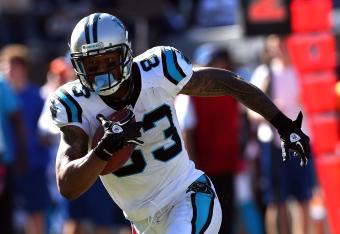 Dominique Rodgers-Cromartie gets burned by Louis Murphy for a 55-yard completion. To make things worse, DRC was also flagged for a pass-interference.
Philadelphia corners have been penalized way too many times this year.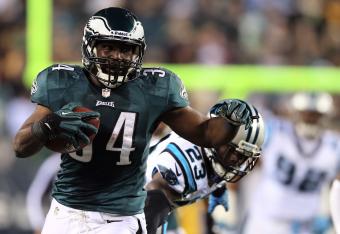 Halftime
Panthers - 14, Eagles - 15
After a dreadful first quarter, Philadelphia's defense clamps down and shuts Carolina out during the second period.
DeSean Jackson, who was injured on a reverse during the first quarter, is doubtful to return to this contest. This leaves Jeremy Maclin, Riley Cooper and Damaris Johnson as Andy Reid's only receivers.
Bryce Brown has done an admirable job carrying the load, rushing for 129 yards and a touchdown on only nine carries. How Reid uses him in the second half will heavily influence the results of this game.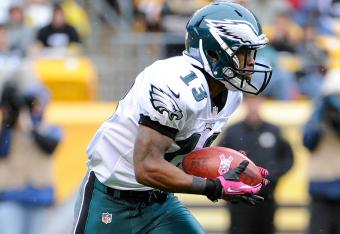 Damaris Johnson has done a nice job returning punts this game, and by drawing a penalty, sets the Eagles up nicely for what should be their final drive.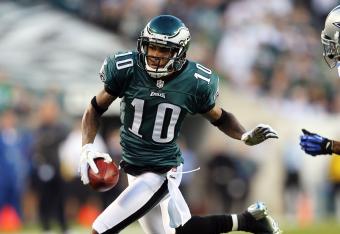 DeSean Jackson's return is doubtful after suffering a sternum injury.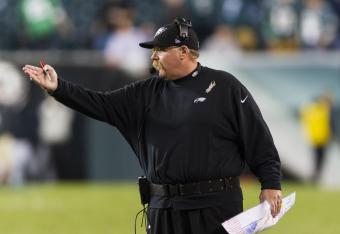 3:20 Q2
Panthers - 14, Eagles - 15
Henery converts from 45 yards out and gives Philadelphia its first lead of the game.
Thoughts: The second-year kicker looks way more confident and it shows in the way he's driving the ball. The Eagles invested a fourth-round pick in him last season and it's starting to pay off.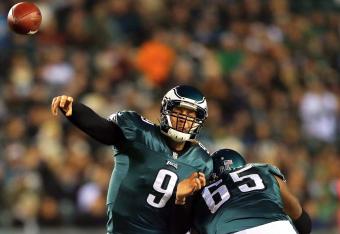 By my count, that's three times Foles has been lucky and avoided an interception. He needs to read the secondary better or else it's going to cost him.
Dion Lewis has taken a back seat to McCoy and Brown this season, but he's making the most of his opportunities tonight.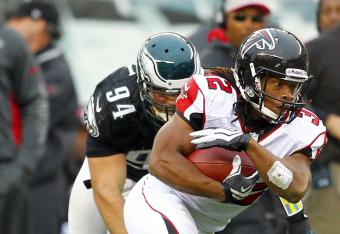 Derek Landri was a very productive player in 2011 and earned himself a starting spot with a strong preseason performance. Good to see him make a play in the Panthers' backfield.
This article is
What is the duplicate article?
Why is this article offensive?
Where is this article plagiarized from?
Why is this article poorly edited?

Philadelphia Eagles: Like this team?