10 MLB Teams That Won't Spend Big This Offseason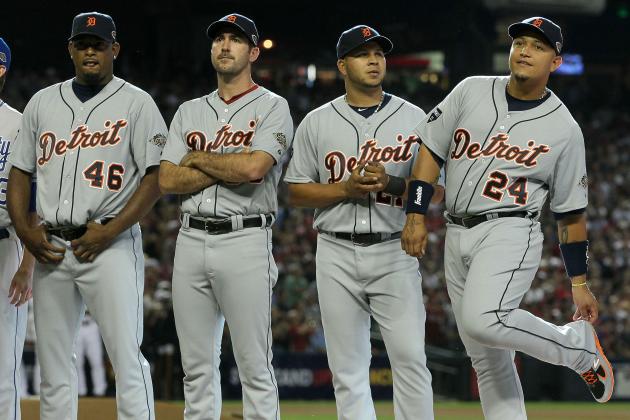 Jeff Gross/Getty Images

With MLB winter meetings just a week away, baseball fans and franchises alike are preheating their hot stoves.
There are not many big names on the free agent market this season, but those that are have All-Star resumes.
Some of the most notable are Josh Hamilton and Zack Greinke.
However, in a year where we saw an abundance of competitive parity, many teams are poised to stand still and prepare for the 2013 other ways.
Here are ten teams that may keep their checkbooks in their pockets this offseason.
Begin Slideshow

»
Jared Wickerham/Getty Images

The Boston Red Sox seem to have acknowledged their past two offseasons as cautionary tales for the future.
Having dodged a $250 million bullet in August by trading Josh Beckett, Adrian Gonzalez, Carl Crawford and Nick Punto to the Los Angeles Dodgers, Ben Cherington was able hit a reset button.
This does not mean that the Red Sox will not be active on the free agent market—they have already signed outfielder Johnny Gomes—it just means that they will be more responsible.
That means paying players their due, but not getting weighed down by seven-year deals that can handcuff the team to a failing player.
They have waivered on this slightly—signing David Ortiz without any comparable market—but still, their interests outside Boston have stood true to this mantra.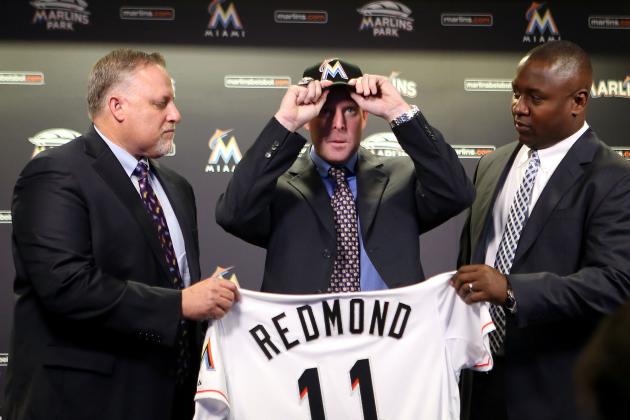 Marc Serota/Getty Images
New Manager Mike Redmond
The Miami Marlins are in a similar position to the Red Sox.
Their blockbuster deal—sending, most notably, Josh Johnson, Jose Reyes and Mark Buehrle, among others—to the Toronto Blue Jays relieved the Marlins of $146.5 million is contracts.
Perhaps the Marlins thought they were in a bigger market than they actually are.
There was an attempt to re-brand the franchise and focus on Miami's Cuban-American fan base, but that did not go as well as one would hope.
That leaves Miami at this point: trading their biggest names and entertaining questions about their stud right fielder, Giancarlo Stanton.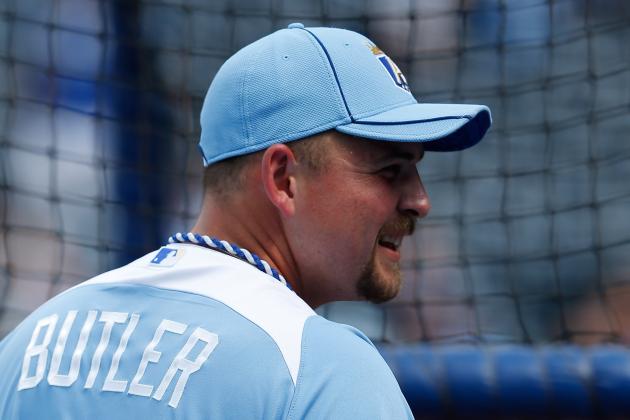 Jamie Squire/Getty Images

No team has epitomized a small-market team more than the Kansas City Royals.
Finances have forced their hand into letting players like Zack Greinke and Carlos Beltran walk, recently. Now, Billy Butler is developing similarly.
Major League Baseball has tried to induce an influx of revenue into lower-earning franchises by awarding them hosting rights for the All-Star Game.
Not much was earned by the team itself, as they only managed to break even and even the money the MLB did give them was re-invested in the community.
Still, the Royals have already made smaller deals, acquiring Jeremy Guthrie. For now, it seems the Royals will trend towards small signings and trades.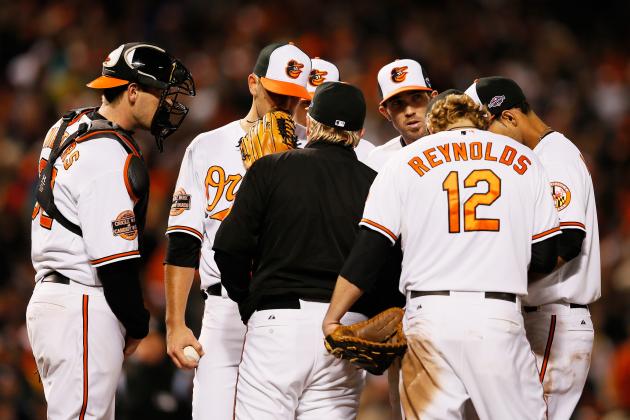 Rob Carr/Getty Images

The Orioles appear set to continue being competitive in 2013.
Having nearly knocked off the New York Yankees—both for the division and in the playoffs—there are no glaring holes that suggest they cannot do it again.
They have an All-Star closer in Jim Johnson and strong, youthful production from Manny Machado. Unless they sign a front end starter to complement Jason Hammel and Chris Tillman, the Orioles look prepared to stand pat.
Jim Bowden of ESPN Radio tweeted that Dan Duquette did not have interest in making "high ticket" moves, even though there has been talk of the Orioles' interest in Josh Hamilton. This stance is consistent with the Orioles' needs moving forward.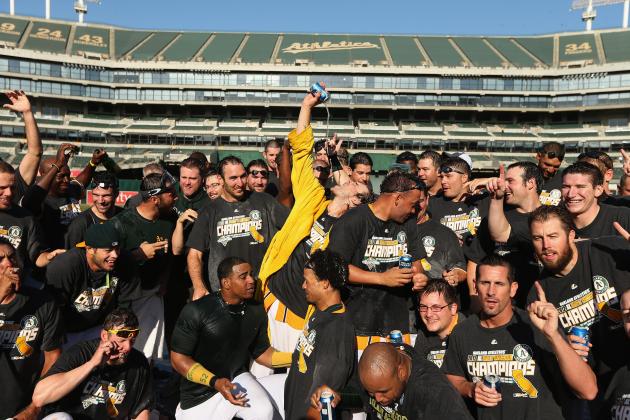 Ezra Shaw/Getty Images

The Oakland A's proved once again this season that they can be dominant without breaking the bank.
Despite having the Major League's second-lowest payroll in 2012, they had the second-most wins in the American League. They also managed to outlast the Rangers for the division.
There was no lack of production from this economic team, either. The 3.48 staff ERA was the sixth-best in baseball and the A's hit the most home runs in the second half of the season.
All of this, with players that seemed washed-up, like Coco Crisp and Brandon Inge, mixed with trade sleepers like Josh Reddick.
It remains to be seen how far a team built on sabermetrics can last, but 2013 should help to show us.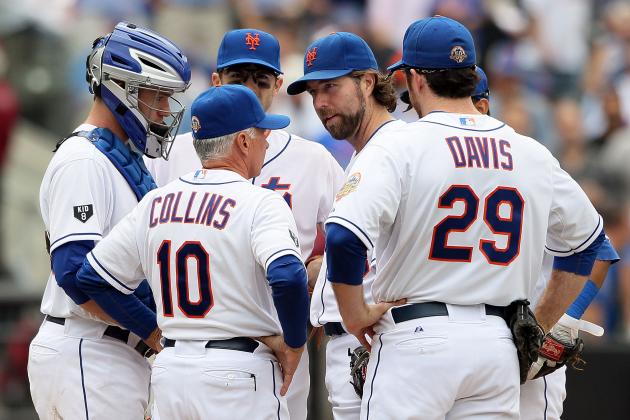 Alex Trautwig/Getty Images

At least one team in New York will not be breaking the bank this offseason.
The Mets have already picked up options on R.A. Dickey and David Wright, but the big question on the future of those players will be answered next season.
For now, the Mets cannot fix all of their problems through free agency and should avoid risky moves in an attempt to do so.
Instead, there is a market for players like Ike Davis and Daniel Murphy. A trade involving either or both of these players could help the Mets build to 2014.
Rob Carr/Getty Images

The Washington Nationals should be content with their spending for a little while.
They signed Jayson Werth two winters ago and brought in Gio Gonzalez and Edwin Jackson a year ago. They also signed Ryan Zimmerman to a contract extension in February.
Now, with all of these players and a healthy Stephen Strasburg, the Nationals will look to do what they could not this season: reach a World Series.
The only real question mark for the Nats right now is whether they will be able to retain Adam LaRoche. If not, their money will be spent to find his replacement.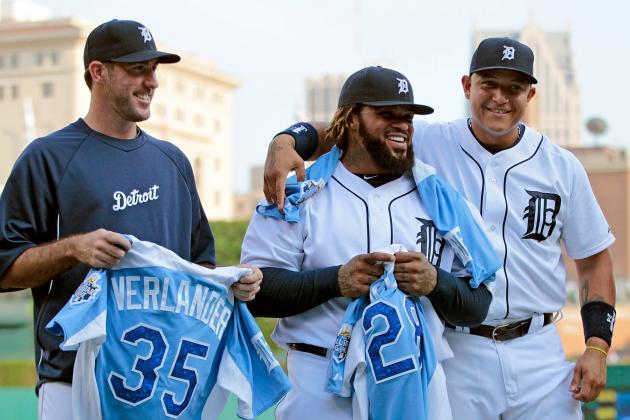 Leon Halip/Getty Images

What more could you ask for with a clubhouse that includes Justin Verlander, Prince Fielder and Miguel Cabrera?
How about a championship? Okay, outside of that, there is not much to fix for the Tigers.
They did sign Torii Hunter already this offseason—two years for $26 million.
Otherwise, the only question is Jose Valverde, who could not seem to find his groove in 2012 the way he had in 2011.
Ben Nicholson-Smith paraphrased Buster Olney's analysis of this, where it was suggested that the Tigers would rather look internally for a solution.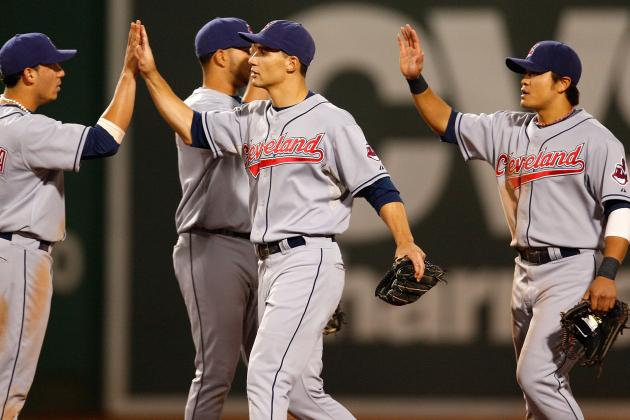 Jim Rogash/Getty Images

So far this offseason, the Cleveland Indians have appeared as sellers.
They are cautiously shopping shortstop Asdrubal Cabrera and outfielder Shin-Soo Choo. Each should yield a high level of interest and value around the league.
Justin Masterson could be trade bait as well, given that he has potential, but struggled this season.
Nevertheless, all of these players still have value to the Indians, should they choose to go into 2013 with them. Likely, they will only be dealt if the return puts the Indians in a more competitive position annually.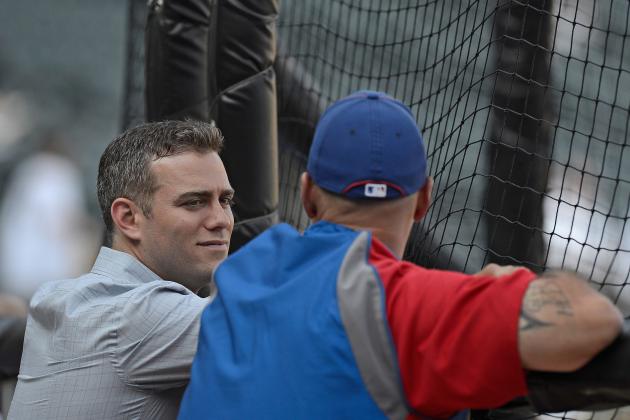 Jonathan Daniel/Getty Images

In Chicago, Theo Epstein seems confident that the Cubs will be competitive soon enough, but that time is not quite yet.
It is going to be a comprehensive rebuilding process at Wrigley and, if the Cubs are going to win a World Series in the near future, some of those players may yet to be major-league ready.
That means that the Cubs are not in the running for a player like Josh Hamilton, who have power and production, but not as a piece to build on for several years.
We have already seen the Cubs try to build through trades, when they moved Ryan Dempster at the deadline in July. At the time, there were even several teams that Dempster was reported to end up with, demonstrating how Epstein valued Dempster as a trade chip.
I expect to see an influx of young players and prospects to Chicago in the next year and a half, but not through big-name, immediate-impact signings the way Epstein was known to do in Boston.