5 Solutions for the L.A. Lakers' Biggest Flaws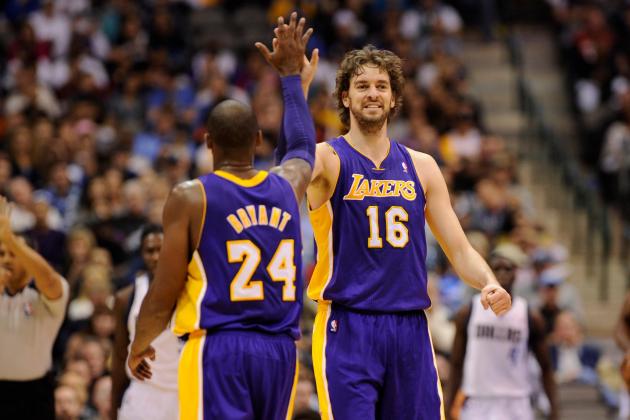 Jerome Miron-US PRESSWIRE

With the Mike D'Antoni era officially underway, there is no doubt that the L.A. Lakers have several flaws to rectify.
With two impressive wins over the Brooklyn Nets and Dallas Mavericks and two equally unimpressive losses to the Memphis Grizzlies and the Sacramento Kings during D'Antoni's tenure, the Lakers continue to be the model of inconsistency.
There has never been any debate among NBA fans regarding the enormous amount of talent on this team.
However, after a winless preseason and a .500 winning percentage during the first 14 games, there is a hint of uncertainty in the air.
If the Lakers are to be successful, they are going to have to rectify their flaws within the next few weeks in order to make a push up the standings.
Stats are accurate as of Nov. 25, 2012.
Begin Slideshow

»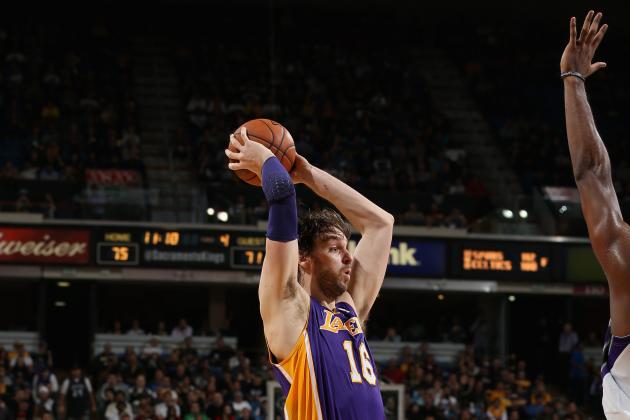 Ezra Shaw/Getty Images

After going through some adversity, Mike D'Antoni decided to show Pau Gasol some tough love.
Although Phil Jackson has often utilized the press to send messages to his players, Mike D'Antoni's sarcastic remark seemed to be saturated with a disrespectful aura towards Gasol, a two-time champion.
Although known to play tentatively in stretches, especially when his role in the offense isn't clearly defined, Gasol responds best to a respectful approach.
Although D'Antoni did do some damage control when referring to the move as a coaching decision to accommodate the hot hand, it is clear that D'Antoni feels Gasol isn't a tailor-made fit for his system.
To fit into D'Antoni's system, Gasol has to rely more on his jump-shooting ability to stretch the floor and allow for pick-and-rolls to occur between Dwight Howard and Steve Nash once he returns.
However, this would marginalize Gasol's greatest skills.
Though Gasol is a proficient shooter who has shown that he can hit the three when left completely wide open for a long period of time, his skills all center around his ability to play in the post.
With one of the softest touches in the league and with very good passing ability, Gasol is a very effective and versatile player from both the high and low posts.
With D'Antoni emphasizing the use of Howard in pick-and-rolls and in the paint, Gasol's greatest skills won't be utilized.
Although the flow of the offense and the efficiency of the system is very important to playing winning basketball, there is no way that mitigating the skill set of a former champion and multiple-time All-Star still playing high-level basketball is prudent.
In order for the Lakers to succeed with Gasol, something drastic may have to occur.
By bringing Gasol off of the bench, he will sacrifice some minutes in order to be the focal point of the second unit.
Though it seems foolish to have an All-Star with such a high salary like Gasol come off of the bench, it may be the best decision if his full skill set can't be utilized in the starting unit.
Gasol's impact in the second unit would be great for the D'Antoni system as a whole.
Antawn Jamison would be an ideal starter for D'Antoni with his ability to stretch the floor and allow Howard his space in the paint.
Furthermore, the bench's lack of a creator and consistent offensive threat would be null and void if Gasol conforms to a bench role.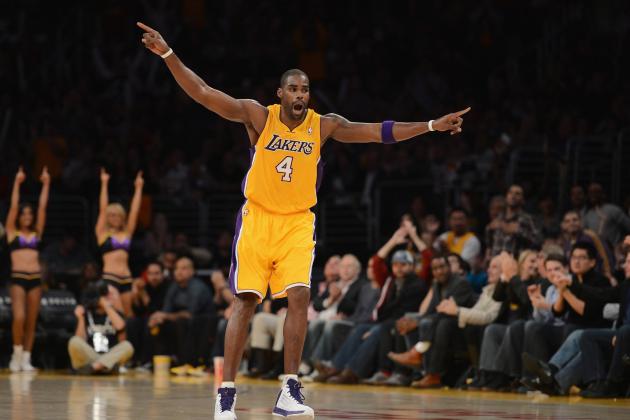 Harry How/Getty Images

There isn't much more that needs to be said.
Assuming Gasol won't be relegated to the second unit, the bench still needs to produce in order for the L.A. Lakers to have a steady stream of offense.
Though Antawn Jamison has had flashes of excellence in Mike D'Antoni's system thus far, the Lakers will continue to have a hard time producing consistent offense without a creator off the bench.
However, D'Antoni's run-and-gun system should allow for easier shots for jump shooters such as Jodie Meeks, Jamison and Steve Blake.
There is no doubt that for a team with lack of depth in their roster like the Lakers, the starters are going to play a majority of the minutes.
The rest the starters get will be determined by whether the bench can produce on both ends during their tenure on the court.
With defensive stalwarts in Meeks and Jordan Hill, the Lakers have the potential to hold down the paint and the perimeter for short stretches while the starters garner rest.
Furthermore, with Jamison's bursts of productivity since D'Antoni's signing, all trends seem to point towards increased bench productivity in D'Antoni's system.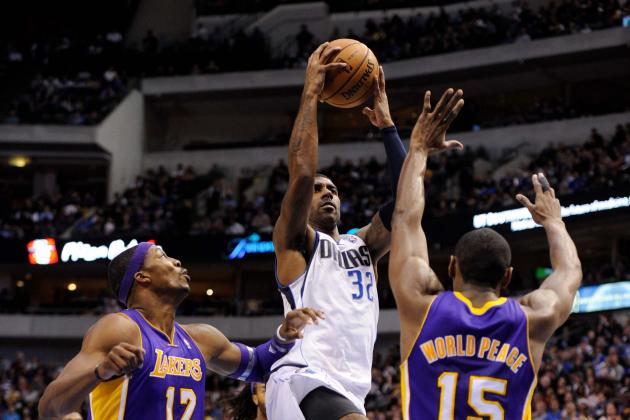 Jerome Miron-US PRESSWIRE

Defensively, The Lakers have allowed 99.5 points per game during the first four games in the Mike D'Antoni era.
Furthermore, in their last three games, they've allowed 102.7 points, which is good for 23rd in the league in opponents' points scored.
Probably the most glaring weakness is their points allowed in the paint, which sits at 42 points per game in the last three.
Although the team is still in flux following the coaching change, it figures that once two defensively challenged guards in Steve Nash and Steve Blake return, the Lakers will be even more susceptible to dribble penetration.
The clear solution to most dribble penetration issues and defensive breakdowns is to be bailed out by the anchor down-low.
Though Dwight Howard is perhaps the best shot-blocker and help defender in the league, he is still working himself back into form from a back injury.
Though he has put up excellent numbers thus far, it is clear that his timing and defensive instincts are off as his back is still hindering his movement.
With Howard still recovering, the only solution to this issue is weathering the storm while the former defensive juggernaut returns to form.
The Lakers have succeeded in the past with an elderly Derek Fisher acting as their defensive liability, and there is no reason they cannot do the same.
The reason for their defensive successes in the past stemmed from a very large interior presence.
Andrew Bynum and Pau Gasol may not be the most mobile big men, but they definitely were big enough to enforce the paint.
Whether the Lakers forced players baseline or funneled them into the paint and closed in on them, the big men acted as large bodies that acted as huge roadblocks for the opposing offense.
With Howard's timing and instincts being limited, he is going to have to use his size and strength more on both ends of the court rather than relying too much on mobility.
Despite these issues, Howard is still mobile enough to be an effective pick-and-roll defender, and the Lakers should be able to rectify themselves on defense as the team becomes more familiar with D'Antoni's system.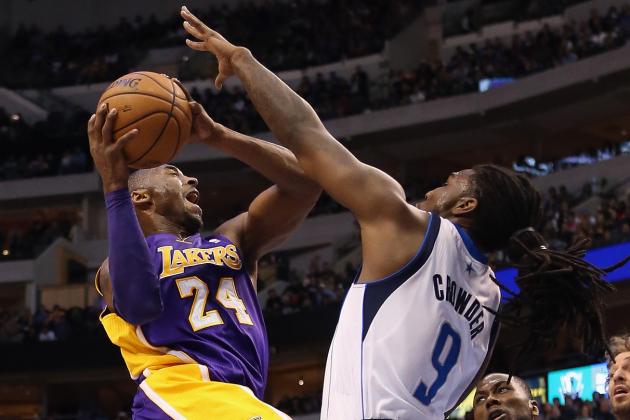 Ronald Martinez/Getty Images

Since Steve Nash has been sidelined, Kobe Bryant has been charged with initiating the offense and creating opportunities for his teammates.
Though Bryant has proven his ability to make his teammates better by accumulating at least five assists in nine contests, he has only taken 17.6 shots per game, his lowest output since his third season in the NBA.
Though some may see this as a positive trend, there is no doubt that Bryant is one of the best in the history of the league in putting the ball in the basket.
Players respond to trends, and if Bryant continues to mitigate his shot attempts in favor of a more balanced effort, it may be beneficial to D'Antoni's offensive system, but it will hurt the Lakers in clutch situations.
During the playoffs, when the pace of the game slows down and teams get more physical, they are going to have to rely on more Bryant isolations when the offense breaks down.
With this being said, players' tendencies and skills are like knives. In order for the knives to remain deadly, they have to remain sharp. Similar to how knives get dull without being sharpened, Bryant will have a harder time being as deadly in isolations without as many touches.
Of course, a player with Bryant's will and clutch gene will always be able to create his own shot.
However, consider Dwyane Wade's step-back in clutch effectiveness due to his deference to LeBron James. Bryant may see a similar step-back if he doesn't get the shots he is accustomed to.
The Lakers should be taking advantage of Bryant's career-high 51 percent shooting due to more attention being paid to the offensive weapons around him.
This may become a non-issue once Steve Nash comes back.
Like Bryant says, he can go back to focusing on scoring the basketball once the Canadian point guard makes his return.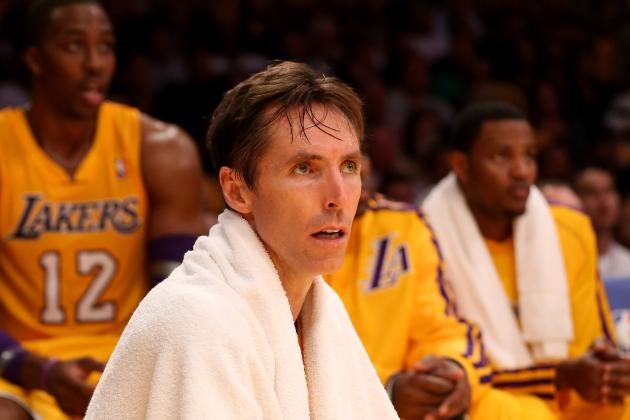 Stephen Dunn/Getty Images

For the L.A. Lakers to be an elite team on the offensive end, they need Steve Nash back.
Though the current roster is loaded with talent, D'Antoni and the rest of the roster agree that Nash is essential for the success of the Lakers.
D'Antoni's system is tailor-made for a player with Nash's skills.
The run-and-gun, pick-and-roll focused offense works best with a dominant big man like Dwight Howard and a long-range shooter and excellent passer in Nash.
Furthermore, Nash is one of the best transition creators and is very proficient at driving and kicking the basketball in the half-court set.
In summation, if the Lakers can get Nash back to 100 percent, all of their offensive woes will smooth out.
Nash is a veteran who knows how to get players shots where they want it and control the offense.
It isn't a stretch to say that the offensive issues with Pau Gasol and Kobe Bryant's wish to focus primarily on scoring can all be resolved with Nash back at the helm of the offense.
Furthermore, players tend to play better defense when their offensive games are clicking. Thus, Nash's impact on offense and the increased effort the Lakers will exert on defense might mitigate Nash's defensive deficiencies.