Baltimore Orioles: 5 Reasons Why They Will Be Tough to Beat in 2013
Mitchell Layton/Getty Images

Coming off their first winning season in 15 years, the Baltimore Orioles will be out to prove they aren't a fluke in 2013. Having consecutive winning seasons won't be easy, but it is far from impossible.
Even if the O's don't make any major transactions like their division counterparts, they should still be able to continue their success.
The O's will stick to their strengths in 2013, which if last season is any indication, will make them a tough team to beat. Here are the five main reasons why the O's will be competitive next season.
Begin Slideshow

»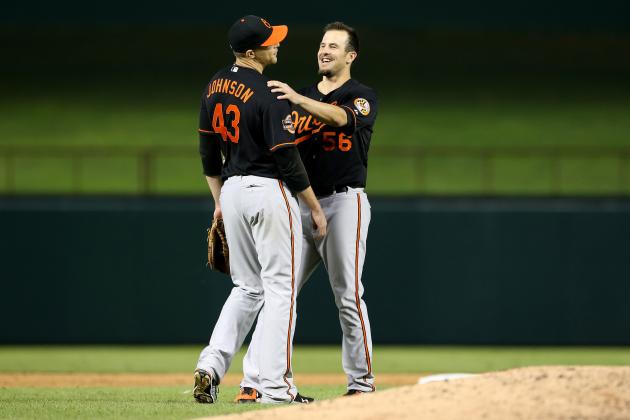 Ronald Martinez/Getty Images

One of the most underrated commodities in professional baseball is a team's bullpen.
The bullpen was the biggest strength for the O's in 2012, ranking third in the AL in bullpen ERA. However, that stat is misleading...they were better than that. Their record last season was 32-11. Thirty-two wins is not only the most amount of wins by a bullpen in the AL, but 11 losses is also the least.
Baltimore also led the AL in saves last season with 55, and their phenomenal record in one-run games is an indication of how dominant their bullpen was
They almost single-handedly won the O's the ALDS against the Yankees, but the offense can't score runs as well as the bullpen prevents them.
With the likes of Darren O'Day, Luis Ayala, Pedro Strop, Brian Matusz, Troy Patton, and Jim Johnson, the O's bullpen should be as nasty as it was last year.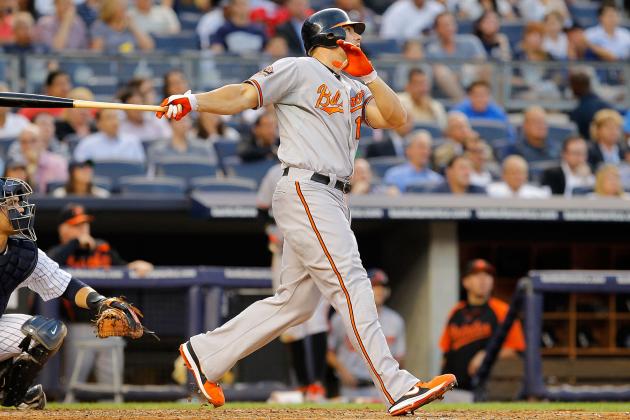 Jim McIsaac/Getty Images

The O's are good at hitting home runs...and they have to be.
No one is going to confuse the Orioles for a good contact hitting team. The O's were third in the AL with 1,315 K's. Somehow, the A's and the Rays struck out more than that, which is slightly ridiculous.
If you're going to strike out that much and hit a measly .247 as a team, you better be able to hit home runs. So that's what the Orioles did, and they hit a lot of them.
To be exact, they hit 214 in 2012, which was good for second in all of baseball behind only the Yankees.
The Orioles will look to improve on their contact numbers in 2013, but the power numbers will continue to be there.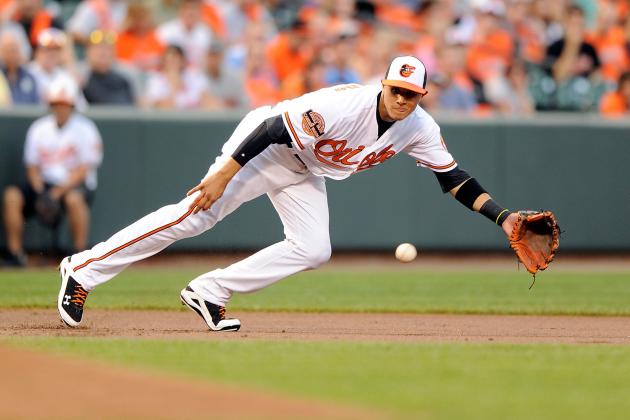 Greg Fiume/Getty Images

Before Manny Machado's call-up in early August, the Orioles were not a very good defensive team. Moving Mark Reynolds across the infield to first base and letting Machado play the vacant third base seemingly solved the Orioles defensive problems.
Looking into next season, the O's should continue to be a good team defensively. As of right now, the Orioles will have four Gold Glovers in their lineup next season: Nick Markakis, Adam Jones, Matt Wieters and JJ Hardy. They could also add a fifth if they re-sign Nate McLouth.
As long as Mark Reynolds or Wilson Betemit do not play third base for the Orioles, they will be fine on the field in 2013.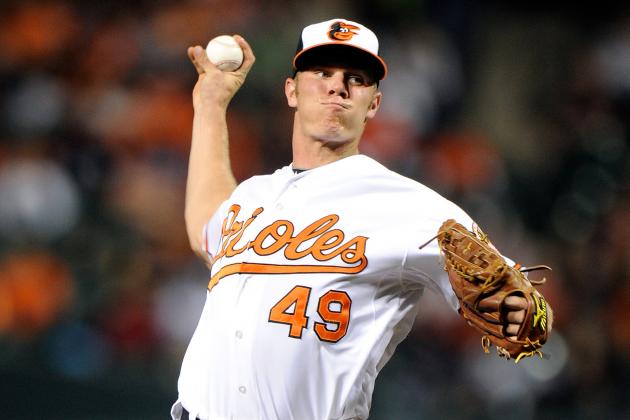 Greg Fiume/Getty Images

They Orioles have a decent amount of prospects who could make an impact in 2013. The biggest name of those is pitcher Dylan Bundy.
Bundy was dominant in his first season in pro baseball. The 19-year-old made his way from Single-A to Double-A before eventually being called in September for a couple of relief appearances. He will be at spring training this March, but will likely start the season in Double or Triple-A. However, he will almost certainly make some sort of impact later in the season for the O's.
Other than prospects, the Orioles are still a rather young team, with most of their key players being in their prime. Excluding the oft-injured Brian Roberts, the oldest player in the Orioles' starting lineup is JJ Hardy, who is only 30.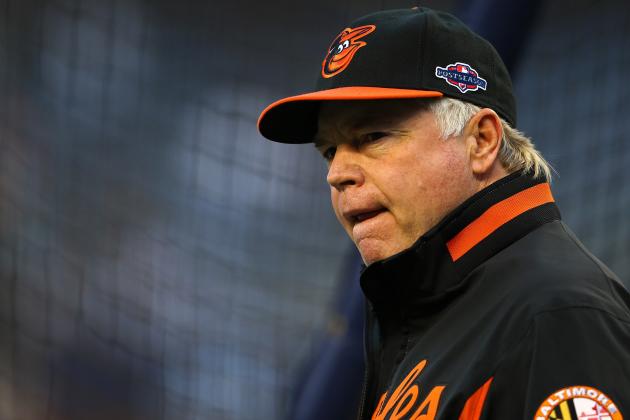 Al Bello/Getty Images

Dan Duquette and Buck Showalter worked wonders in 2012. The Orioles made some incredibly useful transactions last season, none of which were flashy by any means.
Preseason signings like Darren O'Day, Luis Ayala and Wilson Betemit went under the radar, but they all worked out well during the season.
Duquette didn't stop signing players in the preseason, as midseason minor league deals eventually paid off. The likes of Nate McLouth, Lew Ford, and Bill Hall all contributed by some means to the Orioles' playoff run.
In total, the Orioles used 52 different players in 2012. With the managerial skills of Buck Showalter, even if Duquette decides to make that many moves in 2013 and use that many different players, the Orioles should be fine nonetheless.