Hector 'Macho' Camacho: Remembering 10 Greatest Fights of His Career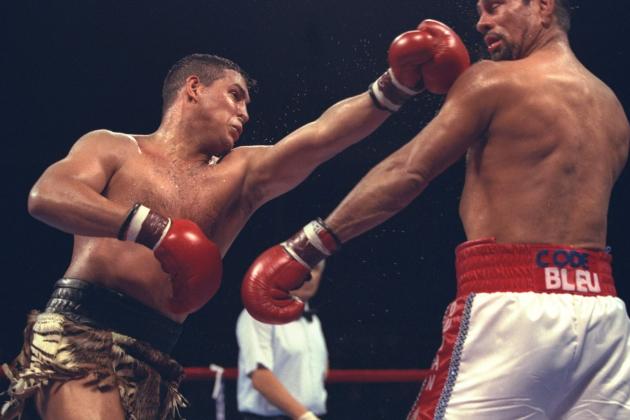 Al Bello/Getty Images
Hector Camacho fought in a very flashy style, showcasing his vastly superior hand and foot speed.
Hector Camacho believed in his fighting ability. He believed in himself so hard that he grew a mouth the size of his native Puerto Rico to promote this ability.
Despite being in a time of the likes of Mike Tyson and Sugar Ray Leonard, his brilliance as a salesman gave him the opportunity to become one of the brightest stars of his generation..
Success doesn't last long for salesmen who don't have a product worth selling. Camacho's fights were nothing short of violent performance art.
In a flurry of hand speed and style, Camacho could overwhelm his opponent and impress audiences around the world. Here are Camacho's 10 best ring performances.
Begin Slideshow

»
Sugar Ray Leonard would come back for one final fight against Camacho before finally hanging up his gloves in 1997. Camacho would become the only fighter to stop Leonard inside the distance.
A lot has been made about Leonard's age of 40 at the time, but boxing revisionists tend to forget that Camacho himself was in his late 30's and no spring chicken himself.
Camacho had almost twice as many fights as Leonard, yet was only a handful of years younger. In a battle of the bruised and battered boxing senior citizens, Camacho proved he could thrive a little longer past his expiration date.
Camacho suffered his first defeat at the hands of Greg Haugen. The loss was a very thin one, as Camacho was deducted a point for refusing to touch gloves at the start of the final round.
It was only right that Camacho get his rematch. When he did, he made the most of it and avenged his first loss by split decision.
Camacho gave a 45-year-old Roberto Duran fits in a 1996 meeting at middleweight. With his legs significantly gone by this point, a 34-year-old Camacho stood toe to toe with Duran.
"The Hands of Stone" still couldn't touch him. They would rematch again at super middleweight in 2001, but Camacho would prevail once again by unanimous decision.
Camacho fought the extraordinarily dirty Vinny Pazienza. Camacho out-slicked and out-boxed Pazienza's ears off. He had to in order to back up the truckloads of trash he talked to hype the fight.
Pazienza used his head and elbows as usual, but Camacho was undeterred while earning a unanimous decision to defend his light welterweight world title.
Against an 81-0 Julio Cesar Chavez, Camacho proved he had a chin even in a fight that he lost by far.
No matter how much leather Camacho ate, he still got into exchanges and tried to make something happen.
Unfortunately, he couldn't. Chavez was just the bigger, better fighter. No shame in that.
Camacho was matador to Ray Mancini's bull. A few quick jabs and a sidestep later, and Camacho was always out of dodge before he could be gored by the horns of Mancini.
Mancini would lay his powerful hands on Camacho every now and then, but a sturdy Camacho held up against one of the pound-for-pound hardest punchers of that era.
Camacho was old. Coming off a knockout victory over an also-old Sugar Ray Leonard, the world would not have blamed Camacho if he decided to continue touring the Senior circuit.
Instead, Camacho decided to give a young gun a shot. A 24-year-old Olympic gold medalist in Oscar De La Hoya proved to be too much for Camacho to fend off, but boy, did he give a spirited attempt.
Camacho razzled and dazzled with his footwork, showing that even as he was slipping further from his prime, he could still hang with the best of the next generation.
They call him "Bazooka" for a reason. Limon was supposed to be able to blow Camacho away, but in his first 130 lb. championship fight, Camacho used accurate, fast punches to blow Bazooka away Round 5.
Limon tried to hold on, but those fast hands from a prime Camacho were unstoppable. Punches came from every direction and constantly. Sharp and accurate equaled deadly for Limon.
Rarely had Camacho faced anyone with as sturdy a chin as his. Against Jose Luis Ramirez, he faced just that, a warrior with a chin made of stone.
Camacho's hand speed made the difference, and he managed to knock Ramirez down in Round 3 en route to a unanimous decision victory to win the lightweight world title.
Ramirez, someone with enough power to put away Hall of Famer Edwin Rosario in four rounds, just couldn't touch the ever-flashy Camacho.
The best way to measure the greatness of a fighter is study his reaction to intense adversity. Camacho survived the ultimate test when Edwin Rosario wobbled him in the fifth round of their world title clash.
The lightweight world championship looked like it could change hands, as Camacho stumbled back and ate a few more lefts while trying to get his whereabouts.
Camacho still found ways to block, parry and maneuver out of the way of enough shots to survive, recover and deliver a fantastic performance that earned him the split decision nod.
Rest in peace, Camacho, and thanks for the memories.
For more, hit me up on Twitter at @justindavidtate.