3 Reasons the Atlanta Braves Can Win It All in 2013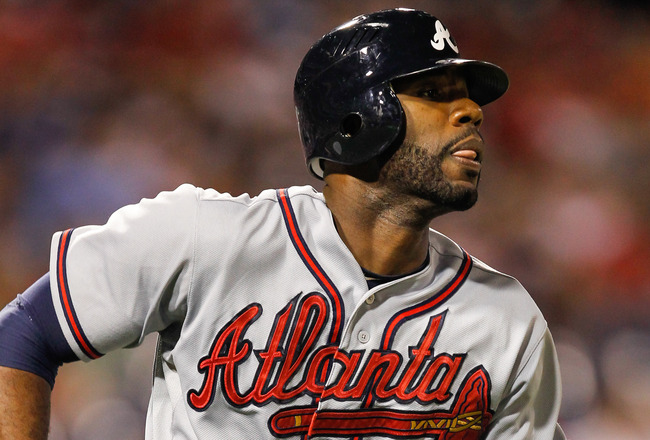 Brian Garfinkel/Getty Images
I thought 2012 was going to be Atlanta's year. Call me a romantic, but I thought it all the pieces were in place to send Chipper Jones out a winner.
Kris Medlen and Mike Minor had emerged as aces, Jason Heyward had reminded Braves fans why they were so excited about him one year previously and Chipper himself was playing out of his mind.
So naturally, when the Braves fell to the Cardinals in the Wild Card showdown, I immediately thought of the young Washington Nationals and how they might very well have a choke hold on the National League East for the next half-decade.
However, with the Winter Meetings right around the corner, I am starting to see that Atlanta's window has not closed at all.
Yes, moves will have to be made, but don't count Atlanta out in the World Series hunt in 2013.
Wildly Underrated Pitching Staff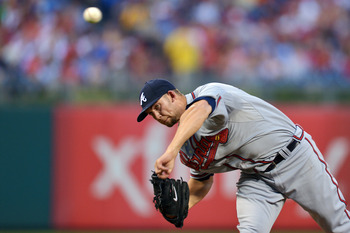 Drew Hallowell/Getty Images
If you were to name the top five pitching staffs in baseball last year, who would you list? Tampa Bay, Washington, San Francisco, Cincinnati and maybe Detroit?
Well, this may be anticlimactic, but Atlanta's staff was responsible for the fifth-lowest ERA in baseball last season. They were also fourth in WHIP and batting average against.
And that was with a revolving door at the fifth spot in the rotation, one that shifted (unsuccessfully) between the hands of Randall Delgado, Tommy Hanson and Jair Jurrjens.
When 2013 rolls around, staff anchor Tim Hudson (perhaps the most underrated pitcher in the game) will steadily lead a rotation headlined by serendipitous ace Kris Medlen (who definitely can sustain top-of-the-line production, albeit perhaps not with an ERA under one again) and Mike Minor (he of the 2.16 second-half ERA).
Rounded out by Paul Maholm, who supplied a steady 3.54 ERA for Atlanta since acquired from the Cubs.
The final spot will most likely be a three-way competition between Tommy Hanson, Randall Delgado and Julio Teheran. Hanson might win the spot simply by virtue of Atlanta boosting his trade value, but Delgado and especially Teheran carry more upside should they step it up in Spring Training.
This is a very good rotation only getting better, setting up for the best bullpen in the game.
Yes, I went there.
Craig Kimbrel is unequivocally matched in his ninth-inning superiority, Eric O'Flaherty has put up a three-year stretch of a 1.59 ERA and Jonny Venters, after recording a 1.89 ERA his first two years in the big leagues, struggled with injury early in 2012 but got back to his filthy ways in the second half, posting a 1.71 ERA.
Who is going to score runs off of these guys?
Comeback Seasons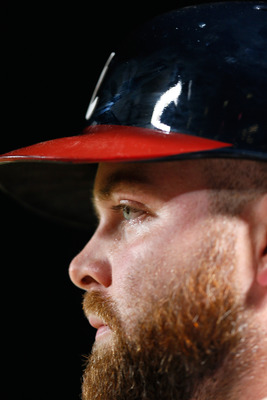 Kevin C. Cox/Getty Images
Brian McCann, through whom everything in Atlanta runs nowadays, did not have a very good 2012 campaign, to say the least. He played through his shoulder pain admirably, but he wasn't able to drive his swing through with any authority, and his dramatic drop in ISO (from .195 to .169) painfully shows this statistically.
While he could miss a month or so rehabbing from his successful shoulder surgery this offseason, the McCann that will return to the Braves will be the McCann that we've all grown accustomed to and his resurgence will prove to be a mighty asset for the Atlanta lineup.
Another candidate for a comeback season, Dan Uggla has actually still been a valuable commodity at second base for the Braves, tallying up a 6.0 WAR over the past two seasons. The increasing strikeout and pop-up rates and the ISO drop are concerning, but his walk rate actually took a turn for the better last season and his line drive rate is at a career high.
He is quite the perplexing case, but should his positive indicators tell the underlying story of Uggla's future career direction, we could witness a return to prominence for Uggla.
Finally, we get to Brandon Beachy. Having a truly dominant year before Tommy John surgery sidelined him the rest of the 2012 season, Beachy was missed very much by the Braves staff.
However, he will likely return to the rotation after the All-Star Break, and could give Atlanta a much-needed second-half lift, much like the way Kris Medlen stepped in during the 2012 campaign.
Frank Wren Will Go to Work on the Lineup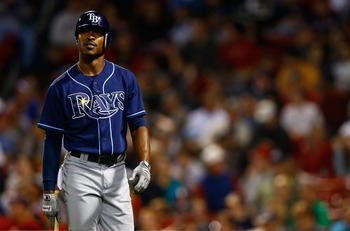 Jared Wickerham/Getty Images
Looking at the present roster, it's not hard to have serious questions about the Braves lineup.
Brian McCann will likely miss the first month of the season rehabbing from shoulder surgery, Dan Uggla has not been the Dan Uggla Atlanta expected when they signed him to his five-year $62 million deal and there are gigantic holes in left field and center.
Braves GM Frank Wren will fill those holes with significant impact players though.
It's no secret that Atlanta is wooing the extremely talented BJ Upton to come play center field for the Braves. Should he sign, Upton would have the chance to bring all of his tools together in a new environment and impact the Braves pretty incredibly.
If he falls through though, Wren could look to trade for either Dexter Fowler or Denard Span, two leadoff hitters that could partially fill the void Michael Bourn will leave when he inevitably signs with the Washington Nationals.
As for left field, Fowler could still be an option, as well as the signing of either Shane Victorino, Cody Ross or Nick Swisher, and the possible trade for Josh Willingham or even Justin Upton.
Should Atlanta miss out on a leadoff hitter altogether, Andrelton Simmons could potentially hit first, enabling Atlanta to really capitalize on the power bats in the market.
By the time Spring Training rolls around, Atlanta will have a lineup to be reckoned with.
Keep Reading

Atlanta Braves: Like this team?