Milwaukee Bucks: 5 Things We Have Learned About the Bucks After the First Month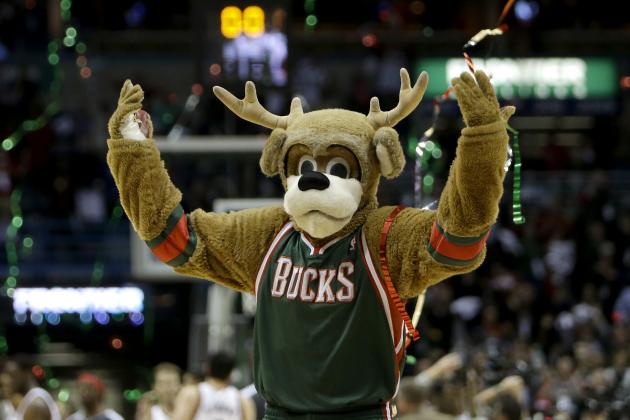 Mike McGinnis/Getty Images

A month into the season and this Milwaukee Bucks squad has already faced its fair share of adversity.
The Bucks started off the season winning six out of their first eight games before embarking on a three-game losing streak against the likes of Miami and Chicago.
Still, Milwaukee has managed to show a lot about itself in this limited sample space after coming into the season with a lot of questions to answer.
So what have we been able to learn about the Milwaukee Bucks after a month of the regular season? Keep reading to find out.
Begin Slideshow

»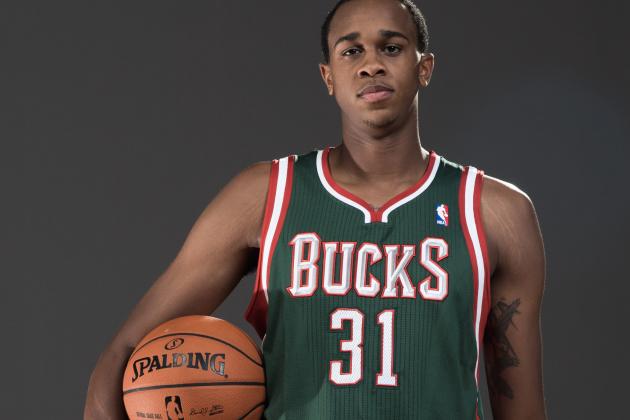 Nick Laham/Getty Images

Any discussion of John Henson can only truly be based on a few games, since he has only seen double digit minutes in three out of the 11 games played thus far.
Still, Henson has proven he can bring some of his rebounding ability from college to the pros, despite having an ultra thin frame.
In one game against the Miami Heat this season, John Henson was able to grab 18 rebounds while adding 17 points on 58.3 percent shooting. Miami isn't a great rebounding team, 17th in rebound differential, but it is still a high enough rebound total to indicate that Henson can perform against the big boys.
More than just rebounding, Henson has also brought some shot blocking ability to the Bucks. He blocked two shots in 17 minutes against the Memphis Grizzlies and blocked two more against Indiana in just eight minutes on the floor.
He also recorded a block against Charlotte, which means he has blocked shots in three out of the six games he played over seven minutes.
Finally, Henson has shown how well he can play through his per 36 minutes stats. While these numbers must be looked at with apprehension, they still are important and can be an indication of what would come with higher minutes. So far Henson is averaging 18.5 points, 12.6 rebounds and 2.4 blocks per 36 minutes, significant enough to warrant more playing time.
John Henson hasn't played very many minutes for the Milwaukee Bucks, but he has already shown that he has the ability to play against bigger and stronger competition—something that was questioned when he first entered the league.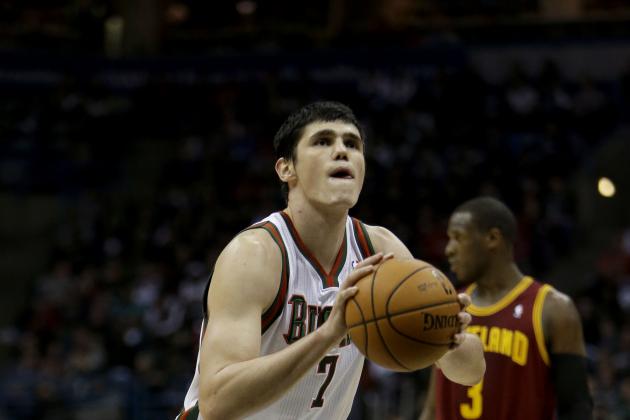 Mike McGinnis/Getty Images

What's wrong with Ersan Ilyasova? The 6'10" forward out of Turkey signed a new contract with the Milwaukee Bucks worth 40 million dollars over a five-year period, but has since all but disappeared from the court.
Ilyasova made a huge splash in the NBA last season, averaging 13 points, 8.8 rebounds while shooting 49.2 percent from the field and 45.5 percent from beyond the arc. That was highlighted by a few spectacular performances, including a 29 point and 25 rebound game against the New Jersey Nets, which was followed by a 15 point and 15 rebound game on the next night against the Orlando Magic.
So far this season, Ilyasova has averaged 6.3 points and 4.8 rebounds while only reaching double digits in rebounds on opening night against the Celtics. Worse than that, Ilyasova has shot 31.9 percent from the field and 22.7 percent from three.
So far, its hard to pinpoint exactly what is wrong with Ersan. He is playing 4.4 minutes less per game and is shooting the ball 1.6 times less per game. Still, neither of these numbers adequately explain the huge drop in production, especially in rebounding.
In his last three games, all losses, Ilyasova has averaged 4.66 points and 3.66 rebounds per game, while playing 21 minutes per game. There is no doubt that he has played a huge role in the team dropping three straight games and Ilyasova will need to play much better to become worth his new contract.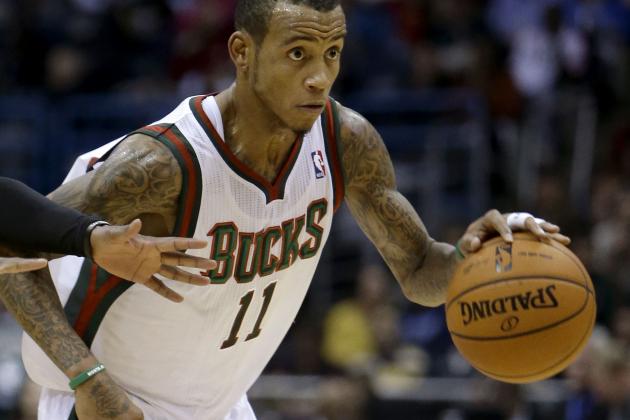 Mike McGinnis/Getty Images

One of the most hotly debated issues surrounding the Milwaukee Bucks before the season was whether a backcourt led by both Monta Ellis and Brandon Jennings could work. So far this season, the pair have proven that they can have success together.
So far Milwaukee has boasted one of the best offenses that the NBA has to offer. They are scoring 99.8 points per game, 10th in the NBA, while shooting a solid 45.2 percent from the field. Their offense has been led by both Ellis, who is scoring 19.9 points per game, as well as Jennings, scoring 17.5 points per game. More importantly, Brandon has been able to assert himself as a passing point guard, averaging a career-high 7.5 assists per game.
Defense, where this duo has been questioned more thoroughly, has also appeared to stay intact. While Milwaukee is allowing 98.8 points per game, 17th in the NBA, they are also sitting at third in the NBA in opponents turnovers per game, 17. This is led by the outstanding 3.5 steals per game that Jennings is racking up.
Most importantly, the Milwaukee Bucks have been able to stay above .500 with both Monta Ellis and Brandon Jennings starting every game. Until they stop winning their fair share of games, this Bucks backcourt has proven that they can play effectively together.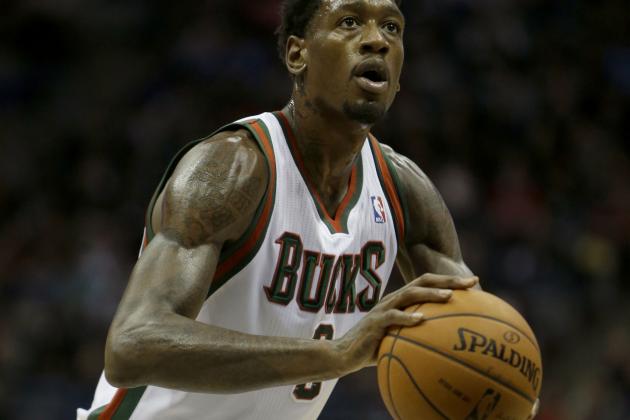 Mike McGinnis/Getty Images

One of the most pleasant surprises for Bucks fans this season has been the emergence of third year center Larry Sanders.
Sanders, a 6'11" center out of Virginia Commonwealth, has become a defensive stalwart who can be relied on to anchor a defense also featuring notoriously weak defenders like Brandon Jennings and Monta Ellis.
So far, Sanders is averaging 8.1 points, seven rebounds and 2.3 blocks in just 22.9 minutes per game while shooting 58.5 percent from the field. Even more exciting for Bucks fans is that Larry is only 24 years old and in his third year in the league, leaving him plenty of room for improvement.
Per 36 minutes, Sanders is averaging 12.7 points per game, 11 rebounds and 3.6 blocks, impressive numbers which tell just how much of an impact he makes on the defensive end in his limited minutes.
Currently, the 31-year-old Samuel Dalembert is the only other center on the Bucks roster receiving significant minutes, and his numbers have been far less impressive. It looks like the Milwaukee Bucks have found a defensive center that they can rely on for years to come.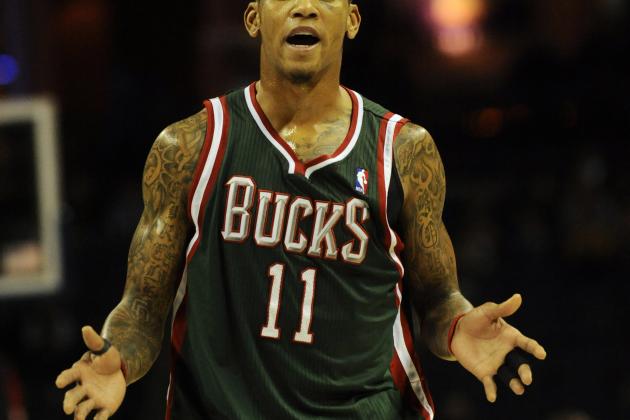 Sam Sharpe-US PRESSWIRE

Coming into the season, the Milwaukee Bucks were considered one of the teams that would be fighting for an eighth seeded playoff spot. Now, the Bucks have the eighth best win percentage in the Eastern Conference at 54.5 percent.
This ranks ahead of Chicago and Indiana, both teams that were expected to finish above them, while still behind Charlotte and Philadelphia, who they could easily pass.
So far this season, the Bucks have already beaten Boston, Indiana and Philadelphia. Also, four out of their five losses have been games within seven points, including four point losses to Charlotte and Boston.
Milwaukee has been one of the better offensive teams in the NBA, has played solid defense thus far, is 11th in the league in rebounds per game and turns the ball over only 14 times per game, seventh lowest in the NBA.
All signs point towards this Bucks team being able to keep up with these statistics, especially with the huge room left to grow for both Ersan Ilyasova and John Henson. Because of that, the Milwaukee Bucks will make the playoffs by nabbing at least the eighth seed in the east.