2013 NFL Mock Draft: Ideal Selection for All 32 1st-Round Picks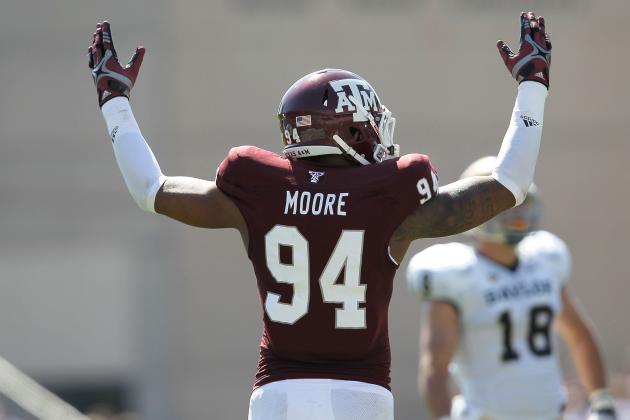 Sarah Glenn/Getty Images

College football is nearly finished in 2012, and it's time to look ahead at the first round of the 2013 NFL draft to see which of the top players in the nation will be among the first to have their names called at Radio City Music Hall next April.
Damontre Moore of Texas A&M has really seen his draft stock soar with a monster 2012 campaign, while Matt Barkley has fallen out of the first round completely after a subpar senior season and an unfortunate shoulder injury.
Where will your favorite college player land?
Follow along, and you'll soon find out.
Begin Slideshow

»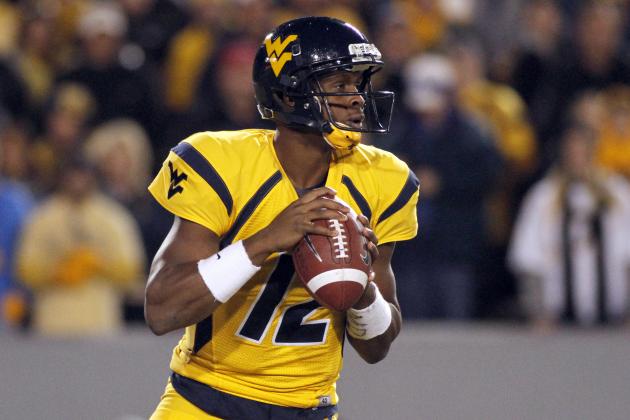 Justin K. Aller/Getty Images

Geno Smith, Quarterback, West Virginia
The Kansas City Chiefs haven't had a passing touchdown since the fourth quarter of Week 8 when Matt Cassel hit Jamaal Charles for a 10-yard score.
More than any team in the NFL (yes, even more than the New York Jets), the Chiefs need a franchise quarterback.
Geno Smith isn't as highly skilled as Andrew Luck, Robert Griffin III or even Russell Wilson, but he has the raw tools to entice the Chiefs into taking him with the first overall pick.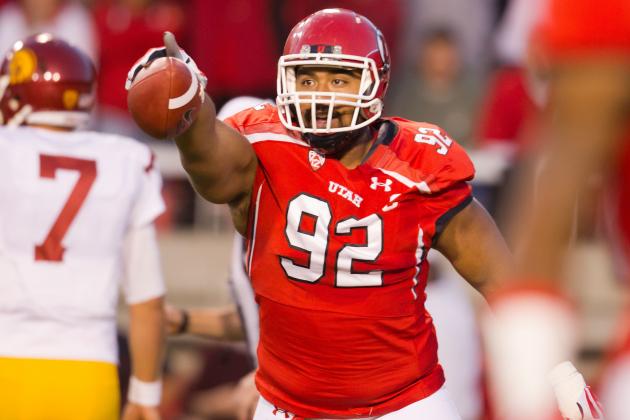 Russ Isabella-US PRESSWIRE

Star Lotulelei, Defensive Tackle, Utah
Now that the Jacksonville Jaguars have found their franchise quarterback—hello, Chad Henne—it's time to bolster the team's defense.
Lotulelei is one of this year's true impact players, and he'll step in right away to help improve a suspect defensive line.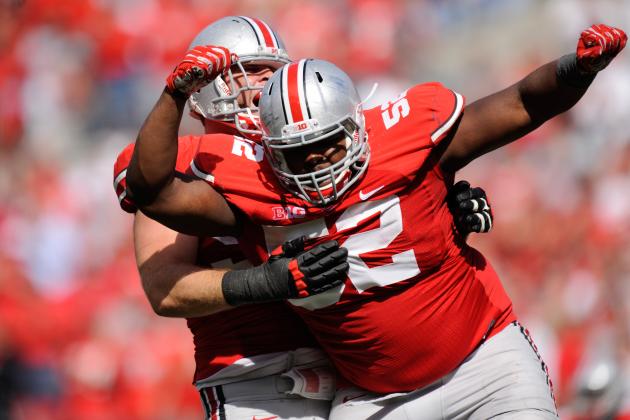 Jamie Sabau/Getty Images

Johnathan Hankins, Defensive Tackle, Ohio State
The Oakland Raiders need to rebuild on both sides of the ball, and in the NFL, games are won and lost in the trenches.
Tommy Kelly has seen better days, and so has Richard Seymour. It's time to restock on the defensive line, and Hankins would help to restore what's been an area of weakness this season for the Raiders—specifically, their terrible run defense.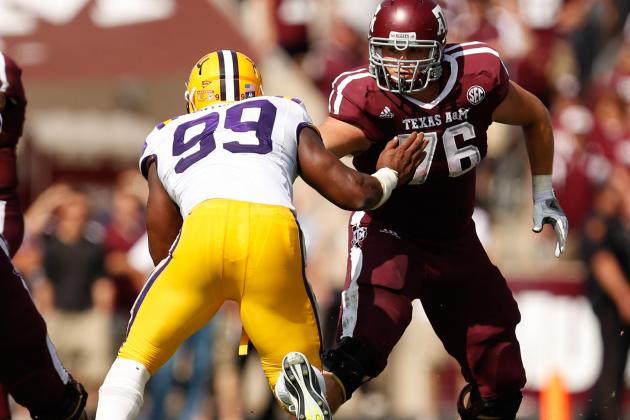 Thomas Campbell-US PRESSWIRE

Luke Joeckel, Offensive Tackle, Texas A&M
Cam Newton has had to scramble for all the wrong reasons this season, and his Carolina Panthers haven't been able to establish a strong running game.
Joeckel will help on both fronts, and he will aid Newton's development in major ways if the Panthers pick him up here.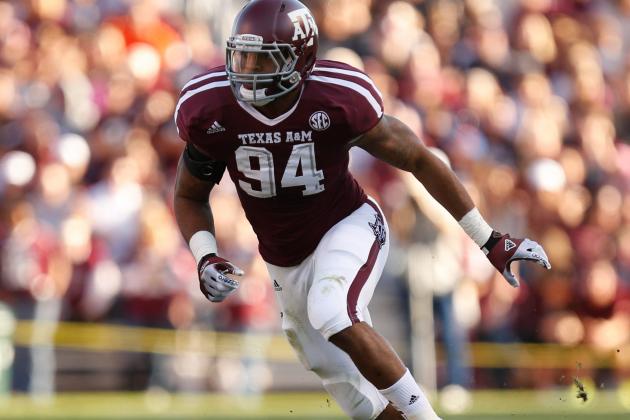 Thomas Campbell-US PRESSWIRE

Damontre Moore, Defensive End, Texas A&M
Dynamic pass-rushers are tricky to scout, but there's nothing tricky about what Moore brings to the table, and the Cleveland Browns desperately need to upgrade their pass-rushing talent.
Moore has been a revelation this year, posting 12.5 sacks. His 6'4", 250-pound frame is packed with pure speed and explosive power, and he's versatile enough to play as a down lineman or in space, as the Browns need.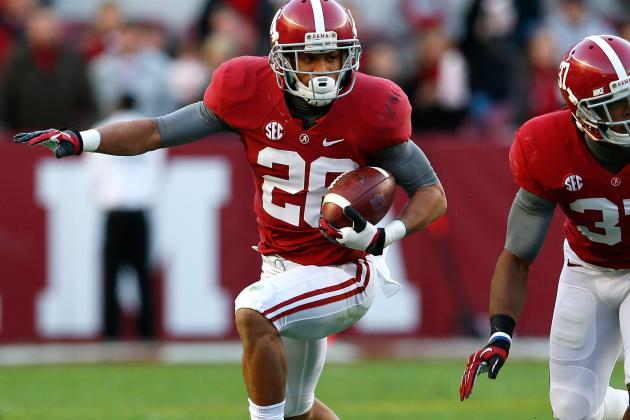 Kevin C. Cox/Getty Images

Dee Milliner, Cornerback, Alabama
It's crazy to think that the Philadelphia Eagles need secondary help, but there's no doubt that Nnamdi Asomugha isn't the player he once was, and the Eagles have gotten roasted lately by some surprising foes.
Milliner is as sure a lock as Morris Claiborne was a year ago as this year's top cornerback, and it isn't a stretch to think the Eagles could take him at this point in the draft.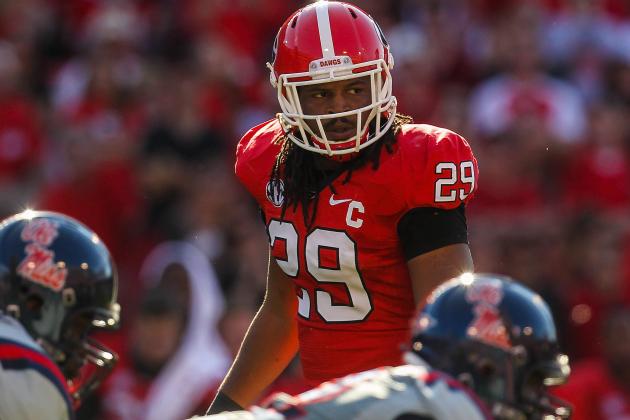 Daniel Shirey-US PRESSWIRE

Jarvis Jones, Outside Linebacker, Georgia
With so much of a need on the offensive line, it seems crazy to think that the Arizona Cardinals could take an outside linebacker.
That said, Jones is such an impact player that they'd be silly to let him slide. The Cardinals will content themselves to look for offensive linemen later in the draft, knowing they've added one of this year's top players to their defense.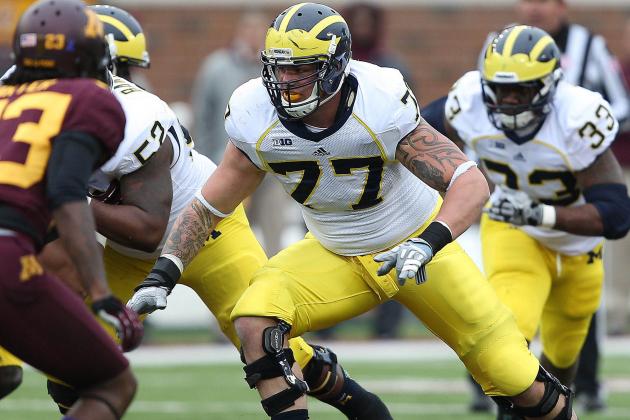 Jesse Johnson-US PRESSWIRE

Taylor Lewan, Offensive Tackle, Michigan
Philip Rivers hasn't helped his own cause this season, throwing more interceptions than anyone except Tony Romo, but it's hard to lay all the blame on his shoulders. He simply doesn't get any protection up front.
Lewan is a solid blocker in both the running game and as a blind-side protector, and he'd make life easier for Rivers or any other quarterback the Chargers may have behind center in 2013.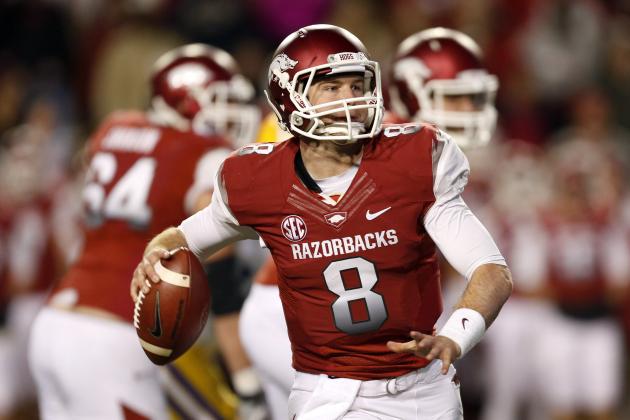 Wesley Hitt/Getty Images

Tyler Wilson, Quarterback, Arkansas
Mark Sanchez is just awful.
I don't care how bad his protection is, and I don't care that the New York Jets have no running game to speak of—he's just awful.
It's time to bring in his replacement, and Wilson is just the man to right the ship for the Jets.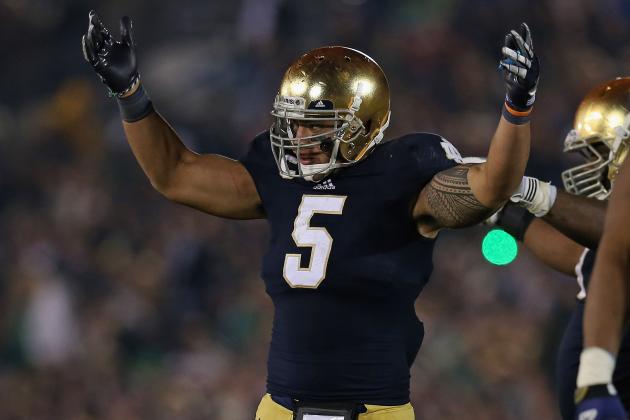 Jonathan Daniel/Getty Images

Manti Te'o, Middle Linebacker, Notre Dame
With no quarterbacks worth drafting at this stage in the draft, the Buffalo Bills can focus on revamping their atrocious linebacking corps.
Te'o is a technically sound player with elite athleticism and football IQ, and his addition to the Bills defense will significantly improve the team's horrid run defense—not to mention he'll help out in the passing game, where he's become an absolute monster.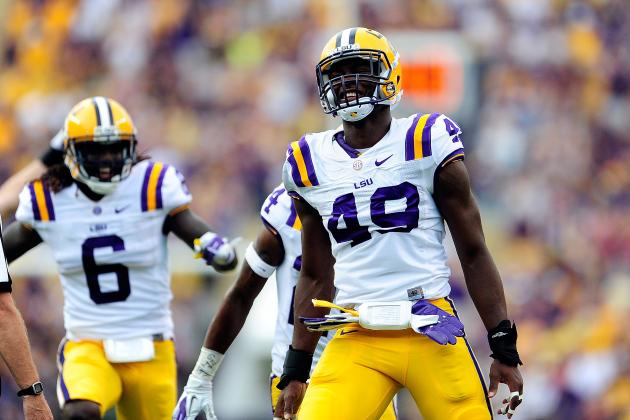 Stacy Revere/Getty Images

Barkevious Mingo, Defensive End, LSU
The Tennessee Titans need to bring in some talent to help Kamerion Wimbley pressure opposing passers, because as it stands right now, this team has only sacked the quarterback 16 times in 2012.
Mingo is an extremely raw prospect, but his upside cannot be denied. His ability to explode across the line and turn the corner is at the top of his class, and a bit of strength and technique will make him all the more dangerous.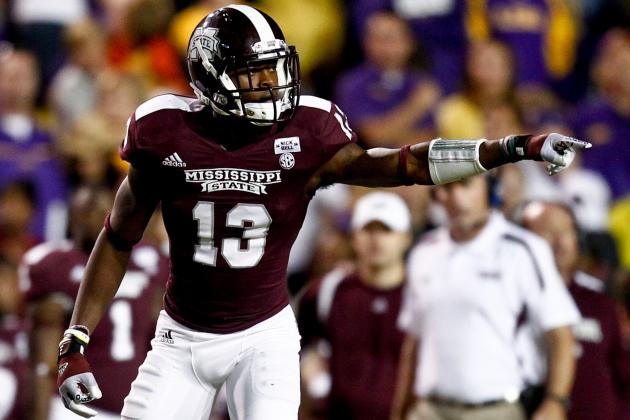 Derick E. Hingle-US PRESSWIRE

Johnthan Banks, Cornerback, Mississippi State
The Detroit Lions need help in the secondary and on the offensive line, and since the top offensive tackle prospects were already taken, they'll happily take one of this year's most underrated players.
Banks is a ball-hawking cornerback who plays tough at the line of scrimmage. He's just as boisterous about tackling running backs as he is about taking on top wide receivers one-on-one, and he'll be a nice addition to the Lions defense.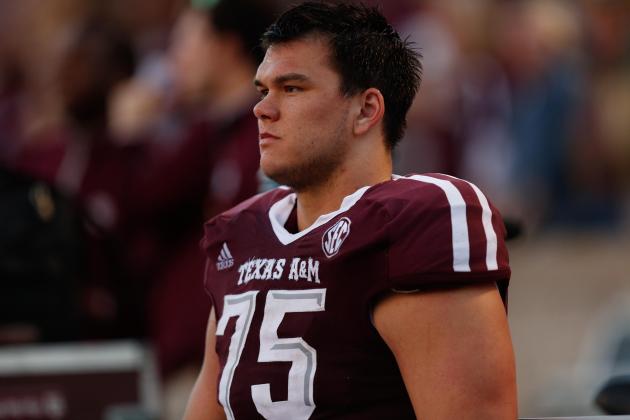 Thomas Campbell-US PRESSWIRE

Jake Matthews, Offensive Tackle, Texas A&M
Johnny Manziel gets all the credit for being "Johnny Football," but he wouldn't be having the success he's having without some stellar play up front from his offensive line.
Matthews is a step below Luke Joeckel as an NFL prospect, but his ability to shine both in the running game and in the passing game will make him a valuable player at the next level for whichever team is lucky enough to recognize his skill.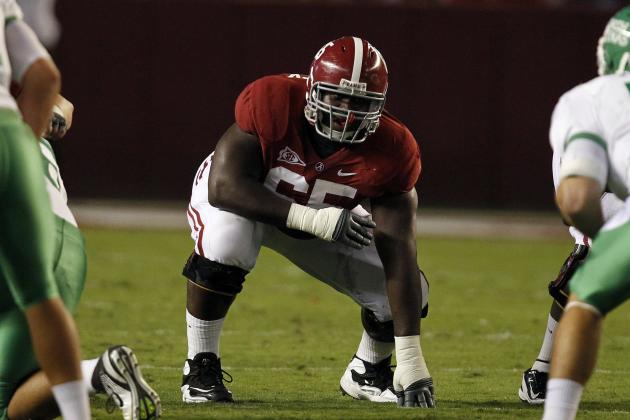 Butch Dill/Getty Images

Chance Warmack, Offensive Guard, Alabama
The Dallas Cowboys can't protect the passer and can't run the football.
Tyron Smith and Doug Free look to be long-term answers at tackle, but the interior of the line is seriously bad.
Warmack is an imposing run-blocker, and he's nimble enough to make a big impact as a pass-blocking guard. He'd be an instant starter on the left or right side, and the 'Boys can't go wrong picking him here.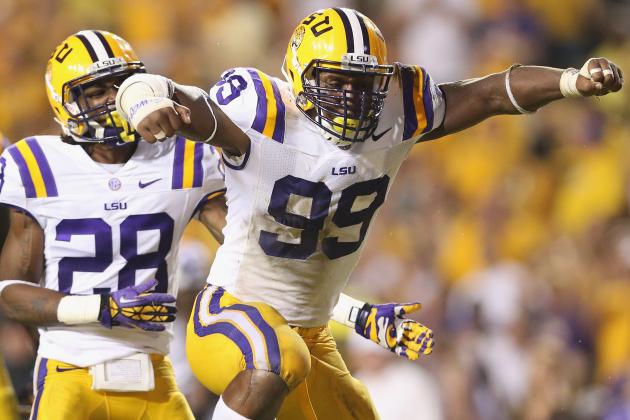 Ronald Martinez/Getty Images

Sam Montgomery, Defensive End, LSU
The New Orleans Saints need help on the ends to get pressure on opposing quarterbacks without the aid of a blitz.
Montgomery may not slide this far come draft day, but if he's fallen to this point in this mock, the Saints won't hesitate to land him.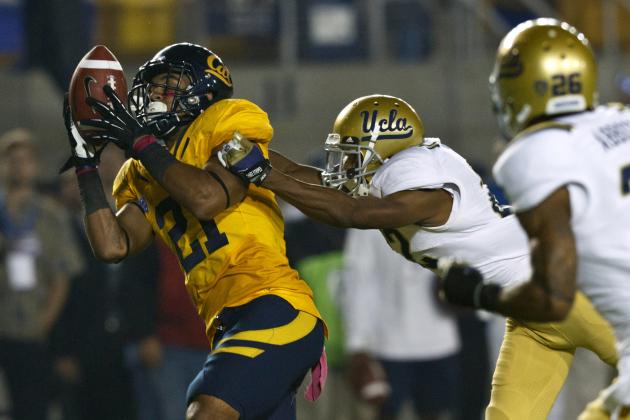 Jason O. Watson/Getty Images

Keenan Allen, Wide Receiver, California
Ryan Tannehill has done some magnificent things this season for the Miami Dolphins with subpar talent at the wide receiver position, and it's not hard to envision things getting better in a hurry if he gets help.
Allen is this year's can't-miss wide receiver prospect. His speed, athleticism and after-the-catch abilities will serve Tannehill and the Dolphins well for years to come.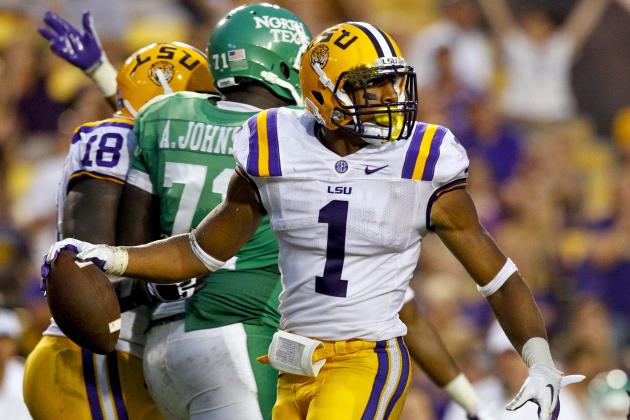 Derick E. Hingle-US PRESSWIRE

Eric Reid, Safety, LSU
The St. Louis Rams can't go wrong taking a wide receiver here, but this team could also use a playmaking safety to round out their talented secondary.
Reid reminds me of Mark Barron. He isn't the strongest cover safety in the nation, but he makes impact plays in both the passing game and the running game, and he'd be a huge addition to the burgeoning defense of the Rams.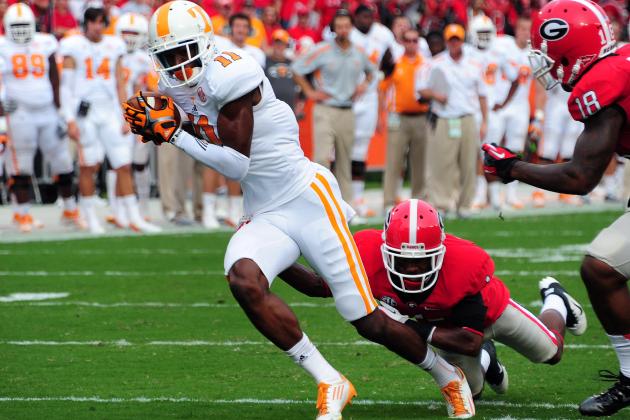 Scott Cunningham/Getty Images

Justin Hunter, Wide Receiver, Tennessee
We've all seen how sad the Minnesota Vikings offense is without Percy Harvin, and it's safe to say the team could still use help at the receiver position even when Harvin's fully healthy.
Hunter possesses elite size, speed and hands, and his ability to get over the top of defenses will open up running lanes for Adrian Peterson as well as passing lanes underneath for Harvin and Kyle Rudolph.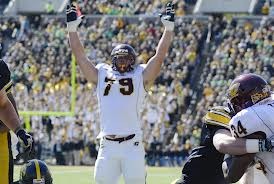 Eric Fisher, Offensive Tackle, Central Michigan

Ben Roethlisberger was making a case to be the NFL MVP before he went down with an injury this season—a recurring theme that must be dealt with by the Steelers.
Fisher is a top-flight offensive tackle from a small school who is starting to get the recognition he deserves. Much like Joe Staley before him, he's a tall, athletic tackle who moves well laterally as well as in a straight line, and he'd be a valuable addition to the Steelers for years to come.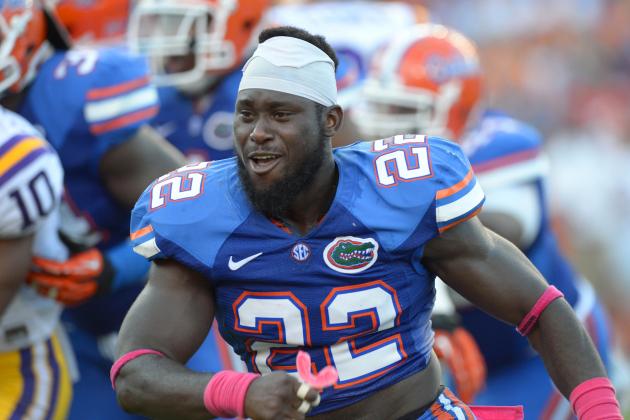 Jake Roth-US PRESSWIRE

Matt Elam, Free Safety, Florida
After investing in Mark Barron last year, the Tampa Bay Buccaneers would be wise to draft Ronde Barber's replacement in 2013.
Elam is one of the most instinctive young safeties I've seen in a couple of years. He always seems to be around the ball, and he'd make a big impact in a positive way for the Bucs—a team giving up more passing yards per game than any other team in the NFL.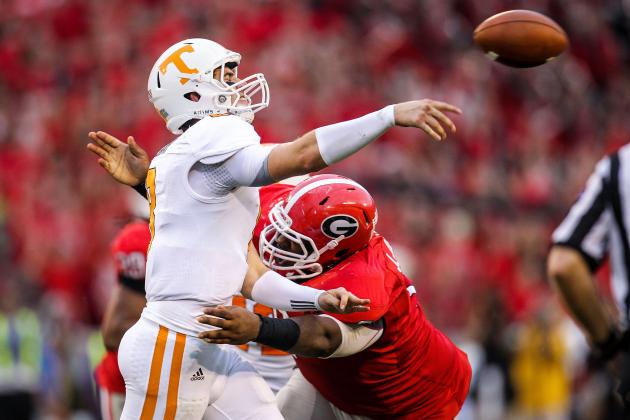 Daniel Shirey-US PRESSWIRE

John Jenkins, Defensive Tackle, Georgia
The Seattle Seahawks already feature one of the toughest defenses in the NFL, but imagine how tough this team would be with a behemoth like Jenkins manning the middle.
That's a scary thought for opposing running backs and quarterbacks, as Jenkins makes big plays in both the running game and the passing game.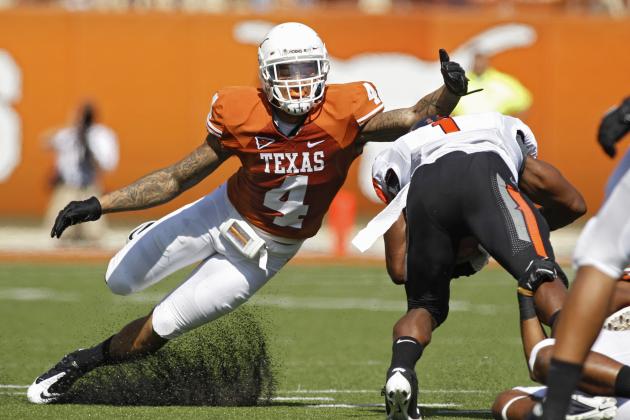 Erich Schlegel/Getty Images

Kenny Vaccaro, Strong Safety, Texas
I've been picking Vaccaro to go to the Bengals for a few weeks in a row now, and I don't see any reason to change the pick.
The Bengals don't have many playmakers in their secondary, and Vaccaro would be a huge upgrade over Taylor Mays.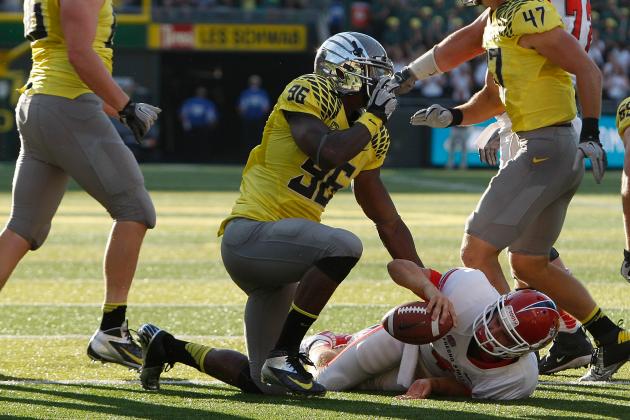 Kevin Casey/Getty Images

Dion Jordan, Outside Linebacker, Oregon
The Indianapolis Colts need another young stud pass-rusher to pair with Jerry Hughes for their new 3-4 defense, and Jordan is an intriguing prospect on par with Bruce Irvin from a year ago.
Blessed with sprinter's speed, this former wide receiver will become a terror on the outside for the Colts.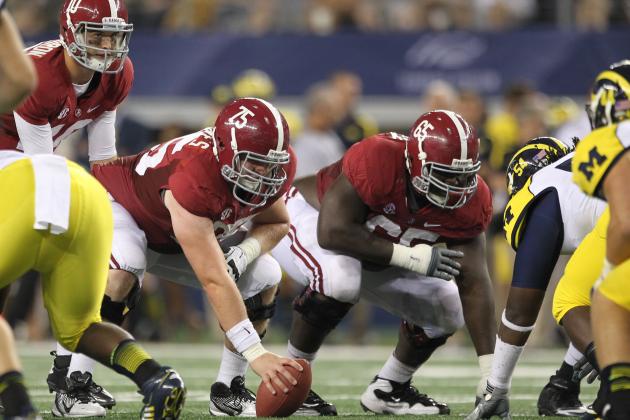 Matthew Emmons-US PRESSWIRE

Barrett Jones, Offensive Lineman, Alabama
There's no doubt the Green Bay Packers need to draft an offensive lineman early in the draft in 2013.
Aaron Rodgers is not going to last long if he keeps taking licks like he's been taking the past couple of years.
Jones is a versatile offensive lineman who can play every single position on the line, and he'd be a help to Rodgers in the passing game and as a run-blocking bruiser inside.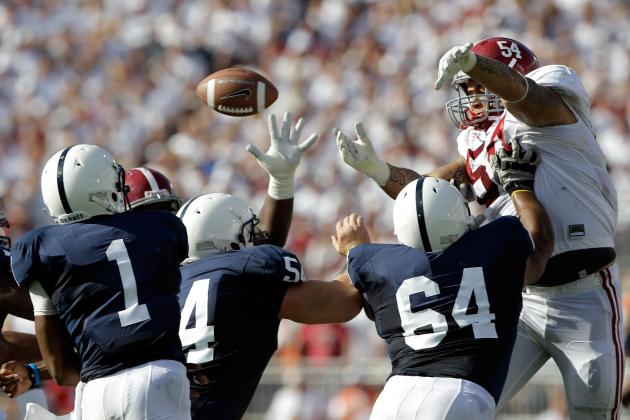 Rob Carr/Getty Images

Jesse Williams, Defensive Tackle, Alabama
The New York Giants have struggled to field a healthy defensive line this season, and there's no doubt they could use some new blood in the middle of their defense.
Williams is a stout defensive tackle who won't shock you with measurables or make tons of plays in the backfield but is highly effective against the run—an area the Giants need to shore up this offseason.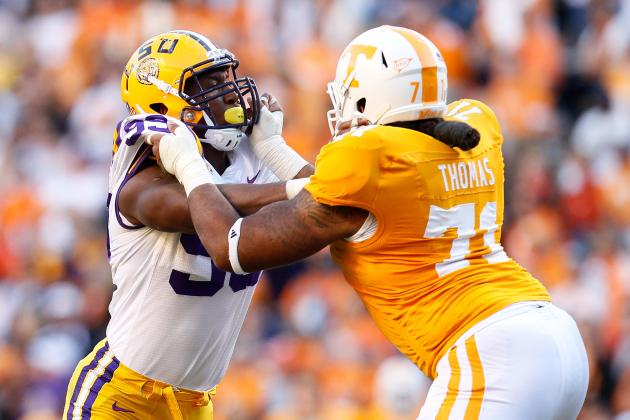 Kevin C. Cox/Getty Images

Dallas Thomas, Offensive Tackle, Tennessee
The Chicago Bears will not win a Super Bowl if Jay Cutler keeps getting injured.
Thomas is a stout offensive tackle who will step in right away and contribute on the right side as a dominant run-blocker and competent pass-protector.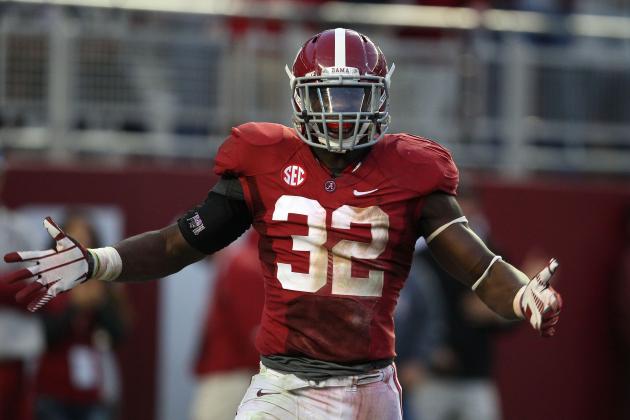 Mike Zarrilli/Getty Images

C.J. Mosley, Linebacker, Alabama
The Denver Broncos are getting by with Wesley Woodyard and Keith Brooking, but there's always room for improvement in the middle.
Drafting Mosley to pair with Von Miller would give the Broncos one of the most talented and feared duos at the outside linebacker position in the NFL.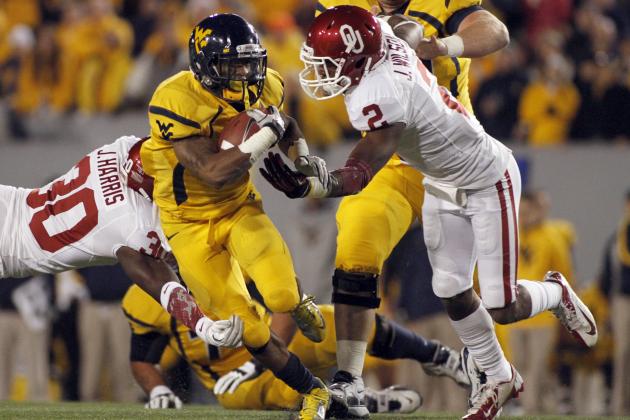 Justin K. Aller/Getty Images

Tavon Austin, Wide Receiver, West Virginia
Nobody would be shocked if the New England Patriots decide to play hardball with Wes Welker over his contract situation in 2013, and knowing Bill Belichick, he'll likely look to get younger and quicker.
Austin would be a deadly weapon in Tom Brady's arsenal, and as long as he picked up the Pats offense in short order, he could easily become the NFL's Offensive Rookie of the Year.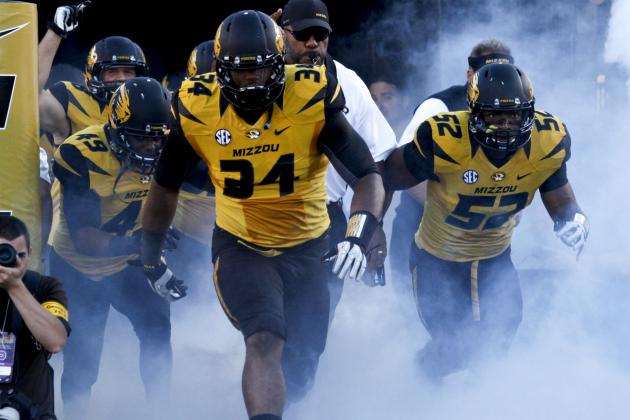 Ed Zurga/Getty Images

Sheldon Richardson, Defensive Tackle, Missouri
The 49ers aren't as deep on the defensive line as some may think, and if Justin Smith and/or Ray McDonald were to go down due to injuries, the team would be in dire straights.
Richardson is an ideal 3-4 defensive end candidate who would be a natural fit to backup Smith and spell both him and McDonald to keep them fresh in 2013.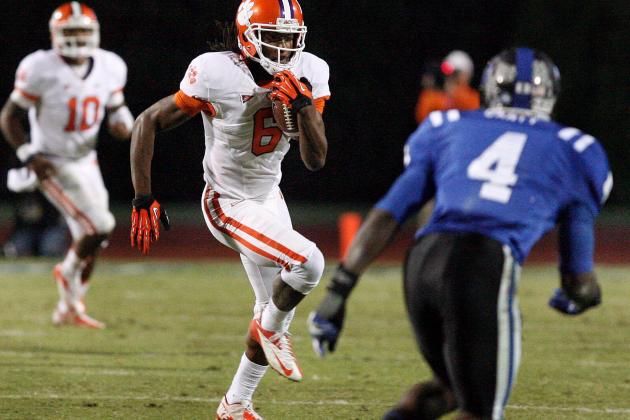 Mark Dolejs-US PRESSWIRE

DeAndre Hopkins, Wide Receiver, Clemson
As long as the Baltimore Ravens continue to put their hopes on the arm of Joe Flacco, they'd be wise to continue providing him with the necessary weapons to be a dangerous pass-first team.
Hopkins is a talented young receiver who can and does make acrobatic catches on a regular basis. He'll be a nice complement to Torrey Smith once Anquan Boldin retires, and he'll be a nice No. 3 option in the meantime.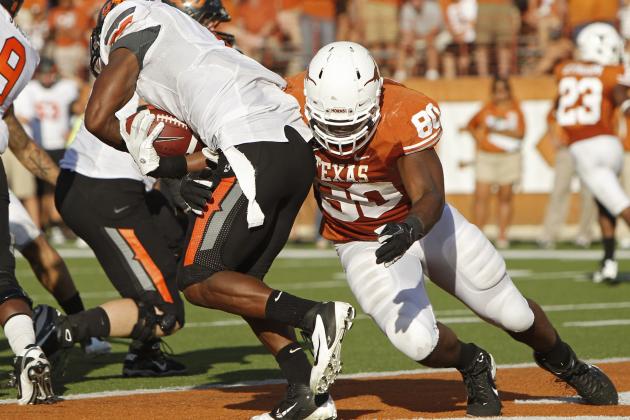 Erich Schlegel/Getty Images

Alex Okafor, Defensive End, Texas
The Atlanta Falcons need to find John Abraham's eventual replacement.
Okafor is a powerful young pass-rusher who can play every position on the line on passing downs, and he'd be a steal here at the bottom of the first round.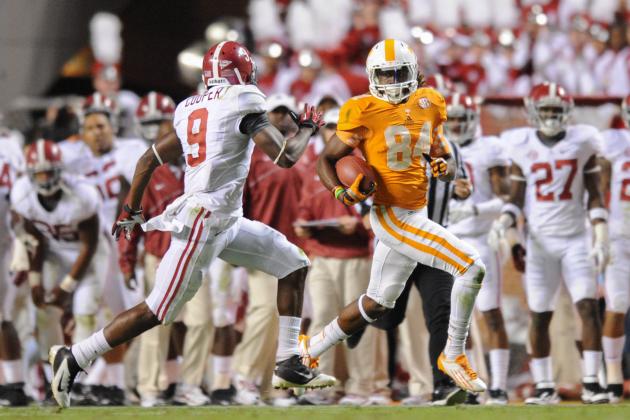 Randy Sartin-US PRESSWIRE

Cordarrelle Patterson, Wide Receiver, Tennessee
The Houston Texans have two areas of need on their current roster: wide receiver and cornerback.
Patterson is an electric young receiver who routinely makes spectacular catches, and he has enough speed and after-the-catch capabilities to be a legitimate threat opposite Andre Johnson. Adding him would make the Texans all the more dangerous on offense—a prospect that would be scary for the rest of the AFC.
Follow me on Twitter @JesseReed78 and check out my weekly NFL picks at Pickfactor.com