Boise State Football: 7 Big Moments of the Broncos 2012 Season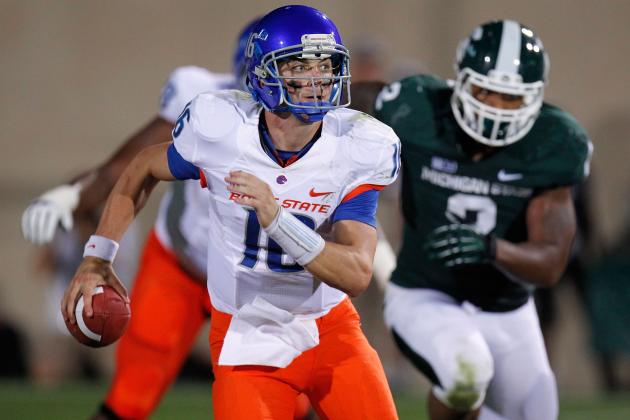 Gregory Shamus/Getty Images

Boise State entered the 2012 season with so many questions. How would they replace 15 starters? Who would step up at quarterback? How would the Broncos rebuild their defense? Could D.J. Harper replace Doug Martin? Who would back Harper up?
These and many other questions were lingering as fall camp commenced. Now, 13 weeks later and a lot of football being played, the answer to each of those questions has been answered. Some in ways that fans, players and coaches wish were different, but some were answered better than expected.
As the season has progressed and questions have been answered there have also been some defining moments. Moments that frustrated, impressed, disappointed and excited all of Bronco Nation.
Let's look at seven of those moments and what it means for the Broncos going forward.
Begin Slideshow

»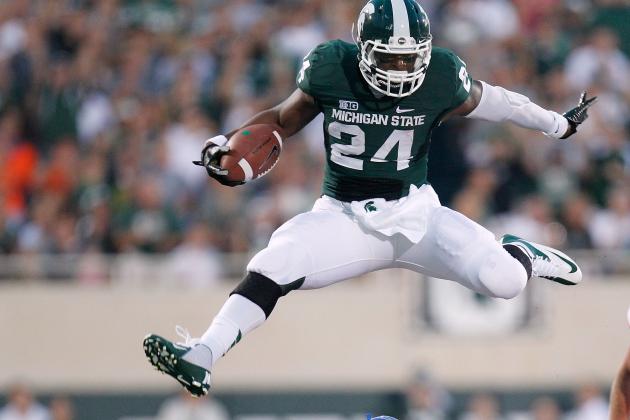 Gregory Shamus/Getty Images

When Le'Veon Bell carried the ball five yards for a 4th quarter score, the Broncos and their fans deflated. Boise State had fought back from a 10-3 halftime deficit to take the lead over then-No. 13 Michigan State.
The score was 13-10 in favor of the Broncos, and all they had to do was hold off the Spartans for another opening-game victory in hostile territory. However, it was not to be.
On Bell's touchdown, Michigan State went up 17-13, and that would be the final score.
It was a disappointing game for Bronco Nation, but it was a much closer game than many expected. Next year, Boise State opens on the road again. This time it will be at Washington in a newly renovated Husky Stadium.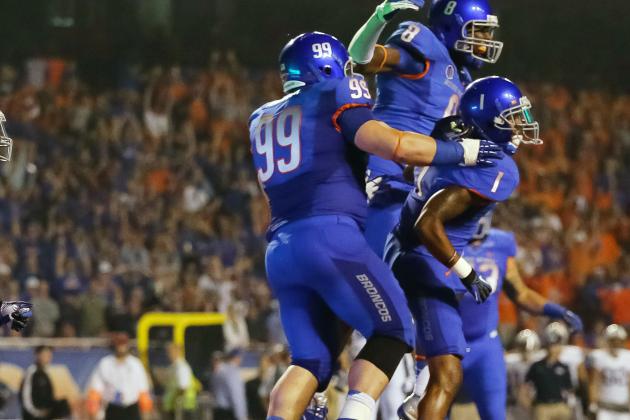 Otto Kitsinger III/Getty Images

Boise State and BYU slugged it out in a severe defensive battle at Bronco Stadium. The game was painful to watch at times, with both teams struggling on offense. However, neither defense was struggling, and the game had some of the fiercest hits you will ever see in college football.
The game was 0-0 at halftime, but that all changed early in the second half. On the Cougars' first possession of the third quarter, Riley Nelson threw a pass on 3rd down for BYU. Defensive lineman Mike Atkinson snagged the ball out of the air to the surprise of many. The big man then rumbled 36 yards for a Boise State touchdown. It would be the only one of the game for the Broncos, but that is all they would need.
Boise State went on to win the game 7-6.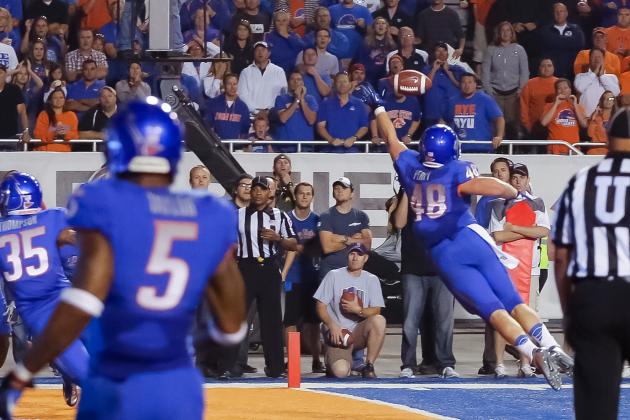 Otto Kitsinger III/Getty Images

Moment No. 3 comes in the same game as moment No. 2, and it was another defensive player that made it happen.
BYU scored a touchdown to seemingly tie the game with 3:37 left to go in the game. However, instead of going for a kick to tie the game, BYU decided to go for two.
Quarterback Taysom Hill threw a pass that looked like it had a chance of being caught. It would have given BYU an 8-7 lead over the Broncos. However, linebacker J.C. Percy did his best impression of Stretch Armstrong. If you don't know that reference, that only means you're not that old, so be happy.
In any case, Percy dove for the pass and incredibly found a way to bat it down. It was an incredible play, and ultimately saved the victory for Boise State.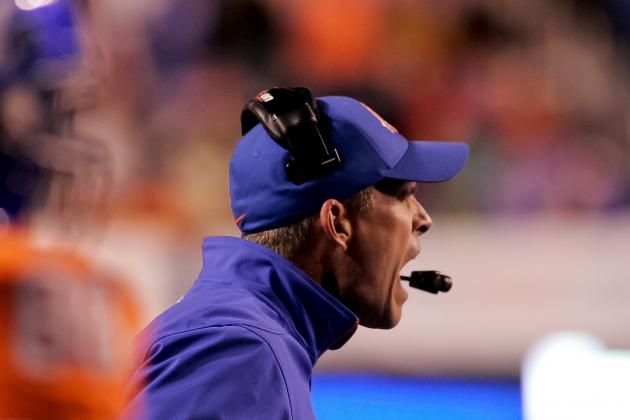 Otto Kitsinger III/Getty Images

Boise State was leading 25-0 at the half in Albuquerque. It looked like another run-away win against an inferior opponent. However, someone forgot to tell the Lobos that.
In what can only be described as a parallel universe full of the crazy and unexplained, Boise State did a complete reversal. The team that had totally dominated New Mexico in the first half found itself being dominated in the second.
To the Lobos' credit, they never gave up. The game was much closer going into the fourth quarter with New Mexico trailing 25-14. They would score 15 more points, while the Broncos only scored a single touchdown. However, that single score was enough for the victory.
In the end, Boise State won 32-29, but the game served as a wake-up call for the Boise State defense.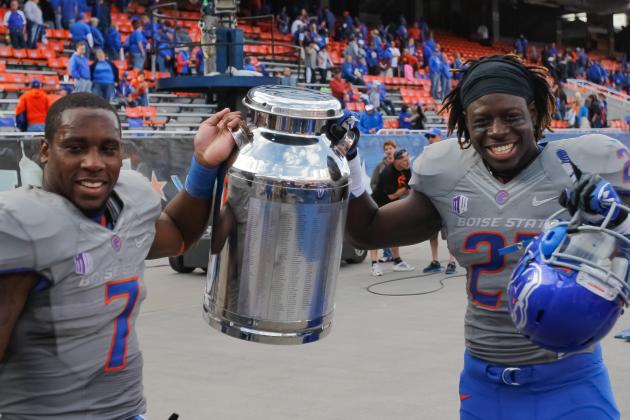 Otto Kitsinger III/Getty Images

The battle for the "Milk Can" is moment No. 5. Fresno State came to town, and they came to play. Many Boise State fans were leery of this game because of the struggles the Broncos offense was having. However, once again it came down to defense.
The Boise State defense made Chris—no, Derek Carr miserable all day. The Broncos held the potent Bulldogs offense to just 322 yards of which only 56 came on the ground. It was a very impressive defensive outing for BSU.
The final score was 20-10, but the victory seemed to give Boise State a increased measure of confidence.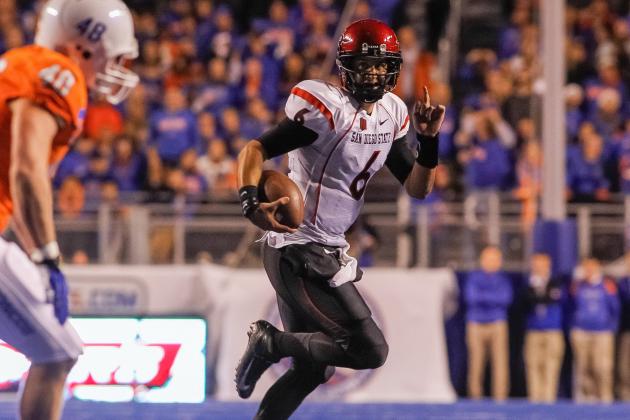 Otto Kitsinger III/Getty Images

This is the game that hurt Bronco fans the most. Michigan State was an unknown and seemed like quite a task for a young team. However, San Diego State is a team that the Broncos could have, and should have, defeated.
The Broncos were down a few players, but coach Petersen won't throw out any excuses. The truth is that from the opening kickoff, San Diego State did some key things that forced Boise State out of their game. Colin Lockett took the Boise State kickoff 100 yards for a touchdown on the first play of the game. It was an uphill battle for the Broncos after that.
It didn't help that senior defensive standout Mike Atkinson went down in the second half of the game with a severe injury. That, along with offensive struggles, led to the eventual defeat of the Broncos. Looking back on it now, it will be the loss that keeps Boise State out of the BCS once again.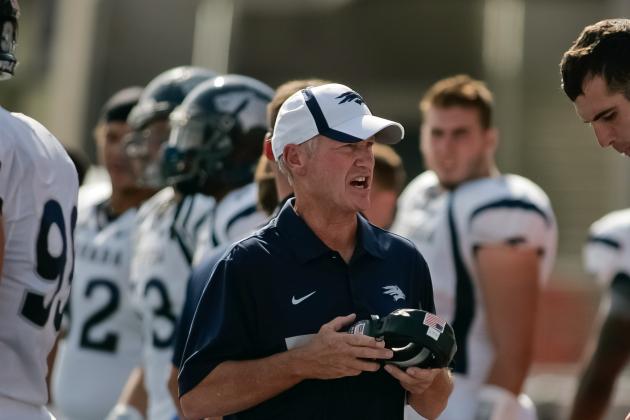 Otto Kitsinger III/Getty Images

Boise State will travel to Reno to take on the Nevada Wolf Pack for the last game of the regular season. It will be broadcast on ABC to a national audience, and it should be a good one.
This game will set the tone for whatever bowl game Boise State ends up being invited to, which will probably the Las Vegas Bowl. In any case, it will also be for a share of the Mountain West Conference title.
If Boise State wins, they will share the title with San Diego State and Fresno State. However, the Broncos will have a better overall record at 10-2 compared to the Aztecs and Bulldogs who are 9-3.
This game will also be a great way to cap off another impressive season, even if it was a "rebuilding year." Of course, that only happens if the Broncos win.
Look for coach Chris Petersen to have his team ready to play.