3 Pieces the Miami Dolphins Still Need in Order to Become a True Contender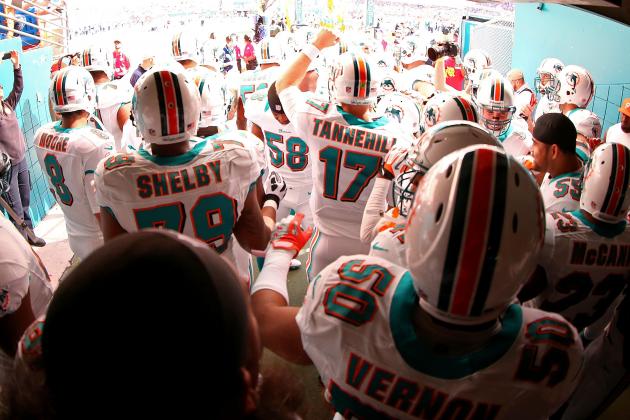 Mike Ehrmann/Getty Images

The Miami Dolphins are an up-and-coming team. They have some bright spots in the roster that give them and the fans some hope for the near future.
It appears that they have solved their problem at quarterback with Ryan Tannehill, which will allow the Dolphins to build around him.
Miami currently stands at 5-6 and is just one game behind in the playoff race. With this recent success, it is easy to believe the Dolphins are currently contenders. They certainly are a tough team to play, but they are a few pieces away from being true contenders.
Let's take a look at what those pieces are.
Begin Slideshow

»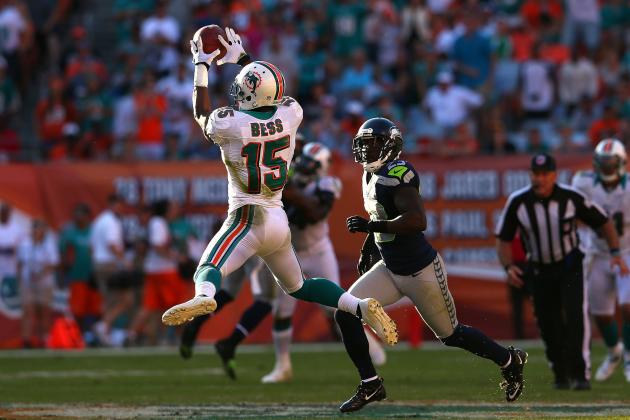 Mike Ehrmann/Getty Images

Miami's lack of wide receiver talent is more than evident. It won't be able to put up points without at least one elite receiver.
Brian Hartline is featured as Miami's No.1 receiver, but he needs to be No. 2 or even No. 3. Miami needs to help Ryan Tannehill by giving him more weapons. He has some solid receivers, but none have the ability to demand a double team or be a vertical or red-zone threat.
Davone Bess is another great receiver for the Dolphins, but his value is in the slot on short, quick routes. Miami has at times sent Bess on deep routes that have been unsuccessful.
If Miami can get its hands on an elite wide receiver and push Hartline back in the depth chart while allowing Bess to work underneath, it could really be a threat on offense.
The Dolphins already have a solid running game and an inconsistent, but solid offensive line. Adding talent at receiver would only make them better.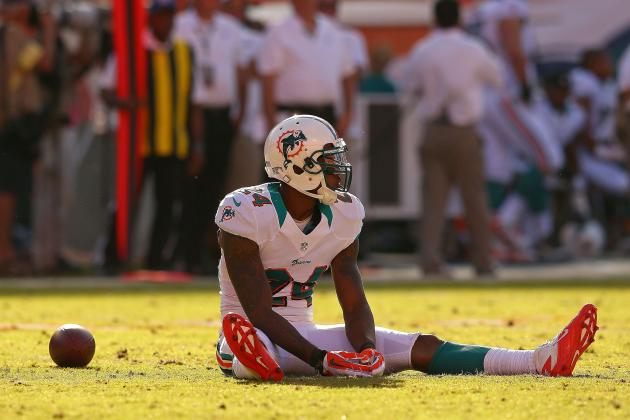 Mike Ehrmann/Getty Images

Miami is not talented at wide receiver; however, it is even worse at cornerback. The Dolphins field one of the worst secondaries in the league in passing yards. It has allowed 261.7 passing yards per game, which is good for 26th.
The secondary has really struggled against average quarterbacks and has been burned for a lot of big plays through the air. It also lacks the ability to create turnovers, and it doesn't intimidate any quarterbacks.
Sean Smith is Miami's No.1 cornerback after it traded Vontae Davis before the season started. Smith has had some strong games, but is highly inconsistent. That is something you just can't have with your best cornerback.
Miami suffered a setback with the season-ending injury to Richard Marshall, but Marshall had also been disappointing during the time he did play.
If Miami wants to be a true contender, it needs a shutdown cornerback—someone who can be left in an island to fend for himself and get the job done. If Miami can find someone that can turn into that player, Smith won't have to cover the other team's best player.
With Smith as the No. 2 cornerback, the Dolphins have a better chance of being a stronger defense on the backside.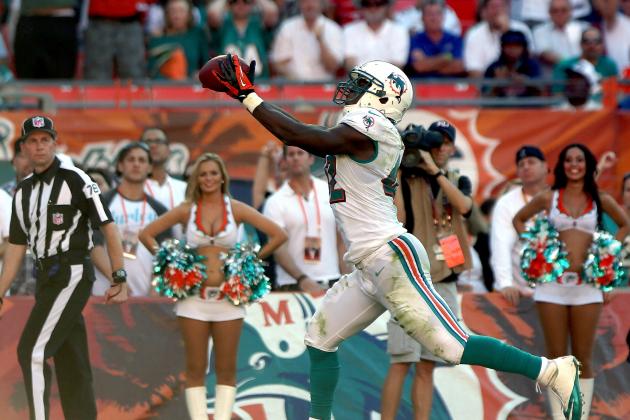 Marc Serota/Getty Images

In a league that has been taken over by quarterbacks and receiving tight ends, the Dolphins still lag behind.
Anthony Fasano is a good overall tight end. He can pass-block, run-block and catch. However, he is not a mismatch. He can easily be covered by linebackers and safeties. He lacks the speed to get downfield as is not considered a red-zone threat.
Charles Clay finally stepped up for the Dolphins on Sunday against the Seattle Seahawks. Clay possesses the ability to be the mismatch the Dolphins are looking for. He can catch, he can run and he can block. If he can consistently play like he did against the Seahawks, he gives Miami another weapon on offense.
Today's most successful teams have tight ends that can run downfield and create problems for the secondary. Some teams even use double tight end sets. Clay can create mismatches, but he is not a red-zone threat.
Miami needs someone to complement Clay—someone who can not only run downfield, but someone who can be a threat in the red zone. Miami has struggled scoring in the red zone, and a big, athletic tight end can solve that problem.