Biggest Regret Each Top 25 Coach Has from 2012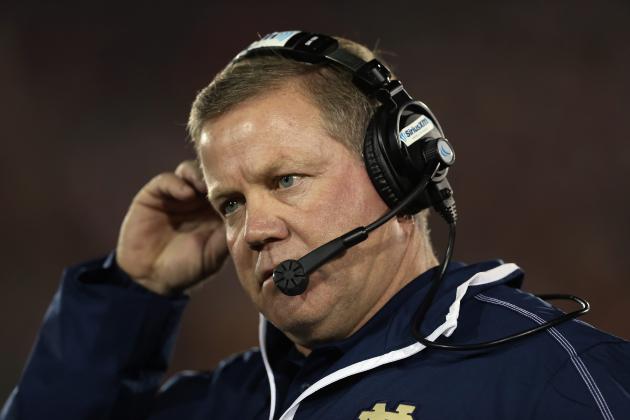 Jeff Gross/Getty Images

What is the one thing that all 124 FBS college football head coaches have in common?
Though the answer to this provocative question could be as varied as sleep deprivation, increased levels of seasonal stress or bouts with job insecurity, I would argue that an even truer commonality is regret.
Indeed, whether a gridiron leader is 11-2, 2-11, 12-0, 0-12, 3-6, 6-3 or somewhere in between each and every college head football coach must live with some level of regret.
And whether the source of this remorse is due to an individual game, a play, an ideological approach or even one player, there is something that eats at him and that something happened as recently as the 2012 football season.
The following slideshow utilizes the AP Top 25 released just this past Sunday and highlights the biggest regret each ranked coach has after 12 weeks jam-packed with action.
We count the lamentations down from No. 25 all the way to No.1 and in doing so we establish a strong case that the life of a college football coach, though glorious in possibility and lofty in nature, is no picnic.
Begin Slideshow

»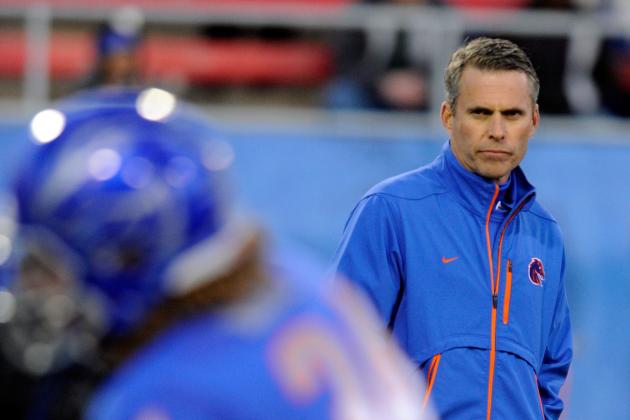 Ethan Miller/Getty Images

What's crucial to remember about Boise State's relatively huge fall from grace in 2012 is the fact that the Broncos may have been the least experienced team in the nation coming into the season.
This means that their 9-2 finish, the worst mark since they lost three games in 2007, needs to be viewed amid the backdrop of a young team as opposed to a bad one.
That said Boise State lost two games in 2012 (to Michigan State and San Diego State) by a total of six points meaning that the margin between two losses and a repeat as BCS busters was paper thin.
As far as regrets for Petersen, how about a special teams unit that gave up a 100-yard kickoff return and a blocked punt in the 21-19 loss to San Diego State?
Yes, the Broncos offense understandably struggled (think only three returning starters) while their defense excelled to a No. 5 scoring mark with only two returning starters, but what really hurt was a special teams unit that may have taken the biggest hit in terms of personnel turnover.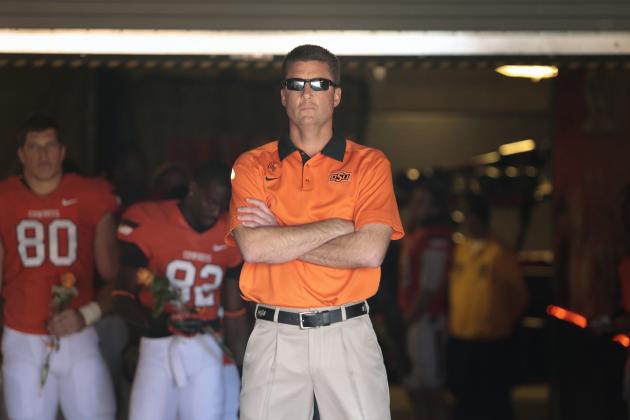 Brett Deering/Getty Images

Really, Mike Gundy has down well to take his very young Cowboys into a wide-open Big 12 race in 2012 and come out with a 7-4 record with one game left to play.
What Gundy might regret very recently is the decision to throw a pass on 3rd-and-6 in overtime in this past Saturday's 51-48 overtime loss to Oklahoma.
The Cowboys had just thrown three previous pass plays (one completion and two misses) coming into the third down and were set up nicely to run the ball, especially given the fact that they'd already hung up 201 rushing yards on Oklahoma's D in regulation.
Overall, Oklahoma State scored six TDs on the Sooners and only one, a 75-yard bomb, came off a pass. The others were all rushing plays.
A first down in OT could have led to a Cowboy TD and then extended the game, given that Oklahoma still scored on their first OT possession, to a second extra session.
A win in Norman would have been Oklahoma State's first since 2001 and the first back-to-back wins over the Sooners since 2001-02.
Cooper Neill/Getty Images

The good news for Mack Brown in 2012 is that he's taken his 5-7 mark in 2010 and his 8-5 finish in 2011 to the heights of an 8-3 record through 11 games in 2012.
The bad news is that the Longhorns must beat No. 6 Kansas State in the closer or win a bowl game to make nine wins and keep the slow improvement from the depths of hell rolling.
While Mack Brown might well regret pumping out Texas' worst defensive product in a decade, perhaps he laments the fact that he didn't get out of town sooner even more.
Yes, if Brown had triumphantly stepped down after the 2009 season with the Horns 13-1 and blemished only by a quarterback-less national championship loss, the bronze bust of Brown would still be shiny and new.
And Mack Brown wouldn't be living in a world where every game is his last, every decision is over-analyzed and every loss is treated like the end of the world.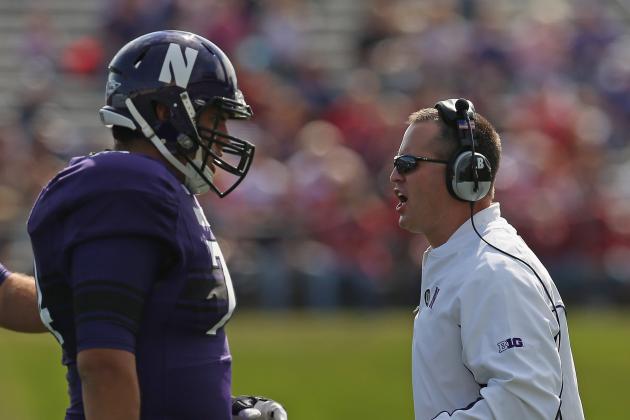 Jonathan Daniel/Getty Images

In case you hadn't noticed, in 2012 Pat Fitzgerald has led Northwestern to its best finish since 2008 (when they also finished 9-3) and has the Wildcats primed for a bowl win that would mean their first 10 win campaign since 1995.
Though three losses mean that regrets may be easy to pinpoint, what about the fact that Northwestern fought hard to go 5-3 in the Big Ten this season only to finish third place in a competitive Legends division?
This leads to the angle of Fitzgerald being miffed that the Wildcats didn't get declared a "Leader" rather than a "Legend" (you could argue that historically they have been neither in conference play) back in 2010 when the divisional format was conjured up.
Yes, if Northwestern was indeed a 2012 "Leader" then they'd have punched their ticket for the Big Ten title game vs. Nebraska and have a real shot their first outright conference crown since 1995.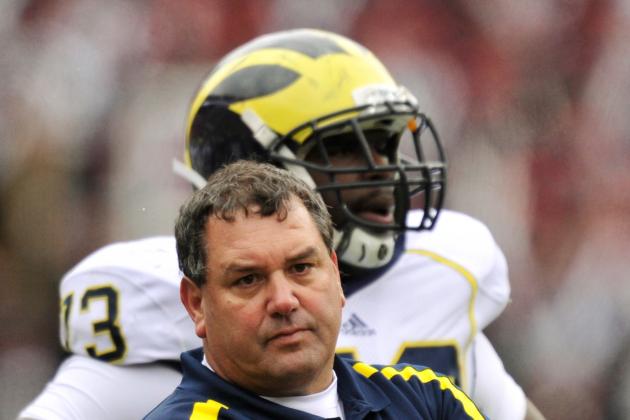 Jamie Sabau/Getty Images

When Brady Hoke took over at Michigan in 2011 he got handed a program that had ranked an awful No. 95 nationally vs. the run in 2010.
Hoke coached up the Wolverines to the tune of a No. 39 finish in 2011 in rushing defense, a stat which underlines Michigan's improvement in wins/losses from 7-6 to 11-2 over the same time period.
For 2012 Hoke and friends took a step backwards and rank No. 57 vs. the run after last week's loss to Ohio State, averaging an allowance of 156 yards per game on the ground.
Though this may come across as a litany of useless statistical data it's interesting to note that the Wolverines gave up a whopping 232 yards of rushing in their loss to Alabama, 160 to Nebraska and then 207 to Ohio State.
It might be possible that Brady Hoke regrets not continuing to improve shutting down the run, especially when you consider that no team has won the BCS title in the past five years that hasn't ranked No. 12 or better in rushing defense.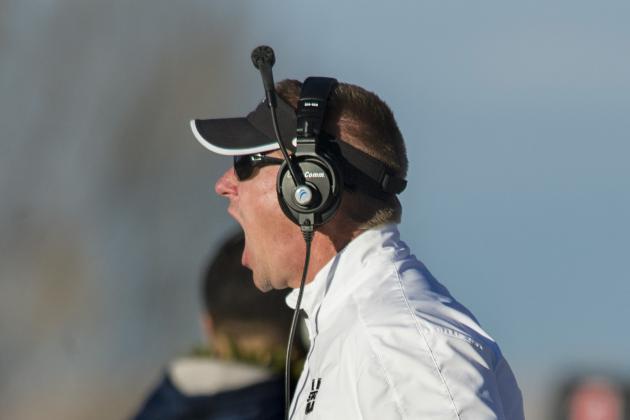 Douglas C. Pizac-US PRESSWIRE

One of the true miracle workers in the last two seasons, Utah State's Gary Andersen has taken a program that hasn't won more than six games in a season since 1993 and has never hit double-digits to all new highs.
Andersen led the Aggies to a 7-6 mark last season and in 2012 he has Utah State at 10-2, ranked No. 20 in the AP and champions of the WAC.
Utah State's only losses this season were by a total of five points; a 16-14 decision at Wisconsin and then a 6-3 loss at BYU.
The loss at Wisconsin came via a missed 37-yard field goal with just over a minute remaining that would have iced the Badgers. The defeat to BYU came in a defensive juggernaut that could have been leveled by another missed field goal (this time from 38 yards) with just over two minutes to go.
Perhaps Andersen's regrets in 2012 stem from his decision to opt for junior kicker Josh Thompson, who missed both the crucial attempts, over sophomore Nick Diaz who went 8-for-11 as the Aggies kicker in their last six contests (all wins).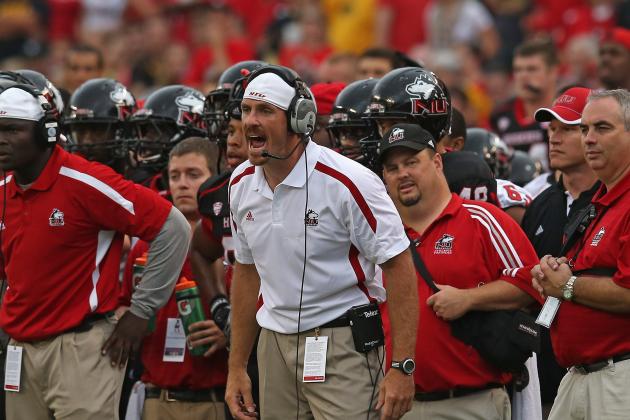 Jonathan Daniel/Getty Images

In case you're keeping track, Northern Illinois 11-1 regular season finish in 2012 marks the third consecutive season that the Huskies have scored 11 wins.
And in two of these three seasons Northern Illinois has been under the capable leadership of David Doeren.
In terms of what to lament in 2012, Doeren has to still be at least somewhat haunted by the opening loss to Iowa where in the Huskies held a 17-9 advantage coming into the final quarter.
The beginning of the end in this battle came via a 50-yard Hawkeye field goal with nine minutes remaining, making the score 17-12.
From there, Doeren might regret the three play calls dialed up when Northern Illinois was pinned back on their own one-yard line with just over five minutes left to play.
Two running plays, a botched pass attempt and a false start penalty netted the Huskies a punt from their own one yard line which led to an Iowa drive that started at NIU's own 24 yard line.
The resulting Hawkeye TD with just over a minute remaining sealed the deal on an 18-17 Iowa win and cost the Huskies an opportunity to go undefeated.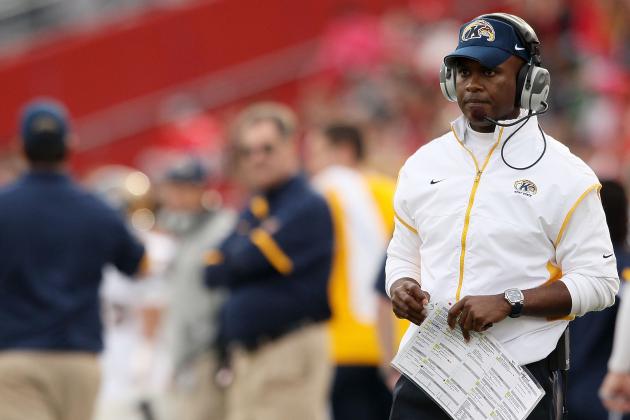 Alex Trautwig/Getty Images

Before boldly pointing out what second-year head coach Darrell Hazell should regret about his Kent State Golden Flashes' 11-1 regular season record let's pause for a bit of a history lesson.
Not only has Kent State never won 11 games in program history, it has never scored double-digit wins and has only reached the nine win plateau once (in 1973).
Other than that the Golden Flashes have only scored eight wins three times, total, since they first hit the field in 1920.
This happened in 1940, in 1954 and then most recently in 1976.
Therefore, though you could say that Kent State should have bested Kentucky in Week 2 (we know now that the Wildcats were epically bad in 2012), you could also make an argument that everyone needs to just shut their mouths and bow down to what Hazell has done this season.
Kent State is currently ranked No. 18 in the AP and the Golden Flashes will clash with Northern Illinois this Friday night for only their second ever league title (they won the MAC in 1972).
No regrets here.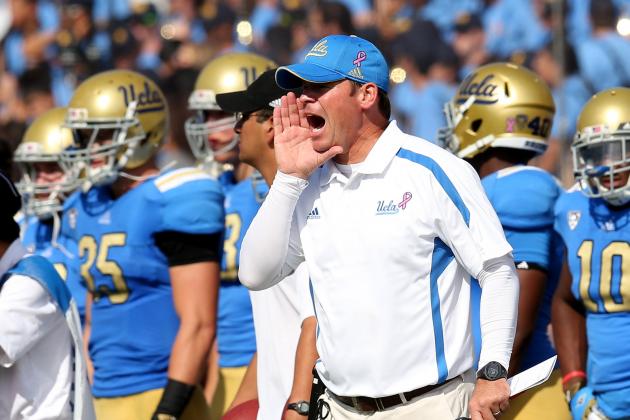 Stephen Dunn/Getty Images

At 9-3 and holding a ticket to the Pac-12 title tilt, Jim Mora's is a guy who is hard not to celebrate in 2012.
Before Mora showed up at UCLA for the 2012 season the Bruins hadn't eclipsed eight wins since they went 10-2 in 2005 under Karl Dorell.
As far as regrets go, maybe Mora laments the blow-out loss to Cal, the early-season touchdown loss to Oregon State or the fact that after coming off the emotional win over USC that the Bruins couldn't overcome Stanford last Saturday night.
But when you tie the three losses together, perhaps Mora laments the fact that he couldn't do more for a pass defense which gave up over 263 yards per game, earning it the dubious ranking of No. 101 nationally.
Yes, this is the unit that coughed up 379 yards passing to Oregon State, 253 yards through the air in a turnover fueled loss to Cal and then 160 yards to Stanford, one of the least efficient passing teams in the nation.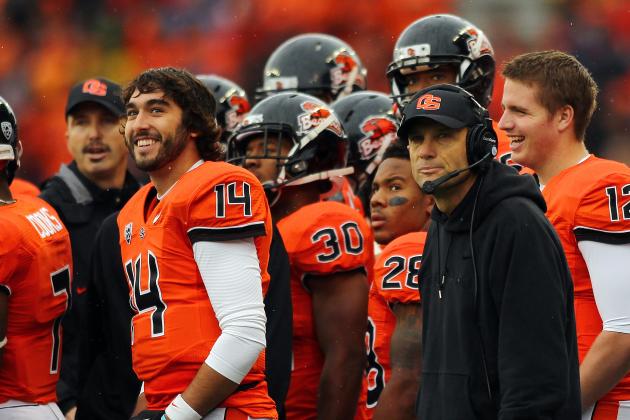 Jonathan Ferrey/Getty Images

Though you had to figure that even after a 6-0 start that Oregon State wouldn't run the tables this season, Mike Riley's 8-3 record through 11 games needs to be enjoyed while keeping things in perspective.
Yes, let's remember that this is the same program that was 5-7 in 2012 and finished 3-9 last year.
So, what of regret for Riley who has cashed in on his defense for a monumentally improved 2012?
Well, maybe it was play calling or perhaps it was the fact that the Beavers had one of the worst rushing offenses on the year (currently ranked No. 109 nationally), but Oregon State ranks a dismal No. 116 in third down conversions this season.
Think about that, the Beavers have won eight games in 2012 and they have done so while being 32.68 percent successful on third down.
Only New Mexico State, Wake Forest, Washington State, Auburn, Colorado, Maryland, Boston College and Idaho are worse.
Somebody should seriously regret that—immediately.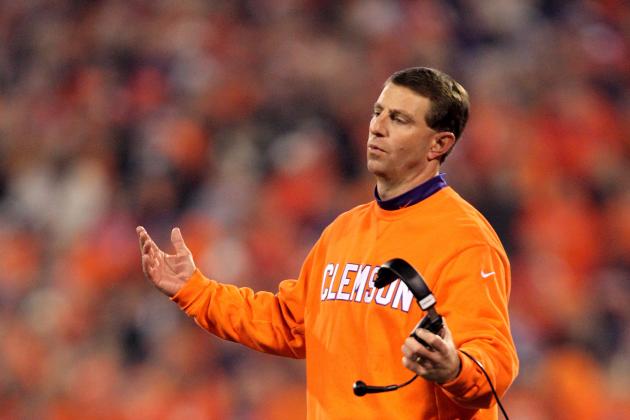 Streeter Lecka/Getty Images

With losses in 2012 to then No. 4 Florida State and No. 12 South Carolina, the young Clemson Tigers have done relatively well this season.
But, at a very respectable 10-2 Dabo Swinney and his Tigers sit behind similarly 10-2 Nebraska, 10-2 Florida State, 9-2 Oklahoma, 10-2 South Carolina, 10-2 Texas A&M, 10-2 LSU and 10-2 Stanford in the most recent AP Poll.
Yes, the Tigers dropped games to Florida State and South Carolina (which explains the 'Noles and 'Cocks being ranked higher) but other than that how does Clemson, with losses to top 15 teams, sit below the other 10-2 teams?
Well, it's because they play in one of the weakest ACC fields in recent history, a claim that can be quantified further by pointing out that even one of the weakest Big Ten offerings in history is superior to that of the ACC in 2012.
Perhaps Dabo Swinney wishes that he had earned his 10-2 record in any other conference than the ACC and maybe he regrets any previous opportunities the Tigers have had to leave the league they've called home since 1953.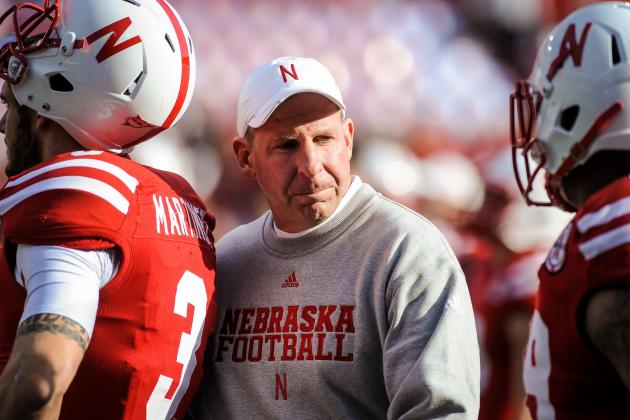 Eric Francis/Getty Images

After a decidedly underwhelming 2012 season in the ever bigger Big Ten, Bo Pelini and Nebraska look to have the inside track on capturing a first ever conference title since joining the old-guard league in 2011.
As far as regrets that Pelini might have regarding his Huskers 10-1 regular season finish, how about the fact that he couldn't seem to coach is team to a point where turnovers were a non-issue.
Yes, a winning yet somewhat undisciplined Nebraska unit (the Huskers also rank No. 92 nationally in penalty yards per game) currently ranks a disturbing No. 102 in turnover margin on the season.
Breaking this down a bit further, the Cornhuskers managed a healthy 21 takeaways but these are more than forgotten with their whopping 29 turnovers (20 fumbles and nine picks).
The only other winning teams that are ranked lower nationally this season in turnover margin are Michigan (also with -8) and Texas Tech (-12).
Tying this season-long regret to specific games, Nebraska's only two losses in 2012 (UCLA and Ohio State) accounted for six of these gaffes.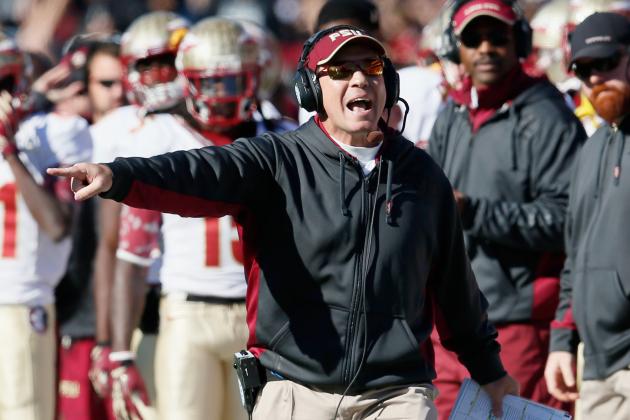 Rob Carr/Getty Images

Though Florida State's Jimbo Fisher might well bemoan the Seminoles' five-turnover spawned loss to Florida in the finale, really he could regret another aspect of 2012 even more.
And it's all about a consistent ability to run the ball effectively.
To illustrate, the Seminoles finished the 2011 season ranked No. 104 nationally in rushing yards (112.15 yards per game) and improved this number to a No. 26 ranking in 2012 (203.8 yards per game).
Really this goes a long way in explaining how last year's 9-4 mark was improved to a 10-2 finish this season.
But despite the palpable improvement in the rushing attack the common thread of this year's losses and last year's remains the same…rushing yards.
The 'Noles rushed for 125 yards in their 17-16 loss to NC State and then were held to 112 yards vs. Florida this past Saturday.
And remember, this is a team that has averaged 200 yards per game on the season.
Perhaps then Fisher regrets that Florida State's dramatic improvement in rushing yards hadn't wasn't as apparent in its two losses as it was in its ten wins.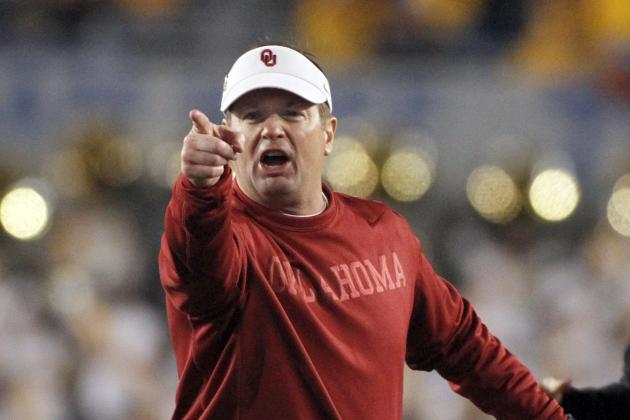 Justin K. Aller/Getty Images

With a boatload of returning starters Bob Stoops and Oklahoma looked ready to jump back to the very top of the charts in 2012.
And while a 9-2 record with one game remaining is nothing to snort at, the Sooner were ranked No. 4 in the preseason AP and need a win over TCU and a K-State loss to Texas to win even a Big 12 title.
What caused the fall from preseason grace, and what Coach Stoops may well rue, is a rushing game that under performed epically when the game was on the line.
To illustrate let's start with the fact that Oklahoma has averaged 163.5 yards of rushing per game through 11 games. Amidst this backdrop it's easy to get the picture when you realize that the Sooners racked up only 88 yards of rushing in the loss to Kansas State and then 15 total ground yards vs. Notre Dame.
Alternatively, Oklahoma hung up 343 yards on Texas in the Sooners epic 63-21 manhandling of the Longhorns.
Maybe Stoops regrets not honoring the run in what's predominately been a passing affair this season.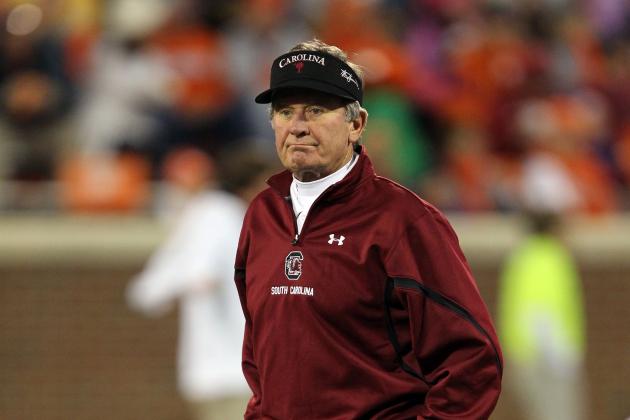 Streeter Lecka/Getty Images

Steve Spurrier became the winningest coach in South Carolina history this past Saturday night by virtue of the 'Cocks impressive 27-17 road win over instate rival Clemson.
So what does the "Old Ball Coach" regret about leading South Carolina to its third double-digit win season in program history?
Well, maybe Spurrier regrets the fact that whomever concocted the Gamecocks 2012 slate had the audacity to put together a three-game midseason run vs. Georgia (then No. 5), at LSU (then No. 9) and then at Florida (then No. 2).
We know now that the Gamecocks managed to roll over Georgia (35-7) but then lost an emotional nail-biter to LSU (23-21) which resulted in the ugly four-turnover loss to Florida (44-11).
Perhaps if the schedule had been not different in terms of whom they played but the order of play it would be South Carolina and Spurrier playing for the right to face the Irish for a national championship rather than Georgia, a team they beat soundly.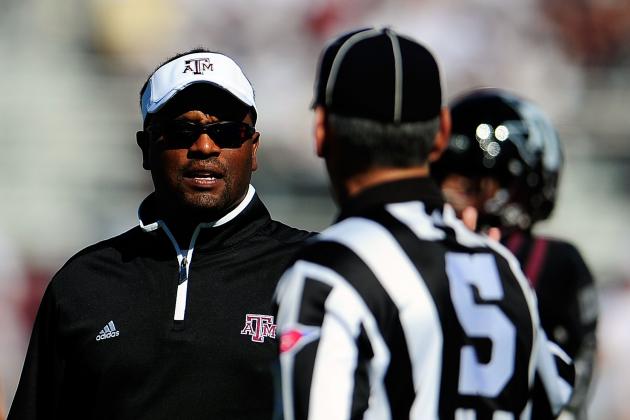 Stacy Revere/Getty Images

Kevin Sumlin has orchestrated the Aggies best finish since 1998 and not only has he led A&M to the land of 10-2, he's done it in the SEC.
Yes, while everyone (including me) watched and waited for Texas A&M to fall flat on its face in the SEC, Sumlin led the Aggies to one of the most astonishing performances of the entire season.
So what, if anything does Sumlin regret in 2012?
Well, how about the fact that even though Texas A&M didn't allow the type of ugly comeback fueled losses by foes in 2012 that they did in 2011, they still weren't a second half team.
This is illustrated first by the Aggies offensive scoring by quarter in 2012; 144 points in the first quarter, 199 in the second, 99 in the third and then 98 in the fourth.
The trend continues defensively where A&M gave up 34 total points in the first quarter of play this season, 68 in the second, 63 in the third and then a whopping 105 total points in the fourth.
This statistical resume goes a long way in explaining how the Aggies lost to Florida (they scored 17 first half points and zero in the second half) and LSU (they scored 12 in the first and only seven in the second).
Perhaps Sumlin regrets halftime adjustments, pep talks or conditioning that takes a team through a full 60 minutes of play.
Regardless, it's difficult to deny that he's done an amazing job in College Station, Texas.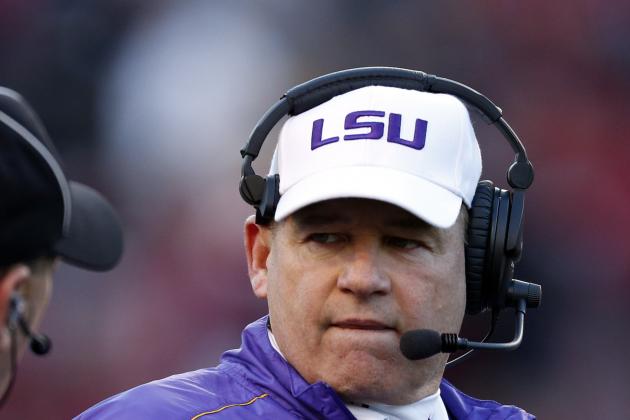 Wesley Hitt/Getty Images

With two losses which mean that the Tigers are out of the SEC title and BCS championship conversations, LSU's Les Miles could have a few reasons for lying in bed and worrying during a sleepless night.
What might be the biggest regret for the magical Miles was a situation that was totally out of his realm of control and comes down to an injury to a key player early in the season.
Yes, gone but not forgotten is LSU's Alfred Blue, a junior RB who had 100-plus yard rushing performances in Week 1 and Week 2 before being knocked out of the Week 3 win over Idaho with a knee injury.
The injury cost Blue his 2012 season and the Tigers a top caliber back, a really big deal for a program with a rookie QB that has historically gotten it done on the ground.
Don't think so?
Well, if you look for a common thread in the Tigers' two losses this season you find a team that struggled to rush the ball to the tune of a mere 42 yards vs. Florida and 139 yards total vs. Alabama.
Could Blue have saved the season? Does Miles rue the day he went down? Does eating grass during an undefeated regular season lead to two losses the following year?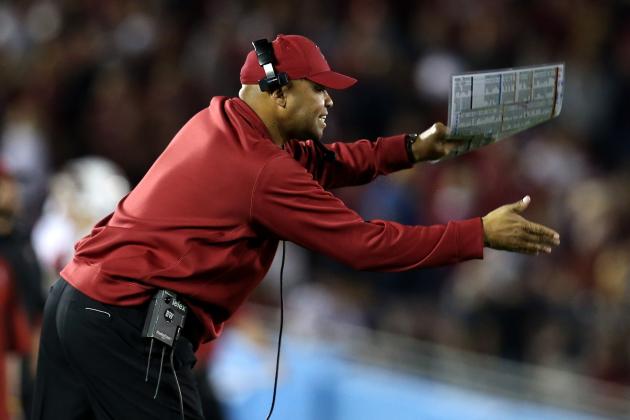 Stephen Dunn/Getty Images

And now we come to the coach that knocked off No. 2 USC, No. 11 Oregon State, No. 2 Oregon and No. 17 UCLA only to lose on a call at No. 7 Notre Dame and then falter at unranked Washington.
This is the guy who is at least partially responsible for both parts of the almost guaranteed billing of Oregon vs. USC in the 2012 Pac-12 title game changing to the Stanford vs. UCLA clash that is on the books.
So, what of regrets for Shaw who is slowly and triumphantly emerging from Jim Harbaugh's mighty shadow at Stanford?
Well, you've got to figure that the 17-13 loss to Washington irks him the most but maybe, just maybe he laments the fact that he didn't make the switch from Josh Nunes to Kevin Hogan sooner in the season.
Nunes is 124-of-235 (52.8 percent) for 1,643 yards, 10 TDs and seven picks in 2012 while Hogan is 81-of-111 (73 percent) for 818 yards, eight TDs and only three picks.
Perhaps more telling is the fact that Nunes was under center for both of Stanford's losses (he threw two picks in the Notre Dame game). while Hogan is 4-0 as the starter (including three consecutive wins over ranked foes).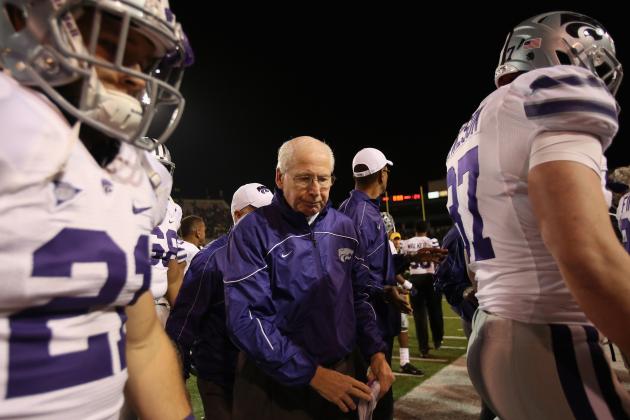 Ronald Martinez/Getty Images

Just because Bill Snyder has successfully pulled off his second football revival at Kansas State doesn't mean that he doesn't live with a certain measure of regret.
Indeed, Snyder had the Wildcats on the very cusp of the BCS national championship game coming into their Week 12 road trip to Baylor, something that seemed almost surreal when looking at the bigger picture.
But, we all know now that K-State fell, epically, to Baylor (52-24) so does Snyder regret the three turnovers, the 580 yards of total offense allowed or perhaps the fact that his potent rushing attack got zapped to the tune of a paltry 76 total yards?
Well, maybe Snyder bemoans what was the most costly defeat in his career from a decidedly more historic perspective.
Looking back in time could it be that Snyder regrets the fact that the Big 12 conference when originally concocted back in 1995 chose Baylor as a new member over TCU, which was relegated to the WAC for the 1996 season?
If TCU had been chosen over Baylor, in a cosmic interchange sort of way, Snyder and K-State would have faced the Horned Frogs in Week 12 of the 2012 season rather than the lowly Bears.
And then, suddenly, the Wildcats don't overlook a long-standing Big 12 stalwart in TCU (that they may have in Baylor) for perennial powerhouse Texas that awaited the Cats in Week 13.
K-State beats TCU (remember, they're ready now), ices Texas and makes the BCS title game…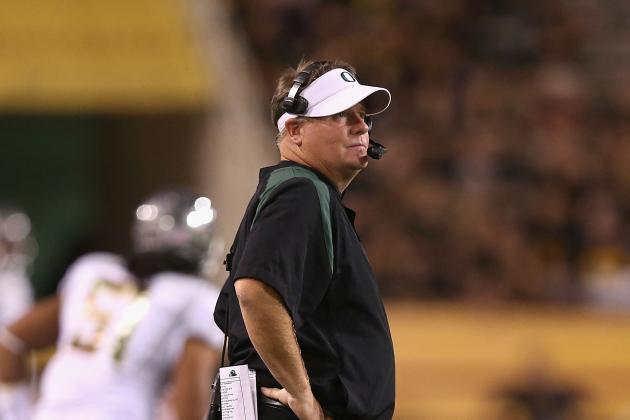 Christian Petersen/Getty Images

Surely a guy who was ever-so close to his fourth consecutive Pac-12 title and a shot at a second BCS title appearance would have some regrets regarding the Ducks Week 12 three-point overtime loss to Stanford?
Indeed, how did one of the most potent offenses in the land get held to a paltry 14 points when overall it averaged a whopping 50 points per game in 2012?
Maybe it's the fact that his team didn't offer a more balanced offensive attack in 2012 keeps Chip Kelly awake at night.
And perhaps what bothers him the most is that though the Ducks showed interest in Texas A&M's Johnny Manziel when the youngster was being recruited in 2010, they didn't work to seal the deal.
Yes, maybe with Manziel (now the green hued Johnny Football instead of the maroon colored one) under center the Ducks could have bedazzled Stanford both through the air and on the ground.
And then could it be that Oregon would be hosting UCLA in the Pac-12 championship for a fifth straight league crown?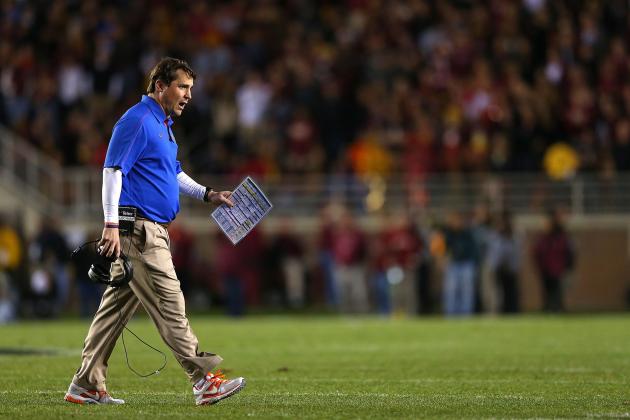 Mike Ehrmann/Getty Images

While Florida's Will Muschamp might quietly lament the fact that his offense currently ranks No. 76 in points scored, what he's really got to regret is the Gators eight-point loss to Georgia.
Yes, this loss ultimately cost Florida its first SEC title game appearance since 2009 and its first shot at a national title since 2008.
That's painfully painful and regretfully regretful.
In terms of specific stats to mourn, how about the fact that the Gators turned the ball over six times vs. the Bulldogs.
And this all gets more fraught when you quantify that tidbit by keeping in mind that Florida has turned the ball only 12 times total all-season.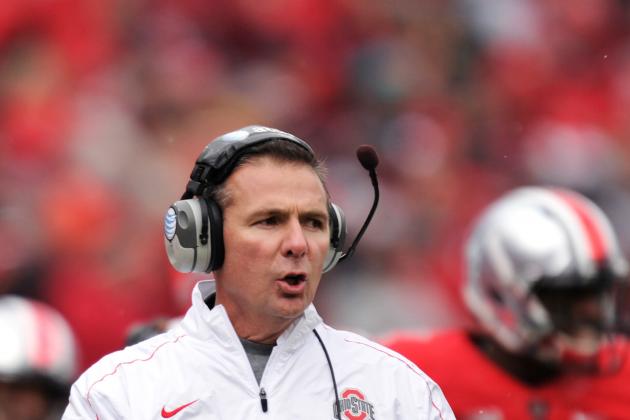 Jamie Sabau/Getty Images

Though many Buckeye fans will choose to follow the advice of their therapists and revel in the glory of a 12-0 record, rather than wallow in the despair that is the lot of the undefeated postseason banned program, the truth hurts.
Yes, Ohio State is 12-0 for the first time since 2006, but the Buckeyes can't complete any more than regular-season perfection due to a ban hanging over from sanctions associated with the far-gone Jim Tressel era in Columbus.
For Urban Meyer it means reaching the Promised Land and not cashing in on the milk and honey you are supposed to receive when you lead a major college football team to perfection.
And so, maybe, Meyer regrets the fact that he didn't negotiate some sort of retroactive contract clause that forced Ohio State to self-impose their postseason ban in 2011, rather than wait for the NCAA to do it in 2012.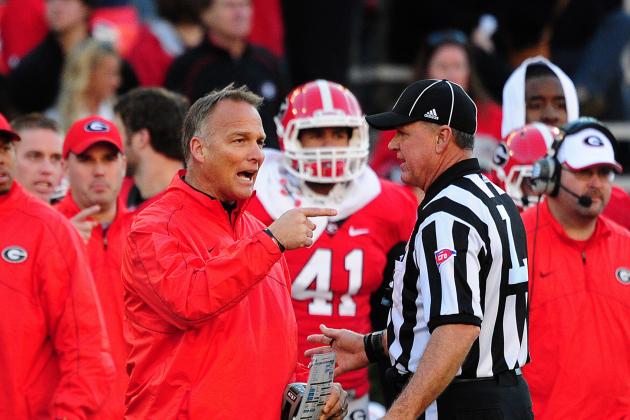 Scott Cunningham/Getty Images

Though Mark Richt and his Bulldogs are flying a bit under radar with a "win and you are in" scenario for the BCS title game, there are still regret options.
With a defense that has slowly stiffened as the season has gone on perhaps Richt might bemoan the 20 first quarter points South Carolina hung on the Bulldogs in its 35-7 triumph over Georgia.
Indeed, maybe Richt regrets not pumping up his D in the pregame locker room as the 20 points allowed represent almost a full third of the 57 first quarter points Georgia has given up all season.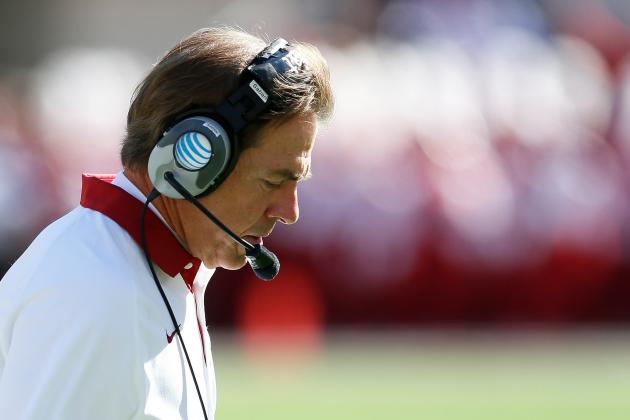 Kevin C. Cox/Getty Images

Though the wild wave of events that occurred during Week 12 of this season still have Saban and Tide in the hunt for a national championship, things could have been a lot simpler if Alabama would have beaten Texas A&M in Week 11.
Regrets, as far as Saban is concerned, might be that his defense, the one that held their 11 non-Aggie opponents to six points total in the first quarter, had done something even remotely similar in the A&M game.
Alabama gave up six total first period points cumulatively to its entire slate of 2012 foes, with the exception of the Aggies who posted a whopping 20 on the Tide.
This means that the Aggies scored 77 percent of the total first quarter points that the Tide gave up in the 2012 regular season, which may give Saban reason for more than mere regret.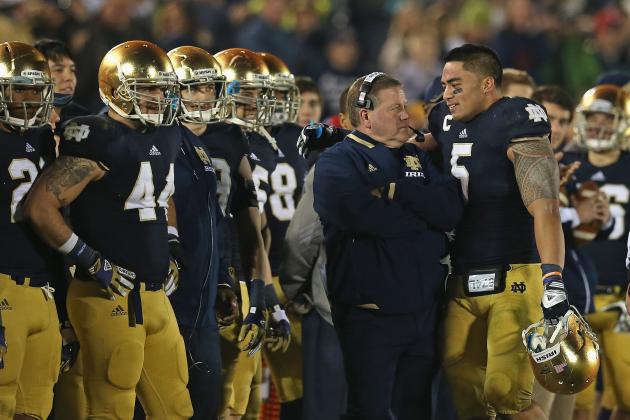 Jonathan Daniel/Getty Images

At 12-0 with a ticket in hand for the BCS Championship game it's difficult to imagine what if anything Brian Kelly could regret about 2012.
But even amid the "Era of Very Glad Tidings" in South Bend, Kelly is secretly miffed that he didn't book the Jacuzzi Suite at the Hotel Roma Golden Glades Resort in Miami Gardens sooner this season.
Though making a premature reservation might have jinxed the Irish, the Roma has no rooms available for January 6 through 8 which leaves Kelly looking for an alternative headquarters for him and his gridiron aide de camps for the BCS title game.