50 Things We Learned from Week 13 in College Football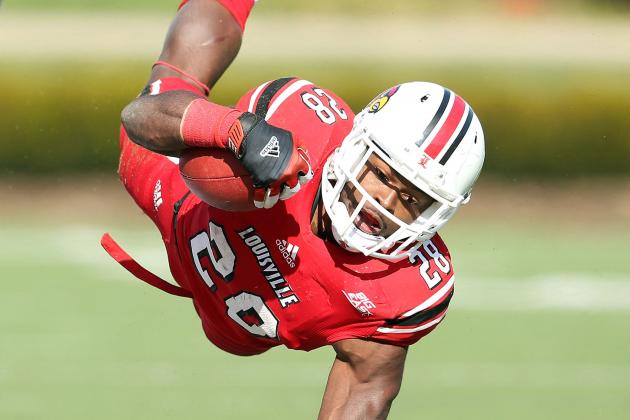 Andy Lyons/Getty Images

With rivalry weekend in the rear-view mirror and championship weekend squarely in our sights, college football's BCS picture is almost as clear as it will ever be for this season.
The outcomes of some of the games may have been a disappointment for some, but the weekend was filled with games decided by a touchdown or less. (Eight of the 18 games involving BCS Top 25 teams were decided by seven or fewer points.)
Before concentrating on championship weekend, let's take a moment or two to look back at rivalry weekend and cover 50 things we learned from the experience. Presented in alphabetical order, here they are.
*Stats not from memory are from ESPN.com
*Rankings not from memory are from collegepollarchive.com
Begin Slideshow

»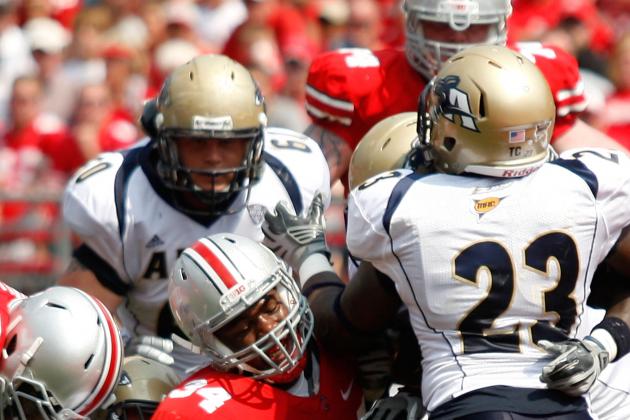 Kirk Irwin/Getty Images

While Akron finished the season a disappointing 1-11, there is plenty of evidence for Zips fans to be hopeful for the upcoming years.
The Zips lost seven of their games by two touchdowns or less. Considering the Zips haven't made a bowl game since 2005, just playing tough competition like Toledo to a two-possession loss is an accomplishment.
Over the past few seasons, Akron has come away with only one win per year. Just bringing the Zips toward "competitive" is reason for hope. It won't be more than a couple of years before Terry Bowden at least brings the Zips to respectability within the conference.
In 2011, the Zips lost only four games by a two-possession margin or less. In 2012, they almost doubled that number. Success isn't always measured solely by wins and losses.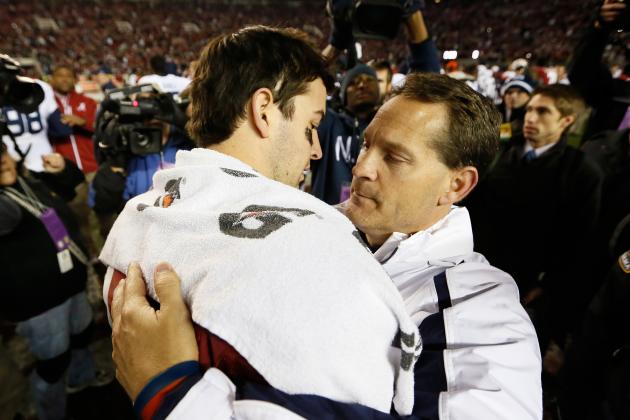 Kevin C. Cox/Getty Images

What we learned about the Crimson Tide is that they seem to be fueled to greatness by losing a game. Over the past few seasons, every bit of success can be traced back to a loss.
2008's loss to the Florida Gators motivated the entire 2009 14-0 championship run. 2010's three losses motivated the Capital One Bowl demolition of Michigan State. 2011's national championship performance was motivated by the regular-season loss to LSU.
2012 seems to be no different, as Alabama has reeled off back-to-back 49-0 shutouts following the loss to Texas A&M. That motivation may or may not be enough to propel the Tide past the Georgia Bulldogs, but it almost makes you feel sorry for whoever lines up against the Tide this postseason.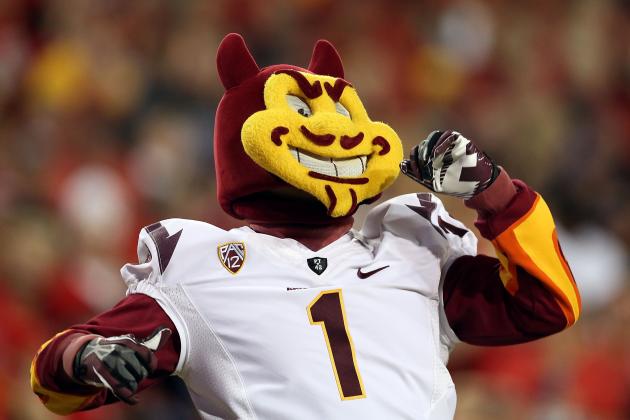 Christian Petersen/Getty Images

Whichever team won the in-state rivalry this past weekend would stay ahead of the other in the Pac-12 South standings. That made the Arizona vs. Arizona State game worth turning on in the first place.
The back-and-forth rivalry game was exactly what college football fans wanted, although it's probably not what Arizona State fans wanted. At the end of the game, ASU edged the Arizona, which means both team finished 7-5.
Arizona State's slightly better finish in conference play (5-4 as opposed to Arizona's 4-5) will earn them the slightly better bowl selection than Arizona.
Even though Arizona had the upset victory over USC, Arizona State capitalized on the head-to-head opportunity to establish conference supremacy over the Wildcats.
Wesley Hitt/Getty Images

While we all knew this was coming, it technically wasn't official until Week 13: John L. Smith is no longer the head coach in Fayetteville.
Arkansas was ranked as highly as No. 3 in the BCS rankings last year before falling to the LSU Tigers on rivalry weekend. This season, the Hogs couldn't even get three SEC wins. Their two conference wins came over SEC teams who also fired their head coaches as a result of poor performance in the 2012 season.
Kevin C. Cox/Getty Images

Auburn has fallen a long way since the legendary national championship run of 2010. Week 13 taught the college football nation that this is, in fact, the worst Auburn team in the history of the school.
The 0-8 finish in conference play is the first time in school history that Auburn has failed to post at least one win against a conference foe. That's not the kind of record a team sets out to break.
Alabama's final possession ended on a knee taken on fourth down with goal-to-go. If the Tide had pushed as hard as they were capable, this would have been the worst defeat in Iron Bowl history.
Auburn fans are thankful that this season is over, but it will not be forgotten anytime soon.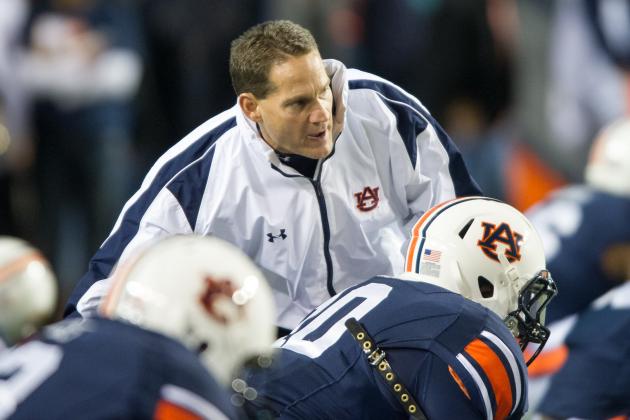 Michael Chang/Getty Images

Gene Chizik was fired as a result of this season's performance. Chizik had gone from a national championship to completely winless within the conference in a scant two years.
Here are some things that the administration probably considered after Week 13's Iron Bowl blowout:
1. Auburn may lose some 2013 recruits if Chizik is fired; that's to be expected when a head coach leaves.
2. How many Chizik seasons would it have taken before Auburn couldn't even land a 4-star commit?
Chizik just posted the worst conference season in school history. Coaches have been fired for less in Auburn's past. He's a likable guy and all, but this was just unacceptable. After winning a national title between Alabama's latest two championships, an 0-8 finish in the SEC is not what Auburn bargained for when it hired Chizik.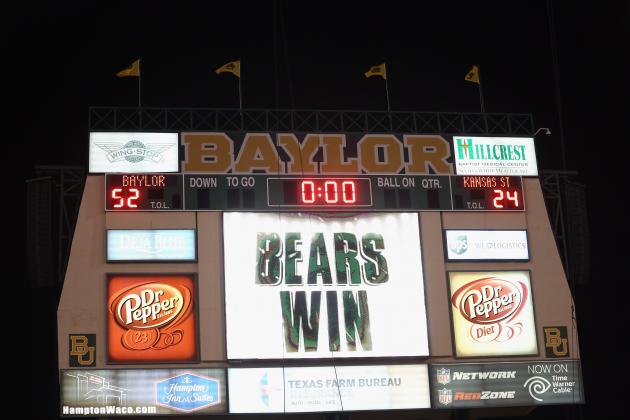 Ronald Martinez/Getty Images

The Baylor Bears took down the Texas Tech Red Raiders to gain access to the postseason. With only Oklahoma State left on the schedule, Baylor has every reason to believe that it's going 7-5 immediately following the 9-3 RGIII run.
Losing the Heisman winner to the draft spelled certain doom for the Bears. Well, as of Week 13, they have qualified for the postseason. Clearly, Baylor did not get the "certain doom" message.
Jared Wickerham/Getty Images

Good news for Frank Spaziani: He's no longer on the hot seat. Bad news: He has no seat.
Spaziani was in his fourth year as head coach for the 2012 season and finished this season with only two wins. That's plenty of time to show the bosses what you've got going on. Your first recruiting class is your leadership on the field, your roster is full of all your recruits and your performance is all based on the body of work you've created over almost half a decade.
Two wins isn't good enough in any conference. When Duke is bowl-eligible and you're not, that's a problem.
Streeter Lecka/Getty Images

Clemson is sitting right on the cusp of at-large qualification for the BCS at No. 14. Clemson lost to South Carolina for the fourth year in a row in Week 13, but did not drop out of BCS contention.
Clemson won't have the advantage of playing in the ACC championship this season, but all the Tigers have to hope for is that they remain ensconced in the 14th spot.
With the heavy presence of the SEC in the top 10, Clemson still has a shot at a BCS at-large berth. Only two teams from any given conference can appear in the BCS, and the SEC has six teams in the BCS Top 10. That leaves 10 teams from the BCS Top 14 to qualify for nine BCS spots. (The 10th spot belongs to the unranked Big East champion, and another spot could go the MAC champion, which I'll get to later).
Week 13 taught us that Clemson's loss to South Carolina didn't cost them the BCS.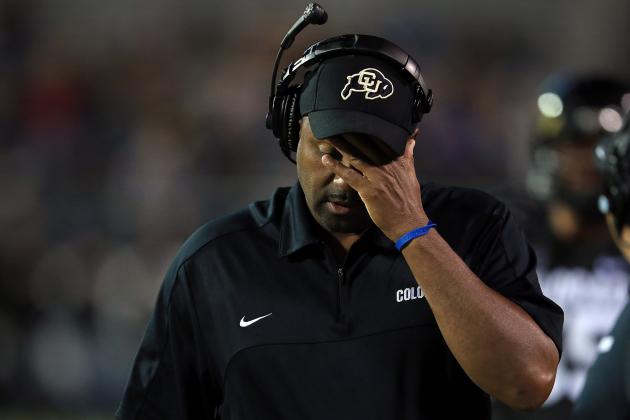 Doug Pensinger/Getty Images

Colorado has fired head coach Jon Embree (via ESPN) following an abysmal 1-11 season in 2012. Embree won only four games at Colorado, and the Buffaloes had just moved to the Pac-12 in the 2011 season.
While many may say that a one-win season was unacceptable, he did it with 16 true freshmen on the roster at the beginning of the season. While we won't get into the "hows" and "whys," I will say that he deserved at least another two years.
Let him put some juniors on the field and see what he can do with them. Firing a guy because he couldn't compete with freshmen is like failing someone in college for failing a doctoral thesis defense as a freshman.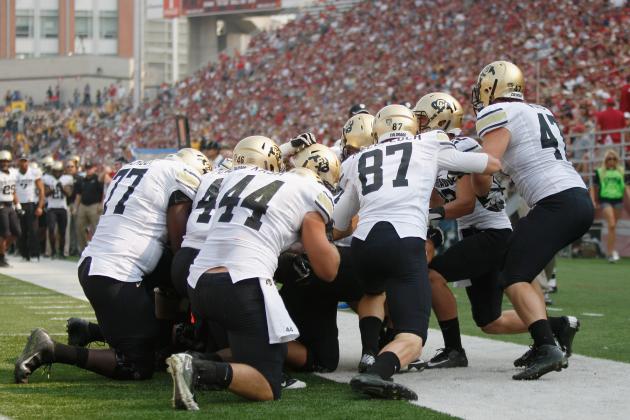 William Mancebo/Getty Images

Colorado State started the 2012 season off with a big rivalry win over the Colorado Buffaloes. After taking down Hawaii and UNLV, the Rams were one win away from their best season since 2008. They went to the New Mexico Bowl in 2008 and defeated the Fresno State Bulldogs 40-35.
Week 13 taught us all that this "Bold New Era" in Fort Collins is indeed a legitimate mantra. Maybe four wins isn't "bold" when you talk about BCS Bowl contention, but this is Jim McElwain's first season as head coach of the Rams.
Give him some time, and he'll have Colorado State bidding for Colorado's place in the Pac-12. (After all, Colorado only won one game this season. Colorado State could have done at least that well in the Pac-12, considering the Rams beat the Buffaloes in the season opener.)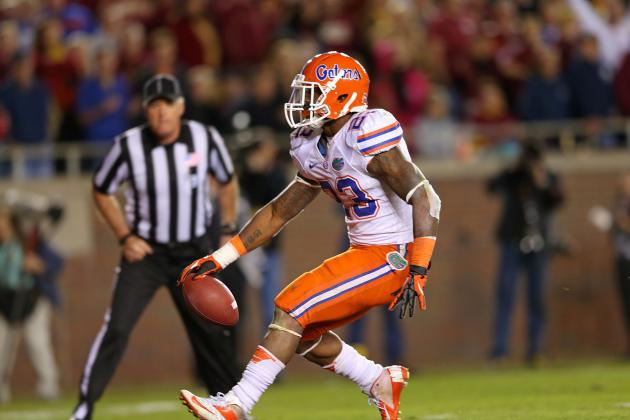 Mike Ehrmann/Getty Images

Florida has had one of the most surprisingly successful seasons of any team in the FBS. Entering the Florida State game in Week 13, the Gators had an outside shot at a berth in the BCS title game.
Had the Notre Dame Fighting Irish lost to USC, Florida would be sitting at BCS No. 3 right now with a front-row seat to the SEC championship game. While Notre Dame squashed the Gators' hope of a shot at the crystal football, Florida proved that it's worthy of a top-five ranking.
Florida bested Florida State 37-26 in a game that was marked by comebacks. Florida's comeback was in the fourth quarter, though, and we all know that's the quarter that really matters. (Unless you're Texas A&M in Tuscaloosa.)
Florida asserted its dominance in the Sunshine State and earned the SEC's at-large BCS bowl berth.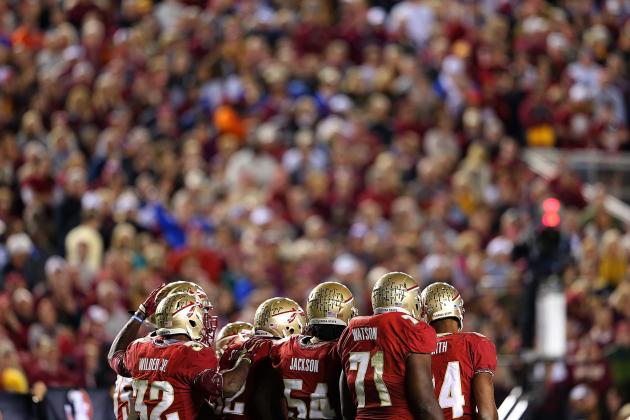 Mike Ehrmann/Getty Images

Florida State fought valiantly against the Florida Gators but was outplayed by the Gators late in the game. What we learned about the Seminoles was that they are not yet ready to contend with the nation's elite.
Next year may be an entirely different story, but 2012 was just a bit too soon to expect a top-five finish from the Seminoles. Of course, Florida State is ready to contend with anyone they might meet in the Orange Bowl, assuming Georgia Tech doesn't pull off a ridiculous upset in the ACC Championship Game.
Florida State is almost there; one more offseason may be all it needs.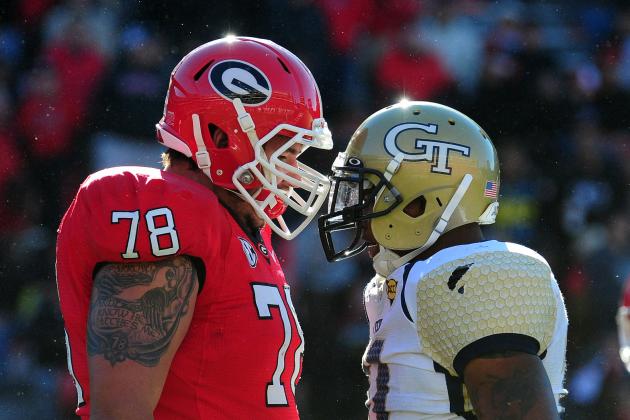 Scott Cunningham/Getty Images

Georgia clinched the SEC East Division back in Week 11 with a win over the Auburn Tigers. Week 13 taught us that Georgia can actually play with dominance over a team that they should dominate.
Kentucky and Tennessee had left doubts about Georgia on the table for most of the season. While Georgia Tech isn't exactly a signature win, the 42-10 smashing was indicative of Georgia's skill with the football.
Regardless of what the spread is, Georgia proved that it is capable of playing hard in any situation. Alabama should not be taking the conference championship game lightly.
Georgia is more than capable of giving the Tide the roughest game it's seen this season. Considering the Texas A&M game, that should come as a dire warning to the Tide.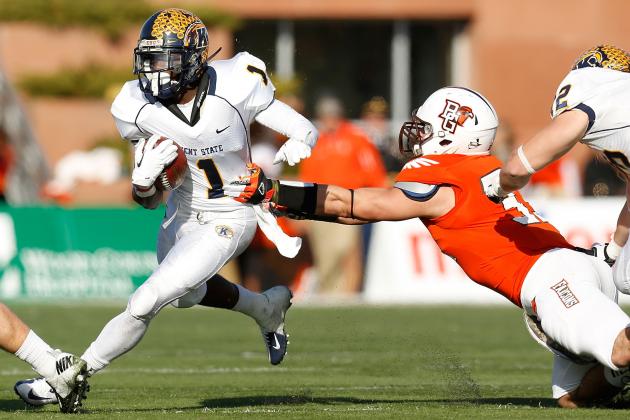 Kirk Irwin/Getty Images

Kent State handed the Ohio Bobcats a good old-fashioned butt-whoopin' in Week 13. The 28-6 defeat was the second-worst margin that Ohio has endured to this season.
Kent State shot straight up the BCS Rankings from No. 23 to No. 17 off that victory. If the Golden Flashes can rise one more rank, they will earn a BCS automatic at-large bid. (Requirements are to finish in the BCS Top 16 and ahead of an AQ conference's champion. The Big East champion has no hope of passing Kent State if the Golden Flashes don't lose to Northern Illinois this week.)
Kent State is a formidable opponent, and Ohio learned this the hard way in Week 13. If there is going to be a BCS buster this season, Kent State is probably it.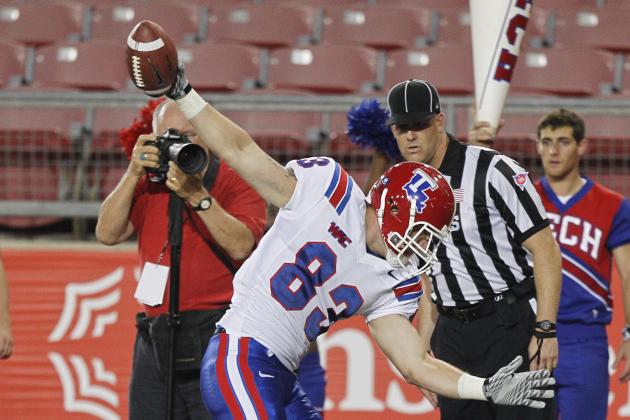 Bob Levey/Getty Images

Louisiana Tech seemed susceptible to a good defense all season, but seemingly disproved that theory against Texas A&M by taking the Aggies to the wire in a 59-57 loss. A&M has one of the better defenses in the nation, so it was thought that maybe LA Tech could make it through the season without a defense as long as it kept the nation's most prolific scoring offense.
Utah State burst everyone's bubble by taking down the Bulldogs in overtime, but we still thought of Louisiana Tech as a great team. San Jose State's defense held Colby Cameron in check just enough to give the Spartans a 52-43 win.
Now it is certain that Louisiana Tech is merely third place in the Western Athletic Conference behind both Utah State and San Jose State.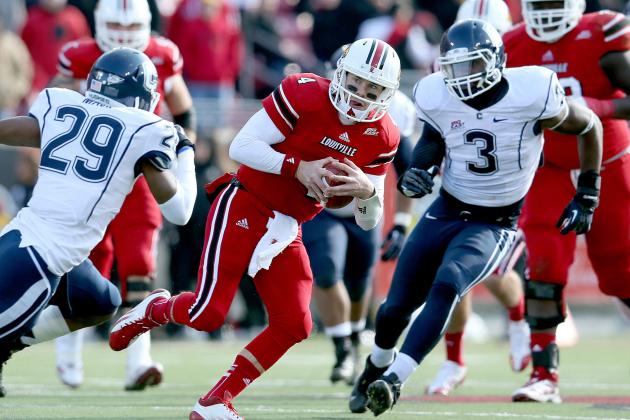 Andy Lyons/Getty Images

Louisville once controlled its destiny for not just the Big East title, but potentially the national title. Though it had its work cut out for it, Louisville could be one of two eligible undefeated teams at this points.
It would have taken a lot of style points to pass the one-loss teams ahead of them, but the Cardinals could have at least been classified as a dark-horse candidate. Syracuse screwed that up in a big way in Week 12.
In Week 13, we learned that Louisville was a lot of smoke 'n' mirrors. Connecticut gave Louisville all it could handle and more and finally earned the upset in triple overtime by three points.
Louisville can still earn the Big East's BCS berth if the dominoes all fall the right way, but there's a lot of skepticism about Louisville's ability to beat Rutgers after the Week 13 performance against Connecticut.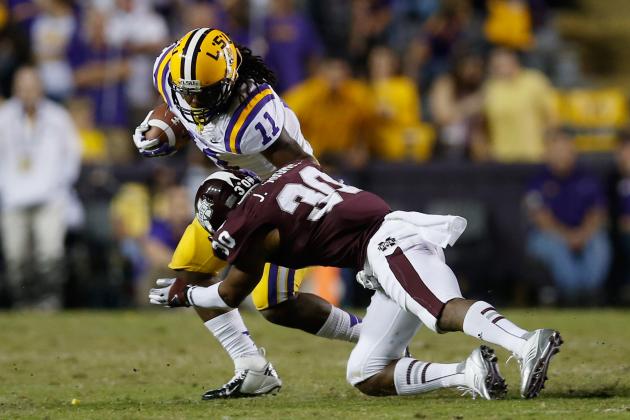 Chris Graythen/Getty Images

Mississippi State took full advantage of its easy conference schedule during the first half of the season, riding it to a 7-0 start before finally falling victim to Alabama.
Since then, Mississippi State lost to everyone but Arkansas on the way to the Egg Bowl against Ole Miss. The commanding win over a late-blooming Arkansas gave Mississippi State fans a great deal of hope against the Ole Miss Rebels in Week 13.
That turned out to be false hope, as Ole Miss trounced the Bulldogs 41-24 to hand the Bulldogs their fourth loss of the season. Mississippi State was overrated at No. 11, but Week 13 taught us that the Bulldogs were overrated simply by being in the top 25 at all.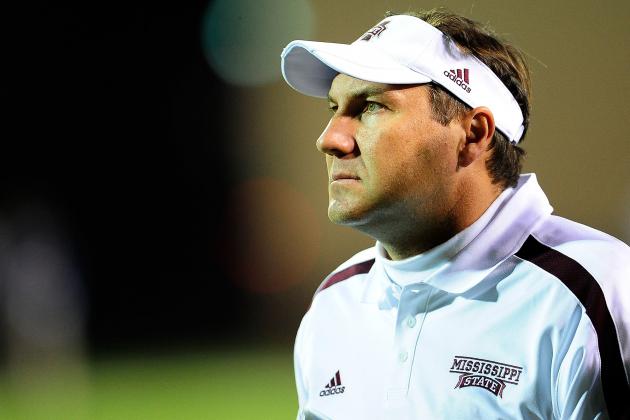 Stacy Revere/Getty Images

Regardless of the fact that Mississippi State was overrated at No. 11 back in Week 9, Dan Mullen's influence on the Bulldogs cannot be overstated.
While he's not in contention for a national title yet, his advancement of the Bulldogs has been great. Mississippi State has been a quality offense short of SEC contention for a long time. Mullen seems to have figured out who to hire and how to get the offense motivated.
Mississippi State went from barely making a bowl last year to qualifying before the bye week this season. An 8-4 finish is nothing to sneeze at in the SEC West Division.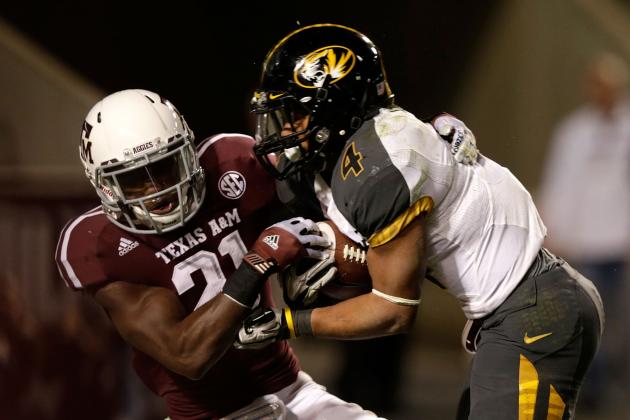 Scott Halleran/Getty Images

Missouri finished out the season with a loss to Texas A&M in the newest SEC rivalry game. Missouri was expected to be the better of the two new arrivals in the SEC.
What we learned throughout the season was that Missouri was not performing anywhere near expected. The final test of which team would be the better fit in the new conference would be the head-to-head match at the end of the season.
Texas A&M handed Missouri a disturbingly lopsided 59-29 drubbing that sent a message to the Tigers. The biggest shock of the season was Missouri's failure to qualify for the postseason; that was also finalized in Week 13.
Basketball season should lift the Tigers' spirits, though.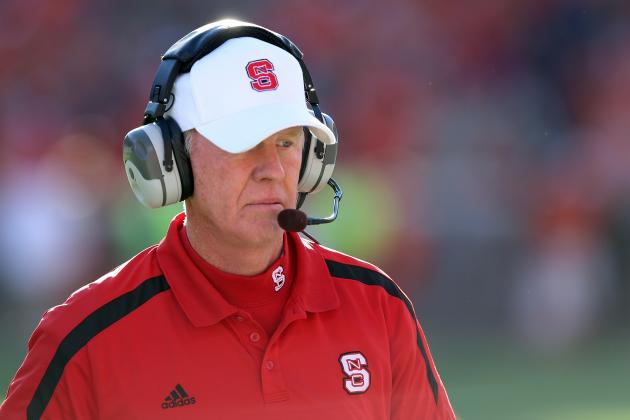 Streeter Lecka/Getty Images

Tom O'Brien won one of the biggest upsets of the season by derailing the Florida State national championship run back on Oct. 6.
O'Brien had the nation's attention at that point, but followed that triumph less than a month later with a 33-6 loss to Virginia.
That loss would have been bad enough if it were to Virginia Tech, but it was to plain-old Virginia. O'Brien's career at NC State is officially over as a result of yet another non-competitive season in the ACC (via ESPN).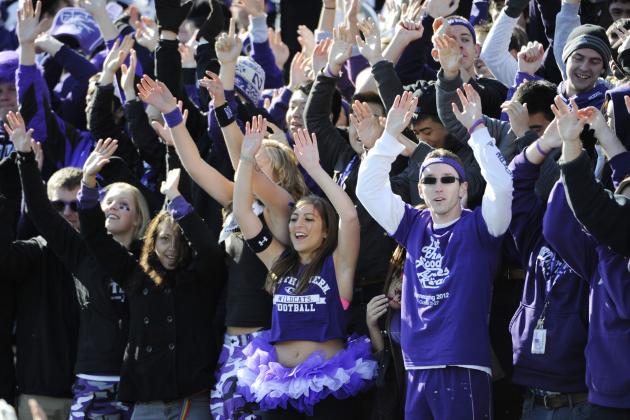 David Banks/Getty Images

Northwestern decimated the Illinois Fighting Illini in Week 13 by a 36-point margin. With losses only to Penn State, Nebraska and Michigan, Northwestern earned a spot in the BCS Rankings at No. 22.
Northwestern's win over Illinois pushed the Wildcats to 9-3 on the season for a great shot at a recognizable bowl. Northwestern has sent the message that it is to be taken seriously in 2013.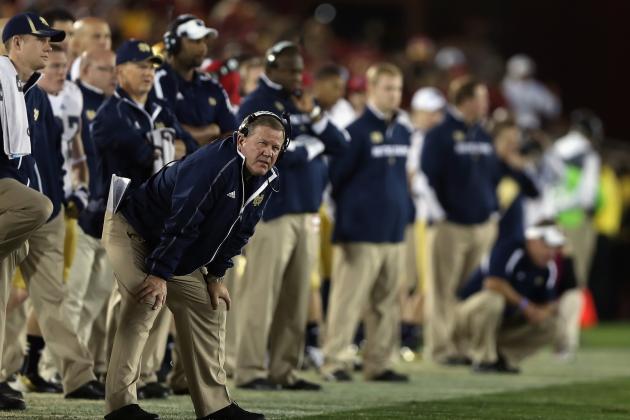 Jeff Gross/Getty Images

While this is a lesson that people should have learned no later than the final whistle of the Oklahoma game, there were plenty of doubters going around saying there was no way that Notre Dame would take down USC at home. (Of course, there were plenty of people saying that USC had no shot at beating Notre Dame with a backup quarterback, too.)
If you are one of the people that has been reluctant to believe that Notre Dame is legitimate, your out of time to prove it. Whether you like it or not, Notre Dame is back. There is nothing that could take place on any football field over the next week that could keep Notre Dame out of the national championship game.
Notre Dame will face either the Georgia Bulldogs or the Alabama Crimson Tide in Miami for the crystal football. The next slide will cover why that's awesome for Irish fans.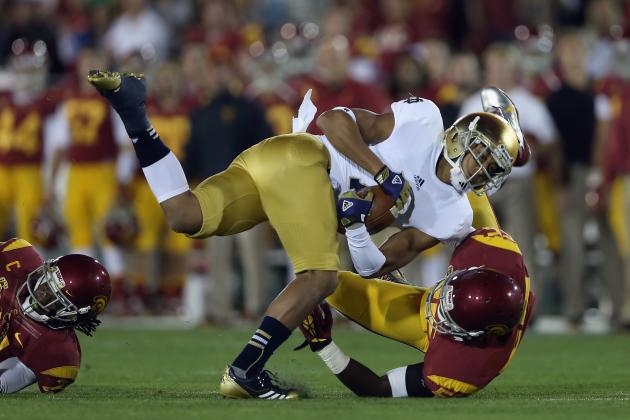 Jeff Gross/Getty Images

Regardless of whether Georgia or Alabama shows up in Miami to take on the Fighting Irish, Notre Dame has a good shot at taking home the crystal football.
We learned in Week 13 that Notre Dame is capable of shutting down three major aspects of an offense:
1) A future NFL wide receiver in Marqise Lee
2) A future NFL wide receiver in Robert Woods
3) A future NFL running back in Silas Redd
Notre Dame's return to glory could end in a national championship. Adding to the pile of awesome that has been Notre Dame's season could be the end of the SEC's reign of terror in the BCS national championship.
If you had told Notre Dame fans last year that they would be meeting the SEC champion in the BCS title game with a legitimate shot at ending "the streak," the realistic ones would have told you that you were crazy. Most Notre Dame fans would have been more than happy with a simple BCS bowl win.
Congrats to Notre Dame. Anyone who tells you that you aren't "back" must be talking about underwater basket weaving or something of that ilk.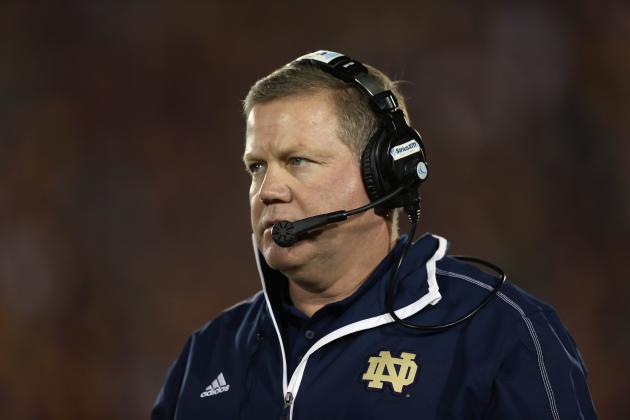 Jeff Gross/Getty Images
If your coach doesn't look like this while you're winning, he's not good enough for the crystal football.
Brian Kelly is everything that Charlie Weis was supposed to be. Kelly has earned every bit of his paychecks for the next 10 years. Even zero national championship appearances over the next nine years would not dull the flavor of what Notre Dame fans are experiencing right now.
Like Alabama's 2008 (or 2009) season, this year marks the end of a drought that spanned a generation. (With a win in the national championship, this would be like Alabama's undefeated 2009 run.)
That is a flavor that few college football teams know. Most teams don't know the kind of success that Notre Dame once enjoyed, and even fewer know what it's like to finish a season 12-0 after so many years of mediocrity.
Brian Kelly is the man. Between him and Bill O'Brien, they may need to give out two Coach of the Year awards. I wouldn't want to be the deciding vote in that election.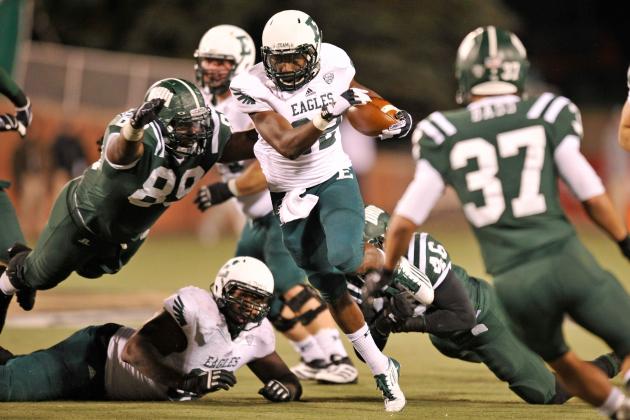 Jamie Sabau/Getty Images

Ohio has had a season to remember, but the Week 13 loss to the Kent State Golden Flashes was a game to forget...as soon as possible.
After a 7-0 start to 2012, the Bobcats went on to finish the season on a three-game skid to finish 8-4 with no shot at the MAC title.
In Week 13, we all learned that the Ohio Bobcats either couldn't handle pressure well or were overrated in the first place. It's your decision as to which lesson you learned from the team's loss to Kent State.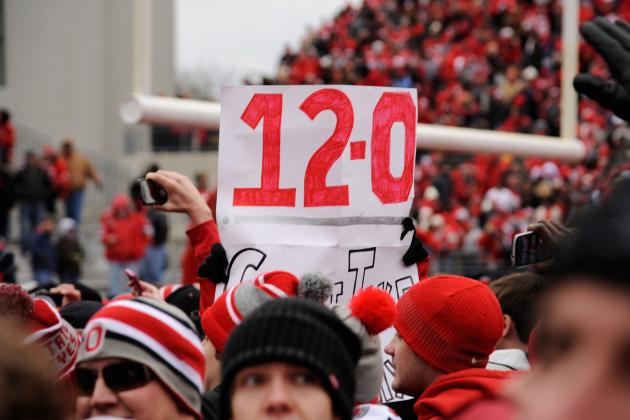 Jamie Sabau/Getty Images

In Week 13, Ohio State took down Michigan in "The Game," and officially finished the 2012 season undefeated.
While there will always be nagging questions, one thing we did learn was that a self-imposed one-year bowl ban for the 2011 season would have been a great gamble to take.
Ohio State could theoretically end up with a share of the AP national championship if the SEC champion takes Notre Dame down in Miami, but a spot in the BCS title game may have been possible if the Buckeyes self-imposed a postseason ban last year.
The world will never know, but if Ohio State doesn't run the table next year, we may be speaking of this season as "the one that got away" for years to come.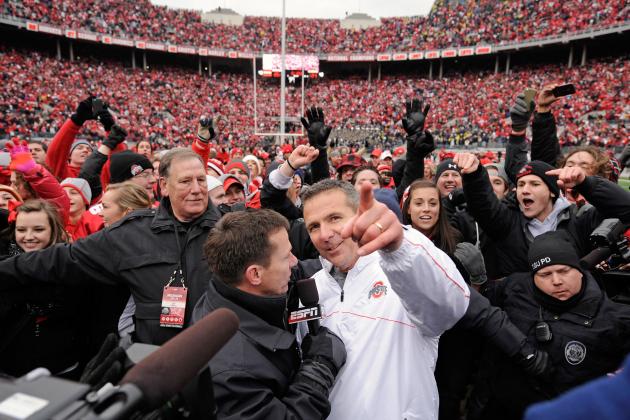 Jamie Sabau/Getty Images

Urban Meyer already established his potential with the Florida Gators, so we didn't learn anything about his ability to coach great teams.
What we did learn was that a national-championship coach with his dream job is a formidable foe. Meyer took over a team that went 6-6 during the regular season last year and then lost the Gator Bowl to Florida.
That same team is currently 12-0 at the end of the season, and would at least have made a BCS Bowl. That's even if the Buckeyes managed to lose the Big Ten Championship Game.
Urban Meyer is up against some fierce competition for coaching awards this season. If not for Brian Kelly and Bill O'Brien, Meyer would be the clear favorite for the Home Depot Coach of the Year award.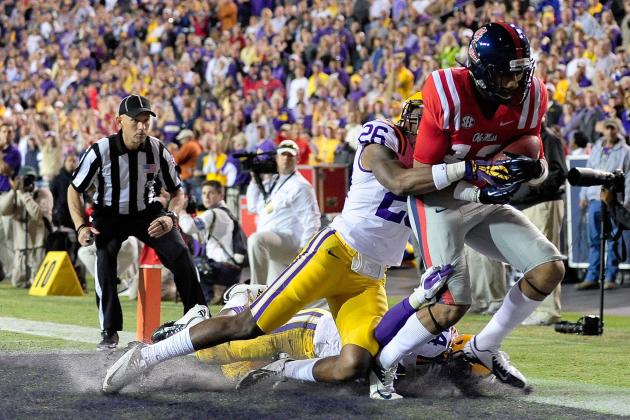 Stacy Revere/Getty Images

Ole Miss upset the 8-3 Mississippi State Bulldogs to earn bowl eligibility in Week 13. Ole Miss was a 2-10 team last year. Ole Miss had to triple its win count just to make the postseason in 2012.
The wins in 2011 came against Southern Illinois (FCS) and Fresno State. The Rebels' schedule this season was even tougher than last year's, featuring four games against teams ranked higher than last year's four ranked opponents.
Ole Miss dug deep in Week 13 to find a spot in the postseason. The Rebels didn't even make it close; they won by 17 points.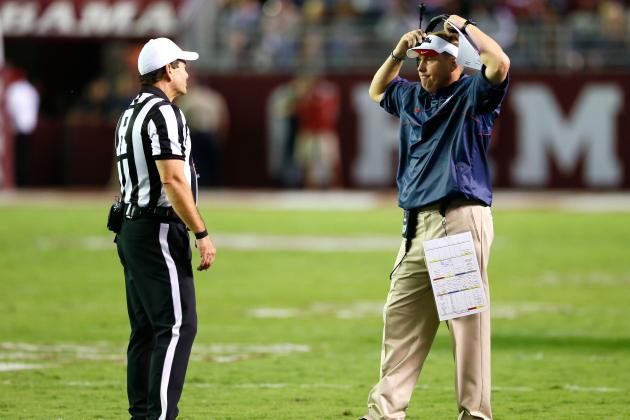 Kevin C. Cox/Getty Images

Hugh Freeze worked miracles at Arkansas State, and some of us predicted that he would do something similar with the Ole Miss Rebels.
Freeze took a 2-10 team in the SEC West Division to a 6-6 regular-season performance that will land him a game sometime in the middle of December.
That officially makes him one of the most promising coaches in the SEC, and that's saying a lot.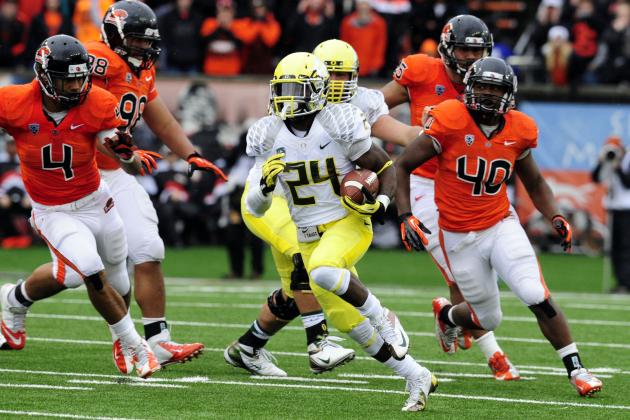 Steve Dykes/Getty Images

Oregon doesn't like to lose. We assumed that was the case entering rivalry weekend, but the Ducks handed Oregon State its worst loss of the season by a margin of 24 points. (Unless Oregon State finds a way to get blown out by Nicholls State this weekend, of course.)
After losing to one of the best defenses in the Pac-12, Oregon piled on 48 points against Oregon State's 24th-best scoring defense.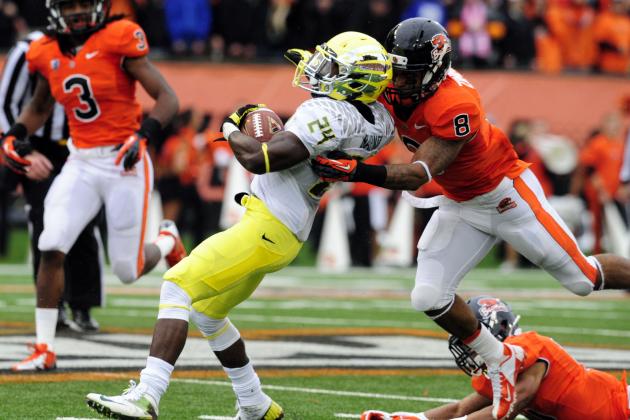 Steve Dykes/Getty Images

Oregon State has just one game remaining in one of its best seasons in recent memory. The Beavers lost to the Oregon Ducks in Week 13, proving that their defense has a long way to go before contending for a Pac-12 title.
After all, Chip Kelly and the Oregon Ducks are always going to be a major end-of-season hurdle for the Beavers to cross for that honor. What Oregon State did prove was that it among the best offenses in the Pac-12.
Only four teams scored more points against the Ducks than Oregon State did, and Stanford wasn't one of them. Oregon State can either improve on defense, offense or both to take down the likes of the Ducks.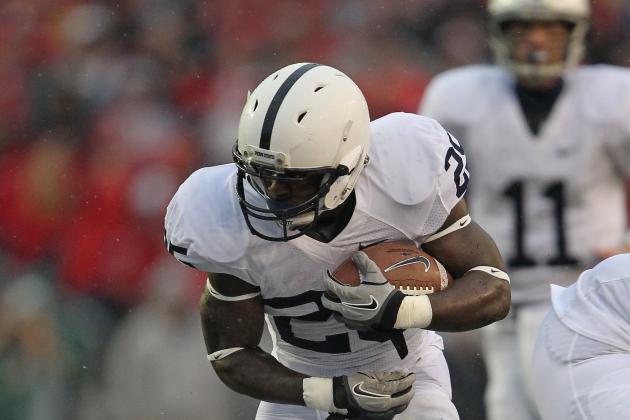 Jonathan Daniel/Getty Images

Penn State started the season 0-2, earning them the "ain't gonna happen" write-off for seasons to come.
Penn State's coach, Bill O'Brien, was not satisfied with giving in for the next four years. He coached his skeleton team up until it believed the same thing that he did: Winning didn't have to wait four years.
Penn State's core crew reeled off five straight wins en route to an 8-4 season that was capped off with a win over the de facto Big Ten Leaders Division champion Wisconsin Badgers in Week 13.
Wisconsin will still go to the conference title game due to the fact that Ohio State and Penn State are both ineligible for the game.
Penn State, however, absolutely established itself as the Ineligible State university to fear for the next few years. (Pun against Ohio State intended.)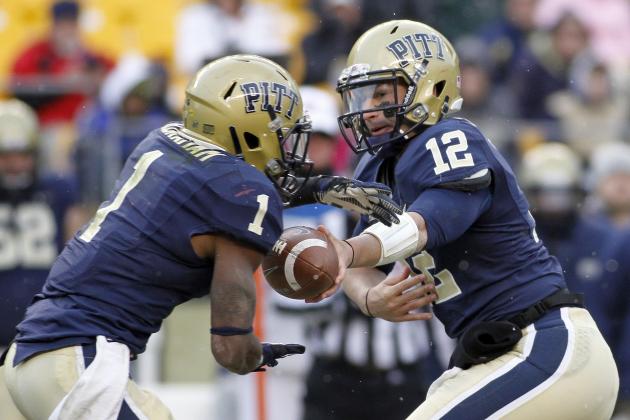 Justin K. Aller/Getty Images

While Pittsburgh didn't have a stellar year, the Panthers are still alive for the postseason. With games against Rutgers and South Florida, the likelihood of a bowl appearance was low.
Week 13 taught us that Pitt is more than capable of making bowl season. The more difficult of the two remaining games was against No. 18 Rutgers. Pitt won that game 27-6 on rivalry weekend.
Bowl season now looks not just possible, but probable for the Panthers.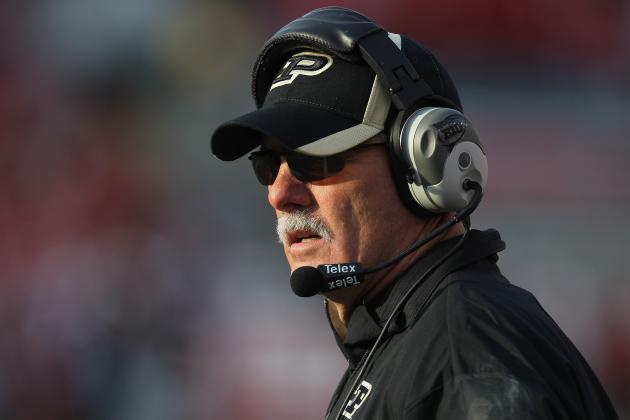 Jonathan Daniel/Getty Images

Purdue joined the list of teams looking for a new head coach when it axed Danny Hope. Hope was one of many coaches who didn't survive the Week 13 game of "Musical Hot Seats."
Purdue wants better than barely bowl-eligible seasons, and Hope wasn't providing that. He was providing seasons that required rivalry wins over Indiana to make the postseason.
While that may have worked out over the 2011 and 2012 seasons, Indiana showed flashes of life this season that hinted the 2013 rivalry game may not go Purdue's way without a changing of the guard.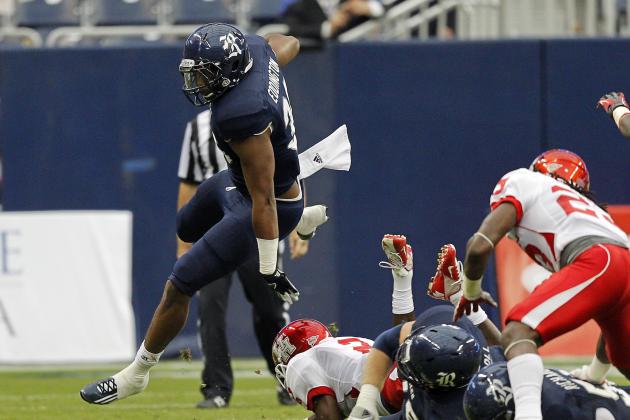 Bob Levey/Getty Images

After a 2-6 start to the season, many put Rice into the "written-off" category as far as the postseason was concerned. Rice calmly played one game at a time and ended the season on an improbable victory run.
The final game against UTEP featured Rice emerging victorious and gaining bowl eligibility.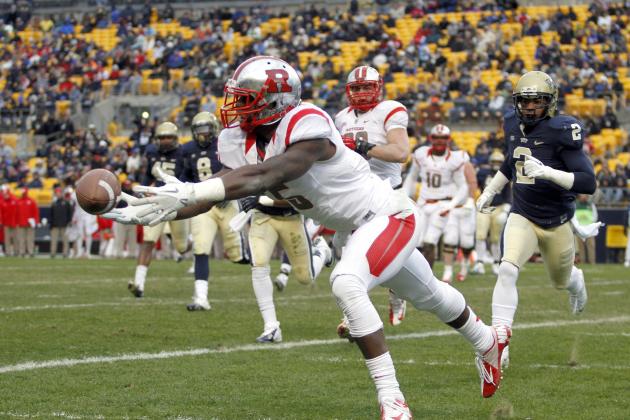 Justin K. Aller/Getty Images

Rutgers was on a tear up until the improbable loss to a great Kent State team back in Week 9. After that loss, Rutgers was pretty well cleared to learn from it and tear through the rest of the schedule as it had torn through the first seven games.
Week 13 taught us that every game counts. Not in the BCS sense of the phrase, but that any team on any given Saturday can still win. Even if the most improbable victory of the season has already taken place (NC State over Florida State), the door is still open for you to drop a game that you should most definitely win.
Rutgers simply got handled by a Pittsburgh team it should have defeated.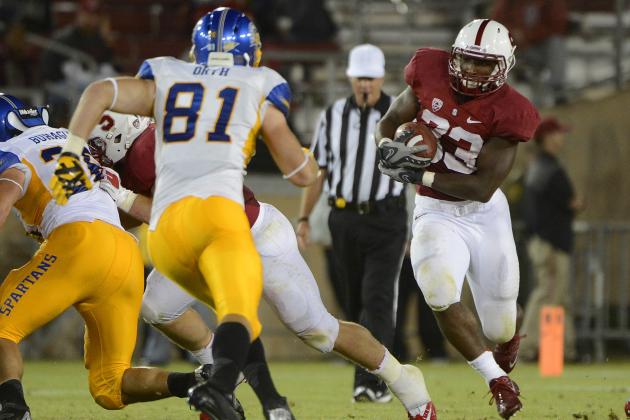 Thearon W. Henderson/Getty Images

San Jose State used Week 13 to absolutely prove that the season-opening, three-point loss to Stanford was not a fluke.
In Week 13, the Spartans reeled off their 10th win of the season against the nation's best scoring offense. (Louisiana Tech, averaging 51.5 points per game.) San Jose State's only losses this season came at the hands of the Stanford Cardinal and the Utah State Aggies.
San Jose State's performance earned it a spot in the BCS standings at No. 25.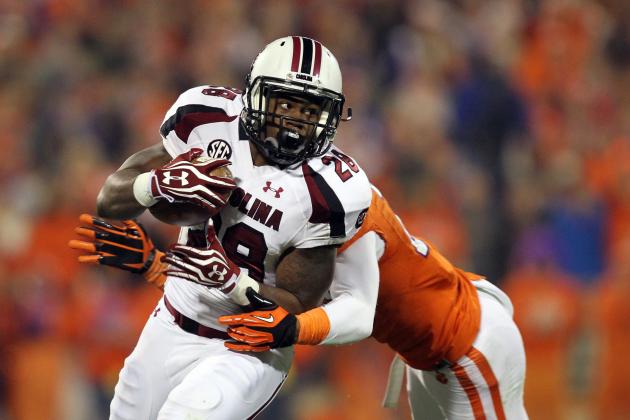 Streeter Lecka/Getty Images

South Carolina entered little Death Valley as the 12th-ranked team in the nation. Clemson hosted the Gamecocks as the nation's 11th-best squad.
South Carolina proceeded to remind the Tigers that they had only been tested once this season, and the Gamecocks also reminded Clemson that being tested is the only way to find out where you need to improve.
South Carolina didn't exactly own Clemson during the game, and the Gamecocks actually trailed the Tigers for the majority of the first half and then some. (From 1:22 1Q to 11:48 3Q, Clemson had the lead.)
South Carolina reminded Clemson that the Palmetto State belongs to the Garnet and Black for another year, much to the chagrin of the Tigers.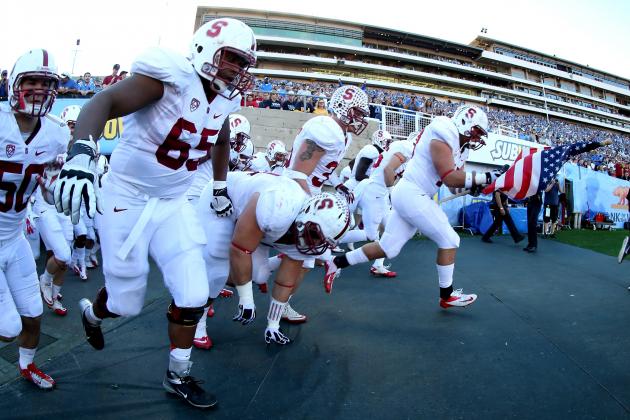 Stephen Dunn/Getty Images

Stanford may have lost a couple of games throughout the season that it shouldn't have lost, but the Cardinal certainly redeemed themselves with a few key victories.
USC and Oregon fall into the "defeated by Stanford" category, and UCLA joined the crowd Saturday. UCLA lost to Stanford by 18 points, which is a little suspect, but we will cover that in another slide.
Stanford proved in Week 13 that rematches are not only possible in the conference championship game, but they are downright headline material when they occur in back-to-back weeks.
The Cardinal take on the Bruins this Friday for the Pac-12's Rose Bowl berth.
Cooper Neill/Getty Images

In their first year in the Big 12, the Horned Frogs have given themselves a shot at an 8-4 season and a top-four finish in the conference standings. Oklahoma comes to TCU for the final match of the season, so at least there's one advantage for the Frogs.
What did we learn in Week 13? The Horned Frogs are a fantastic fit in the Big 12. They aren't immediate conference champions or anything, but they certainly did better than the West Virginia Mountaineers.
Don't forget that TCU has been without its original starting quarterback for a large chunk of the season. That kind of thing is not supposed to fly in the Big 12, yet TCU has overcome this and stayed competitive in the conference.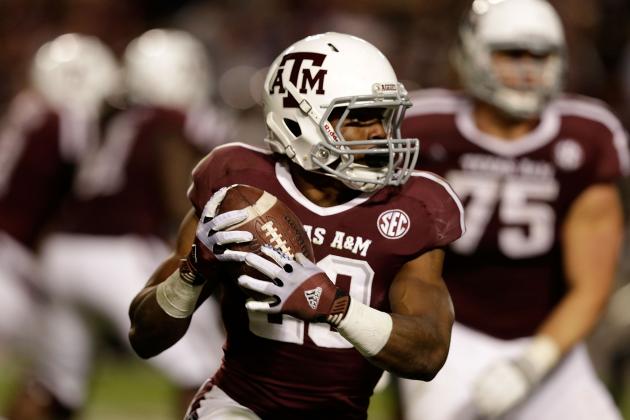 Scott Halleran/Getty Images

Texas A&M reached the 10-win mark against the Missouri Tigers in Week 13. Only two other teams in the division managed that feat: LSU and Alabama.
That's right, Texas A&M just asserted themselves as one of the top three teams in arguably the strongest division in college football. (Alabama and LSU combine for half of the national titles during the SEC's six-title streak.)
Next year, the SEC will be out for revenge against the Aggies. There's just one problem with that: Johnny Manziel will be one year more prepared for the teams that are coming against him.
Freshmen don't win the Heisman often, and some say that will kill Manziel's campaign. In his defense, though, freshmen don't hand the reigning national champion its only loss of the season often, either.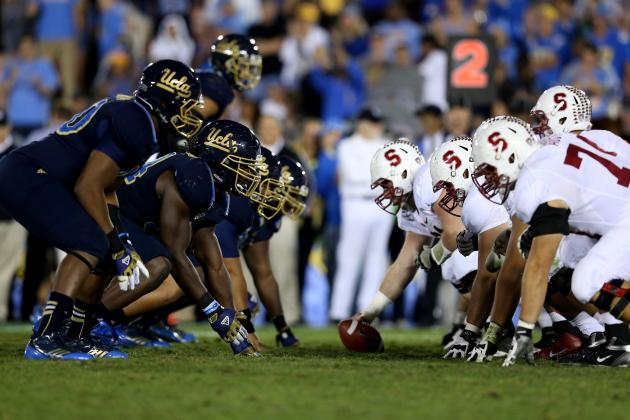 Stephen Dunn/Getty Images

What did UCLA teach us in Week 13? Well, for starters, it's capable of turning in a highly uncharacteristic performance at any given moment.
Fresh off a win over the USC Trojans, the Bruins decided to put themselves in the same category as the Duke Blue Devils, Arizona Wildcats and the Colorado Buffaloes.
What category is that, you say? Well, I'm certainly glad you asked. Duke, Arizona and Colorado were the only teams to allow Stanford to score 35 points or more before the Bruins allowed the Cardinal to score 35 on UCLA's home turf.
It's worth noting that the Bruins allowed California, Arizona State and Washington State to do that well before Stanford did. If not, something might smell a little fishy here.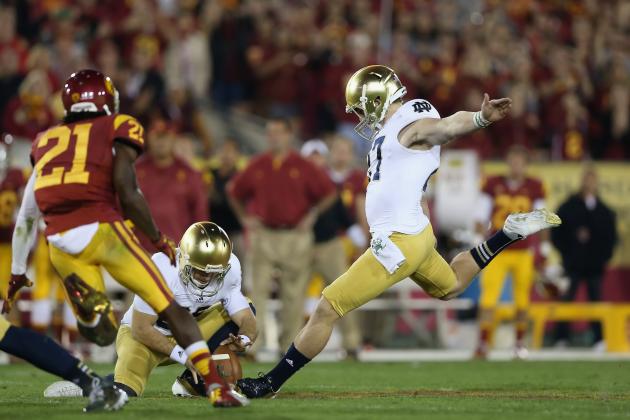 Jeff Gross/Getty Images

USC came within nine points of dethroning No. 1 Notre Dame in Week 13. While grading the game, it became apparent that there was one glaring error that has plagued the Trojans all season with almost no improvement whatsoever: missed tackles.
If the first defender to touch an Irish ball-carrier would have brought that man down, this game would have been closer to a shutout than a loss. The linebackers were frequently in the backfield with at least one arm on the ball-carrier.
Notre Dame's response? Wiggle a little and freak out the tackler. It looked like a bad role-playing game where the "confuse" spell always worked. USC looked helpless in the face of a juke. Sometimes, it didn't even take a juke. Sometimes a simple head-bob would send the tackler in the wrong direction just long enough for the ball-carrier to get to the line of scrimmage.
Once Notre Dame got the ball back to the line of scrimmage, you could pretty much mark the ball off at least four yards further. USC's defense did lock down in the red zone, only allowing the Irish one touchdown through the entire game.
However, with better tackling, USC could have held the Irish to significantly fewer points.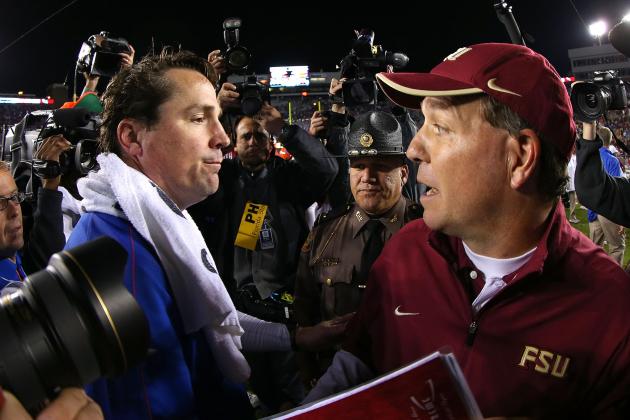 Mike Ehrmann/Getty Images

*For the rest of the slideshow, the topics will be either on the conference or national level.
The ACC had quite a few games against cross-conference opponents in Week 13, and the conference did not fare too well.
1. Georgia vs. Georgia Tech—Georgia won.
2. Florida vs. Florida State—Florida won.
3. South Carolina vs. Clemson—South Carolina won.
4. Vanderbilt vs. Wake Forest—Vanderbilt won.
Four games gave the ACC four opportunities to assert itself as a national championship contender. If the ACC can't even win rivalry games at the end of the season, an undefeated ACC champion runs the huge risk of being passed over by a one-loss SEC conference champion for a national title berth.
That is even more true if that undefeated ACC champion is a team other than one of the four listed ACC teams.
If the Miami Hurricanes were to go undefeated, but none of the rivalry games were won by the ACC, the conference's strength would be doubted. (And rightfully so.)
The ACC needs to step up its play (especially against the SEC), or it will slowly go the route of the Big East.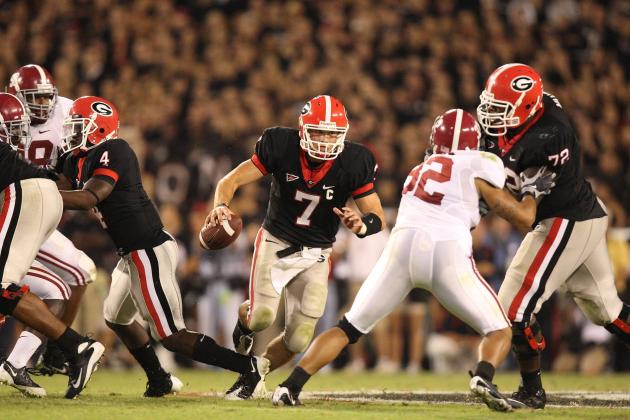 Doug Benc/Getty Images

While Georgia earned the SEC East Division's slot a few weeks ago, Alabama still needed to take down Auburn in the Iron Bowl to claim the West Division's berth.
Alabama dismantled Auburn badly enough to get Gene Chizik fired. Alabama will face Georgia in Atlanta, and the winner will face Notre Dame in the BCS title match.
Either one of these teams has the tools to win this game. If Alabama's pass rush can perform, Georgia will lose. If Georgia can take advantage of Alabama's relatively weak secondary, the Bulldogs can win.
Either way, the winner will play a part in one of the best BCS title games of the era.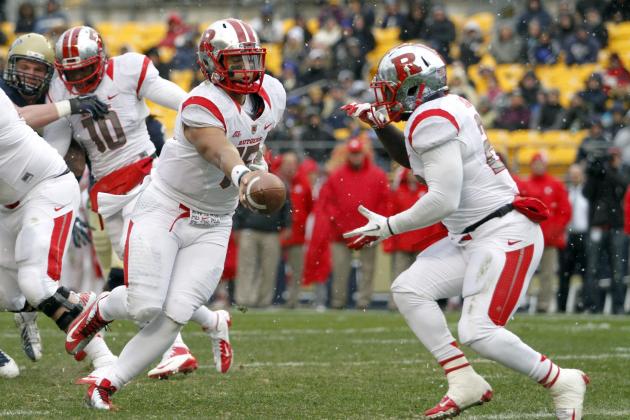 Justin K. Aller/Getty Images

The Big East is the only AQ conference without a representative in the BCS rankings:
1. Independents—One rep.
2. SEC—Six reps.
3. Pac-12—Four reps.
4. Big 12—Four reps.
5. Big Ten—Three reps.
6. ACC—Two reps.
7. Big East—Zero reps.
To put that in perspective, the non-AQ conferences have a combined five representatives in the BCS rankings. One of those teams (Kent State) is sitting at No. 17. One rank higher, and the Golden Flashes will be invited to a BCS bowl.
That will give the non-AQ conferences an equal number of teams as the Big East in the January bowls. That's got to sting a little bit, especially with Rutgers (the likely Big East rep) departing for the Big Ten.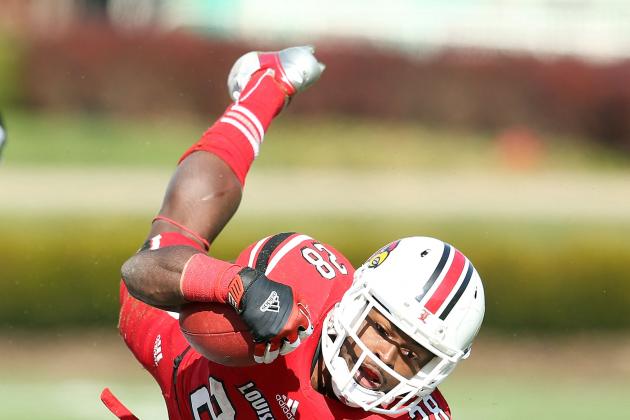 Andy Lyons/Getty Images

Here is what the current BCS Top 17 looks like:
1. Notre Dame (IND)
2. Alabama (SEC)
3. Georgia (SEC)
4. Florida (SEC)
5. Oregon (Pac-12)
6. Kansas State (Big 12)
7. LSU (SEC)
8. Stanford (Pac-12)
9. Texas A&M (SEC)
10. South Carolina (SEC)
11. Oklahoma (Big 12)
12. Nebraska (Big Ten)
13. Florida State (ACC)
14. Clemson (ACC)
15. Oregon State (Pac-12)
16. UCLA (Pac-12)
17. Kent State (MAC)
With the limit of two teams per conference clearly in play, here are the current BCS bowl-eligible teams this season:
Notre Dame, Alabama or Georgia, Florida, Oregon, Kansas State, Stanford, Oklahoma, Nebraska, Florida State and Clemson.
This means that there will be four teams outside of the BCS Top 10 in the five major bowls this season. This means that there will be either a regular-season rematch in the BCS or two major mismatches.
BCS title game: No. 1 Notre Dame vs. Alabama or Georgia (No. 2 after SEC championship win)
Sugar Bowl: No. 4 Florida vs. No. 5 Oregon
Fiesta Bowl: No. 6 Kansas State (if it beats Texas) vs.
Orange Bowl: No. 13 Florida State (it it beats Georgia Tech) vs.
Rose Bowl: Winner of No. 12 Nebraska/Wisconsin vs. Winner of No. 8 Stanford/No. 16 UCLA
The last two teams to be placed are either Oklahoma/Clemson and the Big East champion or the Big East champion and Kent State (if Kent State climbs one spot to No. 16)
The only two slots left to fill at this point would be the Fiesta Bowl (against No. 6 Kansas State) and the Orange Bowl (against No. 13 Florida State).
So, unranked Rutgers and No. 16 Kent State will have to draw straws as to which team gets to take on Kansas State, and the winner of that gamble will "get" to face Florida State. That sounds like a crappy proposal for everyone involved.
*If Kent State finishes 16th or higher, the Golden Flashes have to be placed in a BCS bowl. If not, then the Sugar Bowl will probably be Florida vs. Oklahoma and the Fiesta Bowl will probably be Kansas State vs. Oregon. That will pit No. 13 Florida State against unranked Rutgers for the Orange Bowl. (If Louisville beats Rutgers, it might get even worse.)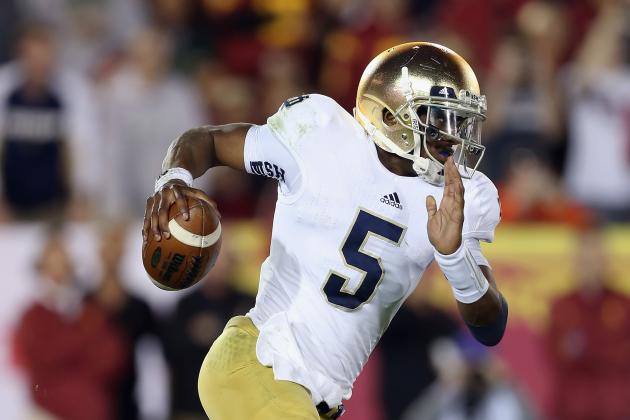 Jeff Gross/Getty Images

Whether Notre Dame faces Georgia or Alabama, this season's national championship will be the most-watched college football championship of all time.
If Notre Dame faces Georgia, it will be a repeat matchup from Georgia's 1980 national championship, which it won against No. 7 Notre Dame in the Sugar Bowl.
If Alabama faces Notre Dame, three things will happen:
1. Two of the best-selling teams in the nation will be marketing the biggest game of the season.
2. Nick Saban will have an early opportunity to do something Bear Bryant never could: beat Notre Dame.
3. Notre Dame will have every non-SEC fan rooting for it in the national championship.
For four hours, Notre Dame will hear nothing about being supposedly overrated. The Irish faithful will hear nothing about how badly Alabama is going to whip them.
They will only hear glorious support for Notre Dame's opportunity to end the SEC's national championship streak at six titles. For once, Notre Dame will not be the more hated team on the field. Irish fans will be more than happy to experience that worldwide.
"Notre Dame vs. the SEC champion on its quest for a seventh-straight crystal football." That sounds a lot like Alabama's 2009 comeback championship against the Texas Longhorns. Alabama was 0-7 against Texas all time when the Tide took the field in January of 2010 and ended a 17-year championship drought.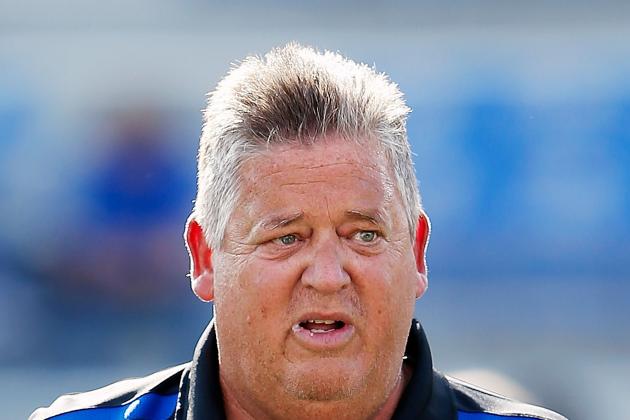 Jamie Squire/Getty Images
Could he be let go on rivalry weekend in 2013?
We have covered all the coaches that were officially fired following the rivalry weekend games in Week 13, and there were six of them.
Had Derek Dooley (Tennessee), Joker Phillips (Kentucky), Jeff Tedford (California), Robb Akey (Idaho), Mike Price (UTEP) and Bill Cubit (Western Michigan) been fired on rivalry weekend as well, this would have been a brutal weekend in college football.
In total, 12 FBS coaches were fired during the 2012 season. Half of them were "pink-slipped" following Week 13's events. The last game of the regular season, the biggest game of the year and for some, the final opportunity to make it to the postseason became the difference-maker for the future.
Whether you call it rivalry weekend or Week 13, it's quickly becoming "See-Ya Saturday," as the head coaching changes are made more and more quickly each season.