The injured quarterbacks in the NFL dominate the storylines of Week 12. Jay Cutler (per Fox Sports Chicago) and Alex Smith (per Sacramento Bee) were cleared to play after suffering concussions—but only Cutler saw any action.
Ben Roethlisberger was not healthy enough to return to the Pittsburgh Steelers' offense, and boy did they miss him against the Cleveland Browns.
The Arizona Cardinals have seen both John Skelton and Kevin Kolb go down.
They were forced to give Rookie QB Ryan Lindley his first start. He didn't have a good go of it. St. Louis Rams' rookie Janoris Jenkins took two Lindley passes to the house as the Rams knocked off the Cardinals.
Here's the top stories from the Sunday afternoon games, but first...
My GIFs to You
Joseph Morgan Is Like Spider-Man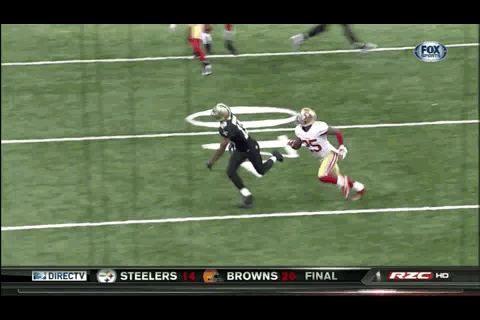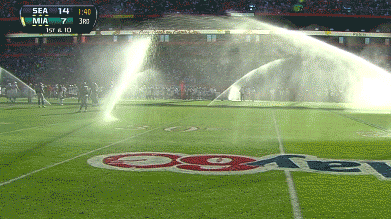 Sprinkle Me Baby
Somehow, the sprinkler system was activated at Sun Life Stadium. Luckily, it was a warm day.
What in the World is Frank Gore Doing?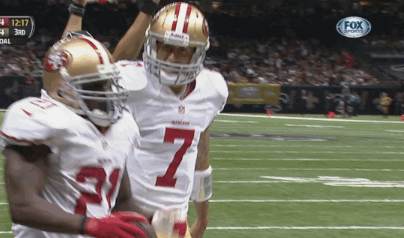 The Top Stories
Cutler Back, Bears Win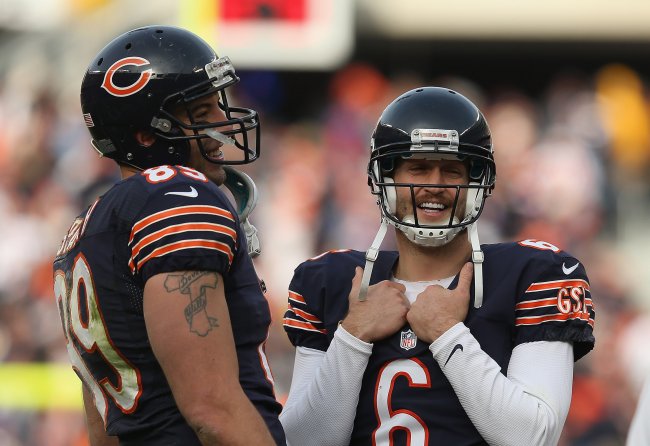 Jonathan Daniel/Getty Images
The Chicago Bears need Jay Cutler—frowning face and all. In the last two seasons, the Bears are 15-4 with Cutler and 1-7 without him.
He returned to the lineup after suffering a concussion during Week 10 to lead the Bears to an easy 28-10 win over the Minnesota Vikings. The Bears moved to 8-3 on the season.
Depending on what the Green Bay Packers do against the New York Giants on Sunday night, the Bears will at least remain tied for first place in the NFC North.
Cutler was 23-of-31 for just 188 yards and a touchdown, but it was his presence that mattered. He extended plays and he took the chances to make the Bears' offense effective. Brandon Marshall had 12 receptions for 92 yards, and Adrian Peterson had 108 yards with two costly fumbles in defeat.
Know why the #Bears love Jay Cutler? That's him tying the shoelaces of one of his lineman twitpic.com/bggx9e

— CJ Fogler (@cjzero) November 25, 2012
By my count, #Bears are down 5 starters right now: CB Charles Tillman, RG Lance Louis, WR Devin Hester, RB Matt Forte, LG Chris Spencer.

— Brad Biggs (@BradBiggs) November 25, 2012
Kaepernick Starts, 49ers Keep Winning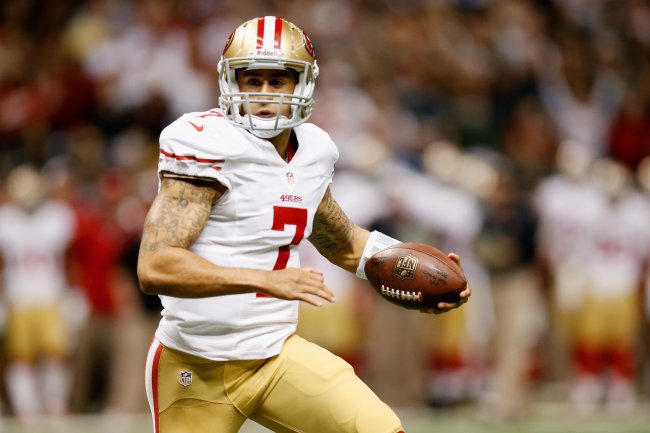 Chris Graythen/Getty Images
Colin Kaepernick got the start and he led the San Francisco 49ers to another big win. The Niners' pass rush sacked Drew Brees five times and took two interceptions back for touchdowns.
You can bet Alex Smith will be wearing a different uniform in 2013, but right now, the 8-2-1 49ers look like the best team in the NFC.
Kaepernick was 16-of-25 for 231 yards, a touchdown and an interception in the 31-21 win over the New Orleans Saints
My son asked me why I don't play football...Aldon Smith is why!#49ers

— Mark Teixeira (@teixeiramark25) November 25, 2012
#49ers defense balled out today. Don't think there's a better one in the league.

— Matt Leland (@MattLeland) November 26, 2012
Streaking Bengals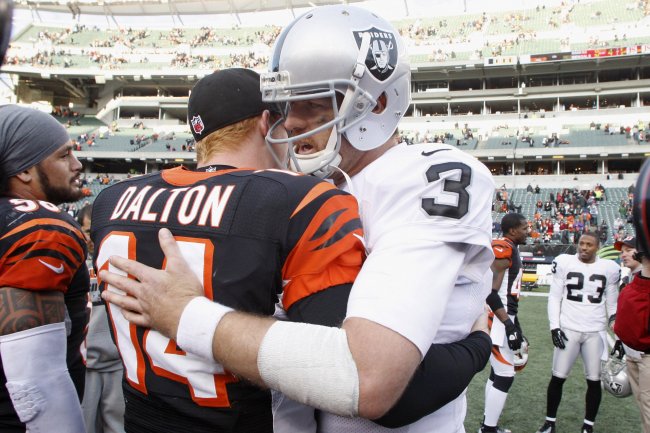 John Grieshop/Getty Images
Don't look now, but the Cincinnati Bengals have put together a three-game win streak. They are now tied with the Pittsburgh Steelers at 6-5. Both teams trail the Baltimore Ravens, but the Bengals are putting themselves in position to contend for a playoff spot.
It was especially nice for the Bengals to stick it to Carson Palmer.
After the former No. 1 overall pick quit on his former team last season, the Bengals new franchise quarterback, Andy Dalton, threw for 210 yards and three touchdown passes.
Palmer was picked off once, threw one touchdown pass and was sacked four times. The Bengals won going away, 34-10.
That's three straight games with no INTs for Dalton. #Bengals

— Vance Meek (@vancemeek) November 25, 2012
Today's game is a reminder of how much better the #Bengals are w/out Carson Palmer. Thanks for quitting on the team and thanks for the picks

— Eric Ball (@BigLeagueEball) November 25, 2012
Streaking Broncos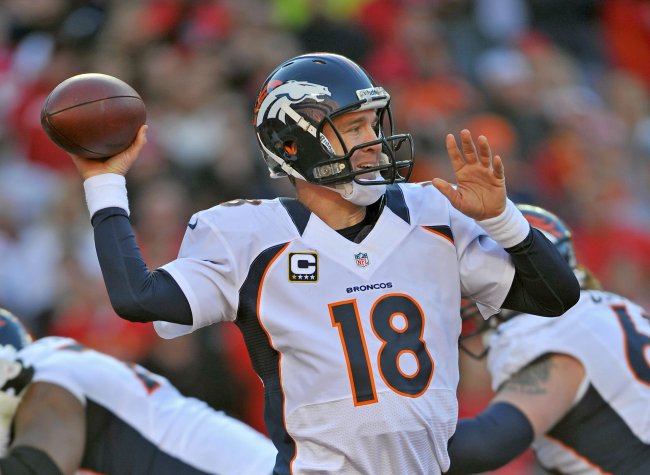 Peter Aiken/Getty Images
Every week the Denver Broncos prove they are the class of the AFC West. That may not be a major claim to fame, but the Broncos are still a very solid team.
They won their sixth straight by defeating the lowly Kansas City Chiefs. The Broncos are the hottest team in the NFL as they improved to 8-3 on the season. Manning threw for 285 yards and two more touchdown passes in the 17-9 victory.
#Broncos Peyton Manning: 149th win as a starting QB, passes John Elway for 2nd-most all-time (Most: Brett Favre 186)

— ESPN Stats & Info (@ESPNStatsInfo) November 25, 2012
#Broncos Peyton Manning cleared 3,000 passing yards for the season. His 14 seasons with 3,000 yards rank 2nd all-time to Brett Favre's 18

— ESPN Stats & Info (@ESPNStatsInfo) November 25, 2012
Falcons Win Another Close One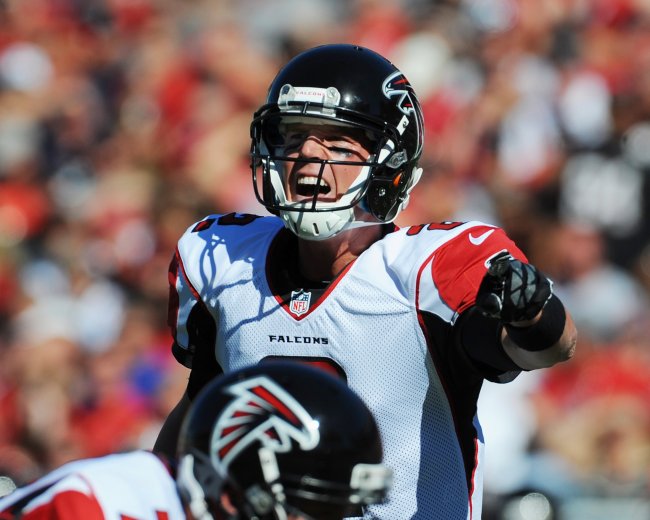 Al Messerschmidt/Getty Images
No one can say the Atlanta Falcons can't win the close ones. The Falcons' 24-23 win over the Tampa Bay Buccaneers was the seventh win this season by seven points or less.
The Falcons held Bucs' rookie Doug Martin to only 50 yards and Matt Ryan threw for 353 yards and a touchdown. They haven't won over everyone, but the 10-1 Falcons just keep winning.
Will this week silence some of the #Falcons doubters (like...me)?Yes it will...

— Mike Greenberg (@Espngreeny) November 25, 2012
Matt Ryan on pace for roughly 5,000 yards, breaks franchise record with 4 straight 300-yard games: rotoworld.com/player/nfl/463…#Falcons

— Chris Wesseling (@ChrisWesseling) November 25, 2012
Colts Inch Towards Playoffs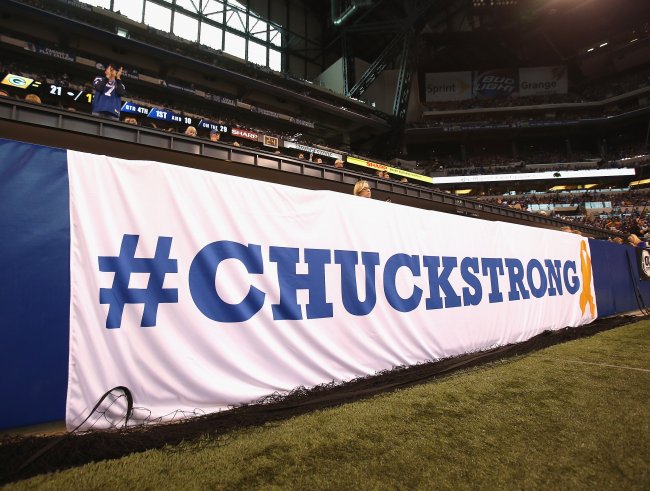 Jonathan Daniel/Getty Images
Who expected the Indianapolis Colts to make the playoffs this season? Not very many people can raise their hand to that question, but they are moving closer to making that a reality.
The Colts knocked off the Buffalo Bills 20-13 to move to 7-4 on the season.
Andrew Luck may not take the Rookie of the Year away from Robert Griffin III, but he is having himself a great first year. Luck threw for 240 yards and a touchdown as the Colts continue to play spirited football in the absence of their head coach, Chuck Pagano.
Even the Colts' cheerleaders are Chuck Strong.
#Colts coach Chuck Pagano waves to fans from owner Jim Irsay's suite during the 2nd half of today's game twitter.com/HeavyInDaGames…

— Heavy In The Games (@HeavyInDaGames) November 25, 2012
This NFL cheerleader girl shaving her hair off for Cancer Research is amazing! #colts #chuckstrong 🇺🇸🏈 twitter.com/sonnytoiparker…

— ☀e(@sonnytoiparker) November 25, 2012
The Remaining Games From the Week 12 Afternoon Schedule
Ravens 16, Chargers 13 (OT)
I hope someone cleaned out Norv Turner's office during that 4th and 29 conversion. Thanks #Ravens for #AFCWest. Love #Broncos

— Marshall Zelinger (@7Marshall) November 26, 2012
Rams 31, Cardinals 17
What about all of Lindley's interceptions that were NOT returned for touchdowns? Focus on the positive #Cards fans.

— Robbie Sherwood (@RobbieSherwood) November 26, 2012
Browns 20, Steelers 14
#Browns 20, #Steelers 14 FINAL. Cleveland wins and loses draft position. So even when they win, they still lose.

— NOT SportsCenter (@NOTSportsCenter) November 25, 2012
Dolphins 24, Seahawks 21
HUGE win for #Dolphins. #Seahawks continue to play down on the road.

— Matt Miller (@nfldraftscout) November 25, 2012
Jaguars 24, Titans 19
The #Titans are straight up pathetic this year. What an embarrassment.

— TitansMCM (@TitansMCM) November 25, 2012
Follow Brian Mazique and Franchiseplay on YouTube and Twitter for reactions, analysis and news from the world of sports and sports video games