Power Ranking the NBA's Best Small-Market Teams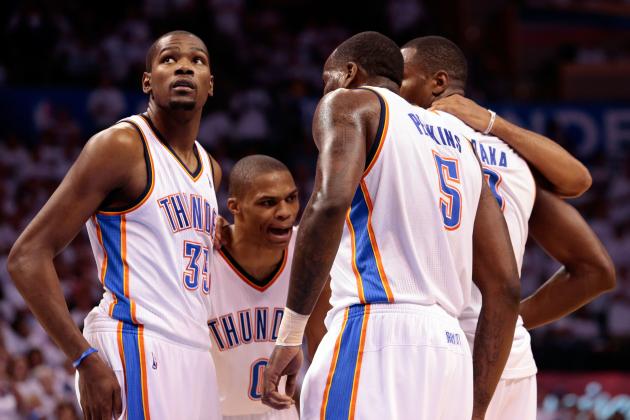 Brett Deering/Getty Images
Oklahoma City Thunder: the model of small-market success in NBA.
There are 13 NBA teams with metropolitan area populations of less than three million people.
The New York, Los Angeles and Chicago metro markets, by contrast, all feature populations of 9.4 million or more.
With the Knicks, Nets, Lakers, Clippers and Bulls representing the biggest of NBA markets, these teams call home to the smallest.
The Minnesota Timberwolves, however, did get lost in the middle somewhere. Their market size of 3.2 million people did not qualify them for this ranking.
The biggest metro included is Denver at 2.5 million.
These small-market teams were then ranked according to their production to date this season along with potential to advance in the playoffs this year.
Franchise history, salary cap flexibility or how I expect these teams to perform in two or three seasons was not factored into this ranking.
This is a power ranking of the top eight small-market teams at this point in the 2012-13 NBA season.
The five small-market teams who just missed the cut include the Sacramento Kings, Cleveland Cavaliers, Orlando Magic, New Orleans Hornets and Charlotte Bobcats.
Begin Slideshow

»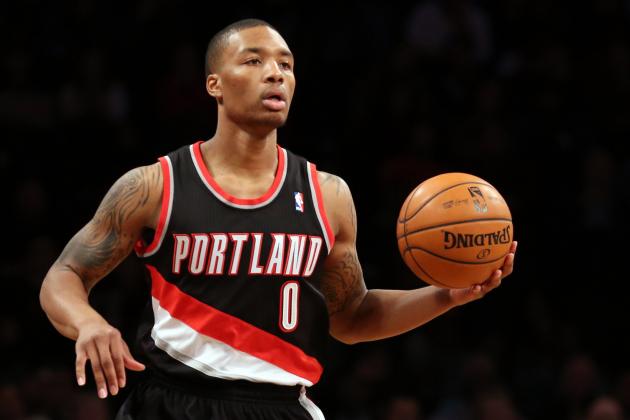 Anthony Gruppuso-US PRESSWIRE
Portland Trail Blazers' Damian Lillard
The Portland Trail Blazers are 6-7 as of Sunday.
They are not a playoff team this year, but they will continue to be a team you don't want to see throughout the regular season.
Rookie Damian Lillard is scoring 19.6 points per game to go along with six assists. Wesley Matthews is averaging 17.5, Nicolas Batum is at 18.6 points and LaMarcus Aldridge is averaging 19.7.
Aldridge has missed time recently with back spasms, though, and he is a guy they can't afford to have out in Rip City.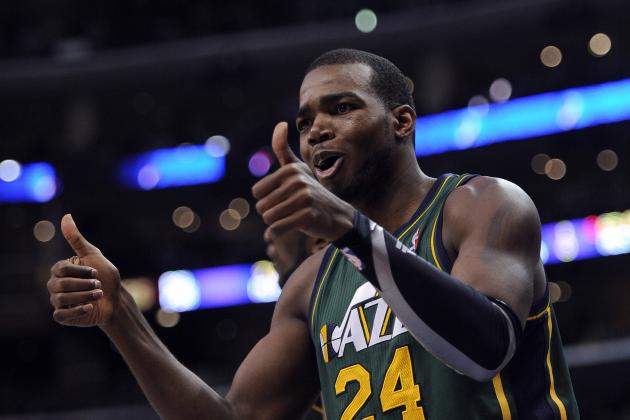 Harry How/Getty Images
Utah Jazz's Paul Millsap
The Utah Jazz appear to be a solidly average 7-7 team.
I do think they could show up in the Western Conference playoffs, but it's not a given they will.
Their offensive attack is balanced and potent enough to score what's needed to win most nights.
Mo Williams, Gordon Hayward, Paul Millsap and Al Jefferson are all averaging between 13 and 16 points per game so far through Sunday.
The more familiar Williams becomes with his new teammates, the better Utah may become as the regular season goes on.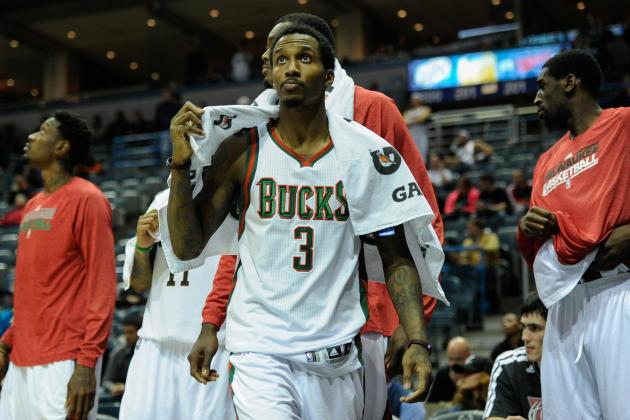 Benny Sieu-US PRESSWIRE
Milwaukee Bucks' Brandon Jennings
The Milwaukee Bucks are 6-5 as of Sunday. They're currently winning the NBA's Central Division, but that's mostly because Derrick Rose is out in Chicago.
Brandon Jennings (17.5 points) and Monta Ellis (19.9) are combining to average over 37 points per game, though, which is a whole lot of production.
The Bucks did just invest heavily in Ersan Ilyasova this summer, and he doesn't seem to fit too well with those two guards, however, and that's not good.
Ersan is averaging only 6.3 points and 4.8 rebounds after finishing last season at 13 and nine respectively.
They will need all three of those guys playing well together if they hope to make the playoffs this season.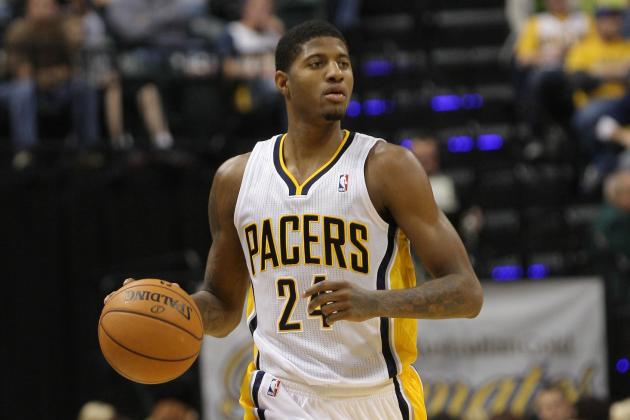 Pat Lovell-US PRESSWIRE
Indiana Pacers' Paul George.
The Indiana Pacers have opened the season at 6-8, but they are still a team who can win at least a series in the Eastern Conference playoffs.
Danny Granger being out until February is tough. But with David West (16.7), Paul George (15.2) and George Hill (13.4) they do have three players in double figures while Granger is sidelined.
Roy Hibbert was an All-Star last season, though, and has to do more than 9.4 points and 8.8 rebounds per game.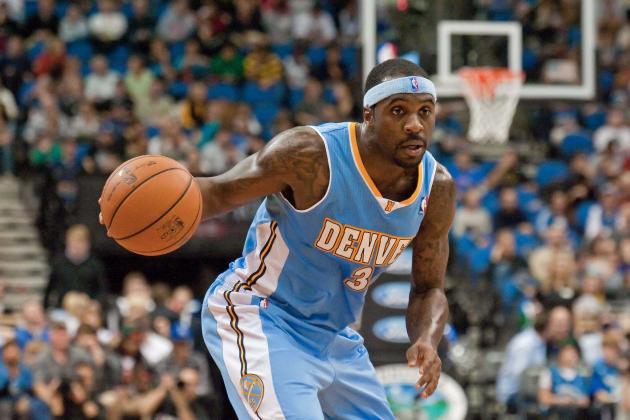 Greg Smith-US PRESSWIRE
Denver Nuggets' Ty Lawson
I'm still convinced that the Denver Nuggets' recent winning streak is more indicative of who they actually are right now than the 4-6 start they used to open the season.
As of Sunday, the Nuggets are 8-6, and I expect them to only improve as the year goes on.
The two straight games that Ty Lawson just turned in at 18 points and nine assists are a real good sign for Denver.
Kenneth Faried averaging 12.8 points and 11.5 rebounds is too.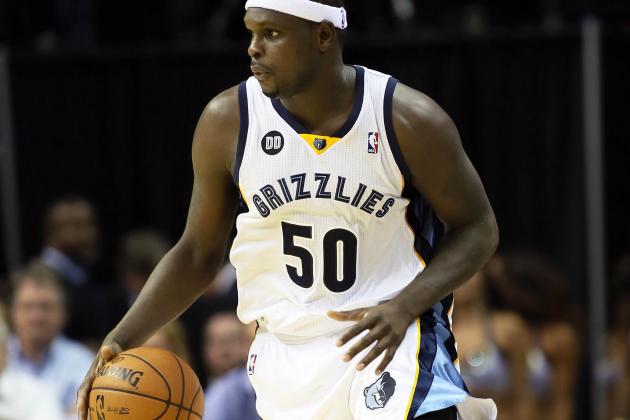 Nelson Chenault-US PRESSWIRE
Memphis Grizzlies' Zach Randolph
The Memphis Grizzlies have been trying to fit Marc Gasol, Zach Randolph and Rudy Gay together in the most effective way possible for a few seasons now.
With everyone healthy at the moment, the Grizzlies are 9-2 and appear to be doing just that.
Gasol (15 points), Randolph (16.7) points and Gay (20.1) are all averaging 15 or more points through their first 11 games as of Sunday.
Randolph is beasting on the boards too, hauling down an average of 13.6 per night heading into Monday's game with the Cavaliers.
They should advance out of the first round of the playoffs this season and provide their population of just under 1.5 million with plenty to be excited about throughout the year.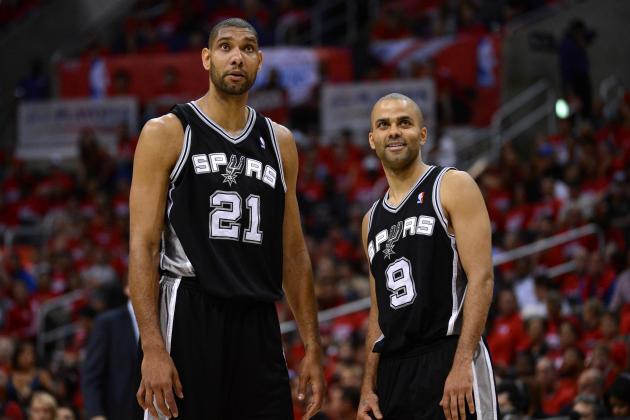 Harry How/Getty Images
San Antonio Spurs' Tim Duncan, Tony Parker
The San Antonio Spurs are 11-3 as of Sunday and appear set for a season-long battle with the Memphis Grizzlies in the Southwest Division.
It's a battle I expect them to eventually win by season's end on the strength of Tim Duncan and Tony Parker.
Duncan may have found the fountain of youth on the San Antonio River Walk. At 36, he's still averaging a double-double at 19 points and 10 rebounds through 14 games this season.
Parker, meanwhile, is scoring over 17 points and handing out just over seven assists per night.
They are the two main reasons why the Spurs will contend for the Western Conference title again this season.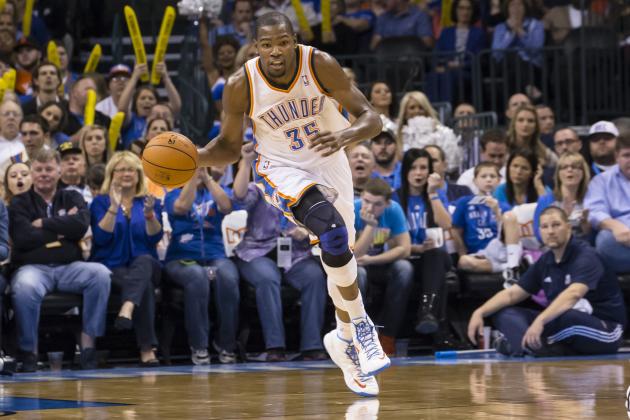 Shane Bevel/Getty Images
Oklahoma City Thunder's Kevin Durant
James Harden is gone, but Kevin Durant and Russell Westbrook are still there.
For those two reasons alone, the Oklahoma City Thunder are still the class of the Western Conference.
Durant is currently averaging 26.5 points and 8.7 rebounds through 14 games as of Sunday. Westbrook is at 21.8 points and 8.4 assists if you need him.
Collectively, they're sitting at 10-4 on the season while working new faces into the rotation.
As the Thunder approach the playoffs, they will do so equipped with the experience of running all the way to the NBA Finals a year ago.
I expect OKC to advance past the Los Angeles Lakers as a result, and their metro market of over 12 million, to play for the NBA championship again this season.