15 Things We Learned from NFL Week 12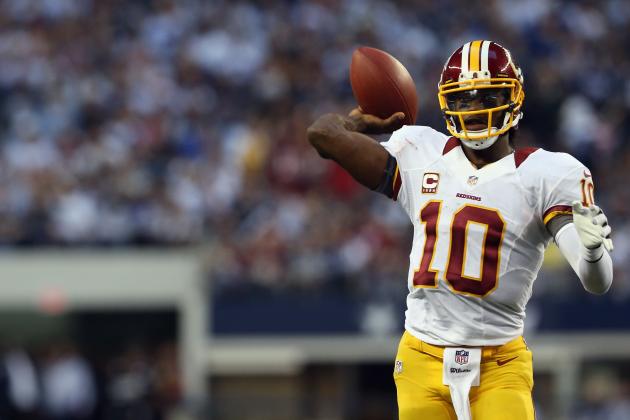 Ronald Martinez/Getty Images

Big-time football was played in between heaping helpings of turkey, stuffing and mashed potatoes last week.
The Thanksgiving triple-header went two-for-three, starting with an overtime thriller between Houston and Detroit.
Washington at Dallas looked like it would be a dud before Tony Romo awakened in the second half. Patriots at Jets was good for comic relief and little else as far as drama is concerned.
What did the full slate of games bring to the table this week? A veritable cornucopia of action and reaction, of course.
Read on to see some of what we learned.
Begin Slideshow

»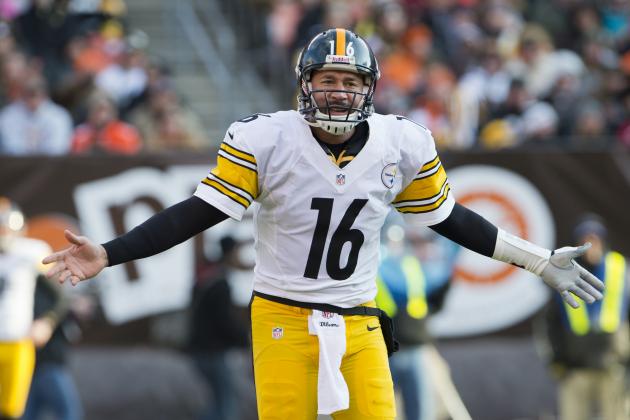 Jason Miller/Getty Images

The last time a team turned the ball over eight times in one game, Wikipedia and the iPod had just been born.
Pittsburgh did just that against Cleveland, a fatal statistic for a team that suddenly finds itself just one game up in the wild-card race.
The Steelers face the Ravens for the second time in three weeks next Sunday, likely still without Ben Roethlisberger. They had better hope Bad Joe Flacco shows up.
Elsa/Getty Images

The Cowboys made a valiant comeback attempt against the Redskins on Thanksgiving Day, but it was too little, too late for Jason Garrett's club.
Jerry Jones has shown public support for Garrett time and again, but the fuse has been lit under Garrett's seat in Dallas. The Cowboys had narrowly escaped against the lowly Browns just four days before losing to the Redskins; Dallas seems like it's circling the drain.
If the Cowboys miss the playoffs again—a distinct probability at this point—Jones has to think about making a change.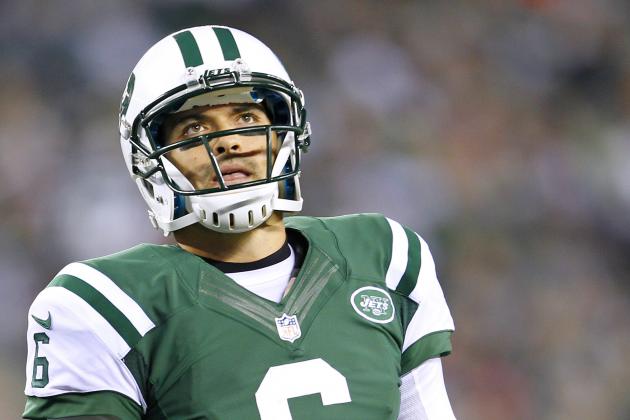 Rich Schultz/Getty Images

In what is, perhaps, the funniest play of the century, Mark Sanchez fumbled the ball away to the Patriots after running into Brandon Moore's backside.
This play perfectly sums up New York's nightmarish season, though a soft schedule could see it sneak into the wild-card picture if it can turn things around.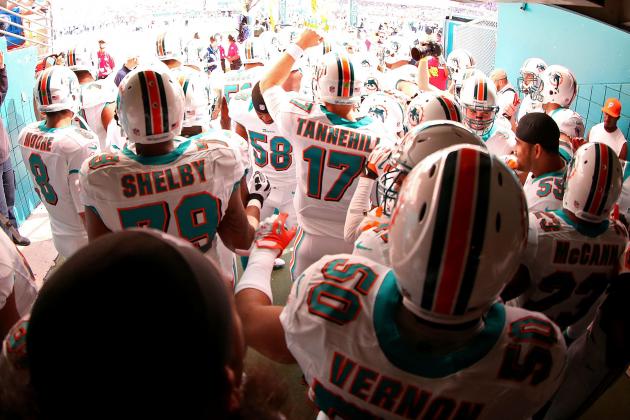 Mike Ehrmann/Getty Images

The Dolphins went from preseason pariah to 4-3 playoff hopefuls to 4-6 flunkies heading into their matchup against the Seahawks, who are playoff hopefuls out of the NFC West themselves.
After three quarters of lackluster football, it appeared Miami was trying to keep pace with the Jets and Bills for a spot in the AFC East cellar. Until Ryan Tannehill happened.
Ryan Tannehill in the fourth quarter today: 7 of 8 for 156 yards, 1 TD. Led three scoring drives including game-winning FG.

— Armando Salguero (@ArmandoSalguero) November 25, 2012
Tannehill led two game-tying drives, got his team into game-winning field goal positions and led his team to a late victory after failed attempts earlier this season.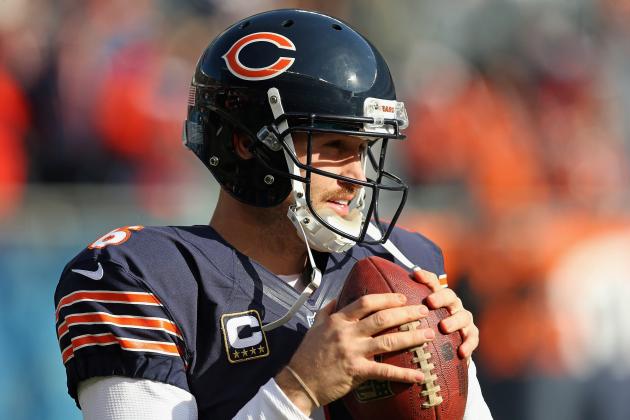 Jonathan Daniel/Getty Images

By now, you know Jay Cutler's importance to the Bears, but he confirmed it once more after coming back from a concussion.
The fiery quarterback returned to lead his team to a big victory against division-rival Minnesota. He did not have a monster game, statistically, but it was clear how much of an upgrade he is over Caleb Hanie Jason Campbell.
As long as Cutler is upright—not to mention key players on that defense, which was banged up in the game against Vikings—the Bears have a serious shot to get to the Super Bowl.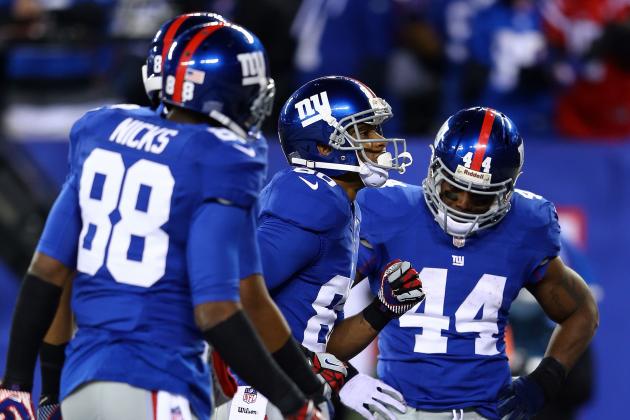 Al Bello/Getty Images

The NFC East is a mess, and the Giants had fallen into that malaise in recent weeks. Eli Manning stopped throwing touchdowns, and New York stopped winning.
As it turns out, a bye is all they needed.
New York annihilated the Packers, who had been hot coming into MetLife Stadium. Green Bay is banged up at some key positions, and New York took full advantage.
The Giants also capitalized on an off night from Aaron Rodgers, who seems to have caught the funk Eli Manning had before last week.
The victory puts them two games up in the NFC East with five games to play. New York is known for late-season surges, so it should be no surprise to see it finish the season as division champions on its way to another deep playoff run.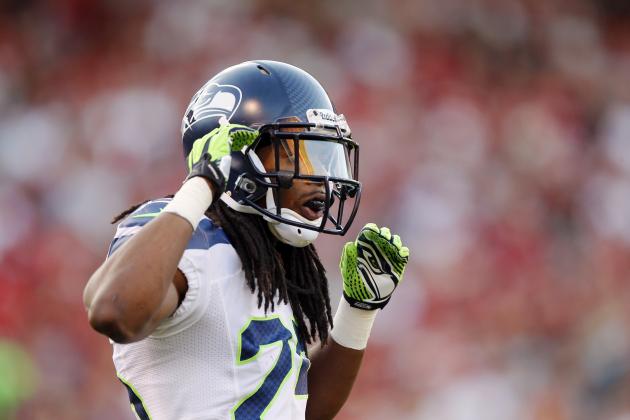 Brian Bahr/Getty Images

The Seahawks are much better at home, where the 12th Man buoys that good defense. Seattle is in the playoff hunt in the NFC, even after losing to the Dolphins on the road.
But the game against Miami isn't the only thing Seattle lost on Sunday.
Richard Sherman and Brandon Browner are appealing suspensions, insisting they are innocent. Appeal could be heard as early as this week.
— Adam Schefter (@AdamSchefter) November 25, 2012
If the suspensions hold up, that's all she wrote in Seattle.
Jeff Zelevansky/Getty Images

The circus tents went up in New Jersey way back in March after the Jets traded a fourth-round pick for Tim Tebow. The circus indeed came to town, and it has claimed its most notable victim: Fireman Ed.
Fueled by their team's ineptitude, Jets fans have turned on each other. Their biggest target has been Ed Anzalone, otherwise known as "Fireman Ed," whom they perceive to be an official mascot for the team.
He has had enough, quitting as the face of Jets fandom (via Dan Hanzus of NFL.com):
Anzalone said barbs from unruly fans have become a common occurrence, with many people under the mistaken impression that he's on the Jets' payroll. Because of this, he no longer will attend Jets games as Fireman Ed.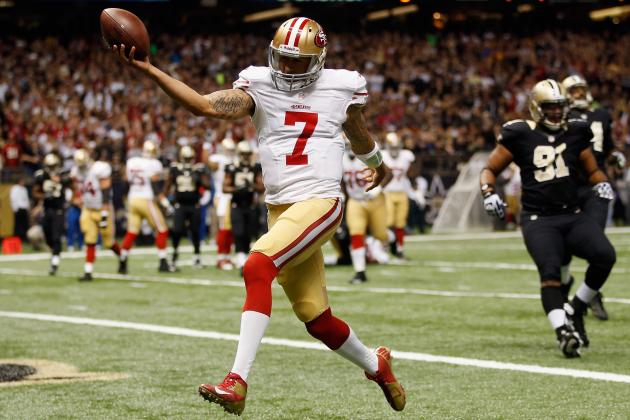 Chris Graythen/Getty Images

The hullabaloo surrounding San Francisco's quarterback situation stretched through the week. Colin Kaepernick sizzled in lieu of starter Alex Smith last week, shredding the vaunted Bears defense.
Smith has been pretty good the past couple of seasons, efficiently leading the team to the cusp of a Super Bowl appearance and another fine record this year. There was always an undercurrent of mistrust among fans, though, as if they thought Smith would revert to his poor ways.
At least among my Bay Area neighbors.
Kaepernick has given the 49ers reason to move on, perhaps permanently. A week after his scintillating performance against Chicago, he shined in New Orleans.
Colin Kaepernick just put on display the reasons that Jim Harbaugh rolled the dice on him.
— Albert Breer (@AlbertBreer) November 25, 2012
Unless Kaepernick regresses significantly, there is little reason to re-insert Smith.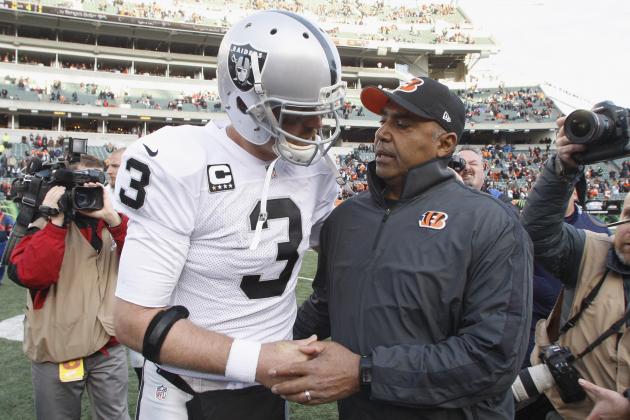 John Grieshop/Getty Images

Carson Palmer disliked the Bengals organization so much that he retired in lieu of playing for the team.
Mike Brown finally came to his senses and traded him away last season when the Raiders got desperate. Palmer finally made his return to Paul Brown Stadium, and, predictably, it wasn't pretty.
Bengals fans heartily booed him, and Palmer responded with a poor showing. The fans poured it on after the game.
Fans poured beer on Carson Palmer as he walked off field
— Vic Tafur (@VicTafur) November 25, 2012
Good thing Palmer sold his Cincinnati home last year.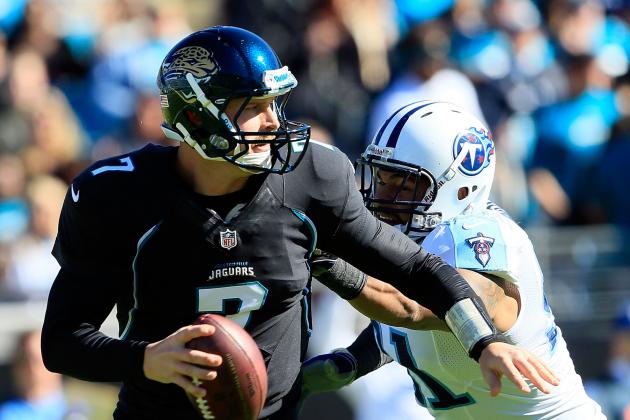 Sam Greenwood/Getty Images

Oh, Chad Henne is playing fine football. He is showing a poise and willingness to throw downfield that Dolphins fans rarely got to see when he was in Miami.
It has led to a near-upset of the juggernaut Texans and Jacksonville's first home victory of the season against the lowly Titans.
How long before the Jaguars offer Henne an ill-advised contract extension?
Jokes aside, each victory takes the Jaguars further from the top pick in the draft, a spot many think will hold the best quarterback prospect in a weak class. Furthermore, what once looked like a lock in Gene Smith's offseason departure is on shaky ground.
Smith has a built-in excuse for Blaine Gabbert now that he has been put on IR, and Justin Blackmon is beginning to produce like the top receiver taken in the 2012 draft.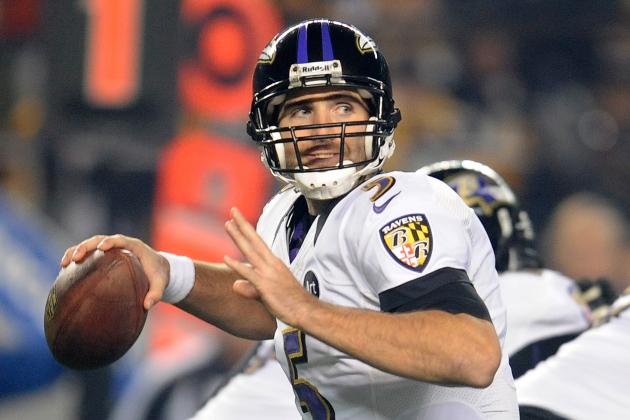 Joe Sargent/Getty Images

Never mind Baltimore's record, including victories against New England and Pittsburgh; the Ravens are not nearly as good as their record would indicate.
Of course, injuries have a lot to do with it. Lardarius Webb and Ray Lewis are big pieces on that defense, which has not been as dominant this season as in seasons past.
Joe Flacco is a bigger problem.
The fifth-year quarterback's home-road splits are comically disparate—his completion percentage is 12 points lower, his quarterback rating is 40 points lower, and he has thrown more interceptions than touchdowns on the road.
Most recently, Flacco putzed his way to a road win against the hapless Chargers thanks mostly to an improbable 4th-and-29 conversion Ray Rice barely eked out in the fourth quarter on a dump-off pass. The Ravens nearly lost to Norv Turner.
This comes a week after barely beating a Pittsburgh Steelers team that started Byron Leftwich at quarterback last week.
Hence, it is imperative the Ravens win home-field advantage throughout the playoffs.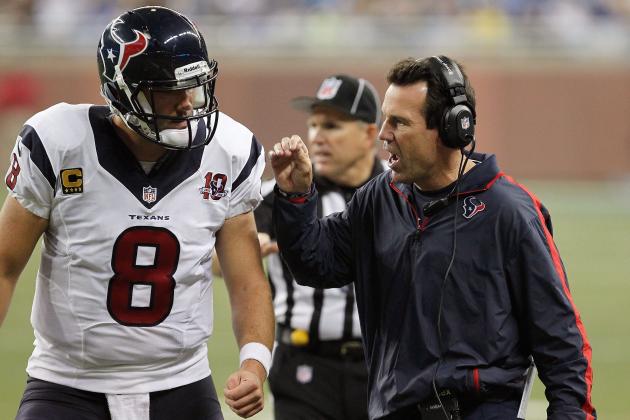 Gregory Shamus/Getty Images

The Texans are the best team in the AFC, and they have gotten there by beating plenty of good teams. But cracks have begun to show on that team, particularly on defense.
Houston can score points in bunches thanks to talent like Arian Foster, Matt Schaub and Andre Johnson. It has had to in recent weeks because of its once-stout defense.
Johnathan Joseph was out last week to go along with Brian Cushing and his replacement, Tim Dobbins, and it showed. The Lions put up 31 points and nearly beat the the Texans.
This came one week after giving up 37 points to the Jacksonville Chad Hennes.
Houston cannot give up 30-plus points in the playoffs. It must get Joseph healthy and deal with Cushing's absence better.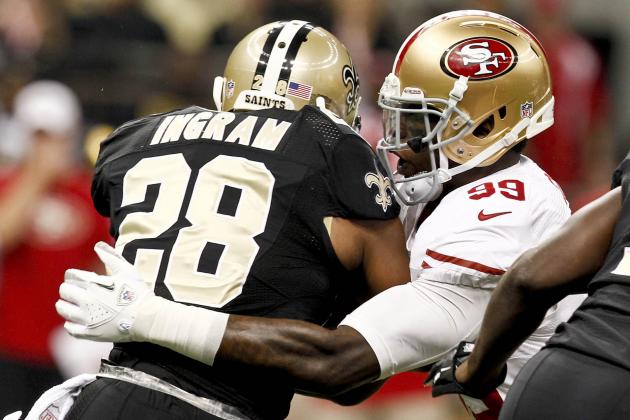 Derick E. Hingle-US PRESSWIRE

Spurred by going up against a hapless Chicago offensive line with Jason Campbell impersonating a statue behind it, Aldon Smith nabbed five sacks in Week 11.
With 1.5 more against the Saints, Smith sits at 16.5 for the season. That is six short of the record held by Michael Strahan with five games to go.
Those games include matchups against the Rams, Dolphins and Cardinals, all of which have suspect pass protection.
Maybe Brett Favre can come out of retirement and take a few snaps for Arizona and sit down once or twice in front of Smith to help him get the record.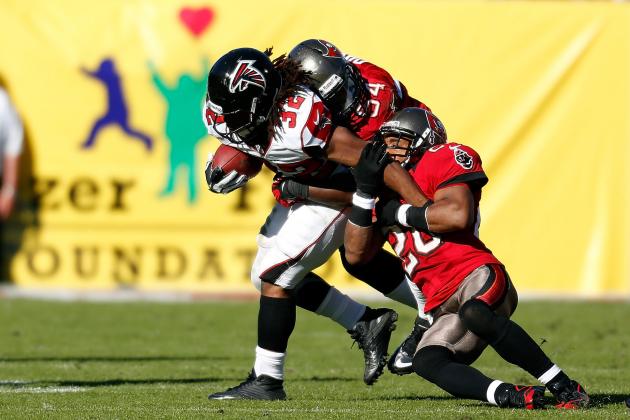 J. Meric/Getty Images

This has been a long time coming, but Michael Turner has been effective enough to ward it off until now.
The 30-year-old once again finds himself in a second-half decline. Despite scoring a touchdown after the Falcons got the ball to the goal line, Turner averaged 1.3 yards per carry on the day.
He has hit 100 yards just twice, and he is averaging 3.7 YPC on the season. If you look up "plod" in the dictionary, you will see a picture of Turner's footprint next to the definition.
Rodgers, meanwhile, has turned things around after a slow start. He has been the dynamic back the Falcons thought they got when they drafted him, and he deserves more playing time as the season wears on.