Chelsea's Whirlwind Week Produces 3 Major Questions for Fans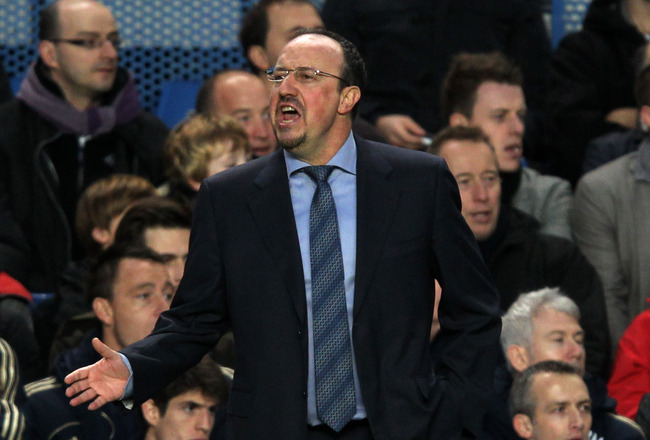 Benitez inherits a thankless job taking over as interim manager for Roberto Di Matteo at Chelsea.
Clive Rose/Getty Images
For all intents and purposes, this week was a failure for Chelsea FC. Going into the week, many felt that this week would be decisive in determining the Blues future for this season. With a loss to Juventus in Champions League play midweek followed by a lackluster draw against reigning Premier League champions Manchester City Sunday, many questions are begging to be asked and answered.
When you add in the untimely sacking of manager Roberto Di Matteo and the insertion of Chelsea villain Rafa Benitez as interim manager, you have to wonder what the direction of this team will be for the rest of the season.
This article will explore three questions that fans should ask of this team moving forward and how I think each will play out as the season continues.
Will Chelsea Advance to the Knockout Stages of the Champions League?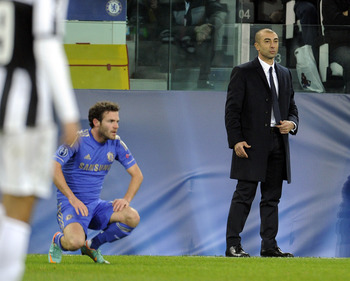 Chelsea's destiny rests in the hands of their group mates as they must get help to advance in this year's Champions League.
Claudio Villa/Getty Images
This is the most pressing question that Chelsea faces and it is one that will be answered by the other teams in their group.
Chelsea's loss to Juventus in Turin on Tuesday was absolutely demoralizing to the team and its fans. With the loss, Chelsea sits on the brink of elimination and will make history as the only team to be eliminated in the group stages after winning the trophy during the previous competition if they can't push though on Matchday 6.
Can they advance? Yes. The easiest way for them to advance would be to take care of business against FC Nordsjaelland and hope that Shakhtar Donetsk can defeat Juventus on the same day. Chelsea would finish with 10 points and Juventus with nine.
Chelsea would lose the first tiebreaker against Juventus and therefore a Chelsea win and a Juventus draw would not work because the first tiebreaker is head-to-head record. Juventus defeated Chelsea in Turin while the Blues could only manage a draw with the Bianconeri in London.
The other way to advance gets tricky.
If Shakhtar loses and Chelsea wins, Shakhtar currently holds the tiebreaker against Chelsea. While the teams split their games, both winning at home, the second tiebreaker would be goal differential and Chelsea trail Shakhtar by four goals. It is plausible that Chelsea defeat Nordsjaelland by four goals or more, but that is sure asking a lot. If they end up tied in goal differential, then the third tiebreaker is goals scored, where Shakhtar also holds the edge right now by two goals.
Bottom line is this: Chelsea do not control its destiny. It most definitely could have and blew the opportunity to do so. In situations like this, it is very common that the other two teams in the group will end up playing a "draw of convenience," where if both teams draw, then they both go through. It happens quite often. Don't be surprised to see a low-scoring game in the Ukraine between Shakhtar and Juventus.
One wild card: Willian.
The Shakhtar forward makes no secret about a move to Chelsea and what better way to endear himself to a new team than to help them advance in the Champions League when it looks bleak. A goal by the Brazilian wing would help make that game a little more competitive, and I think he will look to do just that. You also have to add in the fact that Shakhtar does not lose at home often, so Chelsea fans should retain a glimmer of hope.
Will they make the knockout stages of the Champions League? My answer, unfortunately is, no. Too many questions with goal scoring from their forwards and killing themselves early on by not winning home fixtures and losing both road fixtures to their group rivals dug them a hole they are not going to be able to climb out of.
Will Rafa Benitez Be Able to Turn Around Chelsea's Season?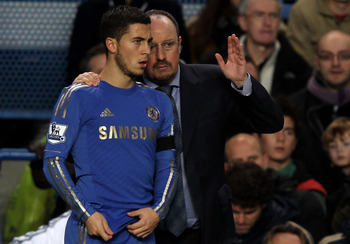 Rafa Benitez will have young, talented players like Eden Hazard to coach as he takes the reins at Chelsea.
Clive Rose/Getty Images
Rafa Benitez? The man that all Chelsea fans love to hate? The man who once said, "We don't need to give away flags for our fans to wave—our supporters are always there with their hearts, and that is all we need. It's the passion of the fans that helps to win matches—not flags," in reference to Chelsea fans before a 2007 Champions league tilt between Chelsea and Liverpool.
The man who once boasted "Chelsea is a big club with fantastic players, every manager wants to coach a such a big team," said the Spaniard. "But I would never take that job, in respect for my former team at Liverpool, no matter what. For me there is only club in England, and that's Liverpool."

For all the venom that Chelsea fans will spew toward Benitez, he may be able, in time, to get the Chelsea players to play his style of soccer. Rafa chews up and spits out results. Period. During his time in the EPL, his Liverpool teams were successful (one Champions League win, one FA Cup win, second-place Premier League finish in 2008-09).
Here is what Chelsea fans and Roman Abramovich have to get used to. Rafa is a tactician, one that will quickly get accustomed to his moving parts and begin to shape a machine. That machine won't win pretty, like Roman wants. That machine won't play the Barca-style soccer that Abramovich craves. It will churn out results in a best-case scenario like he did against City. He will tighten up the back four, play defensively up the middle with two holding midfielders and look to counter.
Two things about this.
It is the same way Di Matteo was playing and his fortunes look to be tied to one Fernando Torres. If Benitez can serve as Torres' "dog whisperer" and get him to get his act together, this could work. With the "three amigos" providing him service, he should be able to get some great opportunities. Whether he can cash in is the million dollar question and one that Rafa is hoping will be answered in a positive manner time and time again.
Will he turn the season around? In time, he will have them playing Rafa Benitez soccer. Will that come fast enough to stay in the race for the Champions League next season? Yes, I feel it will. But, the Blues have not hit rock bottom yet in my opinion. They will drop out of the top four and have to fight their way back into the mix. Look for the new year to bring new toys for Rafa to assimilate and look for the Blues to kick it up a gear after Christmas.
If they can remain less than 10 points behind the leaders by the time the New Year hits, a run for the title is not out of grasp either. Count on Chelsea to take its domestic tournaments seriously as well, more seriously if they get dumped out of the Champions League. I think they will take the League Cup and the FA Cup more seriously than the Europa League, into which they will drop into if they get eliminated from the Champions League.
Can Chelsea Fans Look Forward to New Additions During the Transfer Window?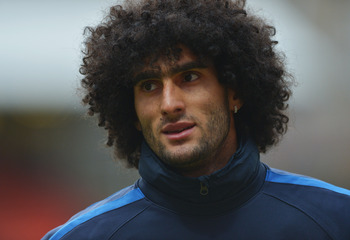 Marouane Fellani will be in Chelsea's crosshairs during this transfer window in January.
Mark Runnacles/Getty Images
Chelsea will add and subtract during the transfer window. But I think it all depends on where Chelsea is in the standings as to who gets added and subtracted during that time period.
If Chelsea is still in the Champions League (by miracle from God), it will look to add some players who are not Cup-tied. Falcao, Bony, etc., would be options in this scenario in my opinion, as they have not played in the competition this season. Roman would still be enthused at his team's performance and be willing to dump some serious money into the side again.
If Chelsea is out of the Champions League, but still in the race for the Premier League, look for Roman to splash some cash as well.
You won't see as much spent, but there still may be a marquee signing or two to get some guys that can help push for the title. Depth is also a concern as a number of players are leaving for the African Cup of Nations (Mikel and Moses for Nigeria). Bony (Ivory Coast) would also be a risk because of this. I would like to see Marko Marin get some playing time during this stretch to see if he can provide width and invention up front.
They might not have to add too much if Torres begins scoring again and Sturridge stays healthy. I could see them adding a center midfielder and another central defender if Terry is slow to recover. Look for Everton midfielder Marouane Fellani's name to pop up as usual along with Cheick Tiote (Newcastle) and Etienne Capoue (Toulouse).
Look for Florent Malouda's exodus to end during this transfer window. Surprisingly Marin has been rumored to be loaned back to Germany to get some games as he finds it difficult to break into the first team at Chelsea.
I am convinced that Abramovich will splash the cash if he feels that the team is worth it. While I think he is concerned with FIFA Fair Play rules, he is more concerned about winning and he has shown that he does not support a loser.
For him, Champions League is a must and a finish outside of the top four is incomprehensible. If Chelsea is desperate for help at the transfer deadline, people will hold him for a king's ransom to get the players he wants and he will have to decide at that point, if it is truly worth the financial ramifications that he will face in the upcoming seasons.
Let me know what you think will happen. Please post comments as we begin the Rafa Benitez era at Chelsea.
Keep Reading

Chelsea: Like this team?