Broncos vs. Chiefs: Denver's Biggest Winners and Losers from NFL Week 12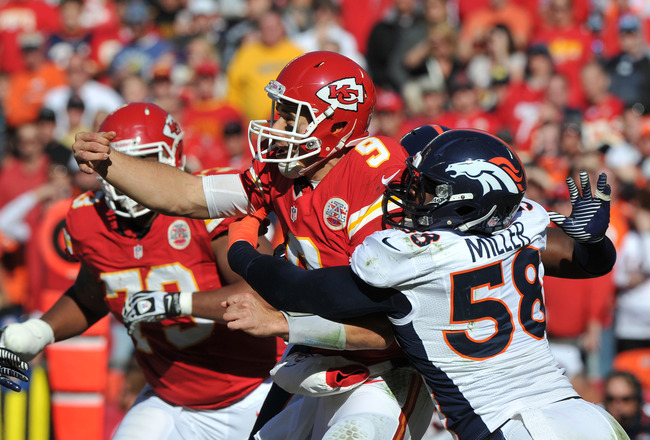 Peter Aiken/Getty Images
The Denver Broncos struggled, as it seems they do annually, against the Kansas City Chiefs Sunday at Arrowhead Stadium.
Still, they managed to overcome a sluggish effort with a 17-9 victory, improving their record to 8-3 on the year. Despite the Broncos' lackluster win over the now 1-10 Chiefs, it's hard to find any losers on the Broncos side.
Here, we will take a look at the winners and losers for Denver from Week 12 of the season.
Winner: Wesley Woodyard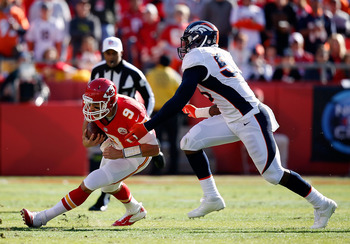 Jamie Squire/Getty Images
How good has this guy been? Getting the opportunity to play after the suspension of D.J. Williams, Woodyard has filled in quite well.
He led the team with nine tackles, two of which went for a loss, and he also had a sack and a pass deflection against K.C.
He did make one mistake, hitting Chiefs running back Jamaal Charles late on an incomplete pass on 3rd-and-6 in the third quarter, giving the Chiefs a first down.
Still, Woodyard was all over the field and is becoming a key cog in this defense that is only getting better each week.
Winner: Knowshon Moreno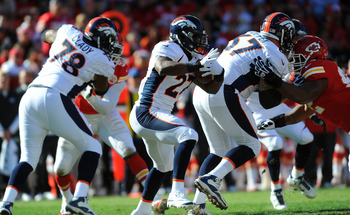 Denny Medley-US PRESSWIRE
Knowshon Moreno didn't do anything flashy, but he was the running back on the field the majority of the game, and that, in itself, is a personal victory.
Playing in just his third game of the season after being on the inactive list since Week 2, Moreno made the most of his opportunity, gaining 85 yards on 20 carries and also catching four passes for 26 yards.
The Broncos only ran the ball 24 times, so the fact that Moreno got 80 percent of those carries is an encouraging sign. His 4.3-yard average might convince the coaching staff to rely on him more in coming weeks.
This may be the last chance for Moreno to prove why he was once a first-round draft choice, and this most recent performance will do nothing but help him.
Loser: Matt Prater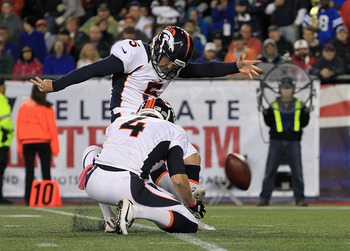 Jim Rogash/Getty Images
Matt Prater did not strike the ball well on Sunday. Despite kicking a 34-yard field goal with just 14 seconds remaining in the game, he missed two earlier field goals that would have put the Broncos in a much more comfortable position toward the end of this game.
In the first quarter, Prater kicked an ugly knuckleball from 47 yards out that was wide right. Later in the third quarter, Prater hit the upright on a 33-yard attempt.
Prater has only missed four field goals all year, and should've made all three attempts.
Winner: Pass Defense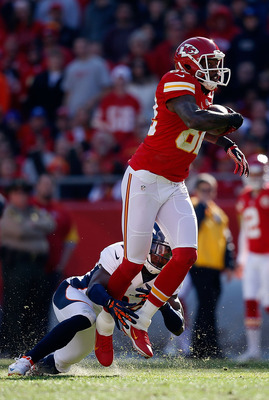 Jamie Squire/Getty Images
The Broncos went up against Brady Quinn as the Chiefs signal-caller.
This is the same Quinn that never saw the field in the regular season after two years spent in Denver.
Sunday, Quinn was just 13-of-25 passing for 126 yards with an interception. He averaged just 5.0 yards per completion and finished with a 49.8 quarterback rating.
The Broncos didn't give up anything down the field in this game, and they held Dwayne Bowe to just four catches.
Loser: Run Defense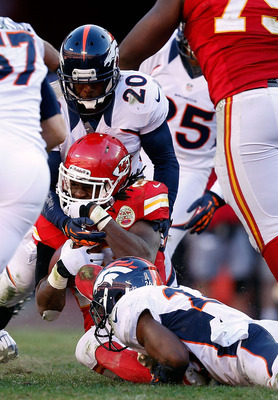 Jamie Squire/Getty Images
While the pass defense was good, the Chiefs did have some success running the ball, which kept them close until the end.
The Chiefs averaged close to five yards a carry and totaled 148 yards on the ground. Charles ran 23 times for 107 yards.
The Chiefs were also able to get a first down off a run play seven times.
Winner: Demaryius Thomas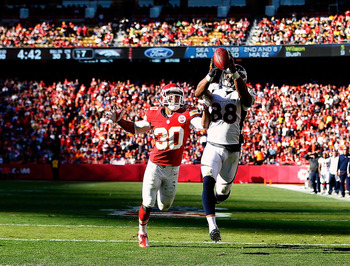 Jamie Squire/Getty Images
Demaryius Thomas added to what is becoming a great season by turning in another good performance on Sunday.
Thomas caught four passes for 82 yards, but he had the two biggest catches of the game for Denver.
With 4:41 to play on the third quarter and trailing 9-7, Manning had a 1st-and-10 from the Kansas City 30-yard line. He floated one up for Thomas in the corner of the end zone. Thomas had to look into the sun as he turned his head and snatched the ball for a touchdown. A great throw and a great catch.
Later, as Denver tried to close the Chiefs out and clinging to a 14-9 lead with just over three minutes to play, it had a crucial 3rd-and-7 from the Chiefs' 42-yard line. Manning went right to Thomas, hitting him for 27 yards down to the Chiefs 15.
Winner: Peyton Manning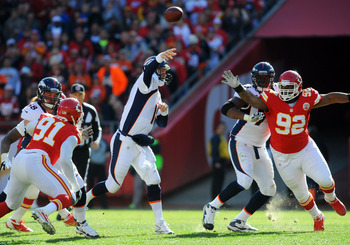 Denny Medley-US PRESSWIRE
Manning could go in this slot just about every week, and while this wasn't his best game of the season, he made the difference in the final decision.
He finished the day with 285 yards on 22-of-37 passing with touchdowns to Thomas and Jacob Tamme, but it was the throws he made, especially on third down and late in the game, that carried the Broncos to victory.
Manning also broke two more milestones on Sunday, throwing for 3,000 yards in a season for the 14th time, surpassing Dan Marino for second place on that list. He also won his 149th regular-season game, passing someone he knows quite well, John Elway, for second place on that list.
Keep Reading

Denver Broncos: Like this team?