5 Things Notre Dame Does Better on Defense Than Alabama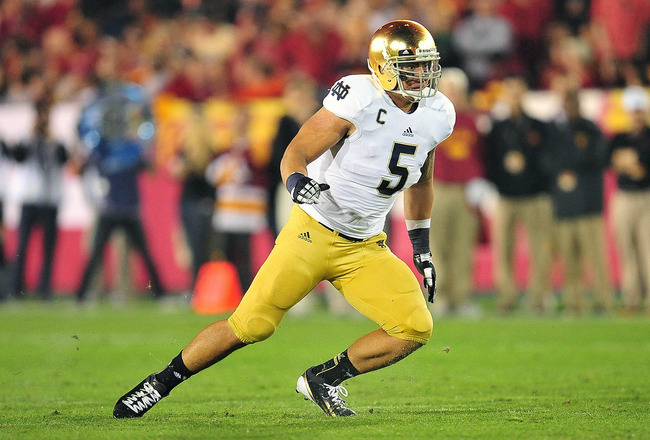 Gary A. Vasquez-US PRESSWIRE
As the regular season closes, the Alabama Crimson Tide holds a slight edge over Notre Dame to make the claim of best defense in the FBS.
In fact, Alabama is No. 1 in scoring defense (9.3 points per game) and total defense (233.67 yard per game), while Notre Dame is No. 2 in scoring defense (10.3 points per game) and No. 6 in total defense (287.25 yards per game.
However, if these two elite defenses do end up facing off in the national championship game, the Crimson Tide should be aware that the Irish do some things better on defense despite being slightly behind in the numbers.
What are those ways? Read on.
Note: Stats above came from NCAAfootball.com
Better Against Mobile Quarterbacks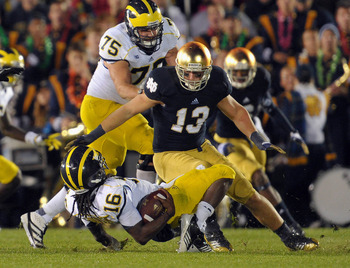 Matt Cashore-US PRESSWIRE
Both teams have been pretty good against mobile quarterbacks, but I give Notre Dame a slight edge here.
Alabama and Notre Dame both faced Denard Robinson. Against the Crimson Tide, Robinson had 200 yards passing, one touchdown, two interceptions, 27 yards rushing and a touchdown.
Against the Fighting Irish, however, Robinson had only 138 yards passing, four interceptions plus 90 yards rushing but no touchdowns of any kind. The Irish also forced a fumble, meaning that the senior QB turned over the ball five times on the day.
Besides, Alabama's one loss was against a mobile quarterback. Now, I'm not quite sure if the Irish defense could deal with a super-athlete like Johnny Manziel, but it's interesting nonetheless.
Depend on Themselves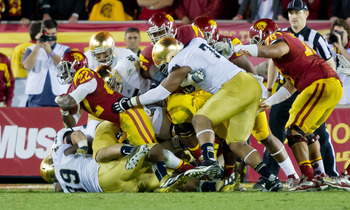 Matt Cashore-US PRESSWIRE
Alabama's defense has a solid offense to go with it. The likes of A.J. McCarron, Eddie Lacy and T.J. Yeldon can eat up clock so that the Alabama defense doesn't have to be on the field as long.
Meanwhile, the Notre Dame defense knows that it has to do its job. The offense isn't quite good enough to bail the Irish out.
Case in point: Notre Dame is No. 76 in scoring offense and only scores 26.8 points per game. That makes it all the more important for the defense to keep the score low.
On the other hand, Alabama is No. 15 and scores an average of 39.0 points per game.
This Is a Hungry Defense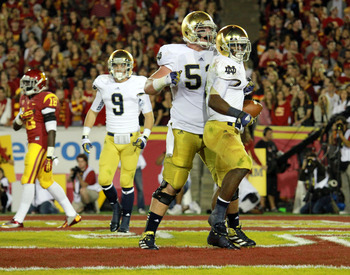 Kirby Lee-US PRESSWIRE
Most of Alabama's defense has already won at least one national title. Some of the players have even been around long enough to win two. That experience will undoubtedly play in the Crimson Tide's favor.
But there's something to be said about a team trying to win its first title since 1988.
Nick Saban deserves a lot of credit for keeping his players playing as hard as they do, despite the fact that some of them already have two rings. Meanwhile, the likes of Manti Te'o and the Fighting Irish defense are going to give their all to pick up their first.
This hunger just might be the difference in a potential matchup against the Tide.
Goal-Line Stands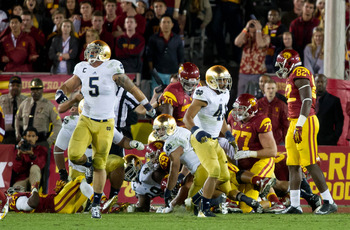 Matt Cashore-US PRESSWIRE
Alabama of all teams should appreciate the significance of a goal-line stand. Their famous goal-line stand against Penn State in the 1979 Sugar Bowl allowed them to claim the national championship.
However, this is 2012 and not 1979. This Crimson Tide squad hasn't had to make such a stand to preserve their national championship run.
On the other hand, Notre Dame has done it twice.
Was the first one against Stanford controversial? Sure. Did USC make some poor decisions in trying to punch it in? Absolutely.
But would I feel at all comfortable if I was the Alabama defense having to punch in a winning score against the Irish?
Not at all.
They Have the Best Defensive Player in the Nation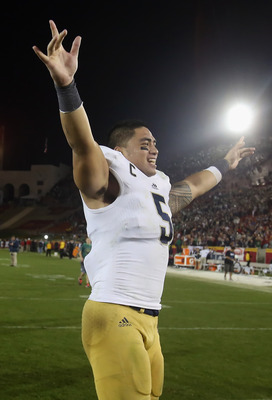 Jeff Gross/Getty Images
Alabama may have a sideline full of defensive powerhouses, but even the Crimson Tide don't have a man like Manti Te'o. If the likes of Kirby Smart and Nick Saban could design their own linebacker, I'm not sure they could get much better than Te'o is now.
Te'o's stats are impressive. He has 103 tackles, 19 tackles for loss, 1.5 sacks and seven interceptions. However, the numbers don't tell the whole story.
He's a natural leader. He inspires players on both sides of the ball to give it all.
He's led Notre Dame to hold on two critical goal-line stands. Anyone who watched the Irish's win over USC knows that Te'o was one of if not the primary reason why the Irish are in the position they are now.
Keep Reading

Notre Dame Football: Like this team?