NFL: Five Backup Quarterbacks Who Could Start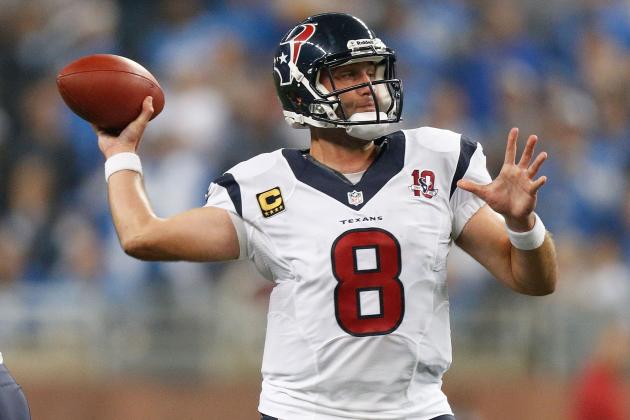 Gregory Shamus/Getty Images
Before leading Houston's high-powered offense, Matt Schaub backed up Michael Vick in Atlanta
NFL teams are always looking for the next star quarterback. Since 1998, 12 of the 15 number one overall picks in the NFL Draft have been quarterbacks. They often become the face of a franchise and are thought to be the most important position on the field by many.
However, picking a quarterback is an inexact science. For every Peyton Manning (Indianapolis' No. 1 pick in 1998), there is a JaMarcus Russell (Oakland's No. 1 pick in 2007, who no longer plays in the NFL). Perhaps the perfect example of this is the Houston Texans.
In their first season as an expansion franchise, Houston selected David Carr out of Fresno State with the No. 1 overall pick, hoping that he would lead Houston's new franchise to greatness while keeping the team stable under center.
However, the Carr pick never worked out. The Texans toiled in mediocrity for years before they discovered that they didn't need the No. 1 overall pick to land their franchise quarterback. Matt Schaub, a talented passer who received little attention out of college (he was drafted by the Falcons in the third round), was sitting on the bench behind superstar Michael Vick for the Falcons.
Not every backup quarterback-turned-starter story is a success, but there are many diamonds in the rough that go undiscovered. Ahead is a list of five current backup quarterbacks who I believe can be starters in the NFL.
Begin Slideshow

»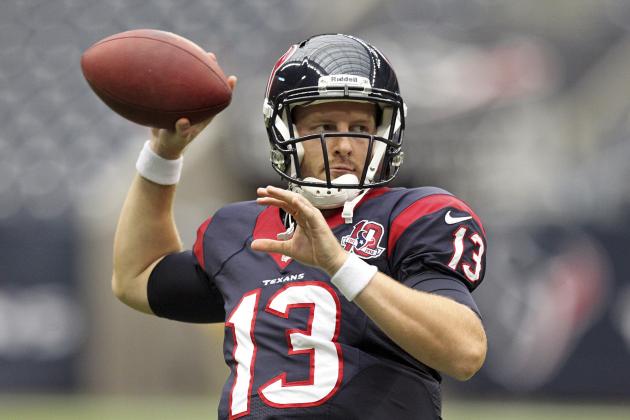 Bob Levey/Getty Images
Yates has excelled as Matt Schaub's backup in Houston
In the very limited amount in which we have seen Yates, there is no reason to think that he can't be an NFL quarterback. He entered a high-pressure scenario in which starter Matt Schaub and backup Matt Leinart went down with injuries last season, and he was very steady and under control for the most part in his first NFL action.
Yates completed 61.2 of his passes in his six games (four starts) last season, threw three touchdowns to three interceptions (two of them came in a loss to Carolina) and compiled an 80.2 quarterback rating.
Nothing he did was extraordinary, but the rookie out of North Carolina held his own and showed tremendous poise in a playoff race at the end of the season. Yates can make all the throws he needs to in the NFL, as evidenced by a 300-yard performance against the Bengals in just his second start.
He also led the Texans to a postseason victory against the Bengals and threw a touchdown and no interceptions while completing 55% of his passes before he fell apart in Baltimore in the second round.
Yates has not shown us that he can be a Pro Bowl quarterback, but with seasoning and experience, he hasn't shown us that he shouldn't be a starter, either.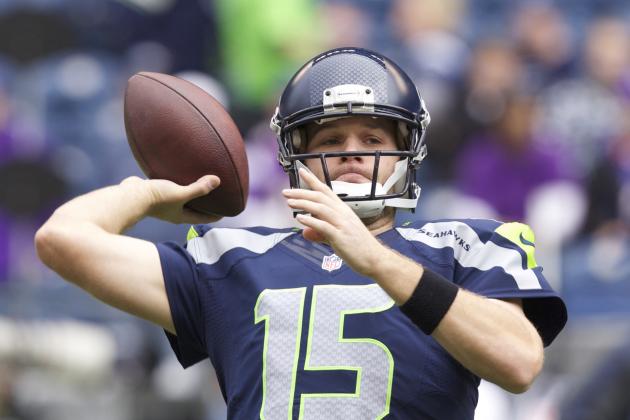 Stephen Brashear/Getty Images
Flynn was brought in this offseason to take over as Seattle's starting quarterback
Matt Flynn is now a five-year veteran out of LSU after leading Les Miles's Tigers to the BCS National Championship in January of 2008. He hasn't had much in game action in the NFL, as he served as Aaron Rodgers's backup for the first four years of his career, but in the time he has played, he has impressed.
In his one start last season, Flynn completed 70.5% of his passes for 480 yards and six touchdowns to just one interception in a 45-41 win over the tough Detroit Lions. In his only start the season before, Flynn threw for 251 yards, three touchdowns and one interception with a 100.2 quarterback rating in New England.
Flynn certainly earned a chance to be considered as a starter by an NFL team, which is why the Seattle Seahawks and Flynn agreed to a three-year contract worth $26 million total and $10 million guaranteed this past offseason.
However, the emergence of rookie Russell Wilson has kept Flynn on the bench despite his contract and he still has not gotten his opportunity to start. Flynn has the proven potential to be a franchise quarterback and will continue to wait for his shot with an NFL team while Wilson leads a resurgence in Seattle.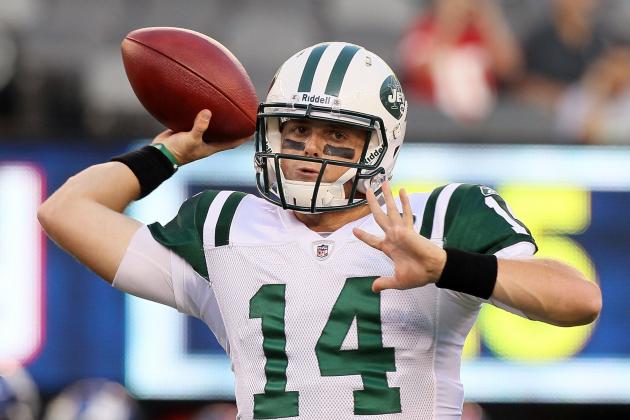 Jim McIsaac/Getty Images
Could Greg McElroy be a better option at quarterback for the Jets than both Tim Tebow and Mark Sanchez?
Many have called for McElroy to start for the New York Jets by default, citing the fact that they don't have another legitimate quarterback on the roster in either Mark Sanchez or Tim Tebow. McElroy was not a highly touted NFL prospect despite leading Nick Saban's Alabama Crimson Tide to a 14-0 record and a BCS National Championship in 2009.
Then again, neither was Tom Brady after leading the Michigan Wolverines to an Orange Bowl win over Alabama and being a two-year All-Big Ten honorable mention. Brady was drafted 199th; McElroy, 208th. Not to draw the comparisons too closely, but Brady and McElroy were both very successful college quarterbacks playing against the toughest competition in the country who were selected at the end of the draft for no good reason at all.
I am not saying that Greg McElroy can be Tom Brady, as that would be a ridiculous statement for anyone to make. However, there is something to be said for the intangibles a quarterback must have beyond his natural tools. JaMarcus Russell lacked these but was selected with the No. 1 pick. Brady and (I believe) McElroy have these rare features and crunch-time abilities but were overlooked for six rounds.
McElroy has yet to enter an NFL game. However, Mark Sanchez put it best as to why he can be an NFL quarterback:
He's so sharp. He's got a ton of experience in college. He played in a lot of games -- a national championship (2009). That's great to add to our quarterback room. He's picking things up quickly in the classroom. It'll be good competition for all of us.
In the same article, he was compared to former quarterback Chad Pennington with respect to his touch and ability to hit receivers on tough deep corner routes accurately. Even with no in-game experience, I think this guy deserves a shot.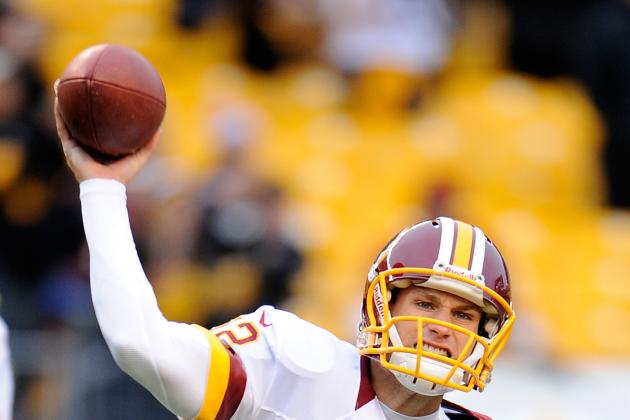 Joe Sargent/Getty Images
Cousins starred in a pro-style offense at Michigan State
Cousins has only thrown nine NFL passes, but anyone who watched his career at Michigan State has to believe that he can be an NFL starter.
Many believed that he would be drafted as a temporary backup with an eventual chance to start, much like Matt Flynn in Green Bay. However, Cousins was drafted by the same team that drafted quarterback phenom Robert Griffin III...in the same draft.
Cousins will likely never get a chance to start in Washington as Griffin looks to be the franchise quarterback that he was projected to be, but he can make tough throws and if nothing else, was a model of stability and ball control at Michigan State.
He's a player who is confident in his own abilities and while he may not be a Pro Bowler, he should be able to be at the very least a league-average starting quarterback.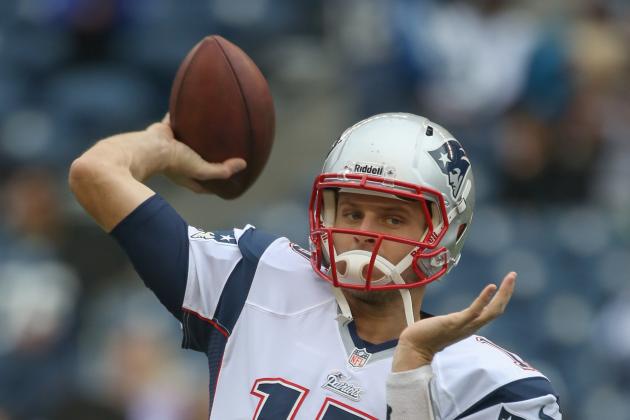 Otto Greule Jr/Getty Images
Ryan Mallett was praised coming out of college for his rocket arm
Mallet was one of the more highly touted recruits out of high school and he committed to Michigan to follow Chad Henne in a line of great Michigan quarterbacks with cannons for right arms.
Mallett never got the chance to start at Michigan, as his first year as a starter would have been Rich Rodriguez's first year implementing the spread offense as the Wolverines' new head coach. Mallett felt (correctly) that he was not a fit for the spread and transferred to Arkansas.
Mallett starred at Arkansas, throwing for over 8000 yards in two seasons and throwing 62 touchdowns to only 19 interceptions. In his second year learning from future Hall of Famer (and another former Wolverine quarterback) Tom Brady, Mallett should be learning to hone his skills and be more accurate and under control with his blessed right arm.
If Mallett can improve his accuracy and decision making, the sky is the limit as he is among the most physically gifted throwers in the game.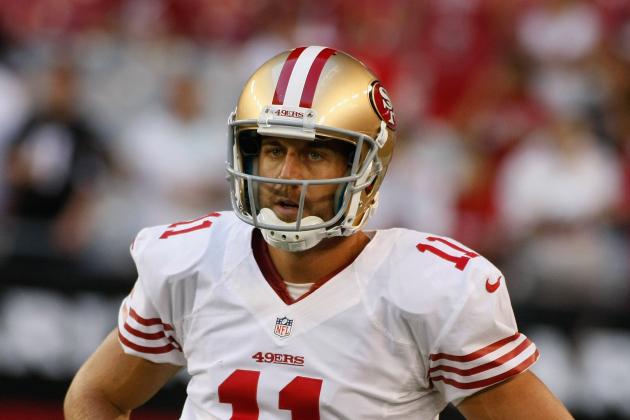 Ralph Freso/Getty Images
Alex Smith is one of many quarterbacks who have seen their role change this season
Matt Moore
Moore started last season for the Dolphins, who replaced him with rookie Ryan Tannehill. Moore performed admirably in his season in Miami and proved to be a competent game manager.
Colin Kaepernick/Alex Smith
After last week, these two caused a big controversy in San Francisco. Smith, who started all of last season and this season, is now relegated to a backup role as Colin Kaepernick took over in a win against New Orleans. Both are capable NFL quarterbacks.
Kyle Orton
Orton has proven to be a quality starter for the Bears and Broncos in his career. He is currently Tony Romo's backup in Dallas.
Kevin Kolb
Kolb was supposed to be Donovan McNabb's heir in Philadelphia before being traded to Arizona. He was starting at a time this season before going down with an injury. He has been in a two-year controversy with John Skelton. Of the two, Kolb has more real potential to lead an NFL team.
Chad Henne
Like Kaepernick, Henne has been a backup for most of the season. However, when Blaine Gabbert went on injured reserve, Henne got his chance to start for Jacksonville. He has gone 1-1, while throwing for over 600 yards and six touchdowns to just one interception.