Gene Chizik Fired: 7 Recruits Less Likely to Choose Auburn After Coaching Change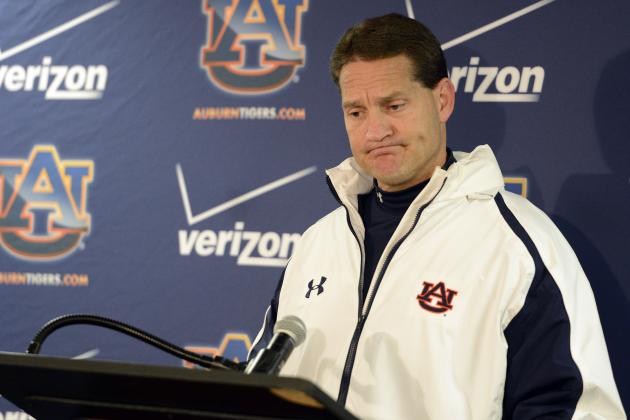 John David Mercer-US PRESSWIRE

In a move that many saw coming, Gene Chizik has been fired as Auburn's head coach, reported by ESPN. Chizik is just two seasons removed from winning a BCS title but the Tigers went 3-9 this season, including no SEC wins.
Like any head coaching removal, this affects a program's recruiting outlook for the rest of the cycle. Chizik was extremely well liked by every commitment and prospect that Auburn recruited. With him now gone, expect some recruits to start looking elsewhere and for Auburn's class to change.
This read will give you seven recruits that look less likely to choose Auburn now that Chizik is gone.
Begin Slideshow

»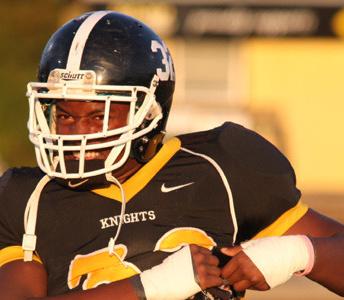 247Sports.com
Johnson has been flirting with other schools on and off through a good portion of this cycle. He's a 6'1", 225 pound LB prospect that is strong against the against the run.
Florida could begin to start to press up on Johnson, yet it looks like the two schools to watch are Ohio State and USC.
Scout.com shows Johnson visited Columbus this weekend and will head to Los Angeles in January.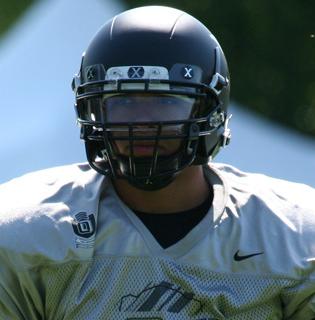 247Sports.com
Bower is from New Jersey and is committed to Auburn. The 6'5", 241-pound DE prospect made a trip to The Plains this fall and would have probably been a lock where Chizik to be allowed to stay.
With today's news, look for Rutgers to churn up their recruitment of Bower to an even higher intensity level. The Scarlet Knights want the strong DE and perhaps LSU may begin to step up their game too, implied by Scout.com.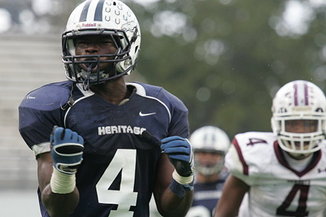 247Sports.com
Bryant is not committed to Auburn, but I think he had legit interest in the Tigers when Chizik was in place. The 5'10", 205-pound RB from Florida seems to want to play in the SEC and Auburn gives him that opportunity.
I still feel, Chizik or no Chizik, that Bryant's best bet is to go replace Marcus Lattimore at South Carolina and Chizik getting fired could nudge the RB to Columbia.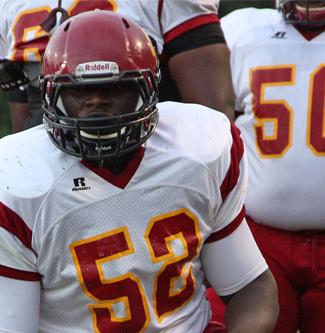 247Sports.com
At one point, I felt strongly that Adams would sign with Auburn. I felt he liked Chizik a lot, liked the coaches, players, school and fellow 2013 recruits.
Now, things are completely up in the air and I would be a little surprised if Adams went there. It seems to me that Georgia and Florida have really made their impressions on the 6'3", 310-pound DT and also Alabama and Clemson could be in the mix too.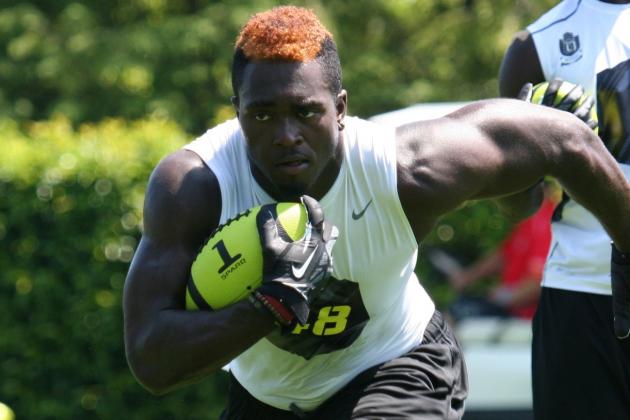 247Sports.com
The Tigers would love to have Green and his size at 6'0", 230 pounds to add to their RB stable. Yet, with Chizik now fired, could this be the final straw that pushes the big Virginia RB to Michigan?
It could be, as I think Green was really looking at Auburn and Michigan as his top two. Big Blue is the more stable program these days and that could push them over the top for Green.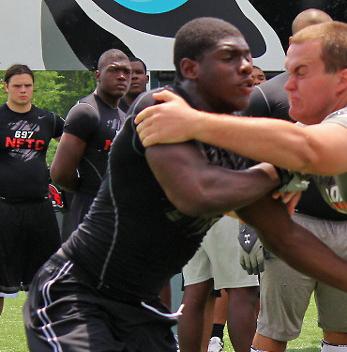 247Sports.com
Scout.com reported in October that schools like LSU, Alabama, Ole Miss among several others have not seized their pursuit of Lawson.
Lawson also acknowledged the possibility of him re-thinking his commitment should a coaching change take place at Auburn. Well, that day and time has come and it will be interesting to see what Lawson does from here on out.
I can see him staying committed to Auburn, but I also can see him him re-opening his recruitment back up too, stay tuned.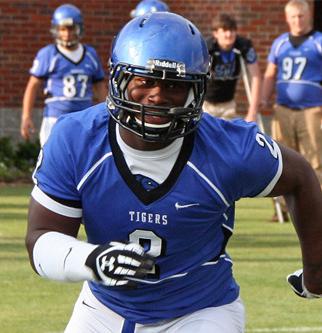 247Sports.com
Chizik helped flip the nation's best LB to Auburn from rival Alabama, but now Chizik is gone and Foster will have to think about a lot of things.
The main school that has not stopped recruiting Foster is Georgia. Mark Richt is personally recruiting Foster, says Scout.com, and the lead Dawg has really gone after the 6'2", 245-pound LB.
Auburn must make the right hire at head coach and right staff; if not, then I think Foster will be tackling in Athens next season.
Edwin Weathersby is the College Football Recruiting Analyst for Bleacher Report. He has worked in scouting/player personnel departments for three professional football teams, including the New York Giants, Cleveland Browns and the Las Vegas Gladiators of the Arena League. He spent a year evaluating prep prospects and writing specific recruiting and scouting content articles for Student Sports Football (formerly ESPN Rise-HS). A syndicated scout and writer, he's also contributed to WeAreSC.com, GatorBait.net and Diamonds in the Rough Inc., a College Football and NFL Draft magazine.