Packers vs. Giants: 5 Matchups That Will Decide Sunday Night Clash
Al Bello/Getty Images
The Green Bay Packers (7-3) will head east for another important NFC clash with the New York Giants (6-4) Sunday night from MetLife Stadium.
The two teams have now faced off in each of the last three seasons (Packers are 2-0 during the regular season), and the Giants have also knocked the Packers out of the playoffs in two of the last five seasons (2007, '11).
The game also represents a meeting between the last two Super Bowl champions (Packers won Super Bowl XLV, Giants, Super Bowl XLVI).
In the following slides, we'll break down the five matchups that will decide which team wins a pivotal NFC clash Sunday night.
Packers LT Marshall Newhouse vs. Giants DE Jason Pierre-Paul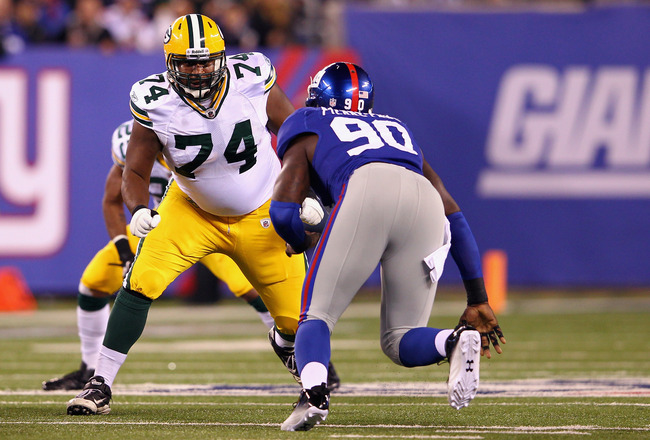 Al Bello/Getty Images
The Packers offense was able to overcome a disastrous start from left tackle Marshall Newhouse in the first meeting between these two teams a season ago.
According to Pro Football Focus, Newhouse allowed a career-high nine total quarterback disruptions during the Packers' 38-35 win over the Giants last December. Pierre-Paul (6'5", 275 lbs.) alone was responsible for three hits, six hurries and two passes defenses, although three of those pressures came while rushing from the inside.
Newhouse has been the Packers' best pass protector in 2012, so there's reason to think he'll be better off against the Giants' top pass-rusher Sunday night. If not, the Packers' reconstructed offensive line (Evan Dietrich-Smith at left guard, T.J. Lang at right tackle) could be in big trouble across the board against a very talented Giants front four.
Packers CB Casey Hayward vs. Giants WR Victor Cruz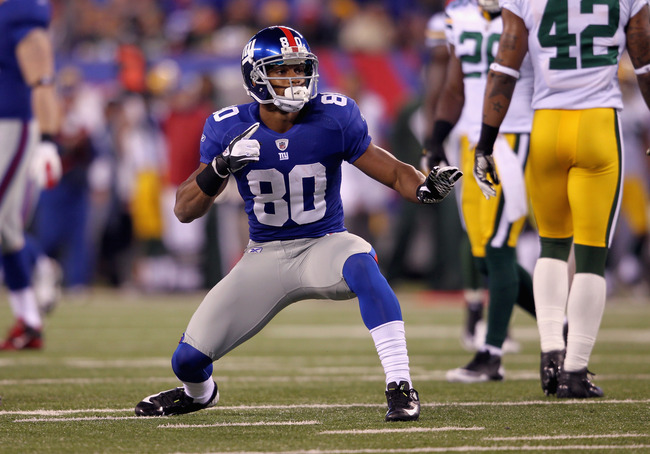 Nick Laham/Getty Images
Two of the game's very best players in the slot will go head-to-head Sunday night.
Giants receiver Victor Cruz, who has 43 catches for 601 yards and five touchdowns from the slot this season, will likely see a heavy dose of Packers cornerback Casey Hayward there Sunday night. Despite being a rookie taking over many of Charles Woodson's snaps inside, Hayward has allowed just a 53.1 passer rating when covering the slot in 2012 (second-best in the NFL).
Cruz was able to hurt the Packers inside last season (seven catches, 119 yards), but Hayward is a skilled player who has made life difficult for slot receivers this season. However, facing Cruz certainly represents the most difficult slot matchup of his young NFL career.
Packers TE Jermichael Finley vs. Giants LBs, Safeties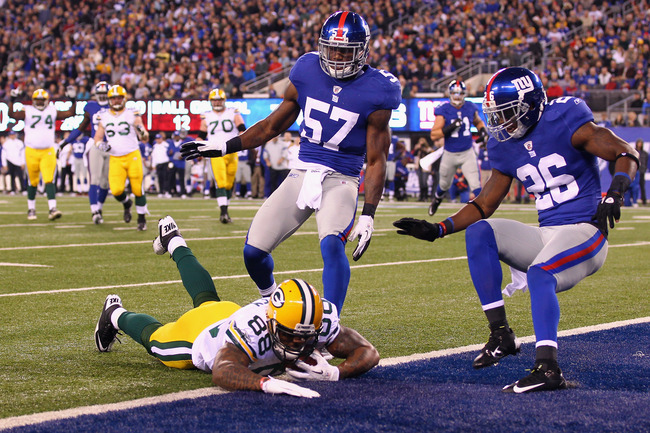 Al Bello/Getty Images
In the first meeting between Green Bay and New York last season, Packers tight end Jermichael Finley caught six passes for 87 yards and a score, including a 24-yarder that helped set up Green Bay's game-winning field goal.
A month later in the playoffs, the Giants made it one of their defensive priorities to take away Finley from the Packers offense. Mission accomplished.
With the Giants routinely disrupting him at the line of scrimmage, Finley caught just four passes on nine targets for 37 yards. Both the Giants linebackers and safeties were responsible for being physical with Finley and not letting him get free releases.
New York will be without linebacker Jacquin Williams, who was one of the keys to stopping Finley in Green Bay last January. Green Bay will again be a tough offense to stop if the Giants can't adjust without Williams and Finley is a big contributor Sunday night.
Packers OLBs vs. Giants OTs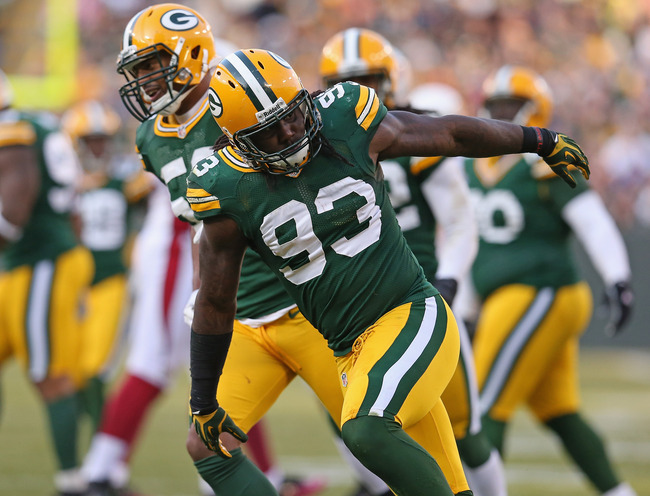 Jonathan Daniel/Getty Images
The Packers will again be without linebacker Clay Matthews, which puts pressure on the no-name outside linebackers to provide pressure for Dom Capers' defense.
At least for one week, Capers got just that.
Starter Erik Walden sacked Matthew Stafford twice in Week 11, while Dezman Moses—starting for Matthews on the right side—consistently collapsed the pocket and made things uncomfortable for Stafford. The result was a handful of turnovers and a rattled Lions quarterback for most of the Packers' 24-20 win last Sunday.
The Packers need to get the same kind of production from Moses, Walden and Frank Zombo Sunday night. Giants quarterback Eli Manning has really struggled with his decision-making under duress the last few games.
Packers QB Aaron Rodgers vs. Giants QB Eli Manning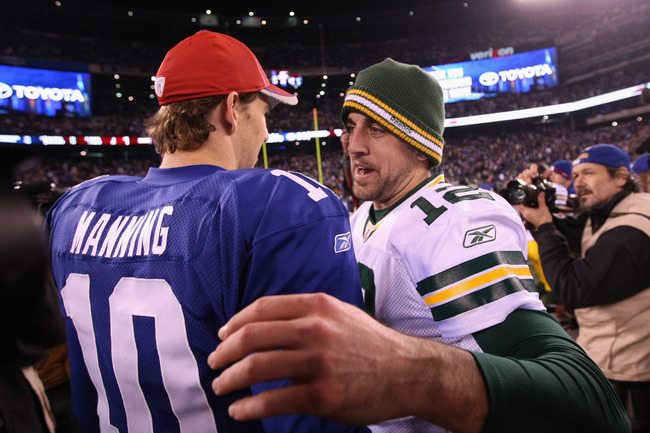 Al Bello/Getty Images
Quarterbacks are never matched up against each other on the field, but Aaron Rodgers and Eli Manning will certainly be waging a war on the scoreboard Sunday night.
Consider the stats for these two quarterbacks in recent meetings.
In his last two regular season games against the Giants, Rodgers has thrown for nearly 800 yards with eight total passing touchdowns. The Packers scored 83 in those games.
In his two games over the last 11 months against the Packers, Manning has thrown for almost 700 yards and six touchdowns. The Giants scored 72 points in those games.
Given the numbers, it wouldn't be out of the realm of possibility to think that the quarterback with the ball last Sunday night could be the winner.
Rodgers got the best of Manning in the first meeting; Manning returned the favor at Lambeau Field in the postseason. Expect whichever quarterback plays better Sunday night to also walk out of MetLife Stadium a winner.
Keep Reading