Pac-12 Football: 7 Possible Additions to Make a Superconference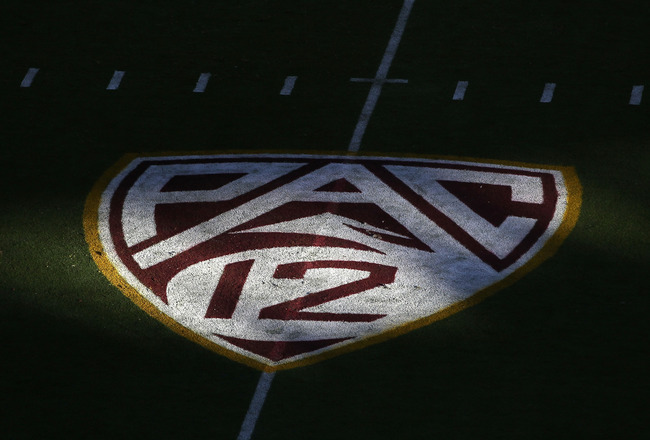 Christian Petersen/Getty Images
With the Big Ten, ACC and SEC all adding additional members to form their own Super Conferences, it would be smart for the Pac-12 to do the same.
Pac-12 football has some of the nation's best this year, but commissioner Larry Scott is extremely aggressive in continually improving the West Coast's top conference more and more each season.
If the Pac-12 would like to continue to compete with the SEC, it needs to improve its league size to include several more teams.
Here are a couple that would make the conference even better.
Boise State Broncos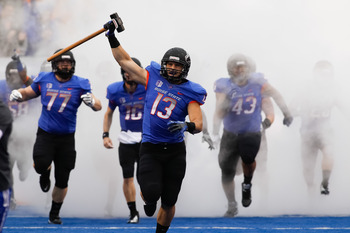 Otto Kitsinger III/Getty Images
Boise State not joining the Pac-12 when Larry Scott first began to try to add new members was the most shocking thing I've ever seen.
The Broncos have all the makings of a good BCS team, and the renovation projects going on at Bronco Stadium are only going to help that.
Boise State can't expect to be ranked highly in the polls season after season if it continues to play lower-level teams.
In 2012 the Broncos were slated to join the Big East, but after Pittsburgh, Syracuse and now Rutgers have all left, Boise State officials tried to get back into the Mountain West Conference.
Why not just join the Pac-12 and be a part of a relevant BCS conference?
Boise State is also already an affiliate member of the Pac-12 for wrestling.
Nevada Wolfpack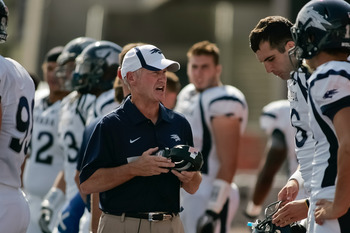 Otto Kitsinger III/Getty Images
Nevada has been down the past couple of seasons, but head coach Chris Ault has gone 70-44 in his second tenure at the helm of the Wolfpack.
The Wolfpack are just two years removed from a 13-1 season and have consistently played well against good teams. They even laid down a 31-24 whooping on Cal in the season opener.
Ault's pistol offense could generate a lot of success in the Pac-12, just as Chip Kelly's spread-option offense has.
Fresno State Bulldogs
Otto Kitsinger III/Getty Images
Fresno State only has three losses this season.
Two of those were against ranked teams Oregon and Boise State, while the third was a one-point loss to Tulsa.
The Bulldogs are under going a resurgence under first year head coach Tim DeRuyter and have a solid quarterback in junior Derek Carr, brother of former Bulldog and No. 1 overall NFL draft pick David.
Fresno State is only going to get better and could offer a better alternative to Colorado down the road.
BYU Cougars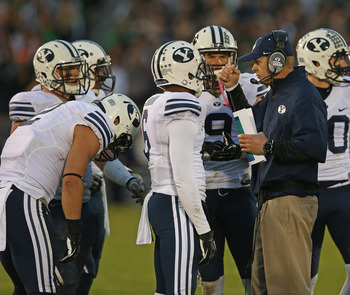 Jonathan Daniel/Getty Images
With the exception of the 42-24 loss to Oregon State, all of BYU's losses this season have come by a single digits.
Bronco Mendenhall has five 10-win seasons in his brief eight-year career at the helm of BYU, and the Cougars have always been a competitive team.
BYU is currently an independent but is looking to join a BCS conference, and the Pac-12 could be the perfect fit for both sides.
BYU would also bring successful basketball and cross-country teams to the table.
San Jose State Spartans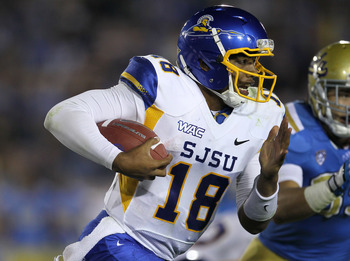 Stephen Dunn/Getty Images
Just as Colorado was brought into the conference to benefit from the Denver media market, San Jose State could help the Pac-12 with the San Jose media market.
Only the difference between the two is that San Jose State is actually playing like a competitive team.
In his third year on the job, Mike MacIntyre has give the Spartans a 10-win seasons with losses coming against Stanford and BYU, the latter being a three-point loss.
Utah State Aggies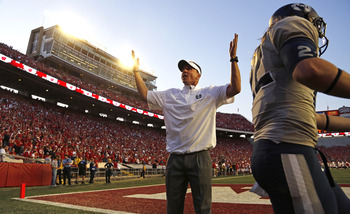 Tom Lynn/Getty Images
Don't look now, but Gary Anderson has given Utah State a 10-win season this year, as well as Top 35 rankings in scoring offense and scoring defense.
Utah State is becoming a better and better team every season and could field a successful ball team in the Pac-12.
Could you imagine the rivalry between the Aggies and Utah now having conference implications?
Utah State also could improve the Pac-12's basketball reputation.
San Diego State Aztecs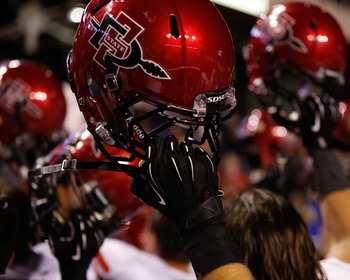 Otto Kitsinger III/Getty Images
Rocky Long has achieved two straight eight-plus wins seasons in his first year at the helm of the Aztecs after Brady Hoke left to become the head coach at the University of Michigan.
While the Aztecs have not always been a dominant football power, they are on the upswing and could end up having some success in the Pac-12.
What would really be beneficial would be the San Diego TV market and the Aztecs basketball team, which has made the NCAA tournament for the past three years.
Keep Reading