Oakland Raiders vs. Cincinnati Bengals: Live Score, Highlights and Analysis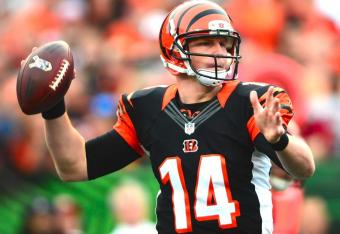 The Cincinnati Bengals played like a team fighting for a playoff spot.
The Oakland Raiders played like a team with nothing to play for.
Aside from a brief Raiders rally that was snuffed out by some terrible officiating (trust me, you'll hear plenty on this), this game was all Cincy. The Bengals led the entire way and Oakland never truly threatened.
Bengals 34, Raiders 10.
Final.
That wraps it up, folks. The Raiders have turned the ball over on downs and the Bengals will knee it out from here.
Cincy, with the loss by the Pittsburgh Steelers, are now tied for the final Wild Card.
Hope you enjoyed the ride.
Bengals 34, Raiders 10.
Final.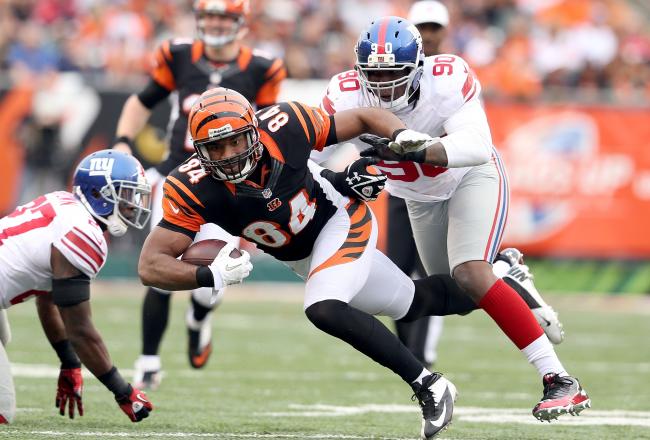 After the ejections, the Bengals threw a deep strike to Green and you knew that all the fight was gone.
Dalton completed a short pass to Jermaine Gresham, who broke a tackle and walked into the end zone.
This one will end how it started.
Bengals 34, Raiders 10.
3:39 left.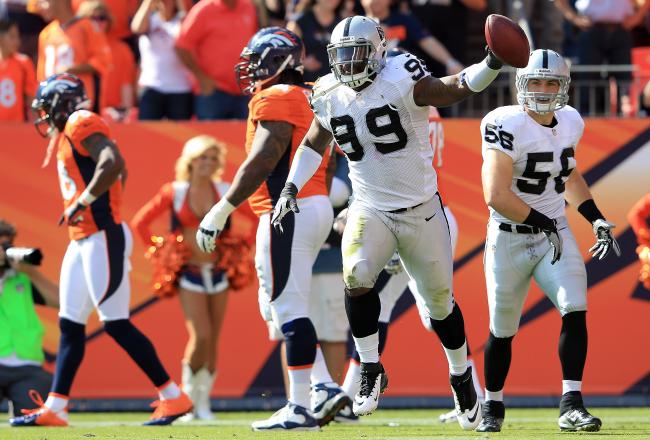 That escalated quickly.
After being jobbed by the refs twice, the Raiders weren't putting up with it. Multiple players engaged in a scuffle after Lamarr Houston took down Dalton after the whistle.
Coaches had to come onto the field just to break it all up. In the end, there was a false start.
Oh, and Tommy Kelly and Houston were ejected. Houston for taking down Dalton and Kelly for coming off the bench.
As the announcer smartly pointed out, the Raiders now have to stop the Bengals on third down despite already doing so.
The rules dictate that the offensive team can either take the ball at the spot of the inadvertent whistle, or replay the down.
Obviously, Cincy took the new play since the drive would have ended otherwise.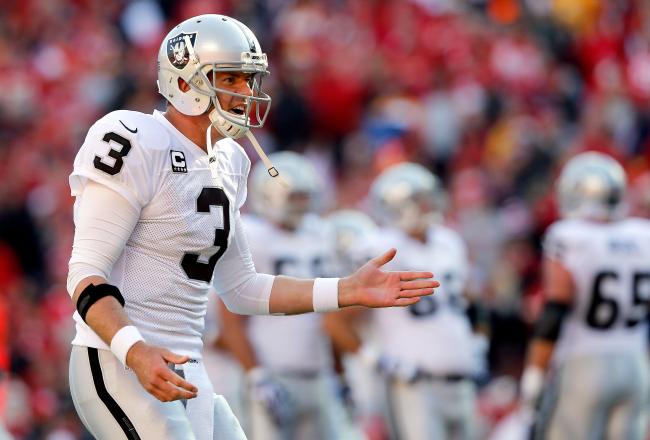 There have been a couple of terrible breaks for the Oakland Raiders.
A non-exsitent clipping call on Oakland's last possession ended a promising drive.
Now, a missed fumble call that would have been a sure-fire defensive touchdown. Because of an inadvertent whistle, the Bengals will retain possession.
I'm not even going to make the bring-back-the-real-refs joke. Feel free to do so yourself.
Sometimes, when it rains, it pours.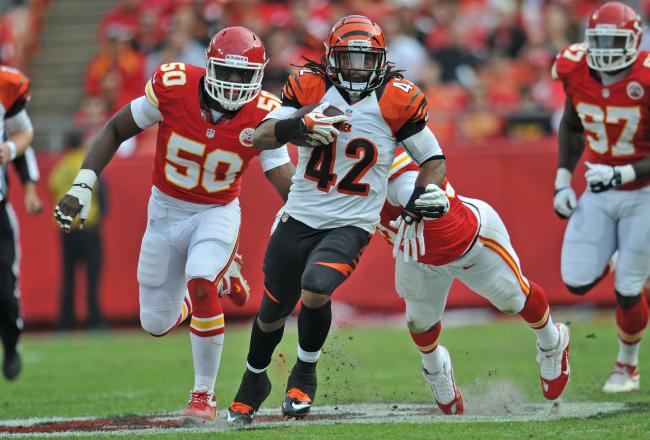 No sooner did I finish that last entry than BenJarvus Green-Ellis busts a long run to the one-yard line.
It seemed the Bengals were going to put to put this little rally to bed. They didn't.
Well, not completely.
They knocked in a short field goal to extend their lead to 17 points though.
Bengals 27, Raiders 10.
12:29 left.
My bad.
I should have known that if I praised Palmer, things would go south quickly.
At the end of the third quarter, the Raiders appeared to have momentum. I was even typing up nice things in my quarterly report.
Then the first play of the fourth quarter happened.
Palmer. Fumble.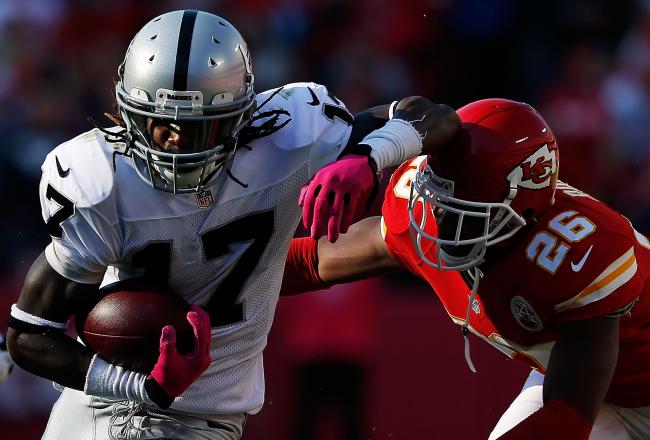 I can't believe I'm about to type this next sentence: The Raiders scored on a beautiful Carson Palmer 2-yard pass to Denarius Moore.
It was off his back foot and placed perfectly in front of Moore.
Maybe all my mockery has lit a fire under their collective rears.
Bengals 24, Raiders 10.
2:21 left in the third quarter.
I know Los Angeles doesn't have a team, but would they even want the Raiders there?
Would that excite a market that wasn't strong enough to keep a team? Would the residents buy season tickets for a Carson Palmer-led team?
These are the things you think about when watching this game.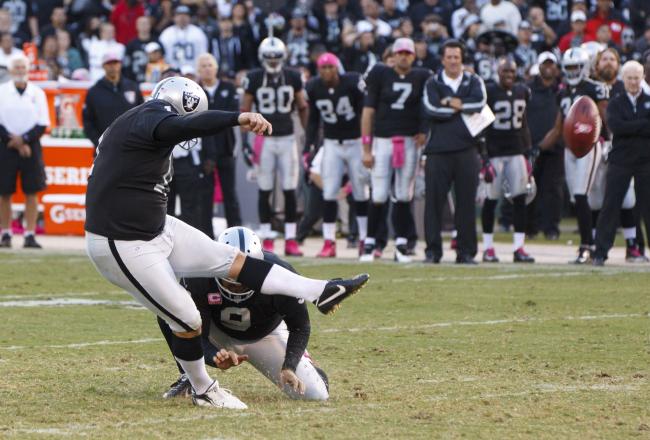 Just give the ball to Reece. Please.
The Raiders utilized that philosophy and gained enough yards to give Sebastion Janikowski a 55-yard field-goal try.
He hit it.
Bengals 24, Raiders 3.
The Raiders have come out on fire!
Kind've.
They forced a three-and-out by finally putting some pressure on Dalton and creating an uncomfortable throwing environment.
Can the offense respond?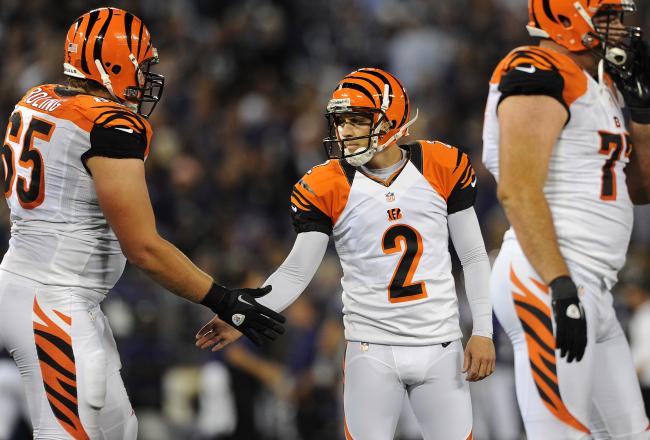 Congratulations, Bengals fans, on the team achieving an over-.500 record!
In an unprecedented move, Roger Goodell has decided to call this game at halftime. To allow this massacre to continue would be inhumane.
Not unlike an 18-game schedule.
In all seriousness, this game has gone exactly how you figured it would. Cincy has 289 total yards while the Raiders have 83.
Nugent hit a 55-yard field goal just before the half to push the lead to 24-0.
I wonder if there is a Ducks Dynasty marathon on. I need some entertainment.
In the most impressive defensive play by the Raiders all day, Mike Nugent pushed a 48-yard field goal wide right.
Score remains Bengals 21, Raiders 0.
Just about halftime.
Obviously, I jinxed Oakland.
In a microcosm for the season, the Raiders were stuffed on fourth and one. Thus, ending their bid to actually, you know, score some points.
Here come the Bengals with great field position.
I don't blame Allen for going for it. What did he really have to lose? He's down 21 points and his team isn't going anywhere this season.
At the two-minute mark, the Raiders are actually putting something together.
They've amassed ten more yards during this drive than they did to that point and find themselves in Bengals territory.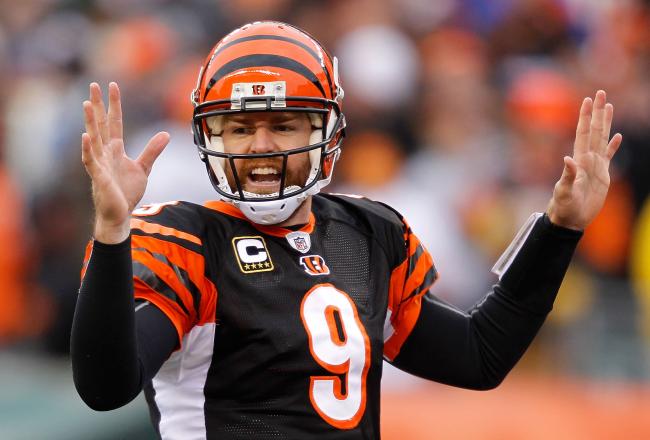 Carson Palmer is averaging 2.7 yards per attempt thus far. I can't think of a single Bengals fan who is upset with that.
I wonder if Hue Jackson would still try to defend that trade?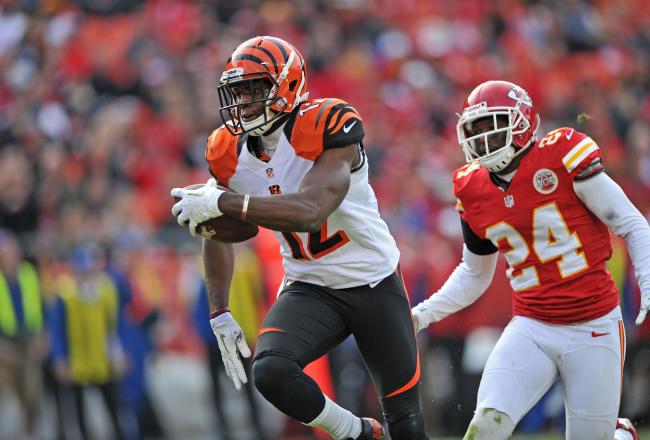 The color commentator said that the Raiders are struggling to stop this Bengals attack.
I wasn't even aware they were trying.
Another Sanu catch, another touchdown.
Hope you didn't have Oakland in your elimination pool.
Bengals 21, Raiders 0.
In response to Emmanuel Castrejon's comment, it's the Raiders.
Playing Oakland is like going to college. It's a time for experimentation and expansion of your horizons before you head into the real world.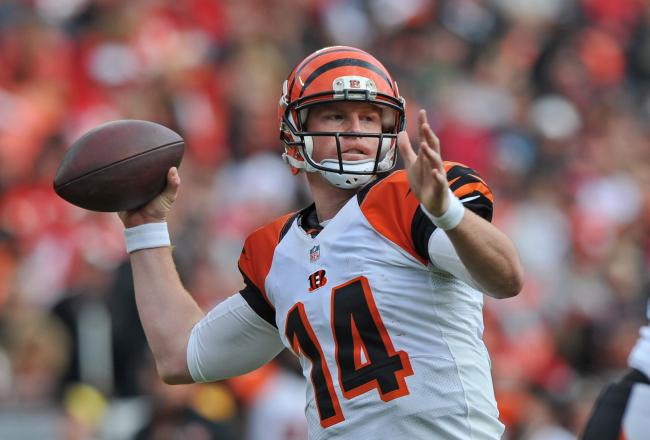 At the end of the first quarter, the Bengals have recorded 14 points.
The Raiders? Not so much.
Or any.
However, they got a first down on the last play! Big things are coming. I can feel it.
Anyways, it's been all Cincy. Andy Dalton has a 138.7 quarterback rating and Green-Ellis has 65 yards rushing.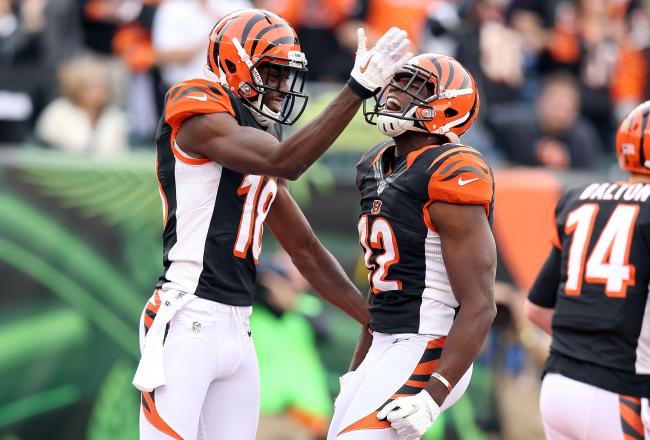 That was pretty dirty.
Mohamed Sanu has taken offense to all the attention paid to Green. Therefore, he's now put together a streak of three straight games with a touchdown catch.
And this one was sick. He grabbed it with the left hand, pulled the ball to his right hand and got both feet down.
Bengals 14, Raiders 0.
2:59 left in the first quarter.
Taking the points with the Raiders was the equivalent of milk on a hot day. It was a bad choice.
I'm here for you, Raiders fans. So let's have some fun.
Who do you want the Raiders to target in the draft?
Oh, and A.J. Green just went for 50 yards on third down.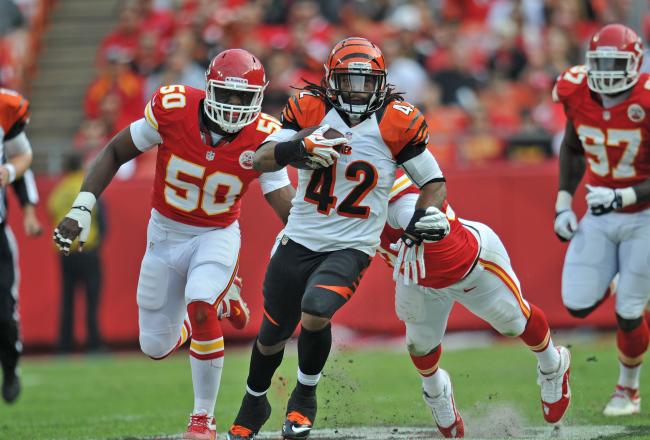 That was quick.
BenJarvus Green-Ellis busted out a 48-yard run in which he split the entire defense and sprinted down to the one. After a couple more runs, Green-Ellis hit pay dirt.
Bengals 7, Raiders 0.
The rout is on.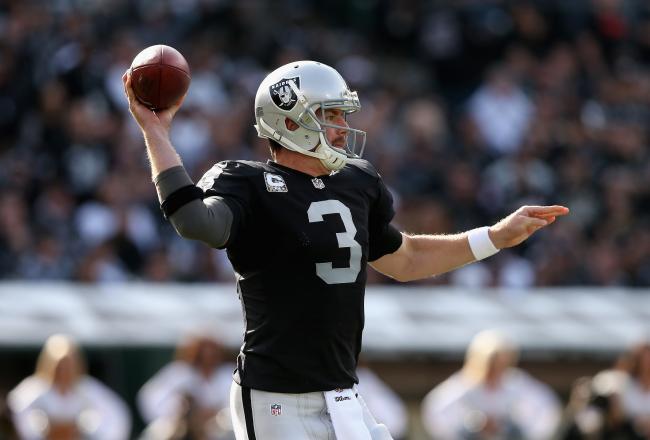 The Bengals won the toss and deferred. Oakland will start out with the rock and, you're not going to believe this, the Cincy fans don't like Carson Palmer. They even booed him!
Here's the injury report:
Raiders: S Tyvon Branch (neck, probable); DE Jack Crawford (toe, questionable); RB Mike Goodson (ankle, out); WR Darrius Heyward-Bey (hamstring, probable); RB Taiwan Jones (ankle, questionable); RB Darren McFadden (ankle, out); TE Brandon Myers (shoulder, probable); RB Marcel Reece (hamstring/quadriceps, probable); and DT Richard Seymour (knee/hamstring, out).
Bengals: C Jeff Faine (hamstring, probable); WR Andrew Hawkins (knee, doubtful); CB Adam Jones (calf, probable); WR Marvin Jones (knee, probable); S Reggie Nelson (hamstring, probable); CB Terence Newman (head, probable); and TE Richard Quinn (hamstring, doubtful).
This article is
What is the duplicate article?
Why is this article offensive?
Where is this article plagiarized from?
Why is this article poorly edited?