San Diego Chargers: 3 Pieces Needed to Become a True Contender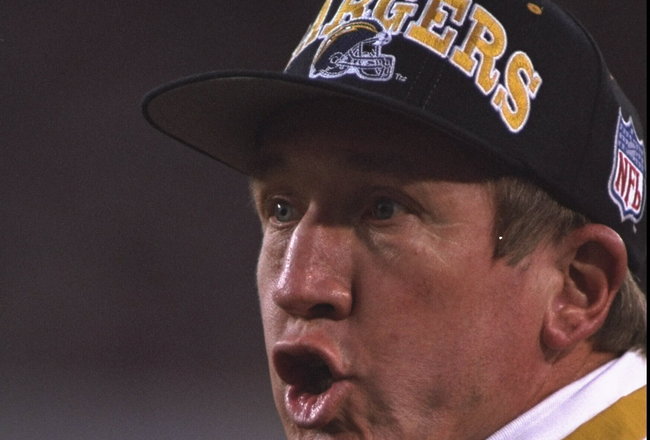 Jamie Squire/Getty Images
It wasn't so long ago that Boltheads had hope for this season. But those of us who have who have been complaining about the lack of resiliency this San Diego Chargers team has shown since January of 2010 should have seen this coming.
Actually, we did see this coming. But we have all been rooting every Sunday, Monday and Thursday, all the while trying to push all negative thoughts out of our heads.
Sadly, our playoff hangover from the 17-14 implosion is still unfolding. As the football world constantly rips Mark Sanchez apart for his ineptness, Charger fans remind themselves that he's 2-0 against our team.
Here's three areas that need to be addressed before our pain can be alleviated.
1. Fire Norv Turner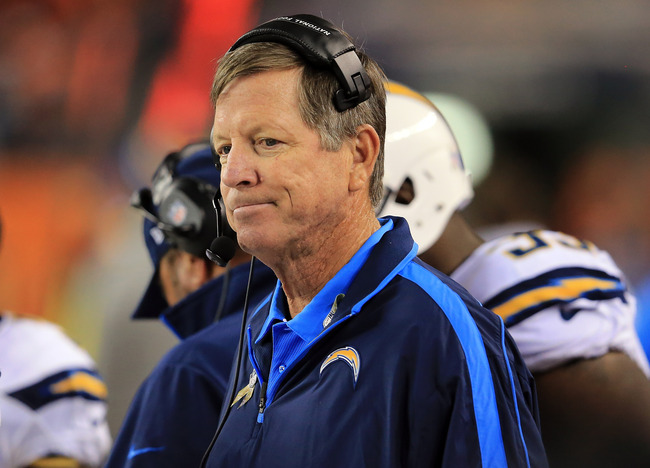 Doug Pensinger/Getty Images
I am in no way, shape or form suggesting that Marty Schottenheimer should never have been fired. If you scan the web, you will find that I am on record to the contrary. A.J. Smith was right that this team lacked poise when the games were decided in January.
But things have regressed so badly that now the Chargers lack poise when the games are decided in October and November.
I was never in favor of hiring a guy that no one else wanted. When you have a 14-2 regular season and "all that talent," you have your pick of the litter when hiring a coach.
It's far from that right now.
For that first season, it looked like the team did have it figured out in the posteason. The injuries to Philip Rivers, L.T. and Antonio Gates gave Norv an excuse for why his team couldn't do what the Giants did that year.
But each year, the boat has sprung another leak, and someone else has gotten the blame for the team's struggles. First, it was Steve Crosby, then Greg Manusky. As former Bolt Rodney Harrison pointed out last week, everyone seems to have been held accountable except the head coach.
It's time for Dean Spanos to make the most anticlimactic decision in sports and make Norval Eugene Turner an ex-head coach three times over.
2. Ax AJ Smith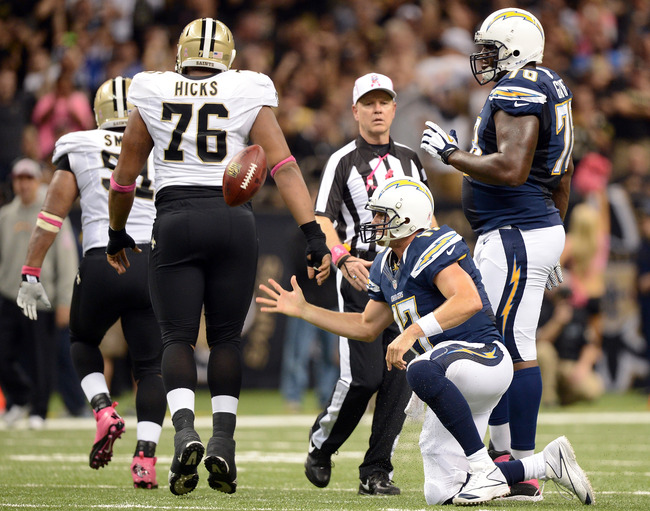 Harry How/Getty Images
I won't rehash all of A.J. Smith's missteps for you. We all know how he followed the late John Butler and rebuilt the Chargers.
However, that was a long time ago.
His signature move, the trade of Eli Manning for Rivers, Kaeding and Merriman, doesn't even look so good right now.
I don't have a problem with Smith's moves going into this season. Vincent Jackson would have required too much money to stay. No one could have foreseen Robert Meachem's ineffectiveness after playing so well in New Orleans.
Jared Gaither is also looking like a huge mistake. However, Marcus McNeill was finished, and there weren't many options out there. You can fault Smith for signing guys who are coming off bad injuries (Bob Sanders, Eddie Royal); however, Buster Davis and Larry English were also brittle players he plucked from the draft.
But Smith's biggest mistake was continually foisting "Coach Turner" on the Chargers.
When the Bolts locked up the No. 2 seed in Tennessee in 2009, he was all smiles. I am sure he had a lot to do with the extension Norv received before the playoffs.
However, we are all still paying for that disastrous decision.
3. Rebuild This Team from the Inside Out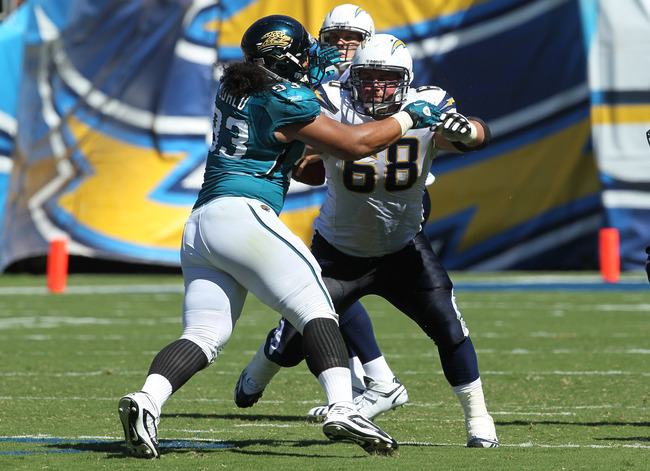 Stephen Dunn/Getty Images
Everyone points to all the talent that has left San Diego since A.J. Smith rebuilt the team.
However, the Patriots (the team Smith claims to emulate) have also let marquee guys go once they became unaffordable. The difference is that the former Bolts have been utilized better in their new homes, while the Chargers have gotten worse and worse.
But the biggest mistake has been to stock both lines with "scrap heap" guys. Any Chargers fan with a pulse knew that Clary and Green weren't good enough. Yet, that's the line that Smith put together.
His last two drafts have brought new talent on the defensive side. Liuget and Reyes might truly become stars.
But the trenches have been neglected for years.
I won't even address Philip Rivers this week. I have been a huge supporter of his for years, but I don't think he'll be fixable for his new coach.
Even if he truly thinks he needs to "carry this team on his back," he has to be held accountable for making the same mistakes over and over again.
Maybe a strong presence on the sideline will have some effect. Stay tuned.
Keep Reading

San Diego Chargers: Like this team?