5 Reasons That The Miz's WWE Career Will Now Be Huge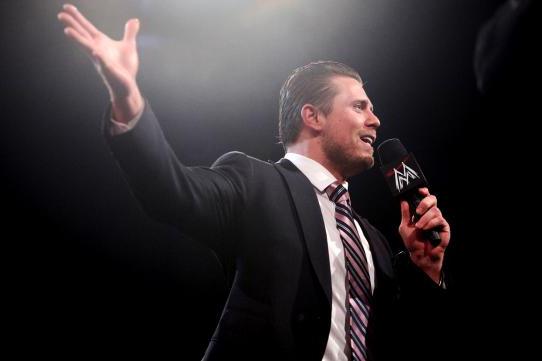 photo courtesy of wwe.com
The WWE is in a tough spot. Since the advent of the three-hour Raw show, ratings have been down every week. Despite a record-breaking buy rate for the latest WrestleMania, pay-per-view buys have generally been down as well.
What can Vince McMahon and his creative team do to snap this alarming trend? The answer is simple. WWE needs to build some new stars. It's becoming obvious that the same old names at the top of the card (John Cena, Randy Orton, CM Punk) aren't drawing as well as they used to.
Bringing in specialty acts like The Rock, Brock Lesnar and the Undertaker can pop ratings for a show or two, but the company cannot rely on this old guard every single week.
WWE needs to look to its current roster to build stars that the audience wants to see. There's no dearth of talent. It's time to promote some deserving workers to the top of the card.
Of the superstars currently on the roster, none is more primed for a promotion than Mike "The Miz" Mizanin. Miz is currently in the beginning stages of a babyface turn, and it would behoove WWE to invest heavily in the former reality-TV star.
Here are five reasons that Miz's WWE career is going to be "Awesome."
Begin Slideshow

»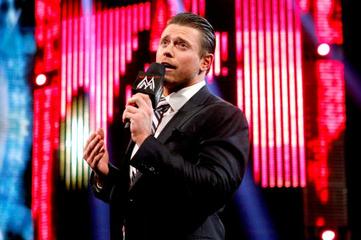 courtesy of wwe.com
One of the biggest hurdles for WWE stars to overcome is cutting promos. There are a lot of great athletes in the company who aren't able to rise to the top because they simply can't do the job on the mic. Kofi Kingston is one prime example of an outstanding athlete who doesn't captivate the audience when he speaks.
The Miz is a great talker. He's not overly cute, like John Cena. Nor does he have to resort to chanted catchphrases, a la Ryback, to capture the audience.
Miz simply knows how to connect to a crowd. If he's cutting a heel promo, the audience immediately hates him. When he cuts a babyface promo, the cheers start rolling in.
Miz, like CM Punk, has a knack for using just enough "real" material to satisfy the hardcore wrestling fans, while not going over the head of the younger or more casual fans.
More importantly, Miz's mic skills are so developed that he makes otherwise average talkers seem better than they are.
During his recent feud with Kofi Kingston, Miz's mic work made Kofi's responses seem relevant. His exchange with Dolph Ziggler on WWE Main Event lent credibility to a match that otherwise seemed to have no purpose.
On the mic, there aren't many superstars who outshine The Miz.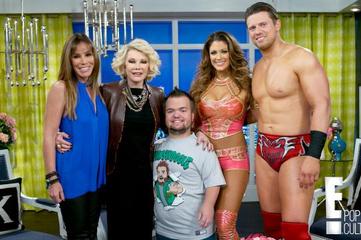 courtesy of wwe.com and eonline.com
One of the biggest things that Vince McMahon wants to achieve in WWE is a connection to the "mainstream" audience. He knows that hardcore fans are going to follow the WWE whether they are happy with the programming or not. The goal for the company is to draw new fans in from a wider market.
While some WWE superstars, most notably Dwayne "The Rock" Johnson, have had success in more traditional forms of entertainment, it's generally tough for a person known as a wrestler to be taken seriously in more mainstream venues.
The Miz is the exception to that rule. He came to WWE as a veteran of reality TV. Miz starred on a season of MTV's The Real World, and subsequently appeared on many MTV reality shows. Miz even used reality TV as a vehicle to gain entry to WWE. He was a contestant on the fourth season of Tough Enough.
This shows that Miz has appeal to a larger audience than just wrestling fans. Since kicking off his WWE career, Miz has appeared all over the cable networks, from E! to Nickelodeon. He's been a guest on several late-night talk shows, and was recently one of the co-hosts on a WWE-themed episode of The Soup on E!.
Miz's appeal to the mainstream audience is plain to see. Aside from John Cena, he does the most public appearances.
Recently, WWE made him a commentator on its newest show, WWE Main Event. He hosts his own WWE talk show, and first gained notoriety with his WWE webcasts (along with his then-tag partner, John Morrison).
If WWE wants someone who can connect to the mainstream, Miz is the guy.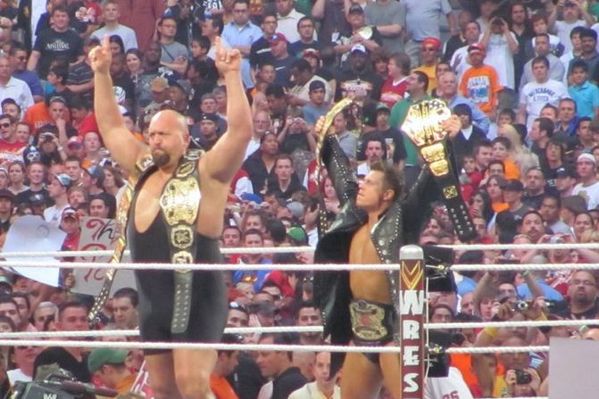 courtesy of wwe.com
In order to be a successful babyface in WWE, a wrestler has to be believable in a variety of roles. Miz fits that bill solidly. In his relatively short career, he's been a tag team champion numerous times with different partners. He's held the Intercontinental and US championship belts, and had a run as the WWE champion.
In each case, Miz was a believable champion. He has the same quality that CM Punk, John Cena and Randy Orton have. They all look good with gold around their waists, and each one seems to be a credible champion.
To be a credible contender at the top of the card, a grappler has to portray confidence. Miz oozes arrogance every time he comes down the ramp.
The first sound the audience hears is the word "Awesome" blasted at an ear-splitting volume. Then, Miz appears. His confidence doesn't seem false or forced. When he tells you he's awesome, you believe that he really thinks so.
Most of the top stars in WWE history have had this same ability to project confidence. Hulk Hogan had it. Ric Flair had it. Rock and Steve Austin both had it. Miz isn't anywhere near the level of these legends yet, but pushed correctly, he could become one of the all-time greats.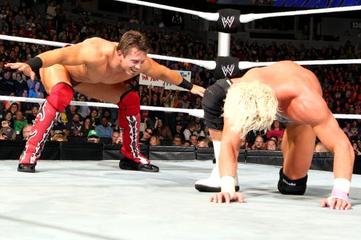 courtesy of wwe.com
A true main-eventer in WWE needs to be able to elevate his opponents. To consistently perform in the main events of PPVs, the top star has to make his opponents seem like true threats, all while maintaining his own credibility.
Some superstars are limited in how they can wrestle. The Big Show is a giant, and his only real alternative in the ring is to use his size to pound the life out of an opponent. Rey Mysterio is small and quick. This limits him to utilizing a high-flying approach. Neither of these two stars could adopt the style of the other and remain credible.
Miz can employ a variety of tactics. His in-ring ability, once considered a weakness, has progressed to the point where he makes both foes and partners look strong. He can compete in a brawl with the likes of Big Show or Ryback, or he can have a technical match with Daniel Bryan or Dolph Ziggler. In every case, the matchup seems legitimate.
Miz is also gifted enough to adopt some of the style of a tag-team partner. When paired with John Morrison, he utilized a more athletic style. When paired with Big Show, he was more physical. This ability to blend in with and elevate his counterparts in the ring make Miz a logical choice to move to the top of the card.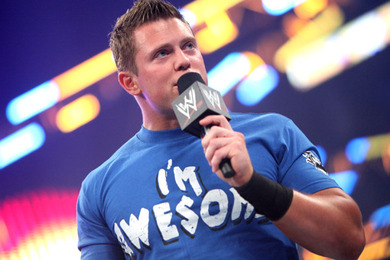 courtesy of wwe.com
Elite superstars have great music and fantastic catchphrases.
When you heard the sound of breaking glass, you knew that Stone Cold Steve Austin was on the way. Mankind had his car crash, and the Undertaker has the most elaborate entrance in WWE history.
When The Rock was ready to come to the ring, a familiar voice shouted, "If you smelllllllll....," causing the crowd to erupt. The trilling vocal at the beginning of John Cena's music evokes a cascade of mixed boos and cheers from the crowd.
The biggest stars stop the show. All attention goes to the top of the ramp, and the crowd waits to see what will happen next. The Miz has that sort of cachet.
Just before he appears, a voice yells, "Awesome!," and Miz's music hits. It is reminiscent of Rock's entrance, with a bit of Stone Cold thrown in for good measure. When fans hear Miz's signature shout, they know that something important is about to happen.
It could be argued that it's the superstar that makes the music, but a good catchphrase and recognizable entrance can boost someone from the midcard to the top of the marquee in a hurry.
Mick Foley was famous for his cheap pop, getting a positive crowd reaction by naming the city that he was currently in. Rock ended most of his promos by asking if the audience could "Smell what The Rock is cooking." Austin frequently left the ring after stating, "That's the bottom line, 'cause Stone Cold said so." The crowd chanted along with these catchphrases, and does to this day.
When Miz is done talking, he looks out over the audience, pulls the mic to his mouth and says, "I'm The Miz, and I'm AWESOME." Even when he was a heel, the crowd joined in.
Miz has the ring skills, the talking ability and the look of a superstar. He works well with just about everyone on the roster, and people take note when his catchphrase booms from the Titantron. All of the pieces are there. It's time to put Miz at the top of the card.