The 10 Most One-Sided Fights in MMA History
Courtesy of MMAMania
There are few experiences more satisfying than watching a compelling, back-and-forth encounter between two evenly matched fighters.
Such fights are not uncommon in mixed martial arts. Indeed, the sport's popularity can in many ways be attributed to their uncanny frequency.
But like all sports, MMA is imperfect.
While we celebrate those competitive fights that keep us on the edge of our collective seats, we similarly lament those that resemble the likely outcome of a David and Goliath rematch.
Without further delay, I present to you the 10 most one-sided fights in MMA history.
Feel free to offer your own suggestions in the comments.
Begin Slideshow

»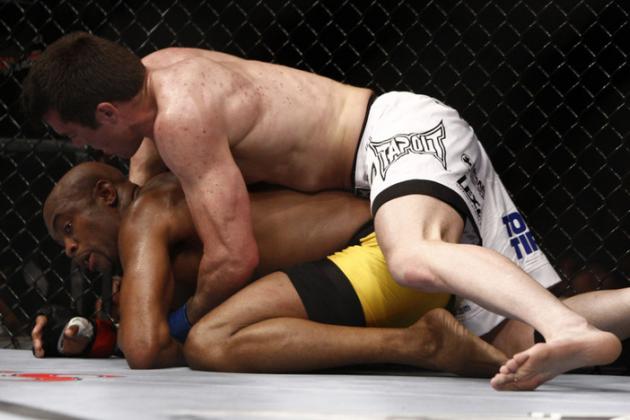 Courtesy of Esther Lin
I expect to receive some criticism for this fight's inclusion on the list. However, it's worth looking at the facts before reaching for your flame-thrower.
Chael Sonnen dominated every aspect of this fight, even including the striking exchanges.
For 23 minutes of a fight that last 23 minutes and 10 seconds, Sonnen bullied and battered Silva. What's more, he also broke the UFC record for punches landed in a single contest.
Anderson Silva may have won the fight, but does anyone doubt that this was one of the most one-sided bouts in the sport's history?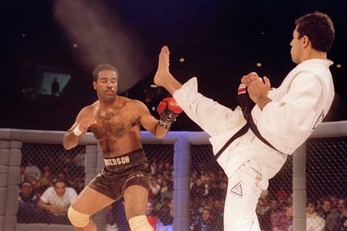 Courtesy of MixedMartialArts.com
Art Jimmerson famously entered the cage for this fight while sporting only one boxing glove. In retrospect, it really wouldn't have mattered even if he had the use of both hands.
Hell, it wouldn't have mattered if he had the use of both hands and a machine gun.
Royce could scarcely have had an easier opponent for his MMA debut.
Gracie quickly grounded his overmatched foe and introduced the world to Brazilian Jiu Jitsu. Unfortunately, Art soon grew tired of being treated like a grappling dummy and tapped out to, uh, mount?
Courtesy of Caged Insider
Despite the vast difference in experience, most believed that Jon Jones was favourite to beat Maurico "Shogun" Rua for the light heavyweight title in early 2011.
But we didn't anticipate just how easy it would be for the then-23-year-old.
From the opening bell, Jones looked to be on an entirely different level. It seemed as though he could do whatever he wanted to the Brazilian, and with minimal resistance.
From striking to grappling, strength to technique, speed to endurance, "Shogun" seemed utterly out of his depth against his younger foe.
The referee mercifully called a halt to the contest after three of the most lopsided rounds you are ever likely to see inside the Octagon.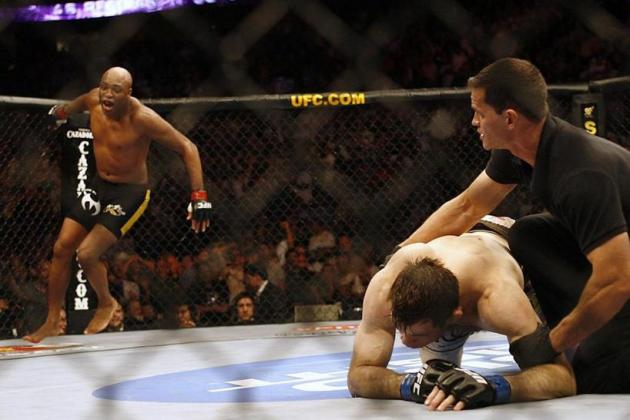 Courtesy of CagePotato.com
One of the more infamous bouts on the list, this fight is notable in that it was both one-sided and extremely short.
Once again testing the waters at 205 pounds, Anderson Silva took on Forrest Griffin in what many thought would be a fairly competitive contest.
It wasn't.
The pound-for-pound king looked like he was moving in fast-forward, while Griffin trudged around the cage as though the mat had been covered in tar.
Silva toyed with his foe, knocking him down and then offering to help him back up.
Cocky? Most certainly.
But it must have been equally soul-destroying for the former light heavyweight champion.
The Brazilian treated Griffin's offence with disdain, slipping punches with his hands by his side, before knocking out the TUF veteran with a jab, in almost comical fashion.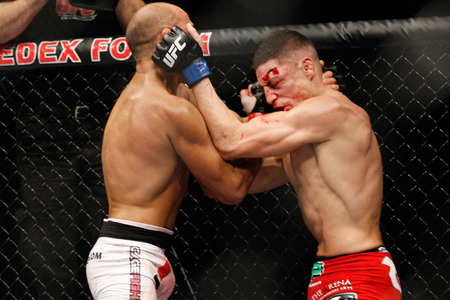 Courtesy of MMAJunkie.com
Diego Sanchez entered the cage for his UFC 107 title bout against BJ Penn while screaming "Yes!" ad nauseam, in what appeared to be an uncanny impression of Meg Ryan in When Harry Met Sally.
And truth be told, ol' Meg probably wouldn't have done much worse than Diego that night
Indeed, Penn battered the original Ultimate Fighter winner for the duration of their contest, demonstrating the gulf in class between the two fighters.
Post-fight, Sanchez's face looked like it had been assaulted by a katana, and his lips were so swollen that one could have been forgiven for thinking his corner had been giving him collagen injections in between rounds.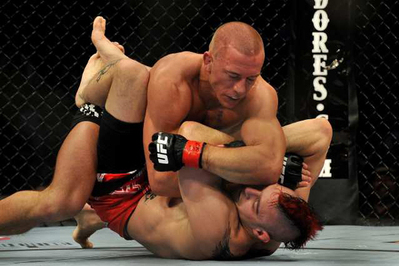 Courtesy of the LA Times
Though extremely one-sided, this bout remained somewhat compelling largely due to Hardy's refusal to cry "uncle," despite GSP's repeated attempts to remove the Brit's arm from its socket.
Hardy's non-existent wrestling almost guaranteed that this contest was going to be more of an exercise in survival than anything else.
The long-time welterweight king wrestled and controlled the Nottingham native for almost every moment of their 25-minute bout.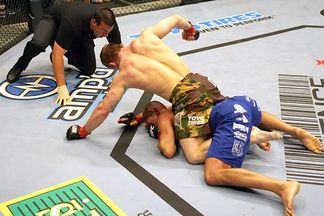 Courtesy of MMAMania.com
Thinking back, I'm not sure what anyone expected out of this fight. Royce Gracie had somehow retained his aura from the early days of the UFC, which briefly blinded us to the fact that the sport had long since moved on.
After a short feeling-out process, Hughes took Gracie down to the mat and we all held our breath for a moment, wondering whether the then-welterweight king had made a critical mistake.
It seems as though Matt Hughes knew something that we didn't, however.
He proceeded to comprehensively out-grapple his fellow Hall-of-Famer, before finishing the fight via strikes from back mount.
It was a brutally one-sided affair that serves as a reminder of how far the sport has progressed since 1993.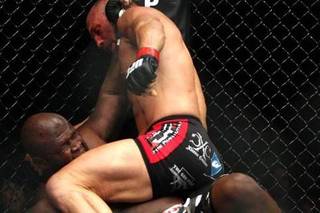 Courtesy of Fox Sports
Let's be honest, this fight should never have been booked.
The outcome was more predictable than a McG movie, yet many orders of magnitude more entertaining.
Despite this, we foolishly allowed ourselves to think that Toney might have a chance if he could catch Randy coming in.
No such luck for the decorated boxer.
"The Natural" shot a low single, and Toney crumpled to the canvas as though he had just been kneecapped.
Randy proceeded to put on a grappling clinic for those in attendance, before forcing his foe to submit to an arm triangle.
No one expected Toney to start playing rubber guard when the fight hit the floor, but he put up about as much resistance as Bubba Gracie.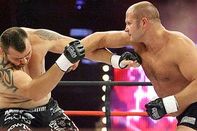 Courtesy of MMA Junkie
The list offers up another short, lopsided contest.
Tim Sylvia, then considered one of the best heavyweights on the planet, accepted a huge payday to leave the UFC and take on Fedor Emelianenko.
But anyone who knew anything about MMA could have guessed what the outcome would be.
Within 40 seconds, the Russian had dropped the former UFC heavyweight champion and choked him into submission.
Tim Sylvia earned around $20,000 for every second he spent inside the ring with Fedor. Hopefully that cushioned the blow to his ego.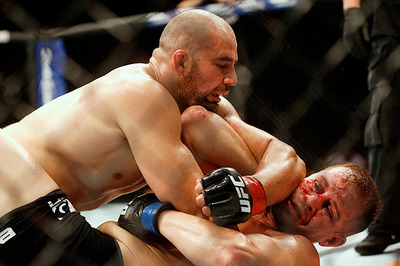 Courtesy of MMAMania
Here's one that should still be fresh in the memory for you. Need I even describe the carnage?
Suffice to say, Glover Teixeira beat his foe like a red-headed stepchild, and then beat him some more for good measure.
The fight could probably have been stopped within the first couple of minutes, and no one would have complained.
Either Mario Yamasaki has extraordinarily good judgement, or Fabio Maldonado deeply offended him in some way, because the beating that ensued wouldn't have looked out of place in a horror movie.
How the Brazilian managed to remain conscious is one of life's great mysteries.