MMA Rankings: Top 25 Pound-for-Pound Fighters in MMA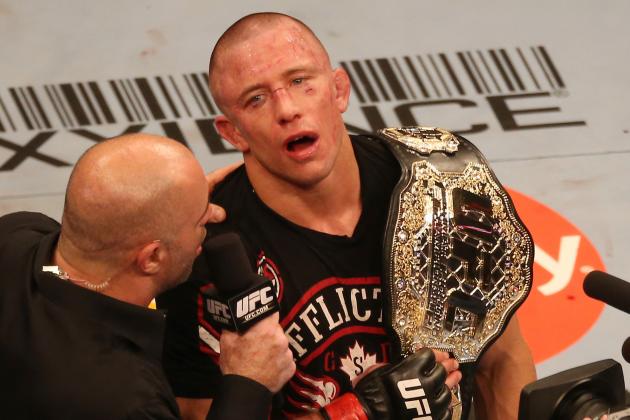 Tom Szczerbowski-US PRESSWIRE

Georges St-Pierre showed he is still one of the most talented fighters in the world by defeating Carlos Condit to reclaim his undisputed welterweight title after more than 18 months of inactivity due to injury.
In doing so, St-Pierre may have set himself for a bout with Anderson Silva that could determine the greatest pound-for-pound fighter in MMA history.
While nothing is set in stone for the fight between Silva and St-Pierre, UFC president Dana White has already proposed a meeting between the champions in May 2012 at a major stadium in Brazil, Canada or Dallas, Texas.
Silva and St-Pierre are the UFC's longest reigning champions, but there are a number of other titleholders who appear capable of chasing down the middleweight and welterweight legends. Let's take a look at where those fighters stand among the 25 best pound-for-pound fighters in MMA right now.
Begin Slideshow

»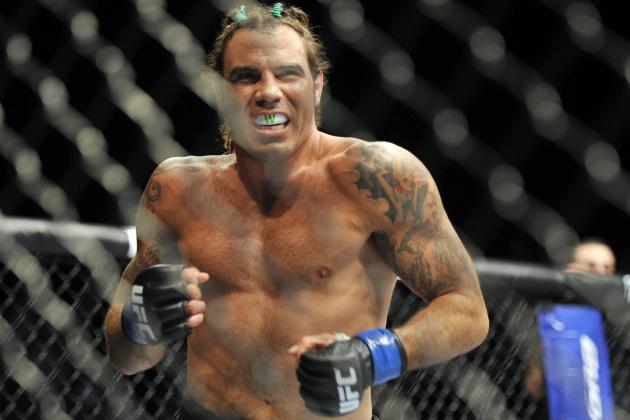 Joe Camporeale-US PRESSWIRE

MMA Record: 29-13
Clay Guida was a perennial nuisance in the 155-pound division. He was never able to get the lightweight title shot he sought in the weight class, but Guida was constantly causing headaches for opponents in his six years as a UFC lightweight.
At featherweight, Guida could become an instant title contender.
The Greg Jackson-trained fighter is set to debut at 145 pounds against Hatsu Hioki in January. With an impressive win over the Japanese stand-out, Guida would quickly be in the running for a title shot in a weight class that isn't nearly as deep as the lightweight division.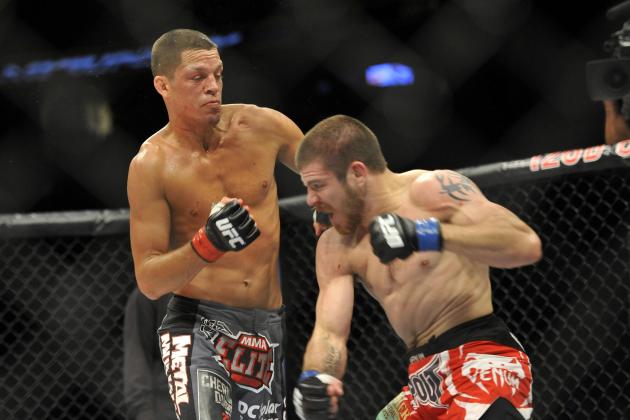 Joe Camporeale-US PRESSWIRE

MMA Record: 16-7
After a disappointing run in the welterweight division, Nate Diaz returned to the lightweight class, where it has taken him only three fights to prove himself as the top contender.
Submission of the Night performances against Takanori Gomi and Jim Miller were bookends to a dominant win over Donald Cerrone in Diaz's climb toward a lightweight title shot against champion Benson Henderson.
Diaz's first championship bout inside the Octagon will take place at UFC on Fox 5, where he will attempt to become the fourth fighter to earn a UFC belt after appearing on The Ultimate Fighter.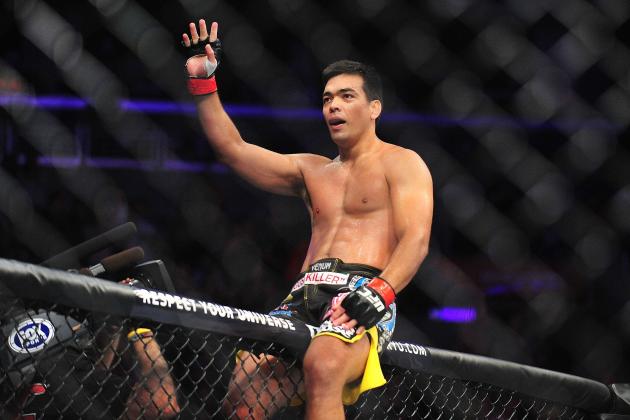 Gary A. Vasquez-US PRESSWIRE

MMA Record: 18-3
One fight after being choked unconscious by the light heavyweight champion, Lyoto Machida was supposed to have earned a potential rematch against Jon Jones with his impressive knockout of Ryan Bader at UFC on Fox 4.
However, after an injured Dan Henderson was forced out of a title fight with Jones, Machida lost his spot as top light heavyweight contender by turning down a championship bout against Jones on short notice.
Now, Machida is expected to battle Henderson in February, with the winner likely solidifying a spot as the top light heavyweight contender once again.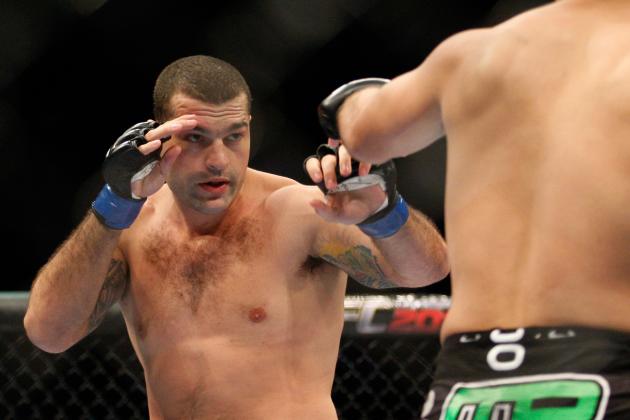 Richard Wolowicz/Getty Images

MMA Record: 21-6
At the same event that Lyoto Machida knocked out Ryan Bader to become the top light heavyweight contender for a brief period of time, Mauricio Rua struggled to finish Brandon Vera.
Despite the win, it was a step backward for the Brazilian contender, who was also hoping to earn a potential rematch with Jon Jones.
Still, with additional knockout victories over Machida and Forrest Griffin in his past five fights, Rua still holds a slight edge over Machida in rankings based on results rather than proximity to a title shot.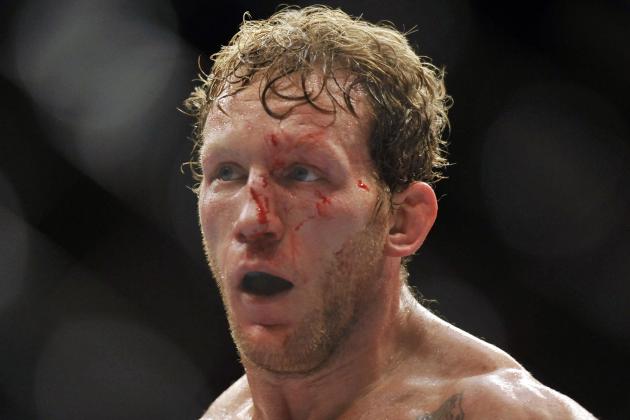 Joe Camporeale-US PRESSWIRE

MMA Record: 11-1-1, 1 NC
Coming off of the first loss of his MMA career, Gray Maynard was ready to brawl and put on a show against Clay Guida at UFC on FX 4.
However, Guida came with a much more conservative game plan, which resulted in an uneventful split decision win for the more aggressive Maynard.
With Frankie Edgar—the fighter responsible for the only loss and draw on Maynard's record—now gone from the lightweight division, Maynard has a clear path toward another title shot. Unfortunately, a knee injury forced him to pull out of a UFC 155 bout with Joe Lauzon.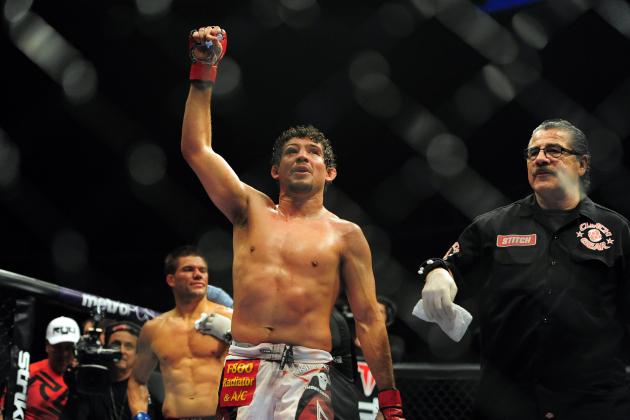 Kyle Terada-US PRESSWIRE

MMA Record: 21-2
Unable to compete at Strikeforce's final event in January, there's a very good chance Gilbert Melendez's next fight could happen inside the Octagon.
The Strikeforce lightweight titleholder has no losses on his record that haven't been avenged, and he's beaten the likes of Clay Guida and Shinya Aoki along the way.
Melendez's standing in the lightweight division has been heavily debated, but it appears we are about to finally find out where he belongs on the 155-pound ladder.
Paul Abell-US PRESSWIRE

MMA Record: 17-2-1
Over the course of his impressive career, Rashad Evans has only been beaten by light heavyweight champions Jon Jones and Lyoto Machida.
Some thought Evans would make a move to middleweight after his most recent loss to Jones, but it appears Evans will stay put for now, as he has been booked for a February fight with Antonio Rogerio Nogueira.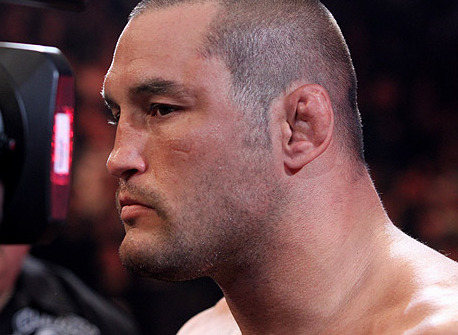 Jeff Cain/MMAWeekly.com
MMA Record: 29-8
Since he lost back-to-back title fights against Quinton Jackson and Anderson Silva following the death of the Pride organization, Dan Henderson has won seven of his past eight bouts and put himself back in the running for a championship bout.
Henderson was previously scheduled to challenge Jon Jones, but he unfortunately lost that opportunity by injuring his knee. Now, the MMA legend will have to earn that title shot all over again by beating Lyoto Machida in February.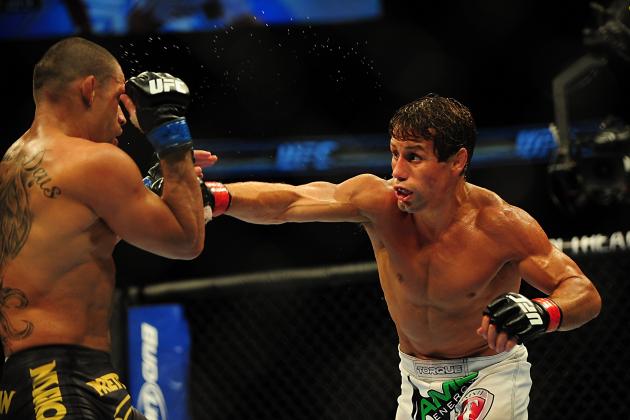 Anne-Marie Sorvin-US PRESSWIRE

MMA Record: 26-6
Urijah Faber has had his problems in title fights over recent years, but he's still clearly one of the best bantamweights in the world and always finds himself a couple wins away from another title shot, especially with heated rival Dominick Cruz holding a belt around his waist.
With a scheduled bout against Vaughan Lee on the horizon, Faber is going to have to work his way back up the 135-pound ladder for now, but he does hold wins over multiple bantamweight contenders and should find himself back in the mix for a title shot in short order.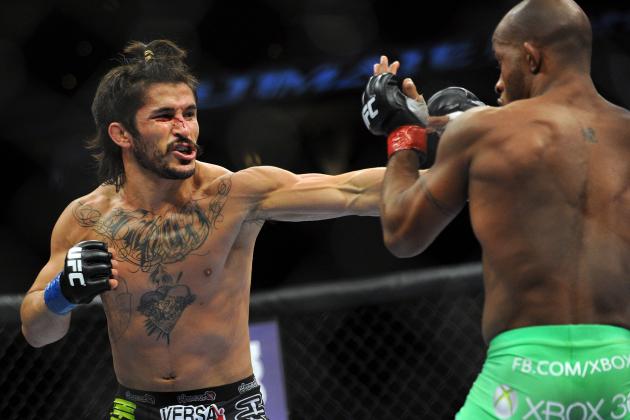 Steve Mitchell-US PRESSWIRE

MMA Record: 11-3-1
Ian McCall's draw and loss in consecutive fights against Demetrious Johnson look much less damaging now that "Mighty Mouse" has become flyweight champion with a victory over Joseph Benavidez.
While McCall is still looking for his first UFC win, it's clear he's an elite 125-pound fighter and one that should contend for the title in the years to come.
Though he hasn't fought since June, McCall is still waiting for news on his next opponent after a scheduled bout against Ulysses Gomez was scrapped due to injury.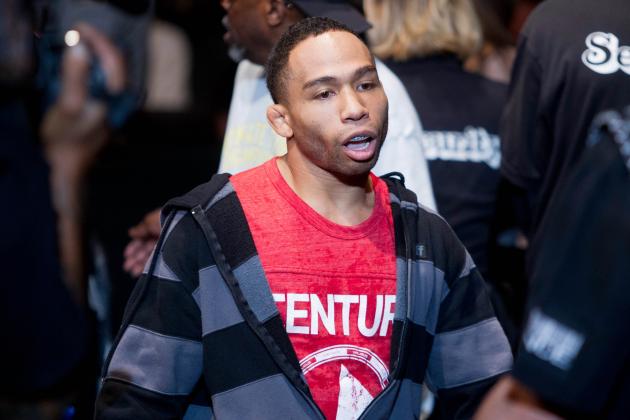 Bruce Kluckhohn-US PRESSWIRE

MMA Record: 14-5
After knocking out Jussier Formiga, John Dodson is beginning to look like one of the most promising fighters to ever come through The Ultimate Fighter.
In 2013, Dodson will compete against flyweight champion Demetrious Johnson. Should Diaz fail to dethrone Benson Henderson at UFC on Fox 5, Dodson would have a chance to become the fourth The Ultimate Fighter competitor to capture a UFC championship.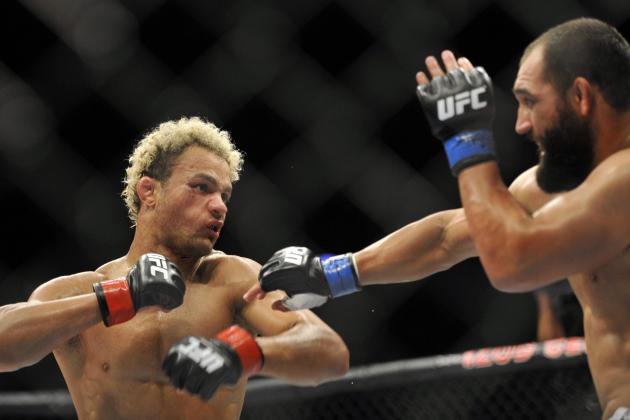 Joe Camporeale-US PRESSWIRE

MMA Record: 17-6
In his past seven fights, Josh Koscheck has only lost against Georges St-Pierre and Johny Hendricks, and that split-decision loss to Hendricks now looks like more of a positive than a negative after the bearded NCAA champion wrestler scored a first-round knockout against Martin Kampmann.
Koscheck is now leveraging for an early-2013 fight with Nick Diaz. That bout would help Koscheck regain some notoriety and would give him the chance to notch a win over a highly ranked welterweight.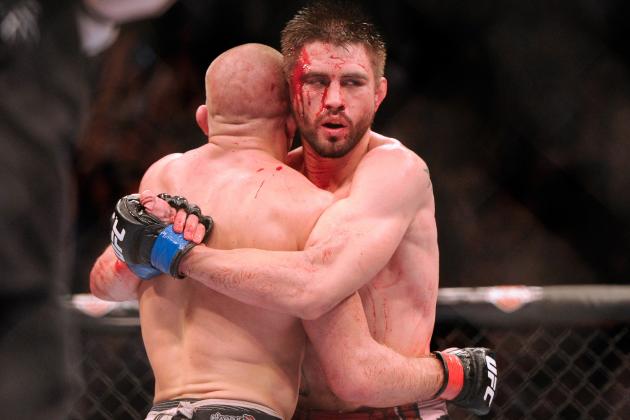 Eric Bolte-US PRESSWIRE

MMA Record: 28-6
Carlos Condit might have lost his interim title in a fight against Georges St-Pierre, but not much has truly changed for him.
Condit is still one of the best welterweights in the world, and nobody except St-Pierre really ever considered him to be the best 170-pound fighter in the world at any point.
At 28 years old, Condit's days as a contender are far from over, so it wouldn't come as a shock at all if "The Natural Born Killer" finds himself in another title fight in the not-too-distant future.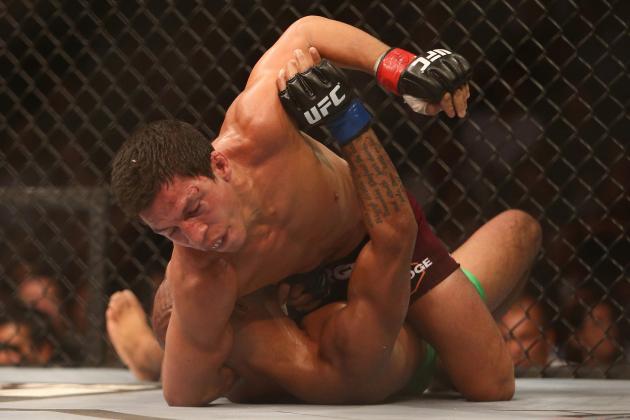 Tom Szczerbowski-US PRESSWIRE

MMA Record: 16-3
Joseph Benavidez has now suffered split-decision losses in his two title fights under the Zuffa banner. The Team Alpha Male fighter is about as close to being a champion as a competitor can be without actually wearing a belt around his waist.
Competing in the developing flyweight division will give Benavidez the chance to quickly return to title shot consideration, but he has to be getting discouraged after coming just short of the ultimate goal on multiple occasions now.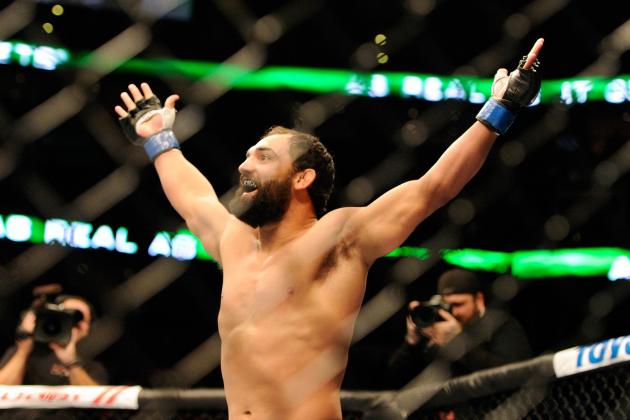 Eric Bolte-US PRESSWIRE

MMA Record: 14-1
With five straight wins and knockouts of Jon Fitch and Martin Kampmann in two of his past three fights, Johny Hendricks has separated himself as the top contender in the welterweight division.
Unfortunately for Hendricks, the UFC appears set on matching welterweight champion Georges St-Pierre against Anderson Silva in 2013. That leaves Hendricks with the choice of sitting and waiting or risking defeat by remaining active and taking another fight before competing for the belt.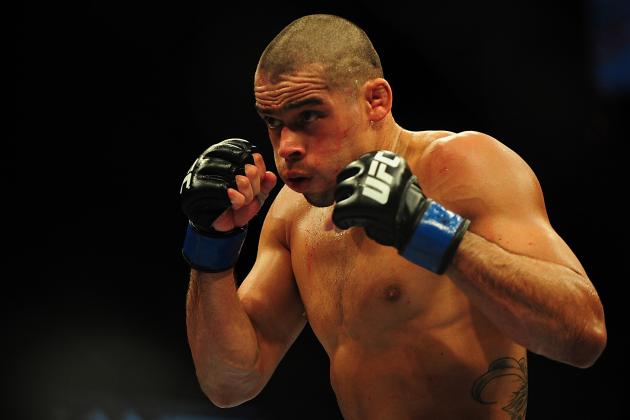 Anne-Marie Sorvin-US PRESSWIRE

MMA Record: 29-1, 1 NC
There are some disagreements on how many consecutive fights Renan Barao has remained undefeated for, but there's no denying the Brazilian hasn't lost since April 2005.
Barao's long winning streak earned him a shot at an interim bantamweight title, which he won by defeating Urijah Faber in July.
Immediately after beating Faber, it appeared Barao was content to sit and await Dominick Cruz's return from a knee injury, but it now appears he may defend his interim title against Michael McDonald.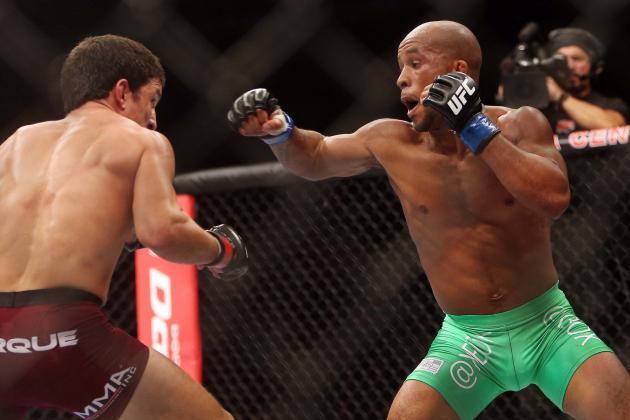 Tom Szczerbowski-US PRESSWIRE

MMA Record: 16-2-1
After years of competing in a division filled with larger opponents, Demetrious Johnson was finally given the chance to compete at flyweight in 2012, and that led to "Mighty Mouse" becoming the UFC's first-ever 125-pound champion.
Johnson earned the belt by defeating another former bantamweight in Joseph Benavidez, and his first title defense will come against John Dodson, another opponent who has competed at 135 pounds inside the Octagon.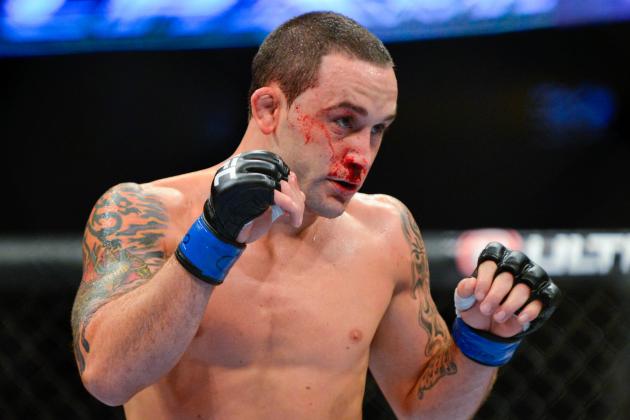 Ron Chenoy-US PRESSWIRE

MMA Record: 14-3-1
Frankie Edgar's impressive run as an undersized lightweight has been put on hold for a chance to capture the UFC's featherweight title from Jose Aldo.
While there's no longer a belt around Edgar's waist, this fight still has all the other elements of a superfight. Heck, many believe that lightweight championship should belong to Edgar after his controversial loss in a rematch with Benson Henderson in August.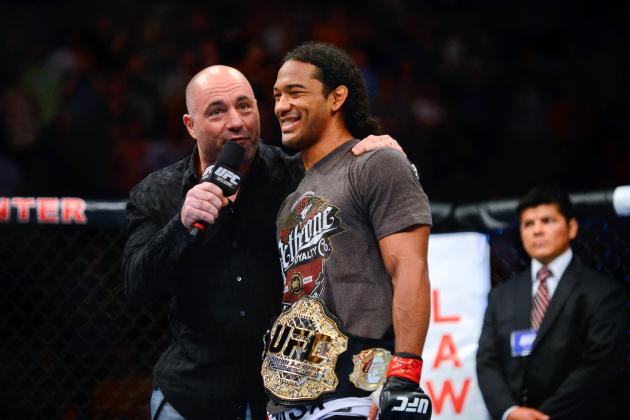 Ron Chenoy-US PRESSWIRE

MMA Record: 17-2
With Frankie Edgar out of his way, controversially or not, Benson Henderson can now focus on creating his legacy as lightweight champion.
After chasing Edgar from the lightweight division with back-to-back decision wins over the former titleholder, Henderson is now set to fight Nate Diaz in his second title defense. Henderson's bout with Diaz will serve as the main event for UFC on Fox 5.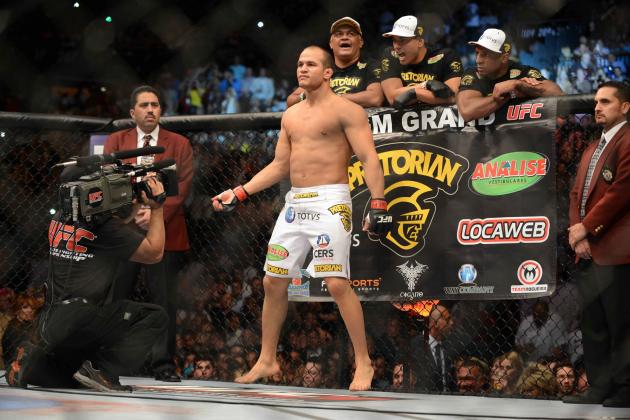 Ron Chenoy-US PRESSWIRE

MMA Record: 15-1
Already, Junior dos Santos is on the verge of cementing himself as one of the greatest heavyweights in MMA history. After knocking out Frank Mir in his first title defense as UFC champion, Dos Santos is just one win away from tying the record for most consecutive heavyweight title defenses in the organization's history.
Standing between the Brazilian champion and the record books is an opponent he has already defeated. Dos Santos will take on Cain Velasquez at UFC 155, the final event of the UFC's 2012 calendar.
Christian Petersen/Getty Images

MMA Record: 19-1
Injuries have kept Dominick Cruz out of competition for more than one year, but the 27-year-old is still young and capable of returning to full strength in 2013.
Cruz has successfully defended titles in four straight fights, becoming unarguably the greatest bantamweight in MMA history in spite of his age.
When he returns, Cruz may face interim champion Renan Barao or Michael McDonald. UFC president Dana White hinted that the two may meet in an interim title fight before Cruz comes back to the Octagon.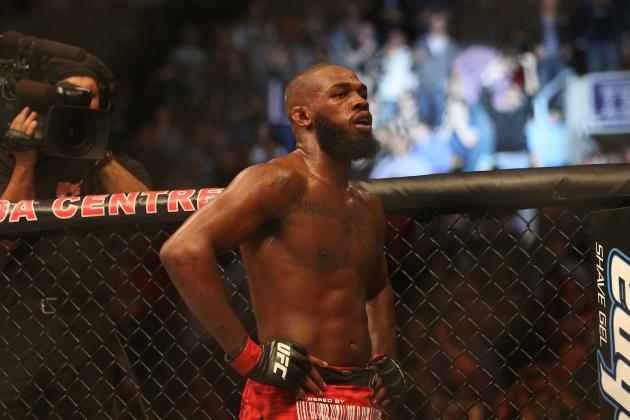 Tom Szczerbowski-US PRESSWIRE

MMA Record: 17-1
Jon Jones has quickly rattled off four title defenses in his 20 months as light heavyweight champion. At 25 years old, that ties him with the likes of legends like Chuck Liddell and Frank Shamrock.
In April, when he meets Chael Sonnen, Jones is fully expected to even himself with Tito Ortiz for the most consecutive light heavyweight title defenses in UFC history.
He's not unbeatable, but Jones appears destined to go down as one of the greatest ever to compete inside the Octagon.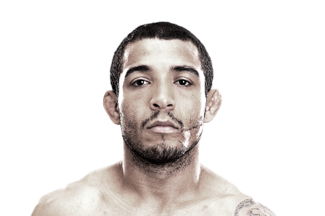 UFC.com
MMA Record: 21-1
With five straight title defenses, 26-year-old Jose Aldo is on the same path toward greatness as Jon Jones, though he doesn't seem to be receiving the same amount of attention.
In February, Aldo will attempt for a sixth straight title defense in a superfight of sorts against former lightweight titleholder Frankie Edgar.
Aldo is already the greatest 145-pound fighter to step inside the cage. With a win over Edgar, he'll start receiving consideration as one of the best ever in any weight class.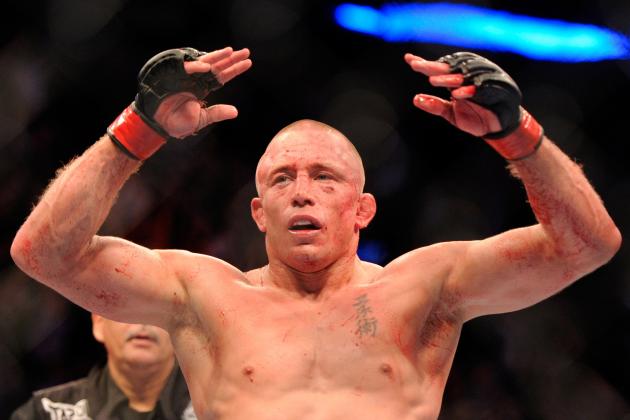 Eric Bolte-US PRESSWIRE

MMA Record: 23-2
A potentially career-threatening knee injury wasn't enough to knock Georges St-Pierre from his spot atop the welterweight division. The Canadian champion returned at UFC 154, where he reclaimed his title as undisputed champion by beating Carlos Condit.
Heading into 2013, St-Pierre has to choose between a superfight with middleweight champion Anderson Silva and another 170-pound title defense against welterweight contender Johny Hendricks.
The UFC would obviously prefer to book the Silva-St-Pierre fight, but St-Pierre is not willing to jump into any agreements without having some demands met beforehand.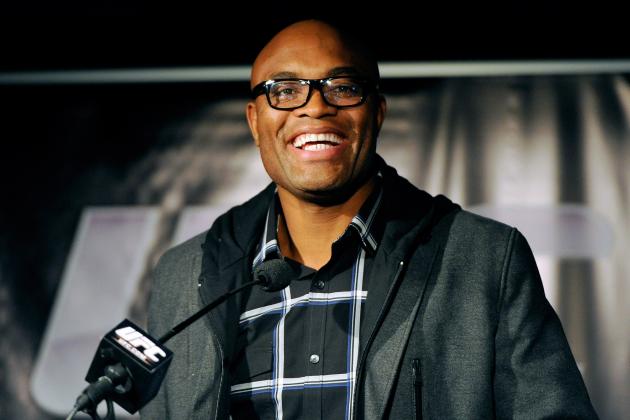 Eric Bolte-US PRESSWIRE

MMA Record: 33-4
Until Anderson Silva loses or retires, he'll stay right here at the top of most pound-for-pound rankings.
The middleweight champion has set a record for title defenses that will be hard to touch. Right now, the fighter closest to matching that streak is Georges St-Pierre, which makes the bout between Silva and St-Pierre all the more intriguing.
Hopefully, the champions will meet in mid-2013. If they don't, Silva may truly be content to sit out for most of the entire year.