Building the Greatest Team of Retired NBA Stars Who Never Won a Title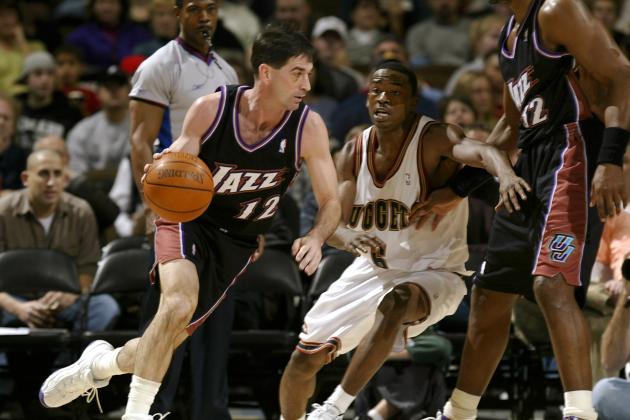 Brian Bahr/Getty Images
Even on a team loaded with talent, we'd still see a lot of this.
Who would comprise a team of the best retired players to never win a ring?
Read that again: The best team.
Building a team requires more than simply selecting the best player at each position. If it didn't, the best team on paper would win the NBA title every year.
A team must be able to cohesively function as a unit, both offensively and defensively. Hence, in building this team, I have chosen to look at how the players on it complement one another. It only makes sense to have a true distributor at the point on a team loaded with offensive juggernauts.
On defense, it may be more profitable at times to have a defensive stopper clogging the paint than a dominant offensive big man because it wouldn't be optimal to run an inside-out offense when there are dominant perimeter players.
And selfish players who don't pass the ball are almost a definitive "no" (with the bold exception of "The Human Highlight Film," who just can't be left off this squad).
That said, let's look at a team of 12 guys who were not only among the greatest ever to not win a title, but who could cohesively form a great team.
Begin Slideshow

»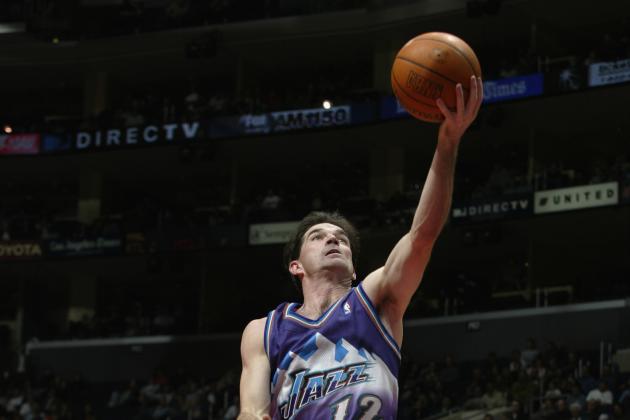 Robert Laberge/Getty Images
Is it possible that Stockton may have been the best point guard ever?
As mentioned in the intro slide, John Stockton fills a definite role on this team. Aside from the fact his partner in crime is starting at the 4-spot, Stockton is almost unarguably the greatest distributor in the history of the NBA.
It's substantiated not only by his gaudy per-season numbers (which include nine straight seasons of leading the league in assists), but also by the fact he is the all-time career leader in assists with 15,806.
In addition to his great passing skills, Stockton was a terrific defender. He led the league in steals twice (1988-89 and 1991-92) and was in the top five in steals in eight of his 19 seasons. Some say Stock was a dirty player, and that's a fair call—he was—but you can't make make a defensive omelet without breaking a few eggs...
All in all, I couldn't think of a better guy to dish the rock to the four high-scoring starters that surround him on this team.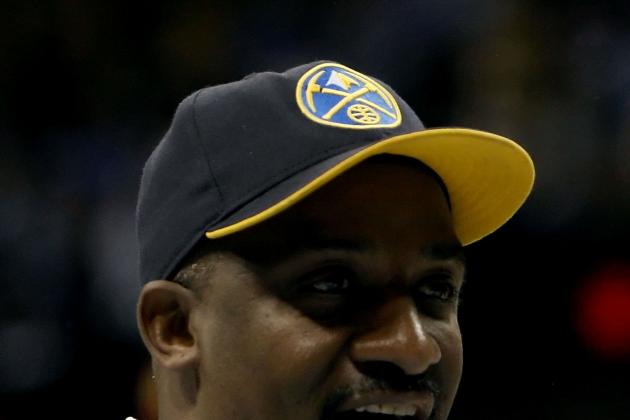 Jed Jacobsohn/Getty Images
David Thompson had a short yet awesome NBA career.
David Thompson had what could be considered a short NBA career. He played only eight NBA seasons (and one in the ABA before the merger), but they were eight very good—very title-less—seasons.
Thompson had a knack for putting the ball in the hoop and could get to the rim at will. He averaged 24.9 points per game over his career, and he only averaged under 20 for one of those seasons.
Oddly, he made the All-Star team in only four of the eight seasons despite ranking in the top six in league scoring for six of the eight seasons. He won the 1978-79 All-Star MVP award, and he also had one of the more decorated NCAA careers.
Thompson's ability to score may be a redundancy on a team stacked with scorers, but his shooting ability and overall offensive skill set would be invaluable on any team.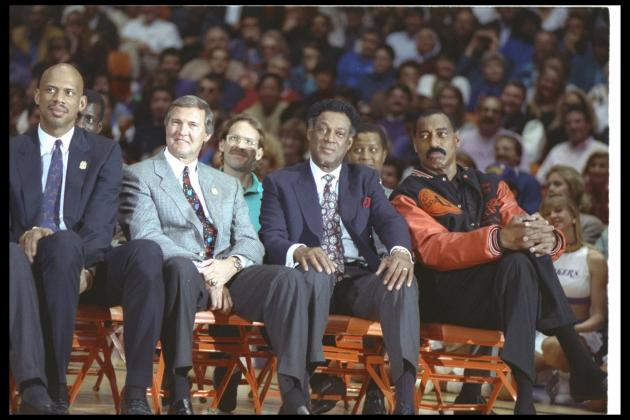 Ken Levine/Getty Images
Baylor sits in select company in all-time Lakers greats.
Elgin Baylor ranks 15th on my personal all-time great list, so it's nearly impossible to leave him off this squad. Despite standing only 6'5", Baylor played the 3-spot, and his strength (and leaping ability) would enable him to cover any of the small forwards of today.
Baylor was inducted into the Hall of Fame in 1977 after a career which featured 11 All-Star appearances, an All-Star MVP, a Rookie of the Year award and 10 first-team All-NBA selections. And yes, you guessed it, zero rings.
Baylor could not only score, but he also averaged 4.3 assists per game, which is far above average for a small forward.
That ability to facilitate the offense may not be necessary while Stockton was in the game, but with two shoot-first point guards backing Stock up, Baylor would be a helpful ball-handler and facilitator when the backups entered the game.
A true workhorse (he averaged an astounding 40 minutes per game over his 14-year career), Baylor could and would see many minutes with the reserves on the court (barring foul trouble).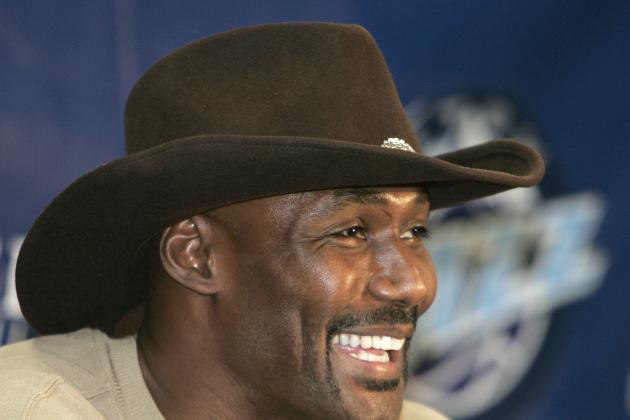 George Frey/Getty Images
Even on a team of studs, the Mailman would deliver.
It's only fitting that the best power forward of all time starts at power forward on this team. The fact that he had no career titles makes his selection quite ideal.
"The Mailman" could run the court and finish hard...better than anyone his size in league history (save that No. 6 fella doing his thing down in South Beach).
Karl Malone was billed to be a great defender, but he was just a bit above average. That won't matter much given the two centers plugging the paint and swatting shots on this team, and it's not as though having one non-lockdown defender at power forward would cripple this squad at any rate.
Moreover, as I mentioned already, Malone almost has to start to play with the bread to his butter, Mr. Stockton. When the offense got stale (quite an impossibility), the team could fall into a pick-and-roll set with the Jazz duo and milk them for what they're worth.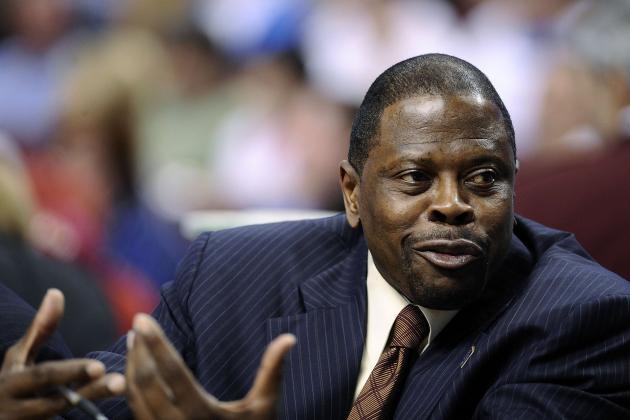 Jeff Zelevansky/Getty Images
Patrick Ewing still dreams of landing a head coaching job.
Patrick Ewing was billed as the savior of the New York Knickerbockers (yes, people actually referred to the Knicks by that at the time) back when he was selected first overall in the (rigged?) 1985 draft.
That only turned out to be partially true, as Ewing is yet another top-20 all-time player who never secured a championship ring.
In his prime, Ewing was an amazing shot-blocker and versatile, gifted center. His jump shot would be great on this team because he would find himself wide open for a lot of surefire mid-range jump shots, especially with Baylor and Thompson attracting so many double-teams.
Also, I'm willing to bet that a Stockton-Ewing pick-and-roll would be nearly as effective as the combo of Stock and Malone.
Ewing's defensive skills are what make him the best choice to start over a number of other NBA greats who never won a title but were offensive standouts. This is not to insinuate that the likes of Nate Thurmond, Artis Gilmore, Bob Lanier or even Yao Ming were poor defenders, but Ewing was a total monster.
Ewing's ability to rotate well off of the ball would cover any possible blunders of the perimeter defenders (not to mention the second unit, which features three or four guys with debatable merits as defenders).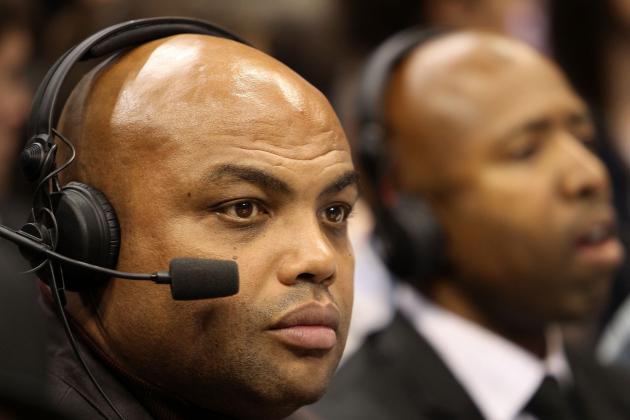 Ronald Martinez/Getty Images
Which has been better: Barkley's playing career or his broadcasting career?
Charles Barkley is in the discussion for the top five best power forwards ever to play the game (the others I'm lumping in the discussion other than The Mailman are active players such as Tim Duncan, Kevin Garnett and Kevin Love).
"Sir Charles" was a dominant offensive player and in his prime was a solid defender too. This team is all about players in their prime. Why would we want to remember guys when they begin to decline? (Yes, we do that anyway.)
At one point during his career, he had close-out abilities nearly on par with Michael Jordan. The fact that he never managed to turn that into a ring is only a product of the fact that he played in the same era as Jordan.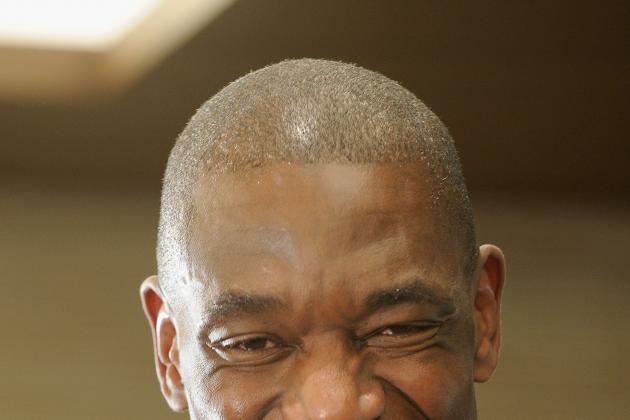 Dimitrios Kambouris/Getty Images
Deke would be all smiles to find himself rightfully on this team.
This eclectic mix of bench players serves a multitude of purposes. Again, they are chosen not just because they are among the best, but because they would function brilliantly as a unit. They all could slide in seamlessly with the starters in the event that any got in foul trouble.
Reggie Miller: SG
Every team needs a sharpshooter, and since this team is comprised of only retired players, why not take the absolute best retired shooter (since Ray Allen is the best ever)?
Miller could knock down the open three better than anyone in league history and would be great for late-game daggers.
Pete Maravich: PG/SG
"Pistol Pete" could create for himself or teammates. He wasn't just a great shoot-first point guard; he was also a creative and splendid passer.
George Gervin: SF
The "Iceman" was Kevin Durant before Durant. The quintessential scorer, Gervin would score in bunches on a team with no problem scoring, but what's wrong with that?
Allen Iverson: PG/SG
"AI" is the third point guard on this team, and he's not really a point guard, which makes him the best option to have here.
While Iverson fits the bill with Dominique Wilkins as a guy who has questionable team-play merits, he's simply too good to leave off this team. Besides, who better to light it up in garbage time than Mr. Iverson?
Dikembe Mutombo: C
As I mentioned in Ewing's slide, a premier defender at center helps in a lot of ways. "Deke" was the best big-man defender in the last 20 years (actually tied with Ben Wallace), and he won the NBA's Defensive Player of the Year four times.
That's a testament to not only what a good shot-blocker he was (the best ever?) but also to his overall defensive impact. It makes great sense to have a defensive stud backing up a defensive stud, and if you haven't noticed, this team is not short on scorers.
Dominique Wilkins: SF/PF
Dominique and Iverson can fight it out in garbage time for who gets to chuck up the most shots. It's a sad role for one of the best small forwards ever, but Nique's game is bested by Baylor and Gervin.
What could earn Nique some minutes, though, is if the team needed to go small. Though only 6'7", Dominique could easily play power forward on this squad. The added versatility would earn him some minutes.