Buffalo Bills vs. Indianapolis Colts: Live Score, Highlights and Analysis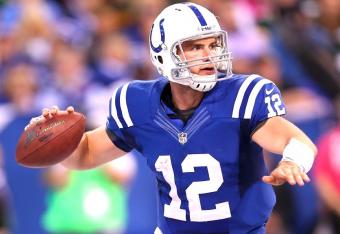 The Indianapolis Colts hang on to defeat the Buffalo Bills 20-13 in front of a home crowd. The Colts now hold the fifth spot in the AFC thanks to a Steelers loss.
Buffalo likely played itself out of the playoffs for the 13th straight season.
It has been fun everybody.
Colts' fans, I will be rooting for your team down the stretch. Too much about that team that isn't to like.
In my opinion they played a team that was more talented than them today, but in the end it comes down to quarterback play and coaching.
Andrew Luck wasn't great, but he made plays when he had to.
The Fitzpatrick and Chan combination in Buffalo should be winding down soon, otherwise Orchard Park may have a revolt on their hands.
An iffy pass interference call allows the Colts to run out the clock.
FINAL: Indianapolis over Buffalo 20-13
Reggie Wayne has opened a lemonade stand in the middle of the field. He's been wide open all day.
Chan Gailey should take some notes on how to run an offense at the end of the game.
Another game that the coaches have lost.
Another screen? Sure.
Colts get the ball and almost assuredly the win.
I guess it isn't hard to beat coaching staffs that do everything they can to lose.
Ryan Fitzpatrick throws a fourth quarter interception almost on cue, but Stevie Johnson bails him out.
Johnson strips Zbikowski and falls on the ball to give the Bills the ball back.
Buffalo's season hinges on this drive. No way they can recover from another loss like this.
Chuck Pagano is in the HOUSE!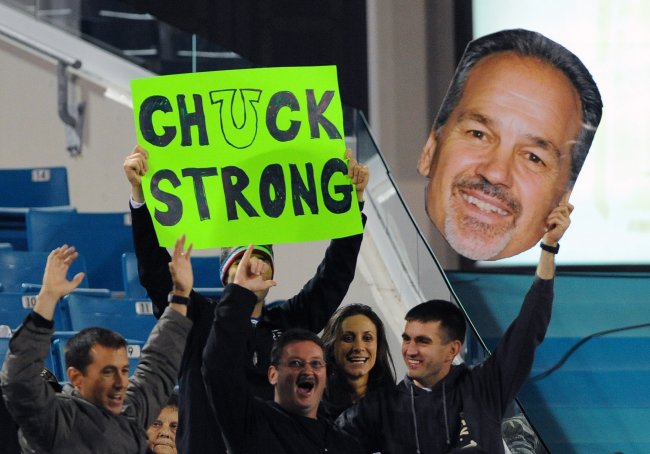 Al Messerschmidt/Getty Images
Good to see the coach looking good despite his health issues.
Wish him well and I hope to see him on the sidelines soon.
Mario Williams grabs his second sack of the game and suddenly the Colts' offense is stalling. He is starting to fulfill that contract.
A strange offsetting penalty where both teams had 12 men on the field forces a re-kick and the Bills will take over at their own 26-yard line.
I'm not sure if I've ever seen both teams with extra guys on the field.
Colts' cheerleader Megan M. had her head shaved during that last drive by the Bills in honor of Chuck Pagano and leukemia research.
A great gesture by a classy organization.
It's hard not to root for this particular Indianapolis team.
Spiller and Donald Jones get the ball to the Colts 1-yard line before Fitzpatrick completes a touchdown to Lee Smith.
That is the first touchdown of Smith's two year career. More of a blocker.
The 41-yard run by Spiller on that play, leads Rich Gannon to mention that he should be toting the rock more.
Well said Rich. Don't hold out much hope.
Spiller now over 100 yards on the day on just 12 carries.
Fourth quarter time!
The Colts complete a 3-and-out, a rarity in this game.
Buffalo gets good field goal position, but in typical Bills' form, they commit a block in the back and send them traveling backwards.
C.J. Spiller has touched the ball once in the second half. Bills offense has had the ball less than a minute and a half.
The major reasons they are losing and why #firechan is trending on twitter.
Colts ready to dish the final blow.
It's the T.Y. Hilton show. He's accounted for both of the Colts' touchdowns, but this time on a seven yard strike from Luck.
Colts starting to pull away.
This Buffalo team isn't good enough to come back, especially with the quarterback and head coach they have on their sideline.
Indianapolis has now converted six third downs of nine yards or more. Buffalo has converted two third downs all game.
If that doesn't scream pathetic I don't know what does.
Bruce Arians putting Luck in a great position to succeed. He's taking advantage.
You can only keep Luck a bay for so long. Bills' defense has played well considering how long they have been on the field.
Sooner or later the No. 1 pick is going to explode.
If Bills' fans could have their way, then Chan Gailey would be relieved from his duties before the start of the next offensive drive.
It is mind boggling to keep putting Ryan Fitzpatrick in the position to be a gunner.
This is the second straight game that the Bills have been involved in a game with no offensive touchdowns by either teams at the half.
It is the first time the Colts in involved in such a game this season.
An interesting note by Sal Maiorana for the Democrat and Chronicle in Rochester, New York.

I assume you Colts fans out there are thinking the same thing.
Taking a quick break for some grub, we'll take a look at some half time stats here in a bit.
#firechan is trending on Twitter. This should surprise no one.
Bills give the Colts the ball back after getting the ball with less than a minute.
Andrew Luck makes them pay, as the Colts tack on another field goal to push the lead back to a touchdown.
13-7 Colts lead at the half!
Neither offense has been able to sustain drives past a few plays, which has resulted in the low 10-6 score.
The only touchdown is off of a Hilton punt return, when he spun free from the Buffalo special teams.
Indy converts on another long third down, the fourth time in this game where they have converted on a play of a nine yards or more on third down.
Now putting a two-minute drive together. Luck playing well.
Stevie Johnson puts a nice double move on Darius Butler to get the Bills back within scoring range.
Spiller inexplicably on the bench and the Bills have to settle for another field goal.
Astounding that a coaching staff can be this inept.
Vick Ballard can't hold on to a touchdown catch and the Colts settle for three points.
A disappointing end to the best drive that either offense has put together.
Two other games today that have serious playoff implications is the Pittsburgh-Cleveland and Cincinnati-Oakland games.
The Browns lead the Steelers 13-7 and the Bengals are cruising 21-0 over the Raiders.
This article is
What is the duplicate article?
Why is this article offensive?
Where is this article plagiarized from?
Why is this article poorly edited?