22 Most Epic Fights in NHL History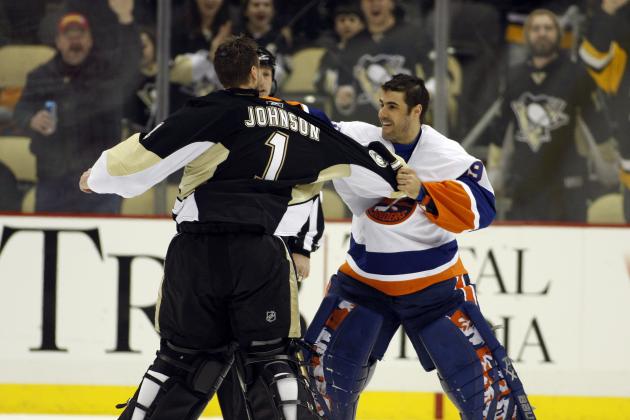 Justin K. Aller/Getty Images

A group of NHL players got together to play a charity game in Atlantic City during the weekend, and throughout the action fans got excited when Arron Asham and Daniel Carcillo got close to dropping the gloves.
Simply put, fans love fighting and it is a huge part of the game, so why not look at 22 of the most epic fights in NHL history? When two individuals agree to mutually drop the gloves, what follows is a tradition that has been a part of the game for decades.
In no particular order, here are 22 of the most epic fights in NHL history.
Begin Slideshow

»
Rob "Rayzor" Ray was one of the NHL's most feared enforcers during his career in the NHL.
He recorded over a dozen knockouts over the years and over 3,200 penalty minutes during his career.
Ray was often considered to be one of the league's best fighters because of his quick and powerful punches.
This fight is epic because of the KO blow that Ray delivered with relative ease.
It isn't every day that goaltenders decide to drop the gloves, and this incident involving Patrick Roy and Chris Osgood came at the height of the rivalry between Colorado and Detroit.
At first, Roy was held up by an official, but he eventually made his way to Osgood, and then the party was in full swing.
Both goaltenders threw their fair share of punches, but Osgood won this fight by knocking down Roy with a flurry of punches to the face.
P.J. Stock is currently an analyst for CBC's Hockey Night in Canada, and he was once one of the NHL's top fighters.
This fight was truly one for the ages as both Stock and Stephen Peat went toe-to-toe, and each landed significant blows.
The fight is considered to be a tie, but Stock really did a great job setting the tempo with a flurry of jabs that really did a number on Peat.
In hockey fights, there is usually not room for class, but Steve MacIntyre acted as cordially as possible during this fight.
He completely obliterated Raitis Ivanāns with a few punches, but he actually prevents further harm by holding onto the fallen pugilist after he dealt the knockout blow.
When Derek Boogaard joined the New York Rangers, he joined a team that frequently played Trevor Gillies' New York Islanders.
During Boogaard's brief time with the Rangers, him and Gillies dropped the gloves a few times.
This fight explains why there was so much intensity between the two players, because Boogaard made Gillies pay with a massive blow to the head.
Dan Cloutier was one of the toughest goaltenders during his time in the NHL, and this fight is often named as one of the most epic goaltender scraps of all time.
Cloutier aggressively pummels Tommy Salo, and he starts throwing crushing blows once he had his jersey completely off.
This fight will always be memorable in the minds of hockey fans, and it is one of the greatest in league history.
It is hard to single out any one fight that took place between Bob Probert and Tie Domi, but this was one of their better encounters. Tie Domi is one tough SOB, and his head took a pounding from the powerful Probert.
Both men had a ton of courage throughout their NHL careers, and you can tell that both fighters had a mutual respect for each other and their profession.
This fight was one of the best during the '80s, and it featured a flurry of punches early on in the fight.
Scott Mellanby was the undisputed victor of this fight after he rocked Jeff Jackson with some hard shots to the face.
This fight ended in a knockout, and Jackson was out cold.
This fight was arguably one of the best scraps from the past decade, and it featured many lead changes.
Daniel Carcillo landed a lot of good punches early, and it seemed like Derek Dorsett was out for the count.
Dorsett would come back to land some shots and then he knocked down Carcillo and the linesmen decided that enough was enough.
Joey Kocur was one of the league's scrappiest pugilists throughout his NHL career, and this is considered to be one of the greatest fights in NHL history.
This fight saw Kocur knockout Jim Kyte, and the announcers even suggest that some damage was done to Kyte when he fell to the ice, but Kocur's fists did all the work in this fight.
The late Derek Boogaard was one of the league's most feared enforcers, and he was a player who always made his impact known. This fight was one of Boogaard's signature moments as he did some really damage on Todd Fedoruk.
Both Brad May and Krys Barch had quite the rivalry back in the 2000s, and they were involved in many scraps. This fight is looked at as one of their best fights from 2008, and when you watch this clip in its entirety, you will fully understand why.
Aaron Downey, of the Dallas Stars, made the highlight reels when he decided to square off with Jesse Boulerice, of the Carolina Hurricanes, back in 2003.
The fight did not last long, but it is epic for Downey's massive jab that knocked out Boulerice.
During the late 2000s, Jaromir Jagr represented a change in the hockey culture of the New York Rangers. The superstar made the Rangers a better team, and Colton Orr didn't take too kindly to Todd Fedoruk taking a liberty with the Rangers' captain.
When Orr and Fedoruk dropped the gloves, the Rangers' enforcer sent a message that Jagr was not to be touched when he was on the ice.
It seems like Jim Kyte is getting his "tookus" handed to him a lot throughout this slideshow, and he almost redeemed himself during this fight.
Kyte was giving Rob Ray the business throughout the fight, but Ray reached deep down and connected with a shot right in Kyte's face.
The audience was stunned when they realized that their guy was down for the count, and it was one of the best come-from-behind victories in NHL fight history.
Evander Kane is one of the NHL's up-and-coming scorers, and he is a player who could be a future 40-goal scorer. This fight pitted two of the most unlikely combatants, as Matt Cooke is known to fight other grinders and enforcers.
Kane is a skilled player who knocked out Cooke with one punch, and it was one of the most surprising moments of the 2010 season.
Their names were not on the grand marquee of the MGM Grand in Las Vegas, but there was a PPV caliber fight between two of the NHL's top enforcers of all time during this New Year's Eve night.
Bob Probert and Stu "Grim Reaper" Grimson traded a flurry of punches over the course of a minute and a half, and it was a fight that had the fans on their feet.
Probert and Grimson will always live in NHL history, and there are not many men who were as efficient in fighting as they were.
Joey Kocur really made fighting look easy during his time in the NHL because it seemed like the scrappy Kelvington, Saskatchewan native always recorded a decisive knockout.
This fight was short, sweet and it left John Davidson saying his trademark, "Oh baby!" as poor Mike Eagles dropped to the ice.
Craig Rivet was not an enforcer by definition, but he was a player who never shied away from dropping the gloves.
Bryan Marchment, on the other hand, liked dropping the gloves so it was a surprise when Rivet got an early edge.
Marchment would battle back and he got in some great shots before the fight was broken up by the linesmen.
Arron Asham is a player who is known for his scrappiness, and his penchant for fighting. When he dropped the gloves with the Washington Capitals' Jay Beagle, he sent a message that was loud and clear.
Asham literally put Beagle to sleep with the use of a good punch right to the head.
If this was a best brawls list, the collective scraps in this video would be pretty high on mine. However, this fight separated from the collective brawl, and Bob Probert was left to square up with Gary Nylund.
Probert didn't need many good punches to take care of business, and the decisive blow came in the form of a powerful uppercut to poor Gary Nylund.
This game featured tons of fights, cheap shots and other hijinks, but the fight involving Brent Johnson and Rick DiPietro truly takes the cake.
Johnson skated all the way down the ice, and DiPietro didn't stand a chance as he took a few good punches to the head before he was knocked down to the ice.