Packers vs. Giants: Final Player Grades for New York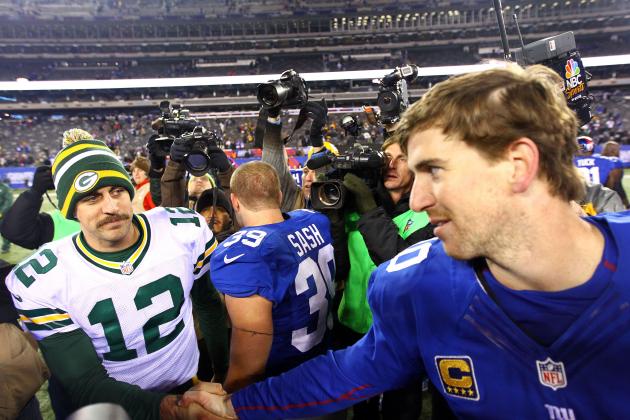 Al Bello/Getty Images

Eli Manning threw his 200th career touchdown pass while the New York Giants sacked Aaron Rodgers five times Sunday. Big Blue topped the Green Bay Packers at MetLife Stadium by a 38-10 final, ending a two-game skid and improving to 7-4 on the season.
Manning broke a month-long touchdown drought with three scoring strikes, and running backs Andre Brown and Ahmad Bradshaw each hit the end zone as well. The Giants held Rodgers and the touted Packers passing attack to a paltry 201 yards.
Check out a full breakdown of Sunday's action, with final report card grades for key Giants.
Begin Slideshow

»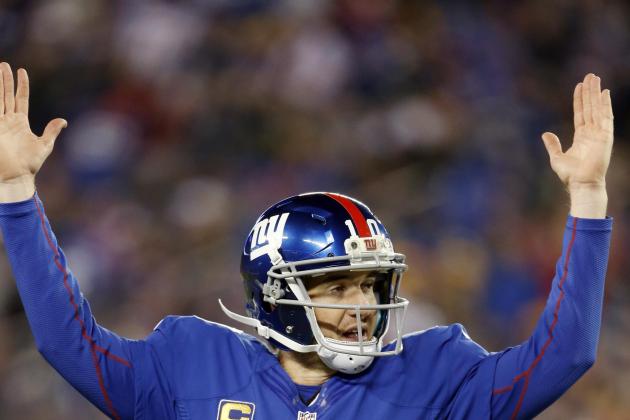 The Star-Ledger-US PRESSWIRE

Eli Manning: A
After lingering rumors of a "tired arm," Manning performed brilliantly Sunday, churning out three touchdown passes and over 250 total yards.
Manning's mid level velocity was on-point, and he didn't surrender an interception for the first time since week six. Eli developed an early connection with wideout Hakeem Nicks, and read the flat well all night.
It was an encouraging performance from the reigning Super Bowl MVP. Eli's triple-digit quarterback rating makes him the MVP of New York's big win.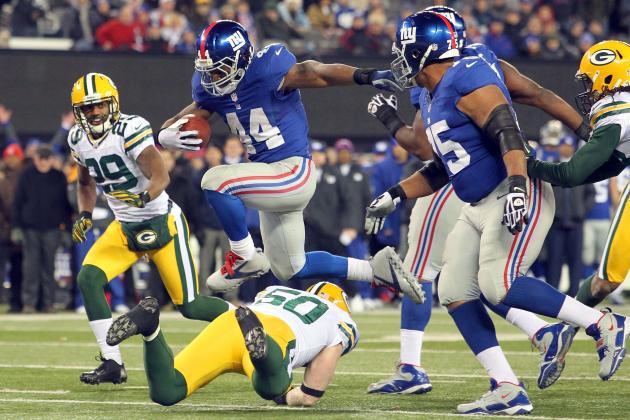 Brad Penner-US PRESSWIRE

Ahmad Bradshaw: A+
Bradshaw was top-notch Sunday, muscling his way to a 13-yard touchdown and finishing with nearly six yards a carry.
Despite being held from practice all week with a foot injury, Bradshaw was shifty and hit holes hard. He did a good job picking up blitzes and kept New York's offense balanced.
Bradshaw set the tone of the game early with a 59-yard screen scamper in the Giants' first drive.
Andre Brown: A
Brown's two-yard touchdown dive put New York on the board in the first quarter. He took a team-high 16 carries for 64 yards, a 4.9 yard-per-touch average. Brown hit the second level consistently and continues to be reliable in short-yardage situations.
Henry Hynoski: A
Despite being blown up on an inside run in the first half, Hynoski had a big game, paving the way for New York's balanced running game. It's been a standout season for the second-year fullback.
Moreover, Hynoski found open space in the flat in the game's first series. An Eli Manning underthrow prevented the "Hynoceros" from notching his first touchdown.
David Wilson: D
Wilson took six late-game carries for just 13 yards, and didn't show off the acceleration he's capable of.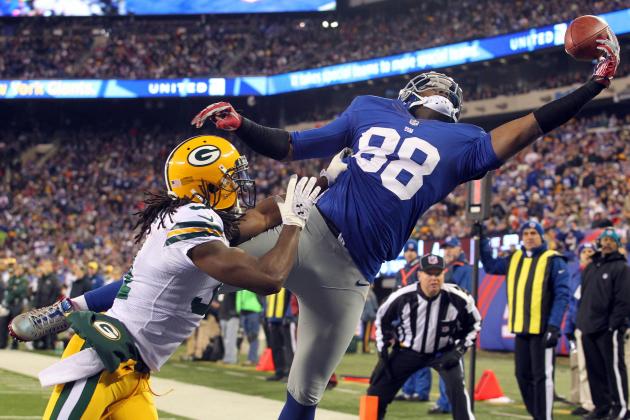 Brad Penner-US PRESSWIRE

Hakeem Nicks: A+
So much for Hakeem Nicks limping into this one.
Despite not being at full strength, New York's No. 1 read caught five balls for 77 yards, adding a touchdown in the third quarter. Nicks saw a team-high 13 targets and stretched the sidelines all night.
It's important that Manning and Nicks appear to be on the same page. Big Blue saw its mid range element return Sunday.
Rueben Randle: A
Randle caught both of the passes that were thrown his way, finishing with 26 receiving yards and his first career touchdown. Randle made an athletic grab in the back of the end-zone, sneaking behind two Green Bay defensive backs over the top.
Victor Cruz: B+
Cruz was held to just three catches Sunday, but did come away with his eighth touchdown grab of the season. He couldn't find much room in a depleted Packers zone, and saw just six targets. Still, with Nicks producing on the outside, the Giants didn't need too much from him.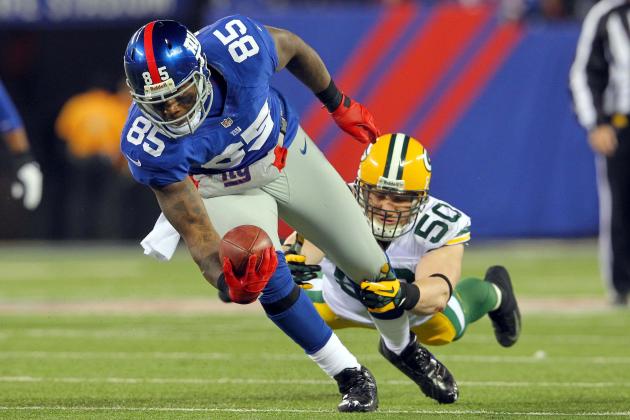 Brad Penner-US PRESSWIRE

Martellus Bennett: A-
Bennett did a stellar job in run blocking off the edge, and snagged three passes for 44 yards Sunday. While he's yet to hit the end-zone since week 3, it was a productive outing for Bennett.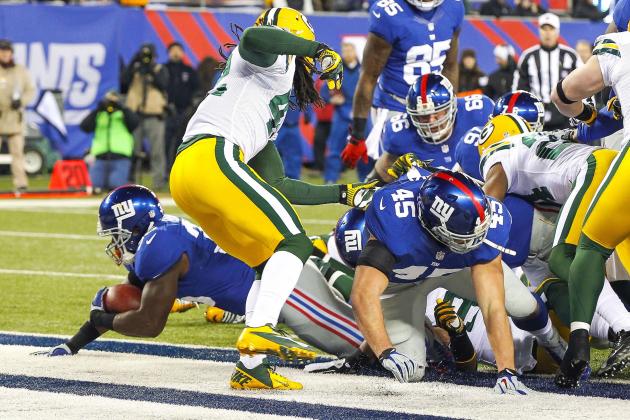 Jim O'Connor-US PRESSWIRE

David Baas: A+
Baas contained Pro Bowl tackle B.J. Raji Sunday, opening the middle for runs all game long. After a rocky start to November, New York found reliable play at center in this one.
Sean Locklear: A
Locklear stepped in for the injured David Diehl at right tackle, keeping the edge clean and not allowing a single sack. The outside run looked good all game.
Chris Snee: A
Snee gave a big push on Andre Brown's touchdown run and continues to be Big Blue's most reliable blocker up front.
Kevin Boothe: A-
Boothe's left side was a bit weaker in this one, but he still manned his position well. While Boothe may be the Giants' most inconsistent lineman, he's been putting it together in recent weeks.
Will Beatty: B-
Beatty failed to shift on a blitzing Dezman Moses, and was charged with the game's only sack. Still, he performed well in run blocking.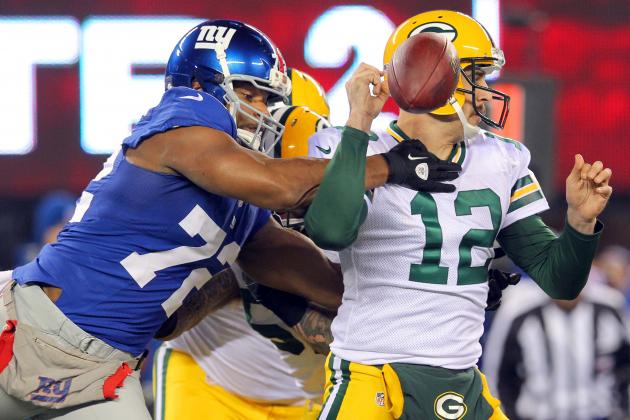 Brad Penner-US PRESSWIRE

Osi Umenyiora: A+
Umenyiora came through with a sack and strip of Aaron Rodgers, swinging all the momentum to Big Blue. It was Osi's fifth sack of the season.
Chris Canty: A+
Canty stuffed the interior run all game long, and tripped up a scrambling Aaron Rodgers in the first quarter for the game's first sack. Canty also finished with three tackles.
Jason Pierre-Paul: A-
Although his stat line looks bare, "JPP" did an excellent job flushing the pocket Sunday. He recorded a few hurries on Aaron Rodgers, and spanned the sidelines on outside handoffs.
Linval Joseph: A-
There wasn't much doing behind the guards for Green Bay's running game. Joseph lead all defensive linemen with four tackles.
Justin Tuck: B
Tuck didn't do much in run defense, although he did notch a quarterback hit on Rodgers. Despite a quiet 2012, it appears that Tuck and the Giants' pass rush is on the right track.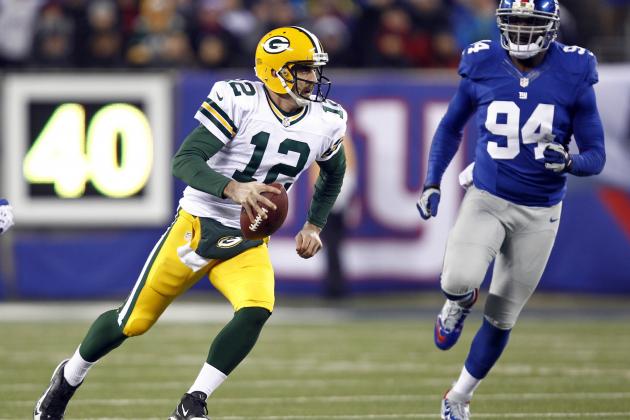 Mark L. Baer-US PRESSWIRE

Mathias Kiwanuka: A+
What more can be said here?
The defensive MVP of Sunday's contest, Kiwanuka came through with two of New York's five sacks. He was aggressive on the edge, put three hits on Rodgers and came away with six total stops. After a slow start to the season, perhaps this could be a springboard for "Kiwi."
Chase Blackburn: A+
Blackburn was everywhere in run defense and added a sack on the elusive Aaron Rodgers. He finished with six tackles and a near-interception to start the third quarter.
Michael Boley: A
Boley lost tight end Jermichael Finley on a few occasions, but lead the Giants with seven tackles.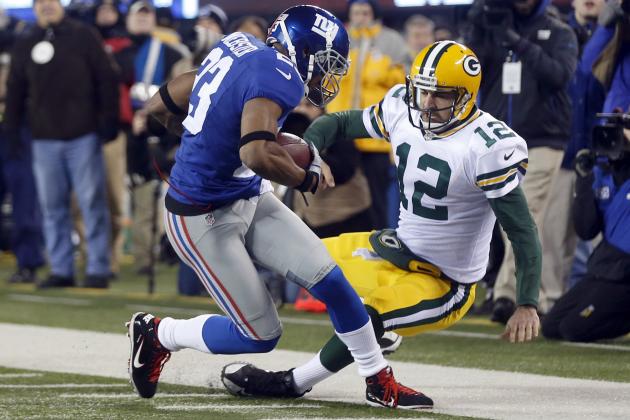 The Star-Ledger-US PRESSWIRE

Antrel Rolle: A
For a while, Rolle was forced to adjust to Kenny Phillips' return to the secondary. But when Phillips left the game early, it was Rolle who stepped up with six tackles and some lock-down pass defense. New York's secondary stayed put over the top, despite going against one of the league's most dangerous receiving corps.
Prince Amukamara: A
Amukamara did a standout job covering Randall Cobb, and added a pass deflection. Cobb caught just four passes Sunday.
Tyler Sash: A-
Sash stepped in when Phillips went down, and finished with four tackles. He and Rolle policed center field.
Stevie Brown: A-
Brown spent some time blanketing Jermichael Finley, and added three tackles. While it was an off game statistically for the surprise safety, Brown still performed well.
Corey Webster: B
Webster was burned badly on the Packers' lone touchdown, a 61-yard strike to Jordy Nelson. Still, he redeemed himself with an interception in the first half, and limited Nelson to just one other reception after the score.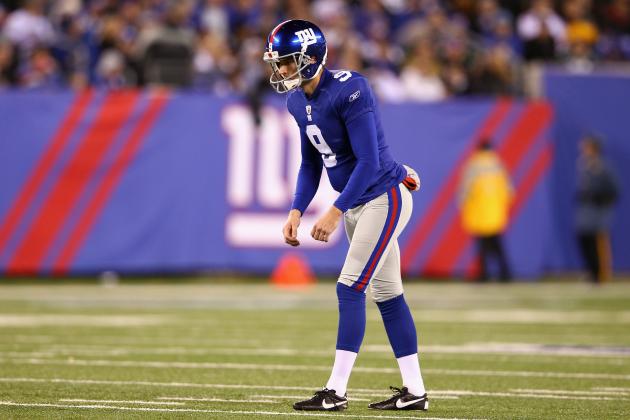 Al Bello/Getty Images

Steve Weatherford: A+
Weatherford boasted a long leg all night, maxing out at 48 yards and pinning the Packers inside their 20 once. It's been an outstanding season for Weatherford thus far.
Lawrence Tynes: A
Not much more you can ask for here. Tynes stayed perfect on extra points and nailed a 43-yard field goal.
David Wilson: C
It was a quiet night for Wilson, who struggled in the backfield and was contained on three kickoff returns. The rookie averaged just 24 yards a return Sunday.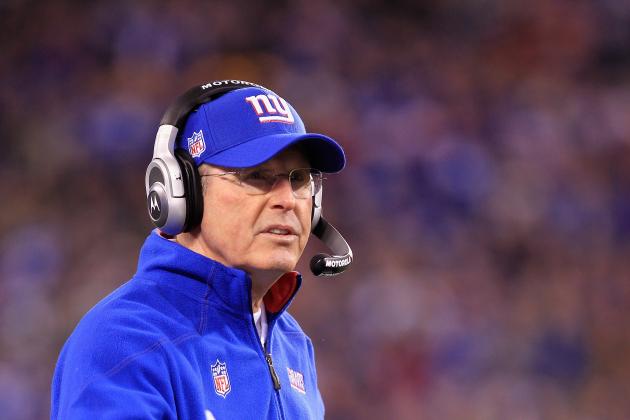 Chris Trotman/Getty Images

Overall Game Grade: A+
The Giants stayed focused on offense and aggressive on defense, executing a game plan that revolved around extensive pass rush and a mid level passing presence. Tom Coughlin's team rebounded from a rough two-game slump and knocked off one of the NFL's hottest teams with ease.