Cardinals vs. Rams: Instant Grades and Analysis for St. Louis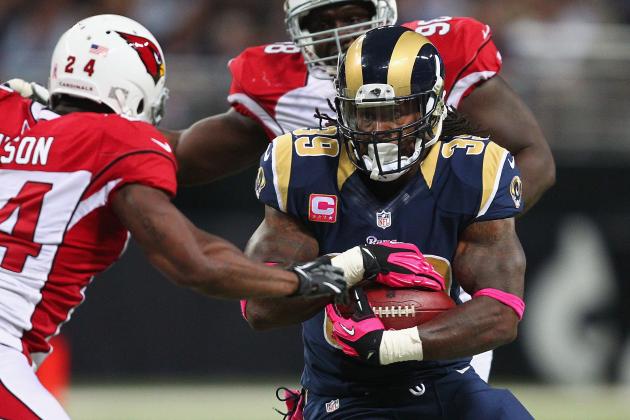 Dilip Vishwanat/Getty Images

The St. Louis Rams (4-6-1) secured their first road victory of the season against the Arizona Cardinals (4-7) in an impressive game for the Rams that ended with a 31-17 score.
The Rams picked up four interceptions throughout the game, giving the Arizona offense very little opportunity to establish a rhythm and finish drives.
On offense, the Rams had their struggles and frustrating moments, but they did just enough to get by.
Read on for positional game grades and analysis.
Final
Rams 31, Cardinals 17
Begin Slideshow

»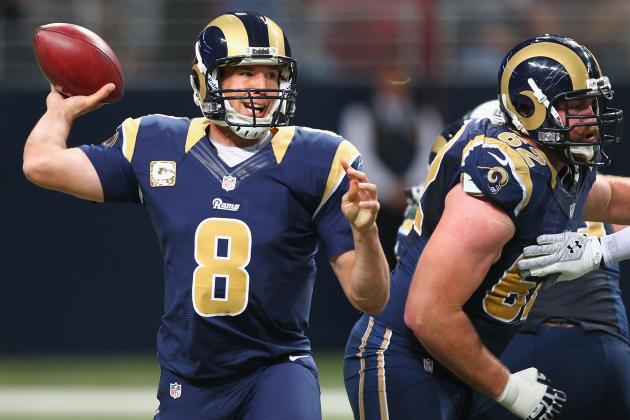 Dilip Vishwanat/Getty Images

Fourth Quarter: B
When these two teams played in Week 4, Sam Bradford completed just seven of his passes. This time, he completed eight passes.
But in both games he found then endzone twice, and more importantly he helped his team win the game.
It wasn't a pretty performance by Bradford, but he made plays when it mattered. Even the greats have afternoons like that.
Third Quarter: B
Sam Bradford is looking a lot better as far as making plays and hitting receivers downfield, but he's still struggling to show consistency as his completion rate remains under 50 percent.
Second Quarter: D+
With just a 50 percent completion rate and under a 100 yards passing, it's been difficult to find the silver lining in Bradford's performance this afternoon.
His pocket awareness has been lacking, while he gave up an easy interception in the red zone when the Rams had an opportunity to score a touchdown and tie the game.
Bradford hit Lance Kendricks on the 37-yard touchdown strike, and that's the only play that saves Bradford from an "F".
First Quarter: F
It's not looking good for Sam Bradford early on in this game.
Bradford was just 2-for-5 in the opening quarter for 40 yards, while he badly missed on two deep balls. He's showing poor pocket presence and does not look in control of this offense.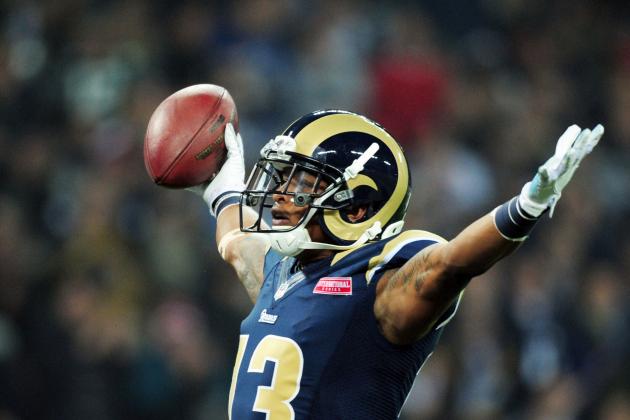 Jamie McDonald/Getty Images

Fourth Quarter: A-
The Rams didn't do anything flashy in the final quarter, but it wasn't necessary.
Their only objective was to kill time and add a few more points, and they accomplished both objectives by marching downfield during their second drive—killing nearly seven minutes off the clock—and capping it off with a field-goal.
They kept the ball out of Arizona's hands in the final quarter and didn't give them an opportunity to organize a comeback.
Third Quarter: C
The Rams were able to able to strike like lightening early in the quarter after Chris Givens caught a 37-yard touchdown, but that was their only score of the half.
Craig Dahl recorded an interception and put the Rams in easy scoring position, but bad penalties and incompetence resulted in zero points out and that blown opportunity.
Second Quarter: D+
For the majority of the first half, the offense was stale and completely out of rhythm.
The Rams scored a touchdown after a 37-yard touchdown by Lance Kendricks, but with only seven points after three punts and multiple drives, the offense will have to have a better second half if they want to win the game.
First Quarter: D
With just two drives—resulting in two punts and only one two first downs—the Rams haven't given us any reason to believe that their recent offensive struggles will go away in this game.
Look for another low-scoring game and more frustration on offense, at least based on the opening quarter.
On the bright side, Chris Givens turned a short pass into a 25-yard pickup, while Matthew Mulligan also came up with a 15-yard catch.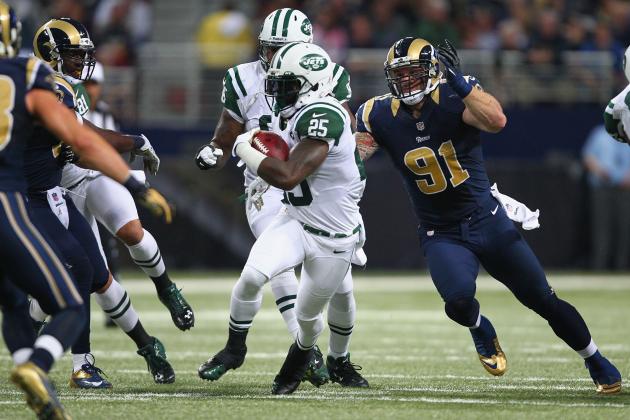 Dilip Vishwanat/Getty Images

Fourth Quarter: A+
The Rams defense shutout the Arizona offense not only in the final quarter, but for the entire second half.
It was a rocky start for the defense and they initially had trouble stopping Larry Fitzgerald and the aerial attack, but a new attitude in the second half changed the momentum.
With four turnovers and a flawless second half, it was certainly a successful game for the defense overall.
Third Quarter: A+
The defense has a very questionable first half, but they were dominate in the third quarter.
Besides shutting down the Arizona offense and allowing zero points, the Rams picked up a pair of interceptions, including yet another pick-six for Janoris Jenkins.
The defense had a remarkable showing in the third quarter.
Second Quarter: D+
A Janoris Jenkins interception returned for a touchdown was a sign that the defense would improve in the second quarter, but they did not follow through.
On the next drive, Arizona once again marched downfield for a touchdown.
On a positive note, the defense did for Arizona to punt following Sam Bradford's interception, which prevented the turnover from becoming too costly.
First Quarter: D
The defense had a rough start to the game. In the Cardinals only drive of the quarter, they sustained a never-ending drive that resulted in a touchdown.
The Rams had opportunities to end the drive, but penalties and mental mistakes spoiled their chances.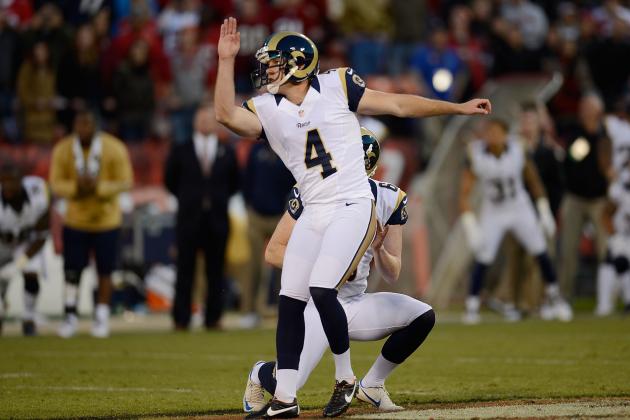 Thearon W. Henderson/Getty Images

Fourth Quarter: A
Special teams did their job in the final quarter. They didn't give up and big plays or commit senseless penalties, and Zuerlein added three points with a short field-goal.
You like to see special teams make big plays, but when you don't notice them at all, sometimes that means they did their job.
Third Quarter: D+
So, after "Greg the Leg", "Legatron" and all the nicknames, is anyone going to step up and finally throw a little bit of criticism at Greg Zuerlein?
He has load of potential and insane talent, but his inconsistency cannot be denied at this point. For every 55-yarder he hits, he'll miss a 30-something-yarder.
The Rams could be up by three scores, resulting in a stress-free fourth quarter. Now, thanks to Zuerlein's missed field-goal, it's still a two score game and Arizona is very much alive in this one.
Second Quarter: A
Special teams remains a small factor in this game. With a tight game in an indoor setting, it's vital that the Rams at least get into field-goal range and give Greg Zuerlein a chance to be a factor.
First Quarter: B
Special teams has not been a factor in this game other than Greg Zuerlein's PAT, but they did allow Patrick Peterson to make a solid gain during a punt return, which hurts the grade slightly.
Dilip Vishwanat/Getty Images

Fourth Quarter: A
In recent games, Jeff Fisher and the staff have taken some heat for not making proper adjustments in the second half, but that was not the case in this game.
The defense gave up 17 points in the first half, but the adjustments were phenomenal and the defense pitched a shutout in the second half.
The most encouraging thing about this win is that the team was initially playing to lose, but they made adjustments and turned it around. That's not something that has happened this season.
Third Quarter: A
The Rams got off to a sloppy and uninspiring start to this game. Typically, this team has had trouble ending ruts and making second-half adjustments, but the coaches were able to make the proper changes and get this game under control.
Now, lets see if the coaches can keep the team focused in the final quarter and walk away with a victory.
Second Quarter: D
The game plan continues to be unimpressive.
In the red zone, Steven Jackson was unstoppable, but the coaches decided to throw the ball rather than stick with the run game, which resulted in an interception.
Furthermore, the Rams kicked off with just over a minute on the clock following their second touchdown. In that short amount of time, the defense collapsed and allowed the Cardinals to take the lead—and the momentum—heading into the half.
First Quarter: D
After not winning a game since Week 4, the coaching staff still does not have this team under control.
We are seeing the same moronic penalties, the same lack of adjustments on offense and a team that does not look ready to play.
If this staff can't turn things around, the Rams are in for a long day.