L.A. Lakers vs. Dallas Mavericks: Live Score, Results and Game Highlights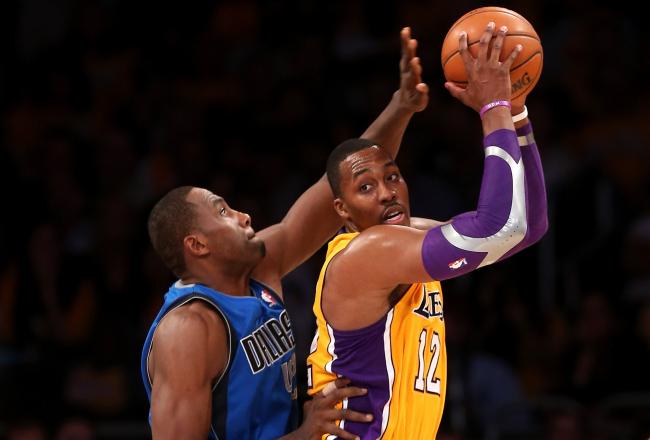 Stephen Dunn/Getty Images
The Los Angeles Lakers avenged their opening-night loss to the Dallas Mavericks in dominant fashion, winning 115-89 in Dallas.
Great contributions from Metta World Peace, Kobe Bryant and Antawn Jamison punctuated this one.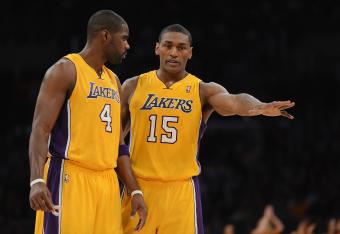 Keys to the Game
Well, this one was a good old fashioned whoppin' tonight. I'd say it's safe to say the Lakers came back with a haymaker after the Mavericks knocked them to the ground on opening day.
Obviously Los Angeles was a lot more successful tonight, but what exactly made them more successful?
Well, the fact that they made nearly every three-pointer they took in the first half didn't hurt, so their 12-22 from beyond the arc was mostly due to the first half. Incredible spacing and slow rotation from Dallas definitely helped that number grow.
Los Angeles was also able to take advantage of a poor shooting night from Dallas, daring them to take slightly contested three-pointers while keeping the pressure closer to the paint and staying tight on mid-range jumpers.
Aside from that, they got an amazing performance from Antawn Jamison, who registered 19 points on 7-11 shooting and 15 rebounds, checking in with his first 15-15 game since 2010.
It was definitely impressive by the Lakers, but we'll have to see how well they can keep this up from game-to-game, as they're still not 100 percent healthy or in on Mike D'Antoni's system.
Lakers 115, Mavericks 89, Final.
Let's take a look at today's box scores. Firs the Lakers: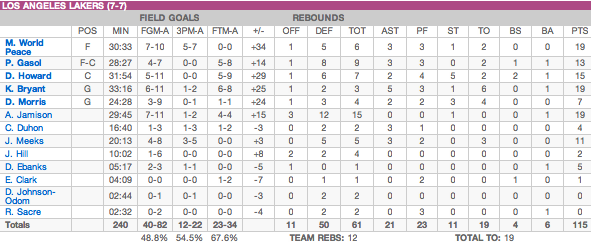 And the Mavericks: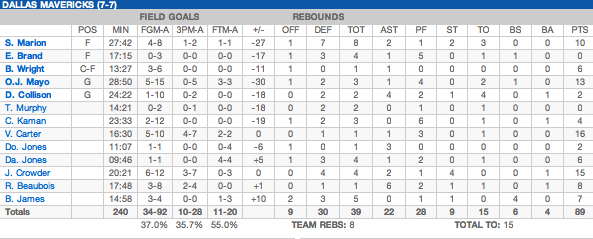 Lakers 115, Mavericks 89, Final.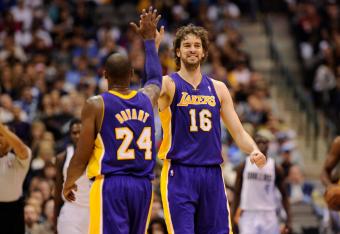 The clock runs out and the Mavericks avoid a 30-point loss, so there's that. Now it's time for us all to overreact to this one. Let the words commence.
Lakers 115, Mavericks 89 Final.
Here's the nice Pau Gasol-Dwight Howard connection from earlier in the third quarter. This is just one of 483 times we should see this happen all season long.
Lakers 115, Mavericks 87 with 0:26 left in the fourth.
Even the Mavericks commentators are cheering for Sacre at this point. They want to see him foul somebody, but they're entertained nonetheless.
Lakers 113, Mavericks 85 with 1:50 left in the fourth.
Darius Johnson-Odom comes in for the Lakers and Robert Sacre steps to the scoring table to come in for the Lakers. Tattoos and finger guns all-around.
Lakers 113, Mavericks 83 with 2:32 left in the fourth.
I'm not sure what Mike D'Antoni is doing here, he's keeping Robert Sacre on the bench with under four minutes left in the fourth in a 31-point game.
You know what we all want to see, D'Antoni, just give us some Sacre!
Lakers 110, Mavericks 80 with 3:46 left in the fourth.
I'm not sure how it happened, but 19 points on 7-10 shooting for the night and 14 points per game makes it seem true:
Mike D'Antoni: "And now, my greatest trick. Behold as I make Metta World Peace... a good offensive player! Shazam!"

— Hardwood Paroxysm (@HPbasketball) November 25, 2012
Lakers 105, Mavericks 94 with 5:17 left in the fourth.
I want to give Mavericks fans a reason to continue to watch basketball after this game (even though Troy Murphy is currently playing basketball for their team), so here's a look at O.J. Mayo's floater from the third quarter.
Yes, it is one of their best highlights of the night.
Lakers 100, Mavericks 71 with 5:54 left in the fourth.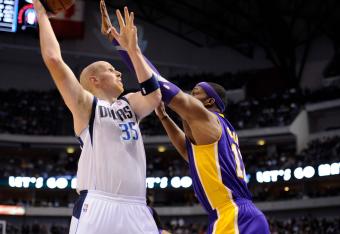 Chris Kaman picks up his sixth foul and sits down for Brandan Wright. Kaman ends this one with an atrocious four points, making two of his 12 shots.
Credit Dwight Howard and Pau Gasol for being tall and having long arms to keep him in check.
Lakers 96, mavericks 71 with 6:46 left in the fourth.
As a tribute to Antawn Jamison's first 15-point, 15-rebound game since 2010, please enjoy 'Tawn dropping 51 points on the Lakers alongside Bob Sura and Larry Hughes.
Lakers 93, Mavericks 71 with 8:29 left in the fourth.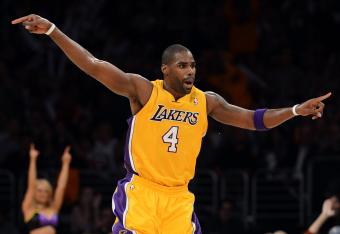 What the Lakers have done is very impressive so far tonight. They've got five guys scoring in double figures. Also, my box score says Antawn Jamison has 15 rebounds. That's gotta be the biggest typo ever, right?
Lakers 89, Mavericks 65 with 10:09 left in the fourth.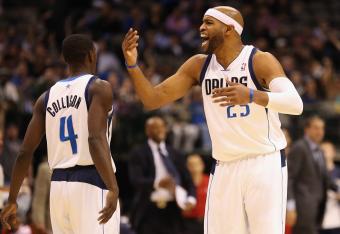 Vince Carter and Jae Crowder have shown up in the second half so far. Nobody else has for the Mavericks, but at least they have a few guys.
Oh, and Roddy Beaubois just knocked a deep-ball down. Although the Lakers are still up by 24 as the half comes to an end.
Lakers 89, Mavericks 65 after the third.
As far as rules of thumb go, this one is pretty good:
Rule of thumb is that good teams don't get blown out at home. Make what you will of the Mavs

— Ethan Strauss (@SherwoodStrauss) November 25, 2012
Lakers 86, Mavericks 59 with 0:50 left in the third.
Oh my, the Lakers may have started missing a few three-pointers, but nobody gave Chris Duhon that message as he drains a looooooong ball.
Lakers 85, Mavericks 51 with 2:50 left in the third.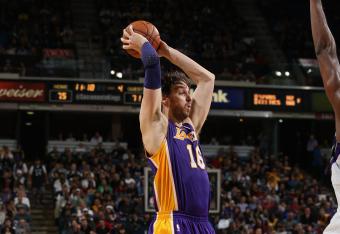 Here's a slightly hilarious look at how strangely Pau Gasol's shots have come so far this season. There seemed to be something strange going on, and that's probably because there is.
Lakers 82, Mavericks 48 with 3:33 left in the third.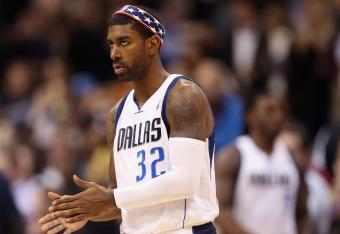 Is it sad that it feels like O.J. May has come alive in this quarter even though he's scored just once. He's one for one, which is better than his 3-9 first half, so there's that.
Lakers 78, Cavs 46 with 4:39 left in the thrid.
We've got a quick look at the highlights from the first half of this one here thanks to the wonderful Internet.
Lakers 77, Mavericks 46 with 5:33 left in the third.
Even with both teams playing sloppy shots are continuing to fall, even Dallas decided to show up a bit for this quarter.
Lakers 75, Mavericks 46 with 6:07 left in the third.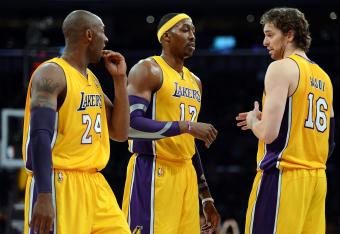 Mike D'Antoni has talked about trying to get his offense more involving for Dwight Howard and Pau Gasol. It hasn't really worked tonight with each big man at eight points and all these shots going around.
Lakers 71, Mavericks 42 with 7:55 left in the third.
A lot of sloppy play to start out the third as the teams trade turnovers and missed baskets.
Lakers 67, Mavericks 38 with 9:20 left in the third.
Los Angeles is picking up right where they left off. This one looks like it's going to be a long night for the Mavs.
Lakers 67, Mavericks 38 with 10:20 left in the third.
Here's a nice look at Roddy Beaubois' strip and steal from the second quarter:
Quite a nice little move for a guy who has been wildly disappointing so far this season.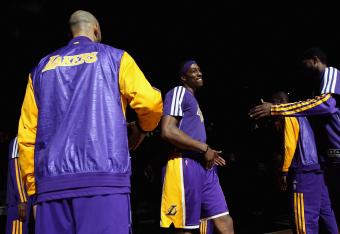 Metta World Peace is still leading the way for the Lakers with 16 points, but Kobe charged up to him with 11 points in the second to give him 15 points to go with five assists. Jamison has 11 off the bench.
Dallas is led by Vince Carter's seven points as Brandan Wright and O.J. Mayo have six points each.
Not only does Los Angeles have double the number of rebounds that Dallas has (28 to 14), they're shooting a full 20 percent better than Dallas from the floor (58 percent to 38 percent) and 60 percent better than them from the three-point line (80 percent to 20 percent)
Lakers 65, Mavericks 38 at halftime.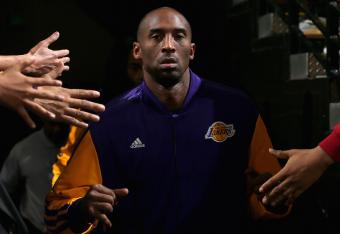 And as soon as I give him some props for the defense he leaves him enough space to knock down a three-pointer with a second left on the clock.
That is not how you defend Kobe when he's picked up his dribble.
Lakers 65, Mavericks 38 after the second.
This article is
What is the duplicate article?
Why is this article offensive?
Where is this article plagiarized from?
Why is this article poorly edited?