Stanford vs. UCLA: Live Scores, Analysis and Results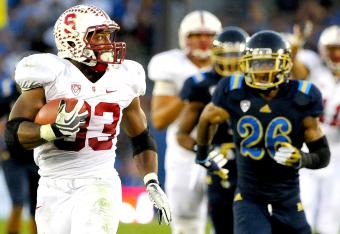 Stanford-35, UCLA-17 Final
After playing tight for the first quarter, Stanford exploded on all levels of their game to take the lead.
UCLA blew several plays on defense, but their offense absolutely stalled in the second quarter, which helped lead to their eventual defeat.
Kevin Hogan used his arm to quickly move the Cardinal down the field, and a powerful running game led by Stepfan Taylor has gave Stanford a balanced offense that wasn't stopped.
Penalties proved to be the difference maker with the Bruins garnering 12 flags for 135 yards compared to Stanford's five penalties for 55 yards.
With the Stanford victory, UCLA will get a rematch on Friday night in Palo Alto for the Pac-12 Championship Game.
Bradford M. Freeman Director of Football David Shaw is the first head coach at Stanford to reach 10 wins each of his first two seasons

— Stanford Football (@StanfordFball) November 25, 2012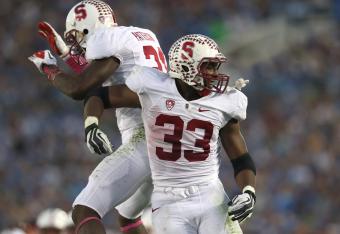 Game Ball for me goes to Stepfan Taylor with ease. He's proved that he's one of, if not the, best running backs in the Pac-12.
20 carries for 142 yards and two touchdowns with 3 receptions for 27 yards.
Taylor also had some huge blocks that set up great plays for Kevin Hogan.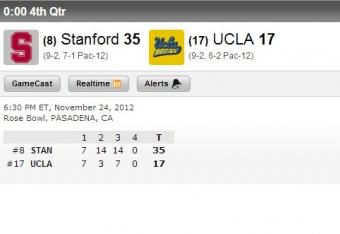 Here's your final from the Rose Bowl.
Hogan's knee goes to the ground and Shaw and Mora run out to mid-field to shake each other's hands.
They'll be seeing each other in six days in Palo Alto.
UCLA failed to convert on fourth down in the red zone on a dropped pass (which I could have caught.)
2:30 left in the game and Stanford comes out in the Power-I formation which means they're running out the clock.
Man 7 sacks tonight for the Stanford defense.
If I was the offensive line for UCLA, I'd be buying Hundley a nice steak dinner as an apology for their shotty protection tonight,
Penalties have been the major difference maker in the game tonight.
UCLA: 10 for 115 yards
Stanford: 4 for 40 yards.
Stanford leads UCLA 35-17.
David Parry brings Hundley down on the first play of the possession.
UCLA's youth on the offensive line has showed tonight, that was the sixth sack of the game for Stanford.
#UCLA fails to convert on that 4th down and there is a mass exodus to the parking lot. I'm talking biblical.
— Jacob Ruffman (@JacobRuffman) November 25, 2012


I'm honestly surprised it took them this long to finally begin to leave the game. The Bruins play tonight has been down right embarrassing.
Even I'm embarrassed that I thought highly of this team heading into the game tonight.
If Stanford is smart, they would just grind this one and run out the clock. There's no point in going through the air when you're up by 18 with less then 7 minutes left on the clock.
Hundley's play tonight is a perfect example of why arm strength should not be a good measure of a quarterback's ability.
It really doesn't matter how far you can throw a football if you can't be accurate enough to complete it to your receiver.
This is pretty odd considering how accurate he's been thus far this season.
UCLA finally can convert a first down with a 5-yard pass by Hundley.
Made a mistake in not breaking off a run on the following play.
Well if there's a silver lining in this, UCLA has scored more points against Stanford than Oregon did.
— Jacob Ruffman (@JacobRuffman) November 25, 2012


They've also given up more points than Oregon.
Good news for UCLA was that Stanford missed the field goal, but they still need to score some serious points here.
9:46 to score 18 points and tie the game.
Hey UCLA, you can force fumbles all you want, but you actually have to jump on the football to get possession.
Nice play by freshman Andrus Peat there to scoop up the loose ball.
Peat was a pretty big steal for the Stanford recruiting class.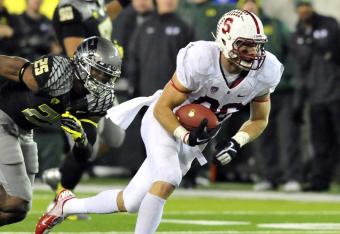 Just give Zach Ertz the Mackey Award right now.
The kid deserves it after that deep throw on 3rd-and-4.
Stat line so far: 5 receptions for 71 yards.
Defensive holding absolutely killed it for the Bruins.
Interception taken back and automatic first down for Stanford.
Looks like UCLA did "want some more,"...penalties that is.
UCLA coaches doing a nice job of firing up their players.
Huddled up and began chanting "We want some more" in-between quarters.
Bruins NEED a stop here. There's no debating it.
If Stanford can even come away with a field goal on this drive, UCLA will continue to shower the dirt in their grave.
Penalties continue to hurt the Bruins.
The 11-yard run by Franklin for a touchdown will still stand, but a personal foul and an unsportsmanlike conduct will hinder the Bruins on special teams.
Whoa! Looks like I spoke too soon!
After a nice run and pass from Hundley, Jonathan Franklin pounds the ball in for a UCLA touchdown.
We'll see if the Bruins can continue to fight back in this one. Only down by 18 with still a quarter left.
Before tonight, I had Brett Hundley ahead of Kevin Hogan in my Pac-12 quarterback rankings, but with the way tonight has gone, Hogan easily moves ahead of Hundley.
Hundley has just looked awful tonight.
Hogan however has used both his legs and arm to lead this Stanford offense.
Touchdown Stanford
Things have officially gotten out of hand.
On the ensuing kick-off, UCLA fumbled the ball which was returned for a touchdown by Stanford to give the Cardinal a 35-10 lead with 7:25 left in the 3rd quarter.
Looks like Stanford will be coming back to the Rose Bowl on New Years Day.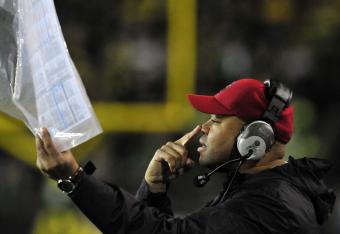 Huh. According to Fox Poll on most impressive job by a Pac-12 coach, Shaw is in last place.
Chip Kelly- 54%
Jim Mora- 23%
David Shaw- 6%
Mike Reilly- 17%
Those are some pretty uneducated voters. No one has been more impressive than Shaw. He's proved that there's more to Stanford than Jim Harbaugh and Andrew Luck.
With the way it stands, Shaw's team will have beaten all three coaches.
Touchdown Stanford
Stepfan Taylor proves he too is a difference maker with his second touchdown of the game, this one from one yard out.
This article is
What is the duplicate article?
Why is this article offensive?
Where is this article plagiarized from?
Why is this article poorly edited?