South Carolina vs. Clemson: Live Scores, Analysis and Results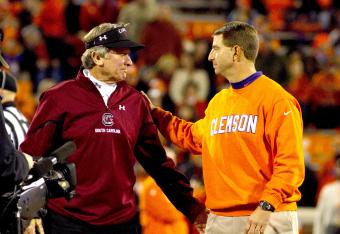 Final Score: South Carolina 27, Clemson 17.
Dylan Thompson had a monster game with 310 yards and three touchdowns passing, and 38 more yards on the ground. On the other side of the ball, Jadeveon Clowney finished with five sacks and seven tackles in a monster game.
Steve Spurrier becomes the winningest coach in USC history.
Browse below for plenty of analysis, tweets, video and more.
Check out our "10 Things We Learned from USC's Win Over Clemson" recap!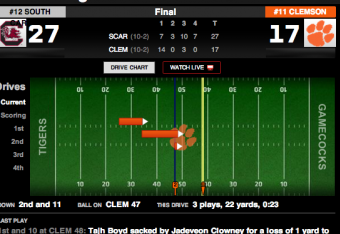 Here's the quarter-by-quarter box score of USC's 27-17 win over the Clemson Tigers.
Jadeveon Clowney pads his stats like a WonderBra, with his fifth of the night to end the game.
Steve Spurrier becomes the winningest coach in USC history.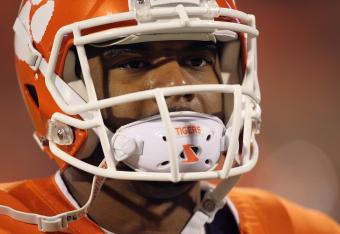 South Carolina about to take its fourth straight win in this rivalry. Brutal loss for Clemson, and for Boyd's Heisman hopes.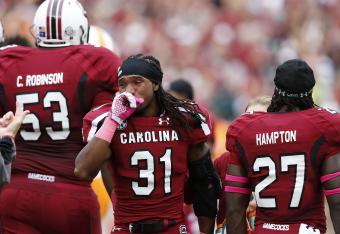 Good to see Kenny Miles back in. Lowers his shoulders and lays a hit in the backfield on a run that moves the chains. Clemson can't stop the run when that's all they need to do. Things unraveling for the Tigers, and this one's about over.
More like Deandre "Drop"kins right there.
Let's be fair though—he made a phenomenal play earlier. Let's look at that video and remember the better times for Clemson.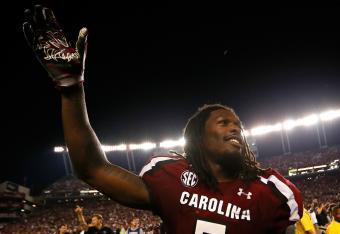 Jadeveon Clowney has four sacks in a critical game. This is the kind of game scouts drool over.
Seems a little early, doesn't it? I mean, they've got all their TOs.
The exits are fillng up with Clemson fans now.

— Greg Wallace (@aimclemson) November 25, 2012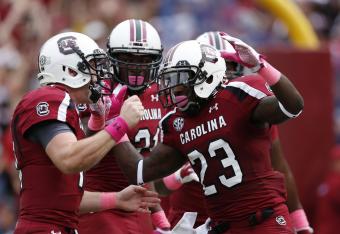 Bruce Ellington may have the last laugh in this Ellington battle. Unless the Duke is resurrected, that is.
Thompson scurries around and finds Ellington in the end zone. 27-17, USC.
Dylan Thompson with a 20-yard gain on third and 19. That's unacceptable defense by Clemson. How you blitz without spying the QB there is beyond me.
USC with the 1st and goal.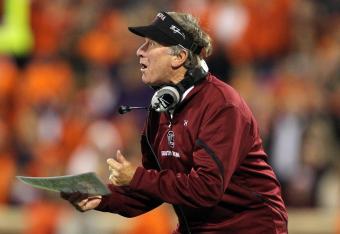 USC has looked disorganized on a lot of these sets. They've cost themselves some timeouts needlessly.
Fourth and short—excellent QB sneak by Thompson up the left B gap. Kind of a Tom Brady-like sneak.
A substitution infraction by USC backs them up to Clemson's 22, but they're marching. A TD might put this away.
Valid question. He hasn't taken over in a crucial game in which Clemson has lacked scoring punch.
Last year, Clowney and Watkins looked like a potential 1-2 combo at top of the '14 draft. Clowney still resides there...Watkins?

— Travis Sawchik (@travis_sawchik) November 25, 2012
USC is calling screen after screen after screen with success. You have to think that Swinney will eventually draw his corners up in press. We'll see if that happens, and if Thompson takes a deep shot at that point.
Brison Williams jumps the route and makes a huge INT. The pass was forced by interior pressure from—who else? Jadeveon Clowney.
Game is getting sloppy— as the defenses are digging in, the offenses are pressing.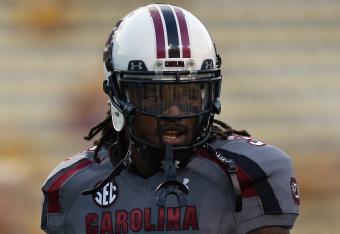 You guys remember that feature they used to run on that one network (I forget which one) called "Jacked Up?" They'd show all the teeth-grindingly painful hits of the day on that show. DJ Swearinger's hit belongs there.
And he gets flagged for a personal foul.
Clemson gets the ball after a great pic by Brewer in the end zone.
Oh, and then there's this (per Clemson alum CJ Spiller, now with the Buffalo Bills):
Man what the heck are these refs calling are you serious let them play this a rivalry game

— CjSpiller (@CJSPILLER) November 25, 2012
Brewer again! He got his redemption quick. I guess he likes his revenge best served microwave-fresh.
Xavier Brewer with sack on the CB blitz after the PI call.
Brewer just took out his aggression on Thompson. Huge corner blitz sack.

— Greg Wallace (@aimclemson) November 25, 2012
Yet another questionable DPI called against Clemson on a crucial play—this one on 3rd and 9.
Crowd calling B.S., and I don't mean "banana sandwich."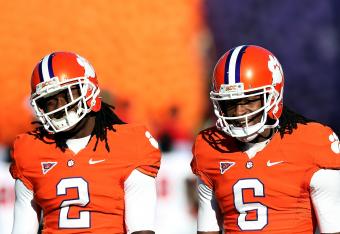 Between Adam Yates pounding balls past the endzone for touchbacks and tight Gamecock defense, the dynamic Clemson duo of Deandre Hopkins and Sammy Watkins has combined for just four touches (three from Watkins). Clemson needs more from them in this final quarter.
Huge play—USC goes for it on 4th and 11. The pass is broken up but DPI is called against Clemson. Pretty tough call, especially on 4th down. Not really enough there to justify it.
USC goes for it on 4th down and gets a pass interference call on Clemson. Big penalty and break for South Carolina.

— Gamecock Anthem (@GamecockAnthem) November 25, 2012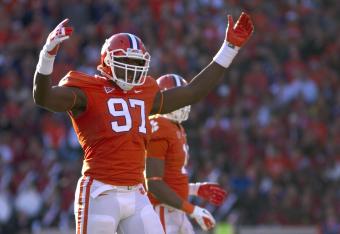 Clemson's front finally contains Thompson with a four-man rush. Smart to keep tacklers downfield.
Garry Peters is not exactly Antoine Winfield-like in regard to tackling

— Travis Sawchik (@travis_sawchik) November 25, 2012
Yet another swing/screen outlet in a crucial 3rd down situation. Gamecocks looking like the Patriots.
Well, except for the fact they've got a competent defense.
Ace Sanders is apparently trending on Twitter. If "Ace" wasn't a cool enough name, I'd nickname him "Colonel."
He's a fighting rooster, after all. The humor works on several levels.
This article is
What is the duplicate article?
Why is this article offensive?
Where is this article plagiarized from?
Why is this article poorly edited?