Oregon vs. Oregon State: Live Scores, Analysis and Results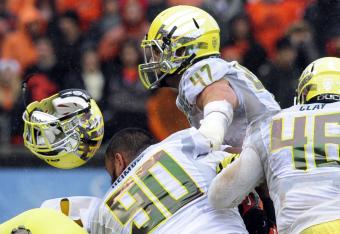 Steve Dykes/Getty Images
Please click on this link to read "10 Things We Learned From the Ducks' Win vs. Oregon State" http://bleacherreport.com/articles/1420442-oregon-football-10-things-we-learned-from-the-ducks-win-vs-oregon-state
Oregon wins it 48-24.
Too many turnovers by the Beavers; too much Oregon Ducks in the third quarter.
Ducks' running game returns, and then some. Oregon got a big game from RB Kenjon Barner in the first half, and when he went down with an injury, De'Anthony Thomas took over in the second half. Add to those two great running backs the play of Oregon QB Marcus Mariota.
Is it my imagination, or is Mariota getting faster?
The Beavers made a game of it in the first half. OSU came to play and it appeared that the Ducks were in for it early on. But Oregon took over the line of scrimmage early in the third quarter, and then—as they have done so often this season—simply wore the Beavers down.
Make it five straight for the Ducks.
There's always next year, Beavs.
Kay Jennings is a member of the Football Writers Association of America.
https://twitter.com/KayJenningsPDX
Friendly handshake between Riley and Kelly. Put this 116th version of the Civil War in the can. Ducks win the 5th straight.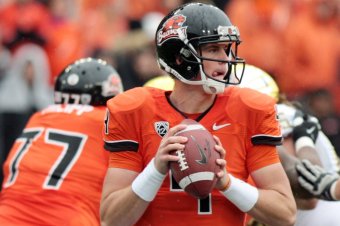 Scott Olmos-US PRESSWIRE
Sad OSU fans in the stands. Buck up, kids, it was still a good season for the orange and black.
I bet Mike Riley wishes Chip Kelly would move on to the NFL. This win will make Chip 5-0 in the Civil War.
Mannion is looking like the Washington game wasn't a fluke. I like this kid, but I'm starting to doubt.
Uh-oh. Brandin Cooks is down and he looks hurt.
Is that Oregon's trainer, Jim Radcliffe, on the Ducks' sidelines in a tee-shirt? What's he trying to prove? Someone tell him it's almost December.
Once a Duck, always a Duck:
Time out did Oregon run same play for 6? With Byron marshal lol wow

— LaMichael James (@LaMichaelJames) November 24, 2012
Ted Miller is actually telling the Mariota/Bennett spring competition story? Haven't we covered that one by now?
Can you believe the ref taking away the freshman Byron Marshall's fine TD run? Darn those stripes.
Because this one is starting to get a little boring, let's look at what else is happening out there:
RT @rboydstun_educk: Update from Tallahassee: FSU 17, UF 13. 3Q

— Chris Courtney (@Courtney_247) November 24, 2012
Oregon is wearing down Oregon State, just like all but one of the other teams it's played this season.
Scott Olmos-US PRESSWIRE
Great catch by Markus Wheaton from Mannion. Me thinks it's too little too late.
Watching this game, it's tempting to ask how the heck did Oregon lose to Stanford?
Looks like some orange people heading for the exits. C'mon, man, it's not over.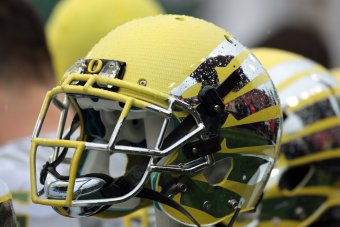 Scott Olmos-US PRESSWIRE
The Ducks are making the Beavers look like amateur hour on the kickoffs.
From B/R's own Lisa Horne:
Oregon State actually didn't field a punt returner on the last Oregon punt.... that's how bad its special teams has been.

— Lisa Horne (@LisaHorne) November 24, 2012
What's going on with these attempted kickoff returns? Both teams look awkward.
Markus Wheaton never, ever had that kickoff catch. Ducks' football yet again.
OK, so do we like De'Anthony Thomas' haircut?
Beavers go nowhere fast and the Ducks get the ball back.
Do you suppose Oregon will try a field goal? Yes, that was a snarky remark.
Mike Riley just said a bad word on the sidelines. It's getting tense, folks.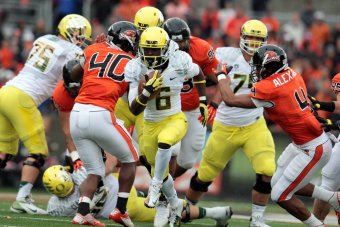 Scott Olmos-US PRESSWIRE
I think the Beavers—and quite possible the refs—ticked off De'Anthony Thomas.
Can't catch that.
That sound you hear is the Oregon band playing the fight song yet again as the Ducks try a funky kickoff and it works. Ducks recover as the Beavers can't get the handle.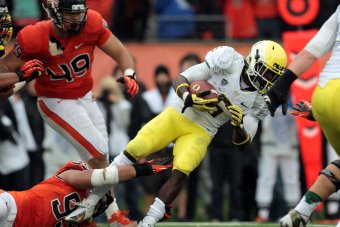 Scott Olmos-US PRESSWIRE
Mariota almost does a Joey Harrington, but comes up just short of the goal line.
DAT keeps those fast feet moving and shuts up the OSU crowd. Touchdown, Ducks.
The Ducks are trying real hard to answer the Beavers' touchdown. Freshman Byron Marshall in at RB for the Ducks.
It's getting a little chippy on the field. Just like every other year for 116 years.
This article is
What is the duplicate article?
Why is this article offensive?
Where is this article plagiarized from?
Why is this article poorly edited?

Oregon Ducks Football: Like this team?