Oklahoma State vs. Oklahoma: Postgame Grades from Sooners' Win vs. Cowboys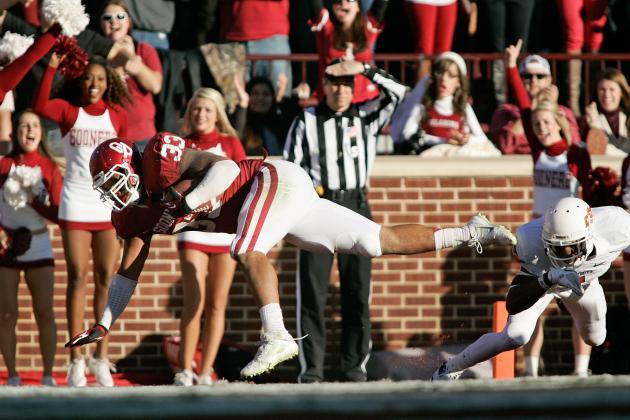 Brett Deering/Getty Images
The Bedlam Rivalry lived up to its billing with an overtime thriller Saturday.
The Bedlam Rivalry between No. 13 Oklahoma and No. 21 Oklahoma State lived up to its billing Saturday. For the first time in the history of the Bedlam Rivalry, it took overtime to decide a winner as Oklahoma came back to beat Oklahoma State 51-48 to improve to 7-1 in conference play.
Here are the postgame grades and analysis for the Sooners against Oklahoma State.
Begin Slideshow

»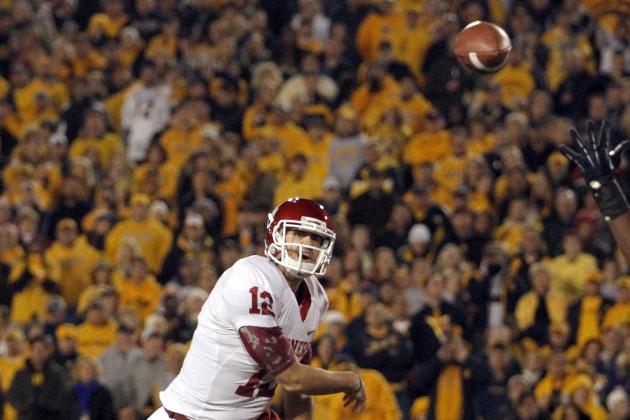 Justin K. Aller/Getty Images
Landry Jones looks to move the Sooners one step closer to a Big 12 title.
Overall Game Grade—B+
Jones had a record-breaking day in his last rendition of the Bedlam Rivalry. He threw 71 passes—completed 46 for 500 yards and three touchdowns.
He was spot on for the majority of the first three quarters. The fourth quarter showed a bit of fatigue—not only from Jones, but from his receivers. Still, they connected enough to do what needed to be done.
Jones is the winningest QB in Oklahoma history and broke the Big 12 record for career passing yards. He had three receivers with over 100 yards and hit seven different receivers.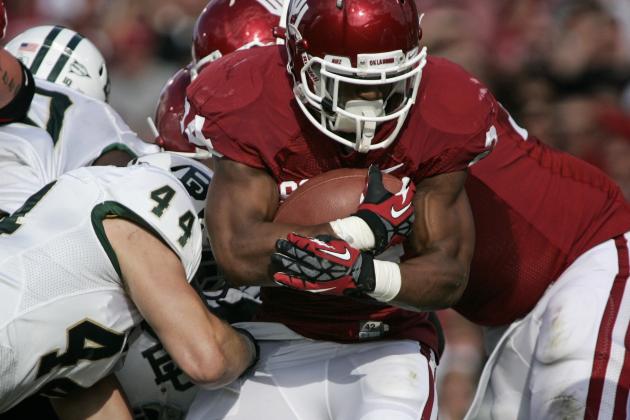 Brett Deering/Getty Images
Brennan Clay had the game-winning touchdown against Oklahoma State.
Running Backs—B
The running backs weren't much of a factor for the Sooners. With 71 pass attempts and just 30 rushes, it wasn't a big day for the ground game.
Oklahoma managed to record 106 yards on the ground and, oddly enough, scored the game-winning touchdown on a rush.
Brennan Clay—B-
Brennan Clay led all Sooner rushers with 59 yards on 13 carries and a touchdown. That touchdown was the biggest one of the day—an 18-yard scamper in overtime to give Oklahoma the win.
Clay also caught three passes for 12 yards.
Trey Millard—B+
Trey Millard doesn't get a lot of carries, but he makes the most of them. He had five rushes for 33 yards and added three receptions for 28 yards and Oklahoma's first touchdown.
Millard was versatile as a blocker, rusher and pass-catcher. He was a valuable asset to the Sooner offensive attack.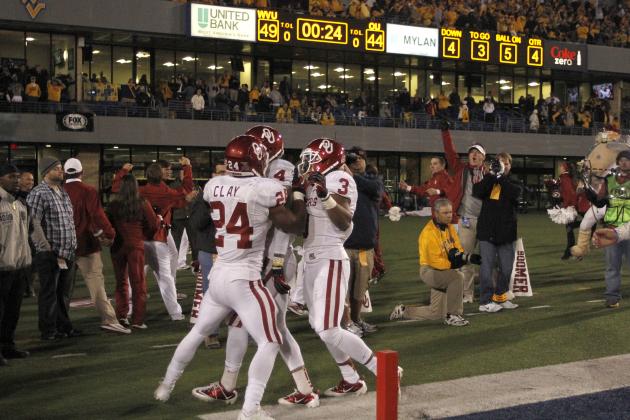 Justin K. Aller/Getty Images
Kenny Stills and his receiving group put up huge numbers in the win.
Wide Receivers—A-
The Sooner wide receivers benefitted from 71 pass attempts and put up some big numbers. Jones threw for over 500 yards and three receivers recorded 100-yard games. Too many drops in the fourth quarter were the only hindrances to a flawless grade.
Jalen Saunders—A
Jalen Saunders had the best statistical day for Oklahoma. He recorded 10 catches for 162 yards and a score. Saunders made nearly every catch and had a breakout game for Jones as a third option.
Kenny Stills—A-
Kenny Stills had nine catches for 103 yards and a touchdown, but he had a few drops in the fourth quarter that could have cost his team. Fortunately, the Sooners were able to overcome the drops.
Stills did have a highlight-reel catch at the end of the first half. He tipped the ball to himself and away from a charging defender to reel in a touchdown and tie the game at 24 late in the first half.
Justin Brown—A
Justin Brown was Jones' favorite target. The two connected on 15 passes for 146 yards. It seemed like every time Jones needed a big third-down conversion, it was Brown on the receiving end.
Brown didn't find the end zone, but he caught enough first downs to earn his grade.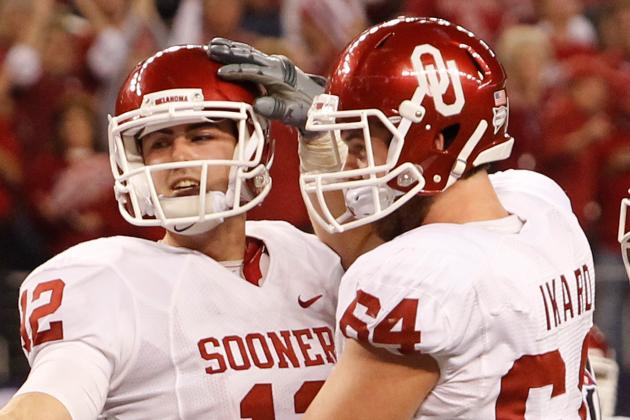 Tom Pennington/Getty Images
Center Gabe Ikard anchored an offensive line that didn't get tired despite 71 pass attempts from Landry Jones.
Offensive Line—B+
The offensive line was able to adjust to a high-flying game plan. Jones had 71 pass attempts and was sacked just once.
The Sooners recorded over 500 yards through the air and another 100-plus on the ground. It is difficult for linemen to sit in pass protection for so long and still be able to fire off the ball on the seldom-called run plays—but they did.
A total of 44 first downs prove just how effective the Oklahoma front line was. Oklahoma played from behind for the majority of the game, but the offensive line held up for over 10 minutes of possession time in the fourth quarter to send the game to overtime.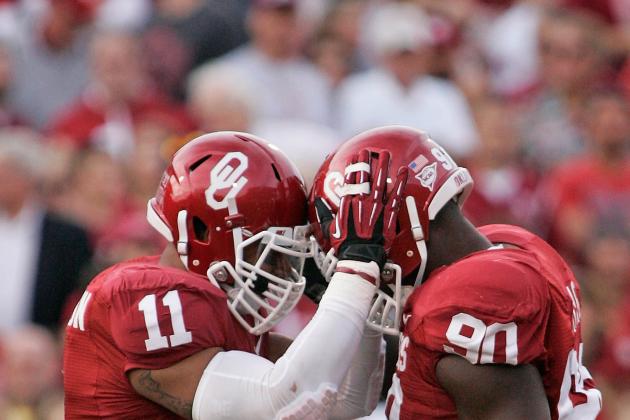 Brett Deering/Getty Images
David King and the Sooner defensive line made just enough stops to steal a win.
Defensive Line—B-
These defensive slides will have a very similar tone. Giving up 490 yards of offense and 48 points isn't a good performance.
Oklahoma State rushed for five touchdowns—including four from Joseph Randle. The Cowboys put up over 200 yards on the ground, but couldn't find the end zone in overtime.
The Sooner defensive line recorded three sacks.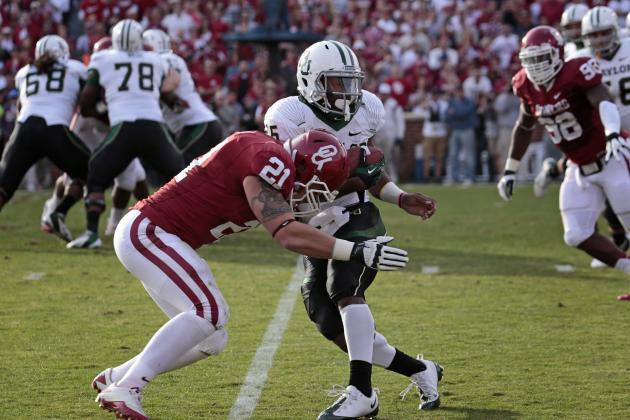 Brett Deering/Getty Images
Tom Wort had a tackle-for-loss and a sack against Oklahoma State.
Linebackers—B
Oklahoma State's offense is the best in the conference. Stopping their balanced attacked that uses multiple QBs and has playmakers all over.
The Cowboys had a 100-yard rusher and a 150-yard receiver, but the linebackers managed to put up respectable stats. Tom Wort recorded a sack and tackle-for-loss. Corey Nelson provided four tackles and nickelback Gabe Lynn added a pass breakup and another tackle-for-loss.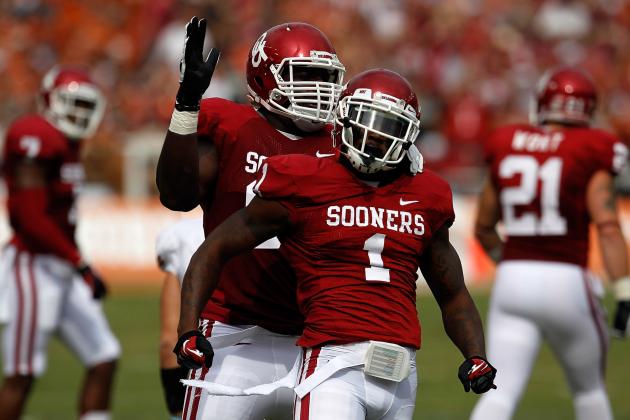 Tom Pennington/Getty Images
Tony Jefferson led the Sooners with 14 tackles.
Defensive Backs—B-
Making his first road start of his career, Clint Chelf put up impressive numbers against the Oklahoma secondary. He went 19-of-37 for 253 yards, a touchdown and an interception.
WR Josh Stewart caught 11 passes for 150 yards.
The defense, led by safety Tony Jefferson, broke up five passes and had four tackles-for-loss.
The Sooners earned managed to dig in during the most crucial times. They held Oklahoma State to a field goal in overtime and just one touchdown in the fourth quarter—after giving up 38 points in the first three quarters.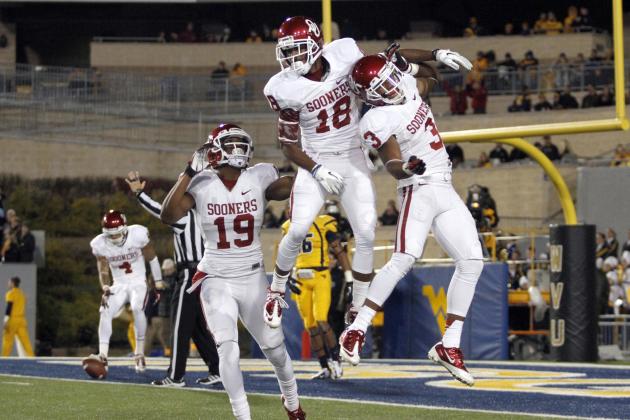 Justin K. Aller/Getty Images
The Jalen Saunders punt return touchdown changed the flow of the game and catapulted the Sooners to the win.
Special Teams—B+
One play can often change the course of a game. That play happens often on special teams—especially in rivalry games. This year's Bedlam Rivalry featured one of the best special-teams plays of the season.
Trailing by eight in the fourth quarter, Oklahoma needed a spark. Jalen Saunders snagged the punt and returned it 81 yards for the touchdown to provide that spark.
The defense held for the majority of the quarter. The offense battled back and the Sooners stole a win.
Michael Hunnicutt went 3-of-4 kicking field goals and the Sooner coverage teams held Oklahoma State in check during a game where punts came at a premium.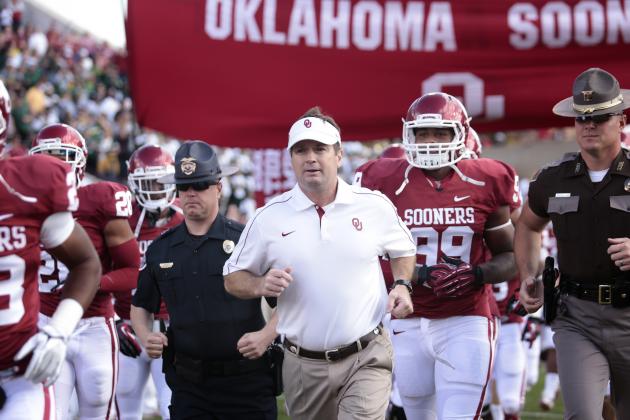 Brett Deering/Getty Images
Bob Stoops is one win away from a share of the Big 12 title.
Coaching—B-
To summarize all that has been said earlier, this game was the type of game where coaches will laugh about it if they win and snap if they lose. It is doubtful that either coaching staff imagined this game would play out that way.
With over 1,100 yards of offense, it was expected to be a shootout but nothing of that proportion.
The Sooners managed to make just enough of the right calls to win the game. There weren't many adjustments made from one half to the next, but that was largely due to the environment and flow of the game.
It simply was a game where offenses dominated.
One statistical testament to the coaching staff—Oklahoma was penalized just three times for 15 yards. That discipline was the difference in a hard-fought battle between these two talented programs.