Oregon Football: 10 Things We Learned from the Ducks' Win vs. Oregon State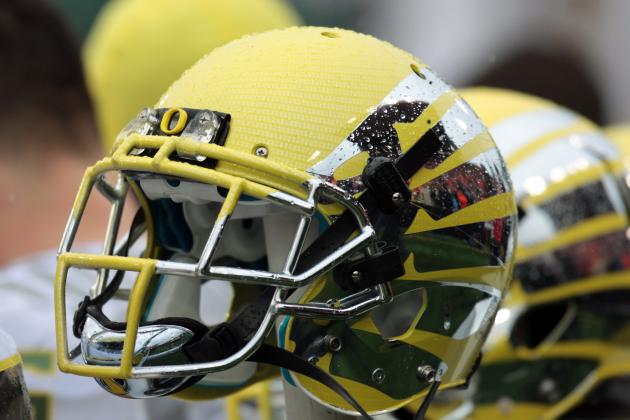 Scott Olmos-US PRESSWIRE

Put the 116th Civil War in a time capsule and bury it. With everything at stake, this one ended up being just another Ducks' clinic. If you're counting, that's five straight for the Ducks.
The Oregon Ducks win it 48-24, and keep alive their chances at, well, everything. Depending on outcomes later Saturday and what the silly BCS computers do on Sunday, Oregon could still be headed to the BCS National Championship Game in Miami on Jan. 7, the Rose Bowl or possibly the Fiesta Bowl.
The Oregon State Beavers will also go bowling somewhere, most likely the Holiday Bowl in San Diego. If you had asked Beaver fans last summer if the Beavers would become bowl eligible in 2012, most would have said "probably not." So, while the Civil War outcome was a disappointment to Beaver Nation, this season still has to be considered a success for OSU.
This game was highly instructive and taught us much. Here's what I learned.
Begin Slideshow

»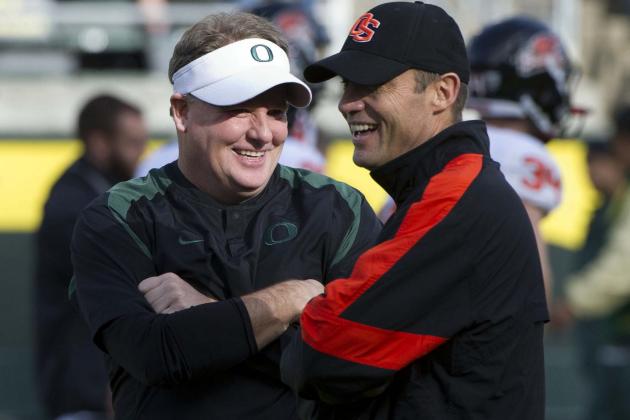 Jim Z. Rider-US PRESSWIRE

Fans around the Pac-12 Conference, particularly in Los Angeles, Berkeley and Seattle must have watched the Civil War and asked, "Why can't we have a coach like that?"
There is a reason why Oregon and Oregon State are two of the best teams in the conference, indeed, in all the land this year. Two reasons, actually—Chip Kelly and Mike Riley.
These two head coaches, while stylistically miles apart, are a credit to the sport of college football. Both are students of the game and are highly competitive, while not losing sight of their humanity. One grew up here (Riley) and one didn't, but both men are representative of the people of Oregon.
You will never see Mike Riley or Chip Kelly berating their players on the sidelines, or, for that matter, even losing their composure.
The state of Oregon is very lucky to have these two head coaches at these two universities.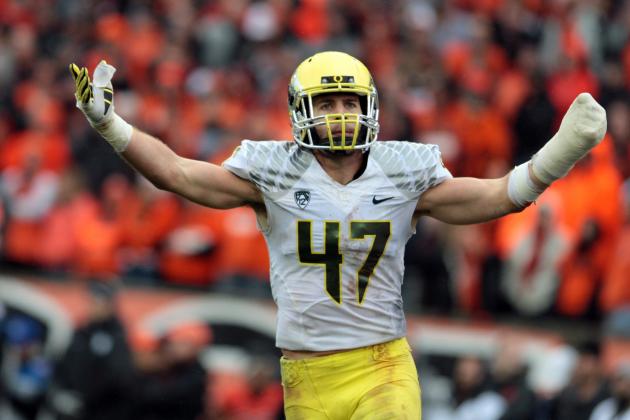 Scott Olmos-US PRESSWIRE

After being stunned in overtime by Stanford last weekend and watching their dreams flush down the toilet, the Ducks came roaring back on rivalry weekend.
Oregon could have had a week-long pity party, and ruined its entire season. But good coaching and quality kids prevented that from happening. I know several fans who weren't yet over the loss to that dang Tree. It's a testament to the Oregon program that the Ducks were able to regroup against a very, very good Oregon State team and pull out the W.
Great teams don't let one devastating loss beat them twice. The Ducks proved that they are a great team with this win.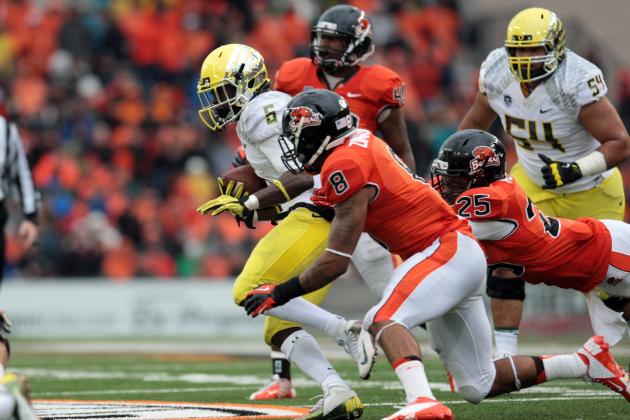 Scott Olmos-US PRESSWIRE

Oregon State has had a magical season. Starting with the unexpected win over Wisconsin, the Beavers overachieved all year. Their win at UCLA in the Rose Bowl is looking better and better every week, and OSU only looked bad in one game (at Washington).
However, it is a long, long way from 3-9 to a BCS bowl. And while this 2012 Beaver team came way closer than most expected, they understand now how hard it is to get to that elite status. Take away those interceptions by Sean Mannion in Seattle, and a couple of plays in the Stanford game, and the Beavers are knocking on the BCS door.
That's the minuscule difference between very good and elite. And between the Pac-12 Network and prime time on ESPN.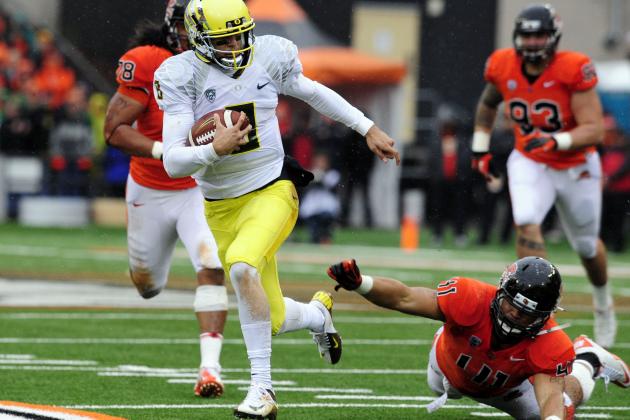 Steve Dykes/Getty Images

If Hawaii weren't already a state, we should make it one for raising Marcus Mariota in such spectacular fashion.
All of the former Oregon quarterbacks who hold all-time records have to be holding their breath about now, because this redshirt freshman is about to smash them all. If Mariota stays healthy and stays in school, you will be telling your grandchildren that you saw the Flyin' Hawaiian play the year this star was born.
After looking like the 19-year-old he is last week against Stanford, Mariota bounced back like a veteran. He had 140 yards passing for one touchdown and no interceptions, plus he rushed for 85 yards. Mariota's rushes seemed to come at just the right time for the Ducks.
And he looked like he was wearing De'Anthony Thomas and Kenjon Barner's shoes...very fast.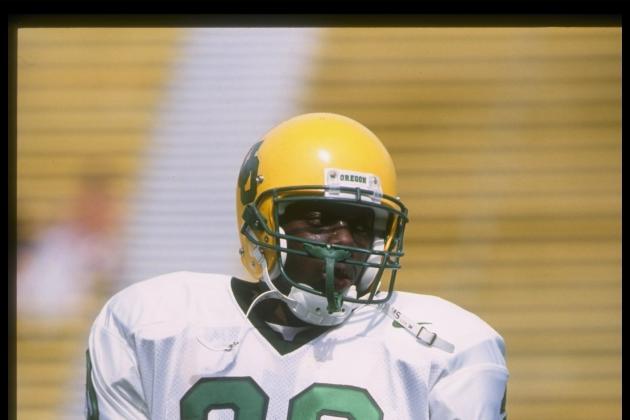 Otto Greule Jr/Getty Images

Markus Wheaton has had a terrific season for the Beavers. The senior wide receiver out of Chandler, AZ, has put up great stats all year and made great catches when his team needed him.
But Markus Wheaton is still not in the same category as his cousin, Kenny. Icon and legend Kenny Wheaton made one play that, arguably, turned around the entire Oregon football program. His pick-six of a Washington pass in 1994 that sent the Ducks to the Rose Bowl is looked at as one of the most important plays ever in Oregon history.
Markus Wheaton is a very good player, and one could make a case that he has been an important cog in turning around the Beavers program.
But he didn't do it single-handedly like his cousin Kenny.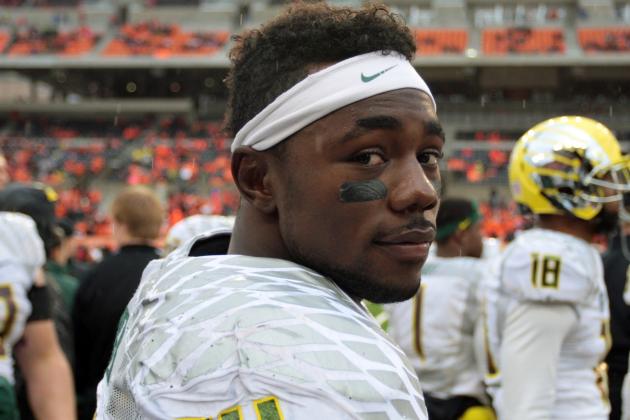 Scott Olmos-US PRESSWIRE

"Pretty Boy" Barner is back.
I have no idea if Barner really puts fragrance in his shoes as his best friend, LaMichael James, insists. But I do know that Oregon's star running back is comfortable in his own skin...and shoes.
After an un-Barner-like performance against Stanford, the real Kenjon Barner showed up at Reser Stadium. Even with an injury at the end of the first half, Barner still finished with 221 yards rushing and two touchdowns.
Barner was tough, gritty and smart against the Beavers. You would like to think he put himself back in the Heisman Trophy discussion.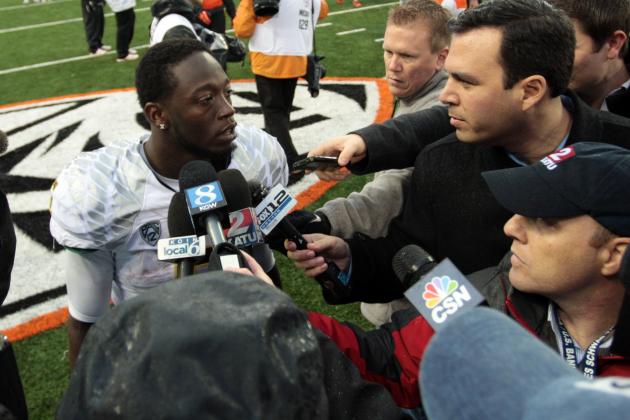 Scott Olmos-US PRESSWIRE

The happiest person in Reser Stadium today was the newly-shorn De'Anthony Thomas.
De'Anthony "What Sports Illustrated Curse?" Thomas came roaring back to the top drawer of college football in the Civil War. He had 122 yards and three touchdowns, mostly while in for the injured Barner.
They weren't easy yards. The Beavers were taking it to DAT; some might say a little overly aggressive. But the little guy gave as good as he got, and he came out on top.
It's nice to see Thomas in the highlights again.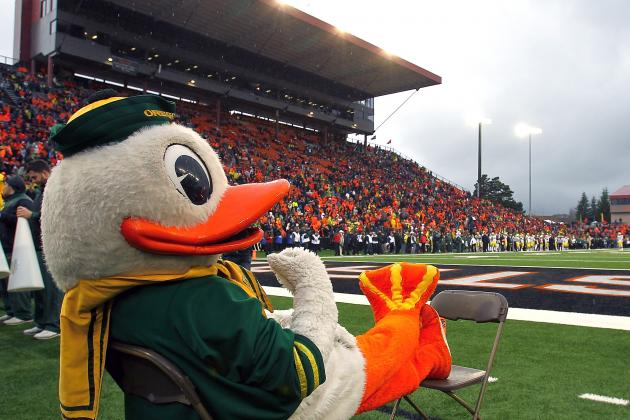 Jonathan Ferrey/Getty Images

First, thousands of people all over the country, including many former Oregon and Oregon State players, didn't realize until Saturday that they couldn't see the Civil War on TV. They either couldn't get the Pac-12 Network on their system, or they didn't understand that they needed to upgrade their deal.
That's a communication issue for the conference.
Second, didn't it seem like we missed kickoffs and certain plays coming back from commercial? I thought so.
Third, that poor sideline reporter. You had to feel for the guy trying to get something more than grunts out of Oregon head coach Chip Kelly. Kelly is the kind of coach who does not suffer fools gladly. You had better be prepared with some intelligent questions.
No intelligent questions anywhere to be seen Saturday.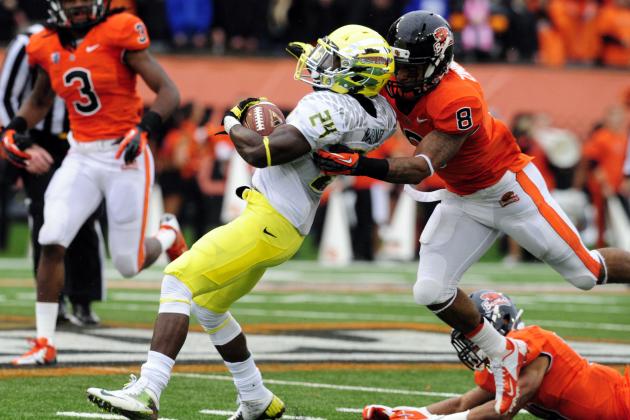 Steve Dykes/Getty Images

Early on in the Civil War, I thought I would be writing a different piece when it was over.
The Beavers came out strong and determined, and Beaver Nation was forceful in its support. Even after the Ducks got a quick score, OSU did not fold.
During the first half, the Beavers were completely in it, playing hard on every down. It wasn't until Oregon turned on the after-burners in the third quarter that the Beavs lost their composure.
Hey, someone tell OSU that it happens to Oregon's opponent nearly every week. Nothing to be ashamed of.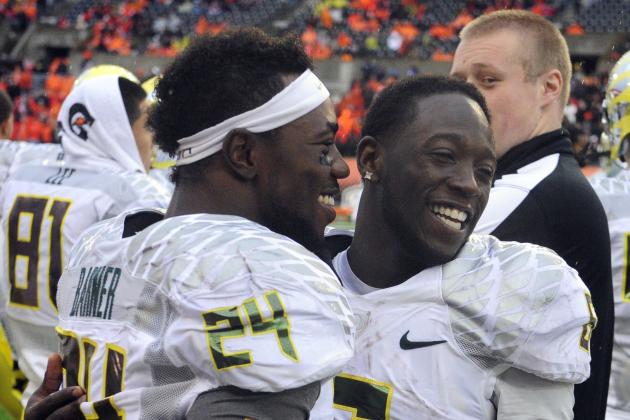 Steve Dykes/Getty Images

The Ducks say they love the friendly confines of Autzen Stadium, but I wonder.
It seems that Oregon has played with more focus and determination on the road this season than they have at home. The Ducks appear to be more of a true team on the road than they do in Autzen.
When this season is over—and it's not over quite yet—we will analyze the home/away stats and get back to you.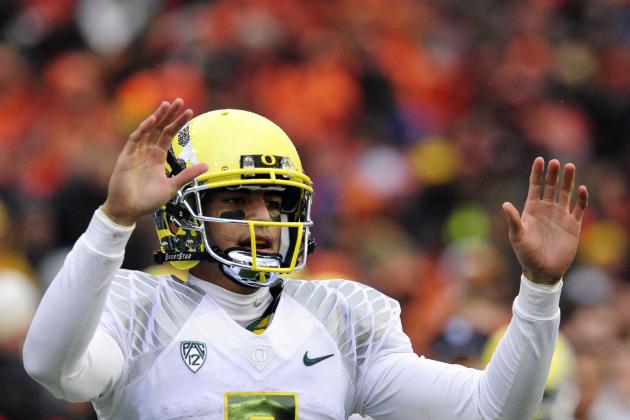 Steve Dykes/Getty Images

Yes, this is the No. 11 slide in a 10-slide article, but I must throw in one more thing.
And now, Duck fans everywhere just sit and wait to learn their destiny. Are you good at sitting and waiting?
Me neither. Not controlling your own destiny, Ducks, is for the birds.
Kay Jennings is a member of the Football Writers Association of America.