Notre Dame vs. USC: Unit by Unit, Who Has the Edge?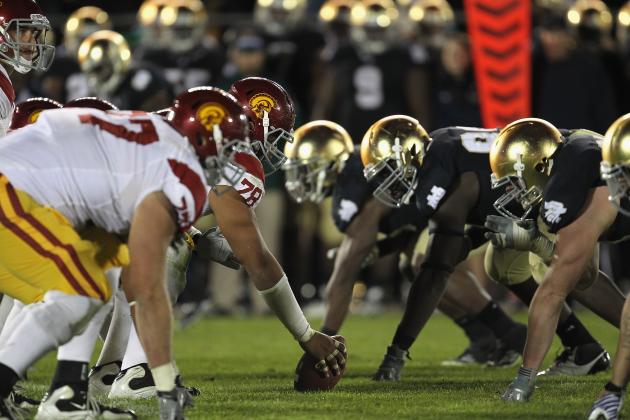 Jonathan Daniel/Getty Images

Notre Dame (11-0) and USC (7-4) have been bitter rivals since the series began in 1926, and you better believe the Trojans hope to ruin the Irish title hopes.
Each program has won 11 national titles and boasts seven Heisman Trophy winners.
This one is for all the marbles.
If the Irish win, they go to the BCS title game for the first time.
With Matt Barkley out, this game plays right into their hands.
Six of Notre Dame's 11 wins have been by seven or fewer points, and you better believe freshman quarterback Max Wittek will struggle against the Irish defense.
Read on for a unit-by-unit comparison of the two competitors in the Game of the Week.
Begin Slideshow

»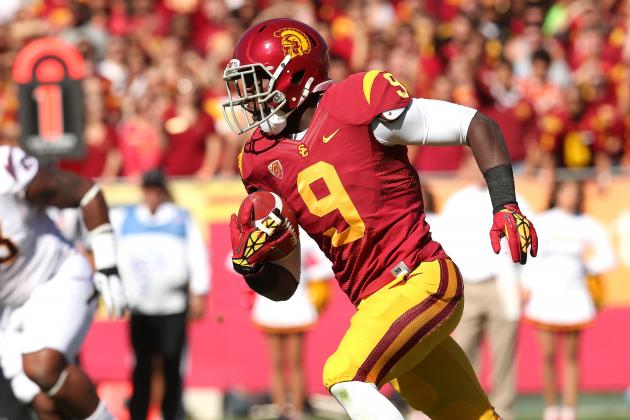 Stephen Dunn/Getty Images

Marqise Lee gets tons of press for his skills as a wide receiver, but let's not forget he's a big part of the USC special teams, as well.
He's 12th in the nation in yards per kickoff return, averaging almost 30 yards per attempt, while amassing 704 yards total in the return game.
Neither team is particularly great at defending kickoff returns, with USC checking in at 64th nationally and Notre Dame at 68th.
The two are almost even at 73rd and 75th in punt-return defense, but the Irish are averaging only 2.44 yards per punt return, while USC averages nearly seven.
Given Lee's big-play ability and the minor advantages the Irish enjoy all around, this seems to be a pretty easy call.
Advantage: Trojans
Harry How/Getty Images

In spite of the presence of safety T.J. McDonald in their secondary, the Trojans have not been that great, allowing 241 yards through the air per contest.
On the flip side, they have proven to be aggressive all season, breaking up over five passes per game, and are tied for sixth in the nation with 18 interceptions.
The Irish aren't far behind in the interception category, with 14 of their own on the season.
Where we see a real disparity is in opponents' passing downfield.
The Irish have allowed an FBS-best five passes of over 30 yards thus far this year; USC, by comparison, has been fairly porous, allowing 14 such plays or a little more than one per game.
The Irish front seven is elite-level, and the pressure they produce provides plenty of help to a secondary that has seen injury issues all year, but has managed to maintain solid play.
Without Matt Barkley, the Trojans will not test the Irish defensive backfield.
Advantage: Irish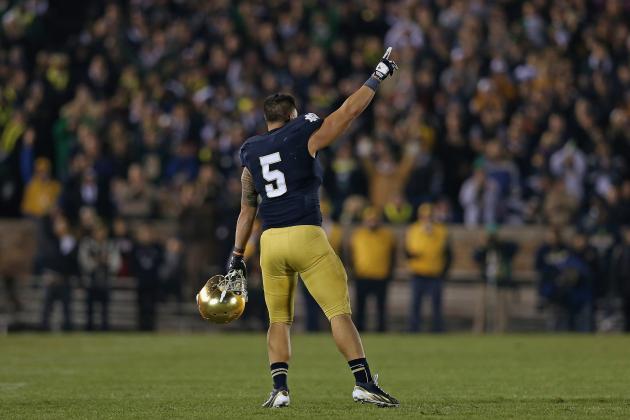 Jonathan Daniel/Getty Images

There is no one in the country that can touch Manti Te'o at the linebacker position.
The man's instincts, physical ability to make plays and uncanny timing set him apart from other linebackers that are mere mortals.
But let's not ignore the rest of the players at the position in this game.
Hayes Pullard, Dion Bailey and Lamar Dawson are second, third and fourth for the Trojans in tackling with 213 between them.
Not too shabby, but much of those are due to a defensive line that is less than stingy against the run.
The Irish rotate in Prince Shembo, who has six sacks on the season, which equals the total of every linebacker on the USC squad.
When one considers Te'o and his talent along with the rest of a deep, talented Irish unit, the advantage here is clear.
Advantage: Irish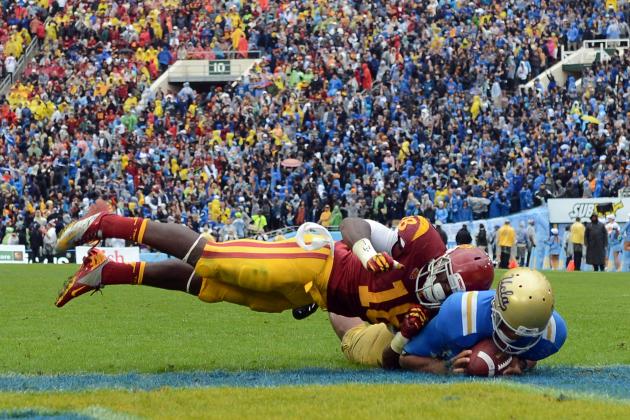 Harry How/Getty Images

This one is a tough call.
USC has the most underrated, least-talked-about stud in the nation playing defensive end in Morgan Breslin.
Breslin has 11.5 sacks on the season, which ranks him among the nation's leaders in the category.
Notre Dame's offensive line, though solid, will be challenged to slow Breslin's ridiculous pass rush.
The Irish boast an extremely good pass-rusher of their own, though, in Stephon Tuitt.
Tuitt is also near the top of the heap when it comes to sacks, racking up 11 this year.
While those two are hugely successful and each must step up for his team to be successful, they are not alone, and that's reflected in opponents' rushing stats.
USC allows over 150 yards on the ground per game, which isn't bad.
But Notre Dame allows only 92.
Enough said.
Advantage: Irish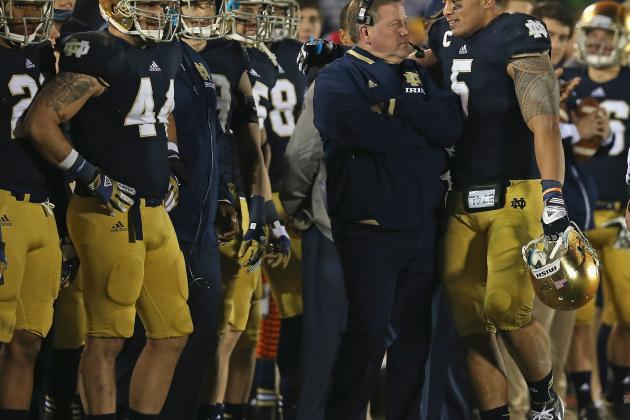 Jonathan Daniel/Getty Images

Lane Kiffin or Brian Kelly?
Pick your poison.
Kelly has taken a program that has done nothing for the past two decades and turned them back around.
Kiffin took a hated rival of the Irish, has done a solid job recruiting during a time in which the Trojans have faced all kinds of restrictions, and has somehow managed to keep USC in a place of national prominence even through tough sanctions.
Kelly's ability to coach up a defense and turn around a team from last year that was absolutely woeful at times earns him the nod this time.
Toss in Kelly's sideline demeanor vs. Kiffin's, and we have a winner.
Advantage: Irish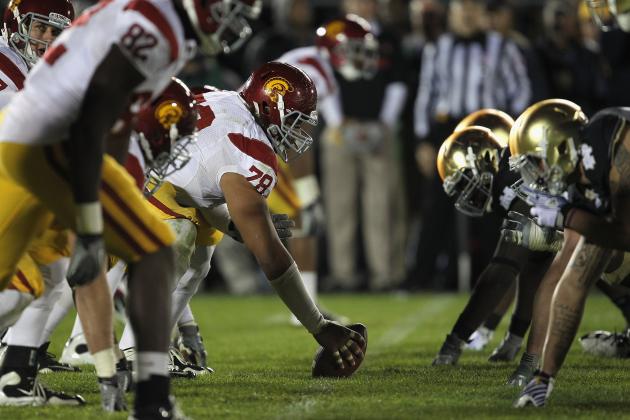 Jonathan Daniel/Getty Images

These two offensive lines are worlds apart.
Each has allowed 15 sacks on the season, which is pretty impressive for the Trojans when you consider they have attempted 75 more pass plays than the Irish.
But it's the rushing game where the Irish take over.
USC is averaging only 160 yards per game on the ground; the Irish, 200.
So it would seem that when passing the ball, USC is better, and when rushing, the Irish have the advantage.
The tiebreaker?
The Irish have allowed 49 on the season (including sacks), or 4.45 per game.
USC, on the other hand, has allowed 61 (including sacks), meaning 46 times on the season, the Trojans have been unable to generate holes for their running back, while Notre Dame has only had this issue 34 times.
That's enough to tip the scales slightly in favor of the Irish.
Advantage: Irish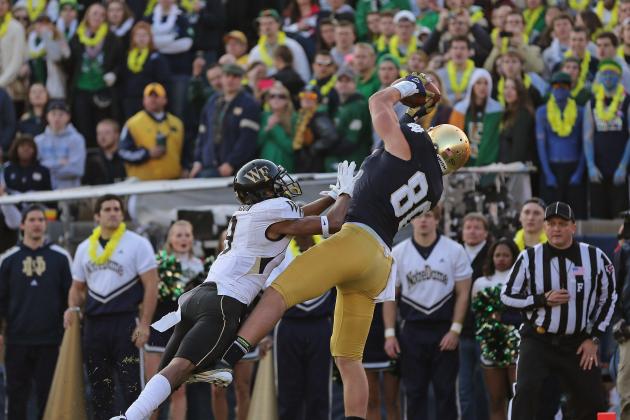 Jonathan Daniel/Getty Images

No contest here.
While the Irish have arguably the best tight end in the nation in Tyler Eifert, it's difficult to even approach the duo of Marqise Lee and Robert Woods.
Lee comes into this game with 1,605 yards receiving.
The top three Notre Dame receivers have gained 1,449.
Not even a contest.
Advantage: Trojans
Otto Greule Jr/Getty Images

This is a matter of one "running back by committee" attack being slightly more effective than the other.
USC's trio of Silas Redd, Curtis McNeal and D.J. Morgan have combined for 1,599 yards on the ground and scored 12 touchdowns.
The Irish trio of Theo Riddick, Cierre Wood and George Atkinson III have combined for 1,800 yards and 13 touchdowns.
Not much difference between the two, but the Irish offensive line is slightly better and gives them a boost against the Trojan defense.
Advantage: Irish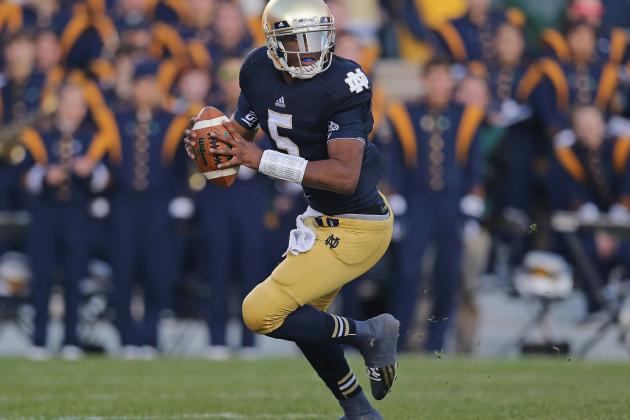 Jonathan Daniel/Getty Images

With Matt Barkley out, this one gets much harder.
USC replaces Barkley with Max Wittek, a freshman who has attempted nine passes this season and has also provided the Irish with bulletin-board material.
As if any was needed.
Everett Golson will be under center for the Irish, and he has thrown only two interceptions to go with seven touchdowns over the past three contests.
Toss in Golson's mobility and ability to score on the run combined with Wittek's relative obscurity, and the advantage has to go to Notre Dame.
Advantage: Irish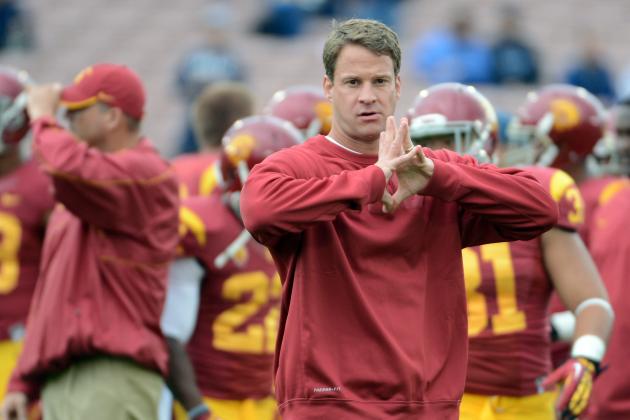 Harry How/Getty Images

Lane Kiffin better have thought long and hard about how to protect Max Wittek and run the ball effectively.
Those are the keys for the Trojans to win this game.
For the Irish, limiting big plays and limiting mistakes are key.
Notre Dame has rolled along all year, winning even if it has been considered ugly at times.
That is not going to change tonight.
Prediction: Irish - 35 Trojans - 20