Miami vs. Duke: Live Scores, Analysis and Results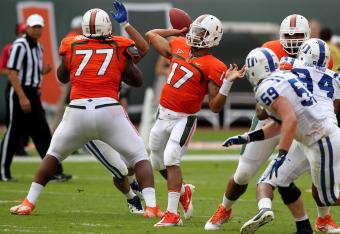 The Hurricanes trounced the Blue Devils 49-14 in 2011.
Robert Mayer-US PRESSWIRE
Final Score: Miami 52, Duke 45.
Four scoring plays of 65-plus yards happened today. Three of which were by the Hurricanes—all from different players. Duke receiver Jamison Crowder set a school record with a 99-yard touchdown catch in the second half.
This was Miami's final game of the 2012 season as it self-imposed a postseason ban for the second year in a row. The Hurricanes finish the year with a 7-5 record at the top of the ACC Coastal Division.
The game was Duke's last regular season game before an upcoming bowl appearance, and Sean Renfree gave Blue Devil faithful a heck of a game even in defeat.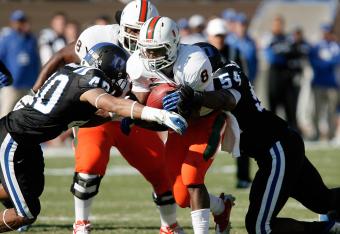 Here is a link for "10 Things We Learned in Miami's Victory Over Duke."
Happy football watching, everyone.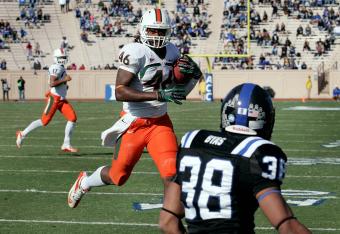 That will do it for me as the Hurricanes defeat the Blue Devils for the ninth consecutive time. Check back later for a piece about 10 things we learned in Miami's fast-paced victory over Duke.
Thanks for reading the updates, and I hope you all enjoy the rest of your Thanksgiving weekend.
Here is the box score of today's game courtesy of ESPN.
You will also be able to watch a replay of this contest online via WatchESPN.
It's official, the Miami Hurricanes move to 7-5 with a 52-45 thrilling win over the Duke Blue Devils.
Had Miami not self-imposed a postseason ban, they would be playing in the ACC Championship Game next week. However, it does take a solid group of young players to the 2013 season with some momentum.
Manny Navarro of the Miami Herald reported earlier this week that Al Golden will immediately begin preparing his players for 2013 next week.
Duke, on the other hand, falls to 6-6 and trudges into bowl season losing five of its final six games.
That run should do it. Duke Johnson takes the ball left-side for a first down to close out the game. All the Hurricanes have to do is hold onto the ball.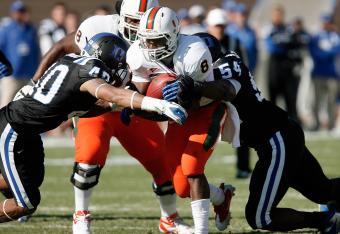 Miami needs one first down and this game will likely be in the books.
ESPN has put together highlight clips throughout this game. Click here to be taken to the videos.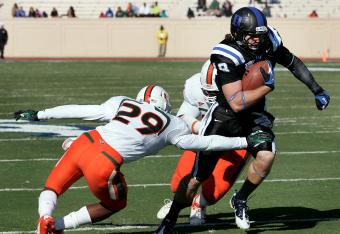 Miami 52, Duke 45. Brandon Connette powers the ball into the end-zone for a 1-yard touchdown run. Connette is slow to get up, however. Onside kick upcoming and Duke only has one timeout left.
Duke is using the Wildcat formation inside the five, yet leave Renfree in the game. Should probably put in another lineman if they are going to run. Miami run defense has been stingy inside the red-zone today.
With the clock just under three minutes to play on 4th-and-Goal, Renfree lasers a ball into the endzone, but it falls incomplete. However, Perryman is called for a roughing the passer penalty and gives the Blue Devils new life inside the 5-yard line.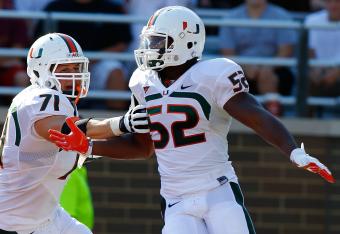 Kacy Rodgers commits a pass interference in the end-zone, and Duke will have the ball at the Miami 10.
Fantastic open-field tackle by Denzel Perryman saves a touchdown on first down.
Renfree finds Desmond Scott on a 4th-and-5 play to reach the Miami 25-yard line, but time is ticking away on this Duke comeback.
Al Golden puts big faith in his kicker Jake Wieclaw, but it is not returned. The senior misses a 47-yard attempt, and the Blue Devils take over at their own 37 with about five minutes remaining in the fourth quarter.
Wieclaw had made 11 consecutive kicks until that miss.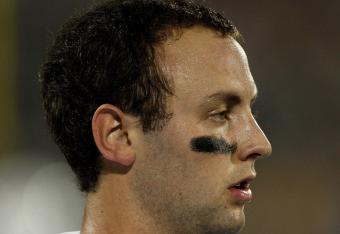 Sean Renfree misses an open Juwan Thompson on 4th-and-3 from Duke's 32-yard line.
A field goal by Miami could put the game out of reach.
Bruce Feldman of CBS Sports summarized the last four drives in this game in a tweet moments ago.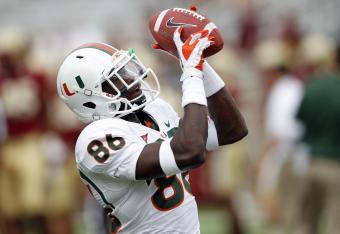 Miami 52, Duke 38. I just looked up "track meet" in a dictionary, and it had a picture of this game. Herb Waters ran a simple curl route on the right side, made a move past one tackler and was off to the races.
After the 65-yard touchdown, the Hurricanes now have 619 yards of total offense.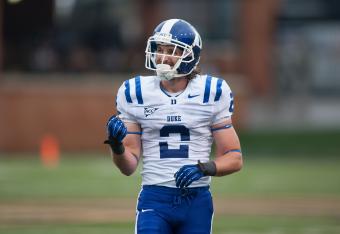 Duke seniors aren't going down without a fight at Wallace-Wade Stadium. Blue Devils have dominated the game's last three possessions.
Miami 45, Duke 38. On a huge fourth down play at the Miami 6-yard line, Renfree dropped back, scrambled away from the pressure and lofted a pass to Conner Vernon for a Blue Devils' touchdown.
Renfree has now thrown four touchdowns today, two of which have gone to Vernon.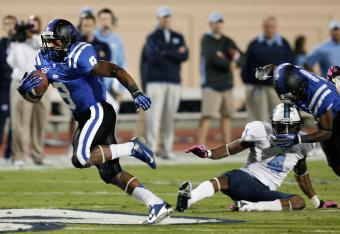 The Blue Devils are on the move yet again. Renfree finds Crowder for a 34-yard play. Josh Snead gets Duke inside the Huricanes' 10.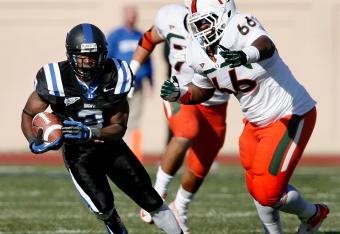 Jamison Crowder's 99-yard touchdown was the longest in school history according to Duke Football's official Twitter account.
Duke forces a three-and-out with 10:07 remaining in the fourth quarter. Renfree starts the drive at the 36-yard line after a decent return by Vernon. This could be the drive that defines this matchup.
Miami fans, look away. Jorge Milian of the Palm Beach Post tweeted the story of the Hurricanes' season.
Duke stat update-
QB Sean Renfree: 27/43 for 328 yards, 3 TD
RB Jela Duncan: 5 car 66 yards
WR Jamison Crowder: 6 rec. 160 yards, 2 TD
WR Conner Vernon: 9 rec. 73 yards, 1 TD
Miami 45, Duke 31. What a turn of events. Jamison Crowder runs behind the Miami secondary and is wide open by 15 yards. Renfree finds him and Crowder does the rest scampering 99 yards for a touchdown.
Duke is back in the game, down 14, with 11:45 remaining.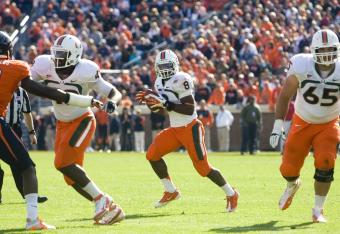 Stephen Morris gives a handoff to Duke Johnson on 4th-and-Goal and... he proceeds to make a Tebow-esque jump pass to Clive Walford and extends the Miami lead to 28.
But wait, the referees overturn another call. The Blue Devils take over at their own 1-yard line.
This article is
What is the duplicate article?
Why is this article offensive?
Where is this article plagiarized from?
Why is this article poorly edited?

Miami Hurricanes Football: Like this team?