Michigan vs. Ohio State: Live Scores, Analysis and Results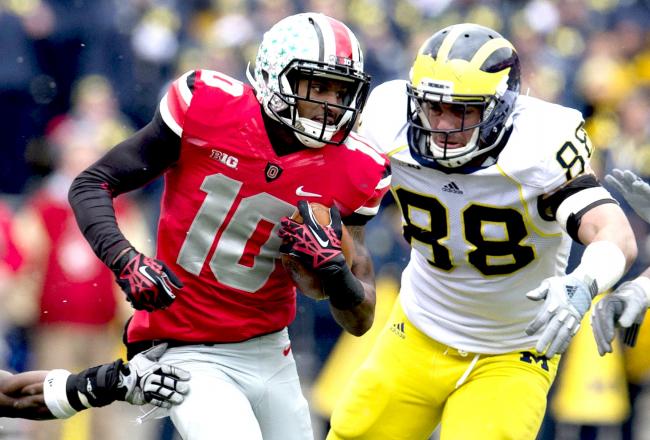 Ohio State 26, Michigan 21 -- Final

The Buckeyes did it.
Following one of the worst seasons in school history last year, Urban Meyer and the Ohio State Buckeyes have finished their 2012 campaign with a perfect 12-0 record.
Braxton Miller threw for 189 yards and a touchdown while adding 57 yards on the ground to lead the Buckeyes past the Wolverines. Carlos Hyde was also exceptional, running for 146 yards and a touchdown on 26 carries.
Michigan piled up 219 yards and 21 points in the first half, but Ohio State's defense held the Wolverines to just 60 total yards and zero points in the second half.
We watched the game and provided live, in-game analysis all afternoon:
Ohio State is really, really good at winning football games, and nine other things we learned from Ohio State's 26-21 victory over Michigan Saturday afternoon.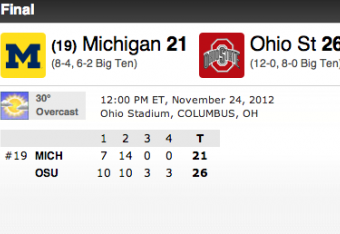 Quarter by quarter scoring breakdown of Ohio State's 26-21 victory over Michigan, via ESPN.
I can't imagine a better game for some of the top recruits in the country to see first hand. This victory was huge for Ohio State, but it could be even bigger if it sways some of these prospects Urban Meyer's way.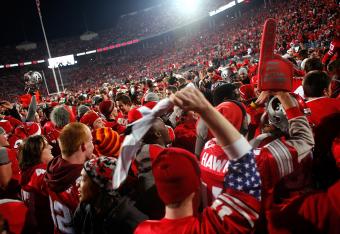 The fans in attendance have rushed the field. The party is on in Columbus.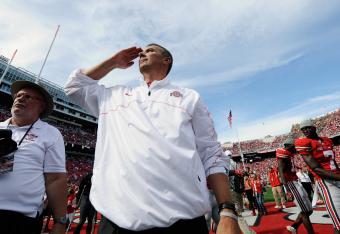 That's the ball game! Ohio State shuts Michigan out in the second half to win it 26-21.
Looks like that might be the game.
This one is as good as over with UM only having one timeout left. #Buckeyes

— Dave Biddle (@davebiddle) November 24, 2012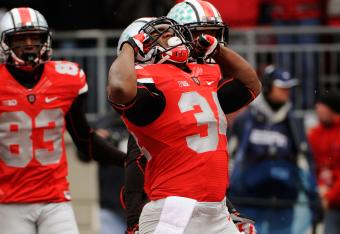 Carlos Hyde doing the "give me more" scoop that Denard favors. Maybe these teams don't like each other.
Devin Gardner with his first interception of the game, and the Buckeyes take over around midfield.
I wonder how Urban's heart is doing...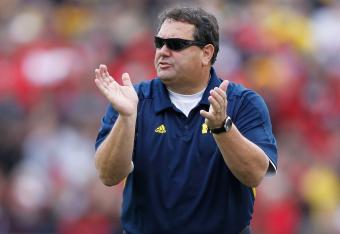 Michigan calls a timeout to get organized on offense. This drive could decide the game.
Christian Bryant just dropped a sure pick-six.
Ohio State 26, Michigan 21
Another missed opportunity by Braxton Miller and the Buckeyes offense. Set up inside the red zone, Ohio State can't punch it in and settle for a field goal.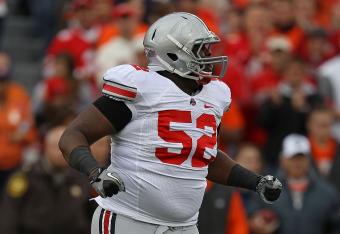 Unbelievable. Another sack on Devin Gardner, and Jonathan Hankins pops the ball out as the Buckeyes recover the fumble.
Both defenses are going back and forth trading blows. This is the kind of game Woody and Bo would've liked. That first half was absolute garbage.
Surprised we haven't seen this today.
Not having Denard and Devin in at the same time is killing me.

— mgoblog (@mgoblog) November 24, 2012
The Buckeyes tighten up again, forcing another Michigan three-and-out. Both teams were totally saving their defense for the second half.
Another sack for Michigan, and Braxton fumbled the ball this time! The Wolverines take over at the 36 yard line.
Greg Mattison's defensive signals have to be the best in college football.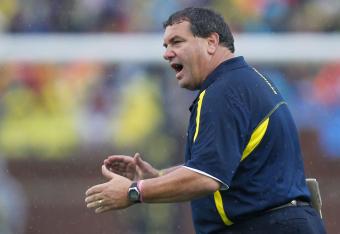 Keys to the fourth quarter:
Ohio State's defense has stepped up in a big way after the break, but the offense will need to get the ball in the end zone to create some comfortable separation.
Michigan needs to get anything going on offense and avoid the turnovers that plagued them in the third quarter.
It was the best run from Braxton in two weeks, but he's down on the field with an apparent leg cramp.
Miller with the sweep right for rushing gain of 42 yards to the UM 29.

— Dan Wallenberg (@OSUADAthComm) November 24, 2012
Inefficiency on offense and a multitude of field goals? Tressel knows he was just coming back to be honored, not call the game, right?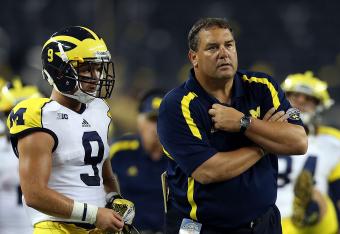 Michigan receiver Drew Dileo needs to host a web series titled "What's the Dileo" when his career ends. The Internet deserves at least that.
A bad snap on third down leads to a long field goal attempt for Basil, which he misses. Buckeyes still lead it 23-21.
Michigan defenders are starting to look like Adam Sandler from The Waterboy. Braxton takes another huge hit on a sack, setting up a third and seven.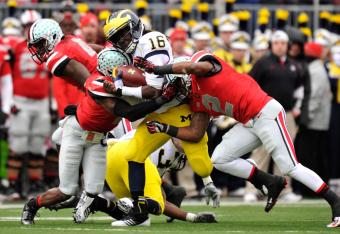 Another huge play for the Buckeyes!
Christian Bryant pops the ball away from Denard Robinson and the Buckeyes pounce on the ball. Buckeyes have the ball on the 37 yard line.
Wow! Now Michigan players are getting in on the needless penalties. Who says these two are rivals, they're sharing so well right now!
This article is
What is the duplicate article?
Why is this article offensive?
Where is this article plagiarized from?
Why is this article poorly edited?

Ohio State Football: Like this team?