The 15 Best Fan Fights in Sports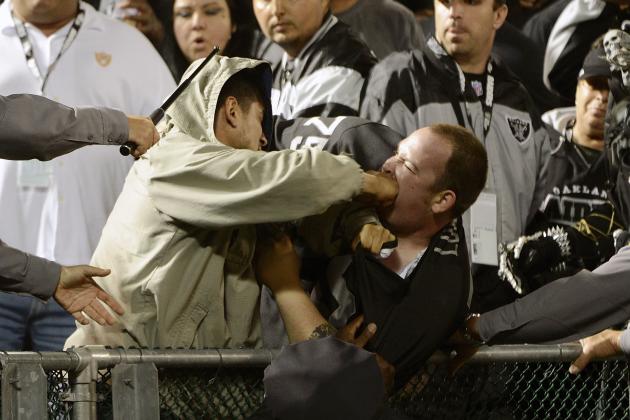 Thearon W. Henderson/Getty Images

Lights, camera, action!
That's a phrase commonly connected to Hollywood and the cinema. However, thanks to modern technology, this now applies to anyone owning a cell phone.
Anytime people see a commotion, instead of calling for help, we grab our phones and shoot.
Thanks to cell phones, and some perfectly placed sports media cameras, we bring you a list of the 15 best fan fights in sports.
Enjoy.
**Just a heads up (especially for you folks at work), there's a bit of saucy language in these videos.
Begin Slideshow

»
Everybody love everybody. Now how hard is that?
Apparently, the guy in the awesome San Francisco 49ers jacket was upset that the two men not wearing jackets didn't have jackets and wanted to borrow his. And being an honorable man, he simply chose to deny their request by throwing punches.
For those of you not from California, this is how every 49ers-Oakland Raiders game ends. Just so you know.
Next time you head to the ballpark, remember this: It is only a game, folks. That is it. A game.
Why do so many people fight during a sporting event? And in this video they bring it onto the field. The field! Now they have stopped the game and interrupted everyone else's enjoyment because of an argument gone bad.
Think before you drink so you won't have to fight to prove you are right.
A Phoenix Suns fan and a Los Angeles Lakers fan once stood next to each other during a live postgame show. They were both happy and proud to show support for their teams.
But then a Kobe Bryant jersey gets tossed into the mix and all hell breaks loose. Well, as much hell as you can have during a live postgame show.
This is why fights happen in sports. A group of USC fans show up at a Houston Texans game. What did they expect, a friendly invite to the house after the game for BBQ?
The only person in this entire event that had a brain was the guy filming. Listen to him towards the end.
The director of this gem said it best, "Why is it taking 12 cops to take down one drunk guy?"
Why do you even attempt to fight a cop? The longer you fight, the worse things will get for you, bucko.
This isn't the best fight ever and it isn't even that great of a fight.
But it makes the list for one reason, and that's the woman with her Cowboys flag. She was the reason this thing ended. Her continual screaming at all the others while hanging onto that Cowboys flag is the greatest.
Just don't drop the flag ever. Ever.
This is exactly how I pictured a fight at a tennis match.
One old man, one old lady and a young drunk guy doing nothing more than yelling and cheering. Can someone please tell me what that young guy did wrong outside of defending himself when someone else charged at him?
Why is it that most of the fan fights you see online occur in New York or California?
Are the fans so passionate about their teams that they feel the only way to defend their honor is to beat the stuffing out of every man that disagrees?
Really? Come on, fans.
Affliction shirts were made for one reason, UFC fighters. Outside of that group, anyone else is just plain fooling themselves.
Except, of course, this guy. And he may in fact be a former fighter anyway, so it all works out.
Do you still want to go to an Oakland Raiders-San Diego Chargers game?
I didn't think so.
This is what happens when you don't listen to the authorities. You wind up being tasered several times and hit with a police baton several times before finally being arrested.
How many times did this guy get tasered before he went down? Eleven?
Nothing is better than watching a group of guys buck up and get ready to throw down.
Especially when there are 239 fans standing there watching it happen before finally breaking it up. It doesn't count if you break up the fight after the fight is over.
If you have not figured it out by now, I do not think fighting in sports is funny. I think it is dumb and useless and can only bring about a negative experience for those who witness it.
That being said, this is what happens when you drink way too much and step into the ring without being able to box. Just watch the whole thing.
You can't compete with European soccer fans.
Especially when the fans are Polish and Russian. There is nothing worse than two huge groups of fans figuring out that they hate each other at the same time. Fighting ensues, people go down and the cops are called.
Soccer.
There will never come a time when a fan fight will surpass this one.
Unless they were to crossover into the tragic, this shall always be the top fan fight, albeit a one-sided one, in the history of sports and fighting.