NFL Coaches on the Hot Seat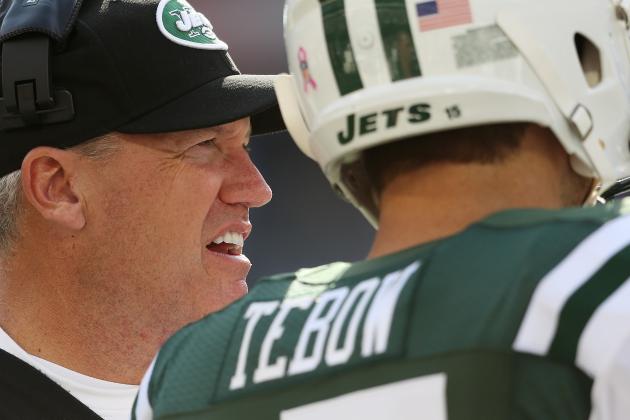 Nick Laham/Getty Images
NFL Coaches Feeling The Heat
It's that time of year when NFL owners give the dreaded "vote of confidence" to a coach they're planning to fire soon. You can call it an American Tradition during football season, like hot dogs and apple pie. Some of the NFL coaches on this list are indeed good coaches, and they have the records to prove it. Others are simply over-matched. But in the big leagues you have to win baby! If you don't, don't let the door knob hit you in the you-know-what. These men have wives and kids and some of them will be moving to yet another new city in the months to come; at least the ones who land on their feet. You hear me ESPN?
Begin Slideshow

»
Kevin Casey/Getty Images
New York Jets Coach Rex Ryan
Rex Ryan and his front office buddies invited trouble to Jets-Land when they signed Tim Tebow. Everyone knew they would have problems by adding a polarizing figure in a city where reporters are salivating daily for the big scoop. The Jets gave the media Tebow on a silver platter and the clock on Ryan's tenure as head coach began ticking.
Adding the former Gator superstar put immediate pressure on incumbent Mark Sanchez, who was already struggling from year to year, and the Tebow factor guaranteed Sanchez's failure. The ex-USC golden boy couldn't handle the heat. I like Mark, but he was set up. Ryan knew if Sanchez failed the call would go out immediately for him to put Tebow in the game. And who knows, maybe Sanchez doesn't get it done whether Tebow is on the roster or not.
Jets General Manager Mike Tannenbaum deserves a lot of the blame, as does owner Woody Johnson. All of them, including Ryan, signed off on the Tebow addition. The Jets didn't need Tebow. They needed a tall, talented wide receiver or another defensive player to shore up the other side of the ball.
Instead Ryan, Tannenbaum and Johnson chose Tebow because he puts butts in the seats. After all, the NFL is a business, but unfortunately the business plan failed and Ryan will be the fall guy at season's end.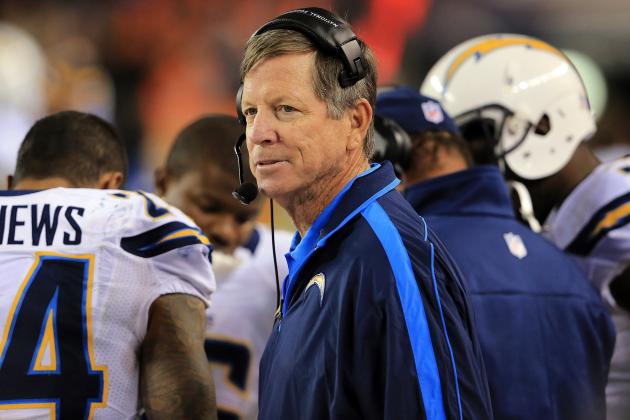 Doug Pensinger/Getty Images
Charger's Norv Turner Has Been Feeling The Fire Since Mid-Season
Generally regarded as one of the nicest guys to patrol the NFL sidelines, San Diego Chargers coach Norv Tuner just can't seem to get it done in Southern California. The Chargers have always had talent. Overall, they have enough to compete in the watered-down AFC West. But Norv could use a few more players, and unfortunately he won't get them. A 53-37 coaching record won't be enough either. General Manager A.J. Smith may have to look in the mirror, too. After so many years of unfulfilled expectations in San Diego, does Owner Alex Spanos think changing head coaches will be enough to get his team to the Super Bowl?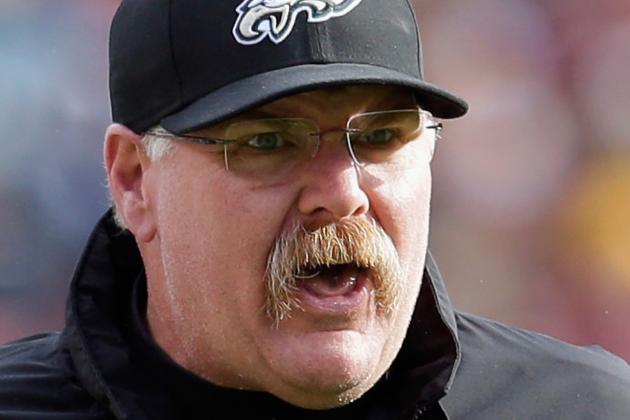 Rob Carr/Getty Images
Eagle's Coach Andy Reid Knows The End Is Near
It's been a rough year for Philadelphia Head Coach Andy Reid, but he's handled it with class and professionalism. That won't be forgotten down the road when he's looking for his next position. People respect the guy and he's the type of person that can help an NFL organization in many, many ways.
Time, however, is running out for Reid. The City of Brotherly Love isn't showing much love these days. Quite frankly, I was always surprised Reid lasted this long with one team without hoisting the Lombardi Trophy. Getting the Eagles to the Super Bowl isn't enough for the rabid fans in Philly. Many, many years were invested in former quarterback Donovan McNabb and it didn't lead to a championship.
Eagles Owner Jeffrey Lurie has made it clear he wants a ring. Fourteen years in Philly and a record of 129-88 can't be ignored. But the Michael Vick redemption tour isn't looking promising and it's probably time for a new beginning. After losing his son earlier this year, let's hope the fans of Philadelphia show some restraint and respect if Reid is shown the door. He deserves that. And a whole lot more.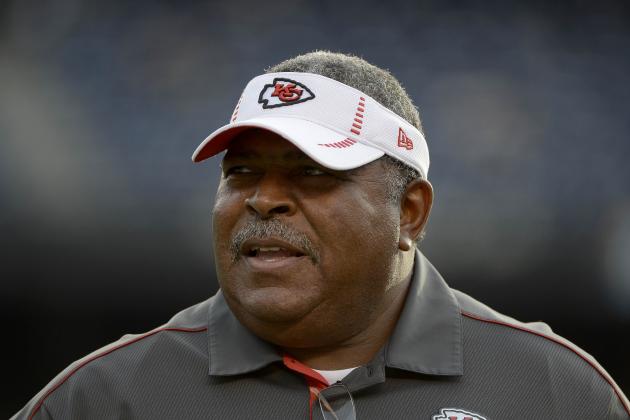 Donald Miralle/Getty Images
Kansas City Cheif's Romeo Crennel
Kansas City Chief's Coach Romeo Crennel is having a tough time after taking over for former coach Todd Haley. Crennel brings experience as the former head coach of The Cleveland Browns, but that didn't yield any positive results. Crennel has a good reputation around the league because of his many years as a coordinator in New England under Bill Belichick. Unfortunately this is 2012 and owners want to win now. It's hard to see Crennel getting a vote of confidence beyond this year because of his dismal coaching record with the Chiefs and Browns. The Chiefs remain a work in progress with yet another head coach possibly on the way.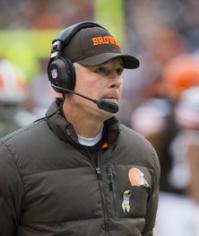 Jason Miller/Getty Images
Cleveland Brown's Coach Pat Shurmur Stalks The Sidelines
Talk about making an entrance! New Cleveland Browns owner Jimmy Haslem wasted little time putting his stamp on the team. Team President Mike Holmgren was quickly removed, and former Philadelphia Eagles President Joel Banner was hired as Chief Executive Officer. Haslam is a fired up owner with the enthusiasm of a Jerry Jones. He's already proven he's wiling to shake things up. Pat Shurmur is having a disastrous season in Cleveland, so will Haslam bring in his own coach?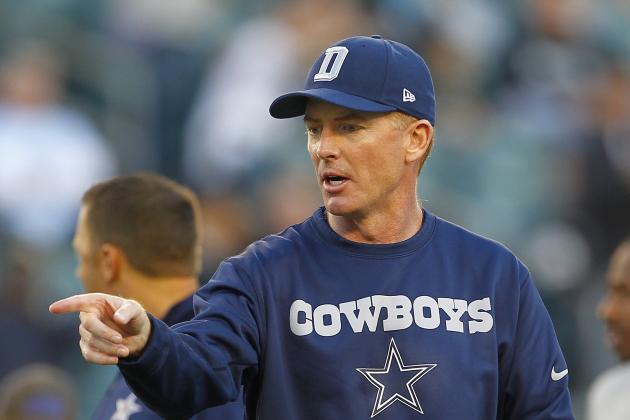 Rich Schultz/Getty Images
Cowboy's Coach Jason Garrett
Dallas Cowboys Owner Jerry Jones has been known to pull the string. The 'Boys have won only one playoff game in nearly 15 years and, if suspended New Orleans Coach Sean Payton is available when his suspension ends at the end of the season, it could be an interesting off season in the Big D.