5 Major Main-Event Fights Await Boxing Fans Saturday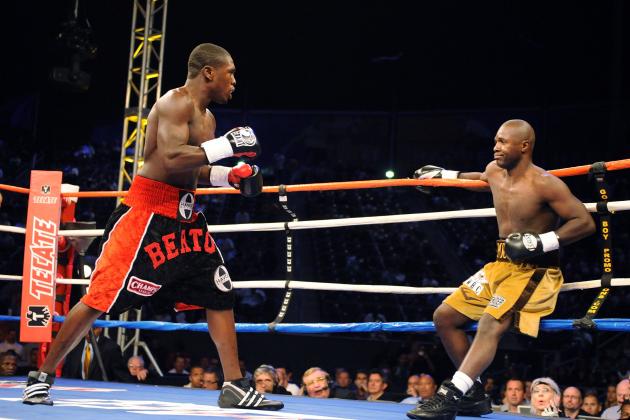 Harry How/Getty Images
Andre Berto
At least five major boxing events are taking place in four countries on Saturday featuring two title fights and three non-title outings with at least 28 fighters seeing action in the undercard.
The weekend boxing events will be highlighted by the fight between Ricky Hatton vs. Vyechaslav Senchennko in Manchester, England and the fight between Andre Berto and Robert Guerrero in California,.
Another fight worth watching is the sixth fight of Fernando Montiel following his devastating loss to Nonito Donaire last year.
For complete list of fighters in the undercard of the five main-event fights, please click here.
Here are the major fights that are worth watching over the weekend.
Begin Slideshow

»
The Andre Berto vs. Robert Guerrero fight will take place at the Citizen Bank Arena in Ontario, Calif., at 10:00 p.m. ET. It will be a 12-round fight for the interim WBC welterweight title.
The 29-year-old Berto, who hails from Miami, Fla., is coming off a win over Dejan Zabec to snatch the IBF welterweight title after suffering his first career loss to Victor Ortiz last year.
Berto, who stands 5'8.5", is an orthodox fighter.
Berto's opponent is Robert Guerrero, who also has a single career loss. Since losing to Gamaliel Diaz in 2006, Guerrero has won 15 fights with two "no contest" decisions.
Guerrero, 29, who is a southpaw, has fought former champions Joel Casamayor, Vicente Escobedo, Michael Katsides and Selcuk Aydin and won all four fights successively since 2010 via a unanimous decision.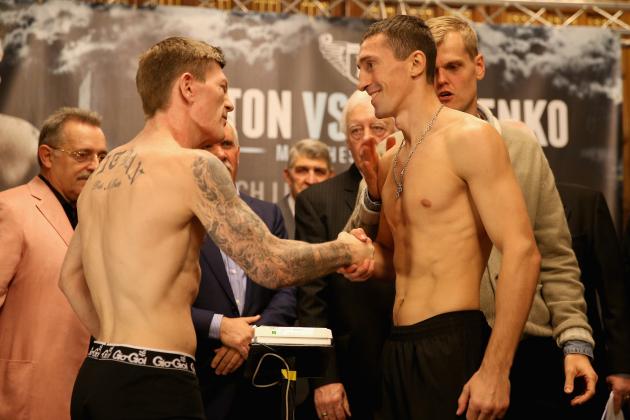 Clive Brunskill/Getty Images
Hatton vs. Senchenko
The Hatton-Senchenko fight will take place at the Manchester Arena in Manchester, England. It will be Hatton's first fight since losing to Manny Pacquiao in 2009.
Hatton, who is 34 and an orthodox fighter, has a total of 47 career fights, winning 45 and losing only two fights. One of his career losses was a TKO courtesy of unbeaten American Floyd Mayweather Jr.
Hatton said he will quit for good if he is defeated by Senchenko.
Senchenko is coming off a TKO loss against Paulie Malignaggi, who will be at ringside Saturday night to act as one of the commentators for the fight.
Senchenko, who is from Ukraine, has a career record of 32 wins with only one loss. He stands 4" higher than Hatton, who stands 5'6".
The Ukraine Master is confident he will spoil Hatton's comeback plan Saturday night.
Xiong Zhao Zhong is a Chinese professional boxer from Wenshan, China and the current WBC Silver Minimum weight champion.
The 30-year-old Chinese boxer has a professional career record of 19 wins, four losses and one draw. He is an orthodox boxer and stands 4'11" with a reach of 60".
Javier Martinez Resendiz is from Mexico City and the current WBC International silver minimum weight champion.
The 24-year old boxer from Distrito Federal, Mexico has a professional career record of 23 wins, three losses and two draws.
The two minimum weight fighters will collide in Kunming, China, Saturday night for the WBC straw weight title.
The fight between Julio Ceja and Luis Melendez in the bantamweight division, will take place at Foro Polanco, Distrito Federal, Mexico on Saturday.
The 19-year-old Julio Ceja, who stands 5'7" with a reach of 67" is unbeaten in his professional career. He has 21 fights to his credit,19 of which came via KO.
Ceja, who is an orthodox fighter, was born in Tlalnepantla, Mexico.
Ceja will go for his 22nd victory over Luis Melendez, who has a total of 34 professional fights with seven losses and one draw.
The 32-year-old Melendez, who hails from Cartagena, Colombia, is coming off a three-fight win, all via KO. Melendez is a southpaw and stands 5'7" with a reach of 68".
Former WBO and WBC bantamweight champion Fernando Montiel is all set to earn another victory in his desire to recover from the devastating loss he suffered in the hands of rival Nonito Donaire in February 2011.
Since his loss to Donaire, Montiel has fought five times, losing only once to Victor Terrazas in November last year.
On Saturday, Montiel will clash with Mexican-Russian Giovanni Caro in a 12-round non-title fight at the Gimnasio Municipal Jose Neri Santos, Ciudad Juarez, Mexico.
Montiel (48-4-2, 37 KO's), who stands 5'4" and an orthodox fighter, is trying to improve his record in preparation to a possible clash with Abner Mares, who recently defeated Anselmo Moreno.
Montiel's opponent Caro has a professional career record of 36 fights, winning winning 17 with 10 losses and four draws.
Caro has 4" advantage over Montiel at 5'8" with a reach of 70". Caro is a counter puncher.
This fight is not in the main event of the Saturday major boxing events. But it is worth watching because Quintana has been in several major fights, including his past outings with Paul Williams, Andre Berto and Miguel Cotto.
The former WBC Latino welterweight champion has a professional career record of 32 fights with only three losses.
The 36-year-old Puerto Rican, who is coming off a win over Deandre Latimore by KO in the sixth round, is trying to improve his record for another crack at a major title fight.
Quintana's opponent is Keith Thurman, who is a light middleweight fighter with an unblemished career record of 18 fights, 17 of which came via KO.
Thurman, who is from Clearwater, Fla., stands 5'11" with a reach of 72". He is only 23 years old and is considered the best prospect in the light middleweight division.
Thurman has an amateur record of 101 victories and six national championship titles before turning professional.
This fight is certainly worth watching.