50 Things We Learned from Week 3 in College Basketball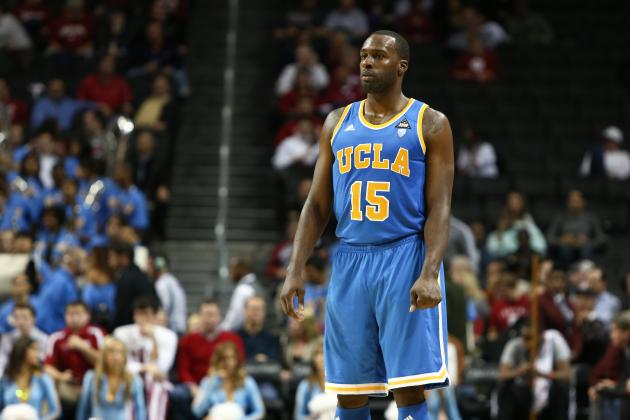 Debby Wong-US PRESSWIRE

Week 3 of the college basketball season once again brought its bundle of lessons. Headlined by the return of Shabazz Muhammad and a top-five matchup between the Duke Blue Devils and Louisville Cardinals, it was a big week in the college hoops world.
The preseason tournaments led to big upsets and great drama, and during the third week of this young—but telling—season, we learned 50 more lessons.
Let's take a look at what we learned from this past week.
Begin Slideshow

»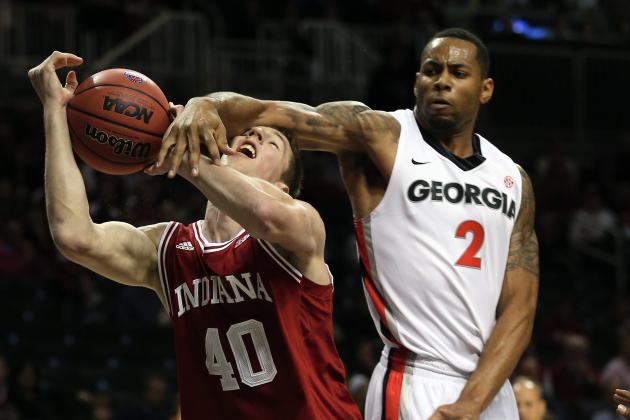 Elsa/Getty Images

Cody Zeller had his worst game of the season this week against Georgia in the Legends Classic.
Zeller finished the game with just six points and four rebounds, making his 27 minutes the most unproductive of the season so far, proving that even the National Player of the Year favorite has an off game every once in a while.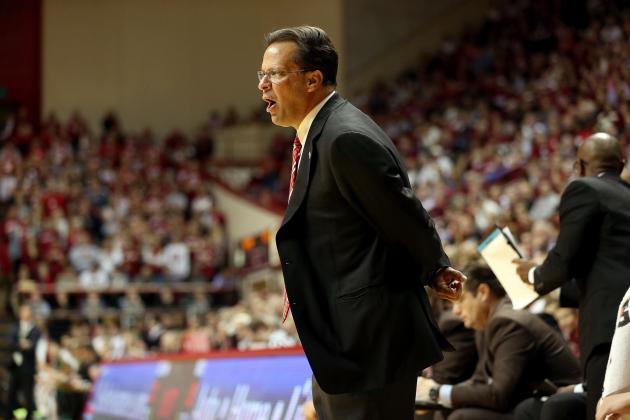 Andy Lyons/Getty Images

Tom Crean's Indiana Hoosiers did not have a great week this week.
The No. 1 team in the country entered the week having won every game by at least 26 points but struggled against Georgia and was pushed the the brink against Georgetown, winning in overtime.
The team still has yet to lose, but this week we learned that the Hoosiers are far from perfect.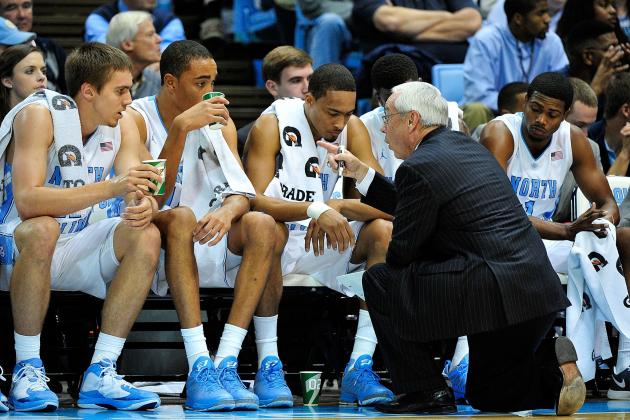 Grant Halverson/Getty Images

Roy Williams' North Carolina Tar Heels were one of the biggest questions in college basketball entering the season, and they did not make anyone feel better about them this week.
UNC lost its first game of the season at the hands of Brad Stevens' Butler team, being out-rebounded 36-27 by the Bulldogs and eventually losing the game by 11.
This team is far from a well-oiled machine, and Roy Williams still has some work to do this year.
Christian Petersen/Getty Images

Arizona only played one game this week, hosting Long Beach State and winning by 22.
Star freshman Brandon Ashley took over against the 49ers in this one, scoring 20 points and grabbing 10 rebounds in just 24 minutes of play, recording his first collegiate double-double.
Ashley was lights out, shooting 6-of-6 from the floor and 8-of-9 from the line as he tore Long Beach State apart.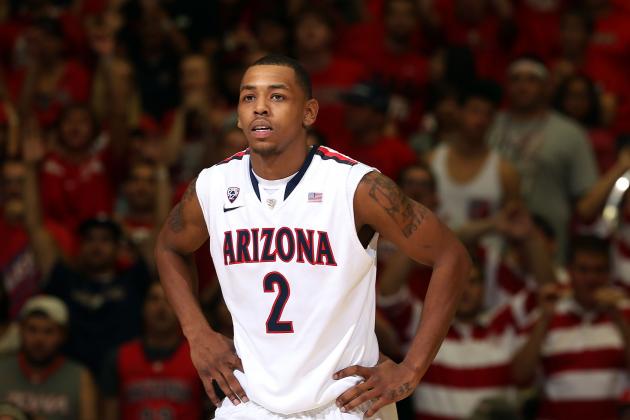 Christian Petersen/Getty Images

Mark Lyons started the season off well, going for 17 points and six assists in his first game. However, in the second he became a score-first point guard once again, going for 17 points and just one assist.
We thought he'd always be able to score, but his play against Long Beach State was the worst we've seen in a while, going for just four points, three assists, three turnovers and four fouls in his 24 minutes of play.
Lyons still needs to improve, and this week didn't help him at all.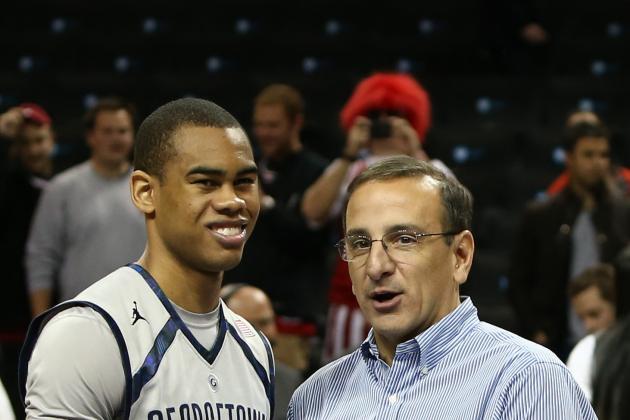 Debby Wong-US PRESSWIRE

Georgetown had an impressive week, knocking off No. 13 UCLA in the first round of the Legends Classic before pushing No. 1 Indiana to the brink—and then losing in overtime to the Hoosiers in the finals.
The team impressed during the tournament behind Markel Starks, Greg Whittington, Mikael Hopkins and Otto Porter's combined 118 points in the two games.
The Hoyas bounced back from the loss with a 22-point shellacking of Mount Saint Mary's in their next game, proving that this team is for real.
The Hoyas are currently 4-1 on the season, and after seeing just how deep and talented this team is, I'm going to put them in my Top 25 in Bleacher Report's College Basketball Writers' Poll.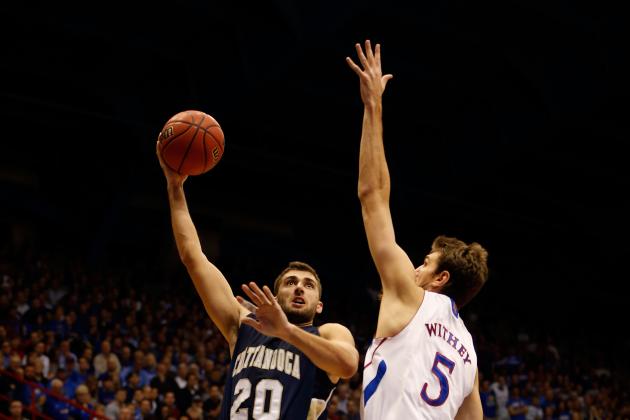 Jamie Squire/Getty Images

Kansas won the CBE Classic this week, thanks to great defense by the Jayhawks.
The team shut down Washington State and a talented Saint Louis team this week, holding its opponents to shooting just 32.1 percent from the floor (35-of-109) this week.
The team won both games handily, thanks in large part to the defense of Jeff Withey, who averaged 6.0 blocks per game, as the team blocked nine shots in each game.
David Butler II-US PRESSWIRE

The Connecticut Huskies lost their first game under head coach Kevin Ollie this week, falling 66-60 to New Mexico. The Huskies clawed their way into the Top 25 but will now fall out of the rankings with the loss.
A big reason the team lost was the fact that the Huskies fouled New Mexico 21 times, and the Lobos capitalized, shooting 21-of-21 from the line. Tyler Olander fouled out, while Shabazz Napier picked up four fouls and Ryan Boatright had three.
UConn was winning late in the game but surrendered the last nine points of the game to blow a 60-57 lead and lose by six.
Streeter Lecka/Getty Images

As long as Butler has Brad Stevens, the team simply won't give up.
After beating Marquette by one in the first round of the Maui Invitational on a buzzer-beating three, the team came out and shocked No. 11 North Carolina, winning a game that was never really close by 11.
While the team did eventually lose in the tournament final to Illinois, the team showed great resilience by knocking off two great teams.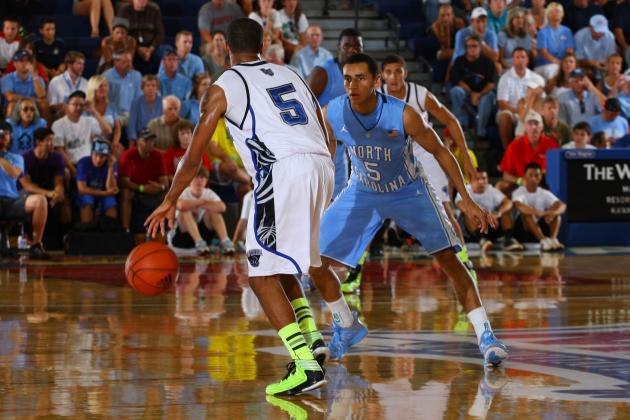 Brian Spurlock-US PRESSWIRE

Led by DeAndre Haskins, Chaminade pulled off another great upset in the Maui Invitational this year.
The team is always a part of the field in Maui, despite being a Division II school. This year the team proved that it should stay in the mix by pulling off another upset in the tournament by beating a Texas team that was trying to climb into the Top 25 by 13.
It's always great to see upsets this early in the season, and this was a big one.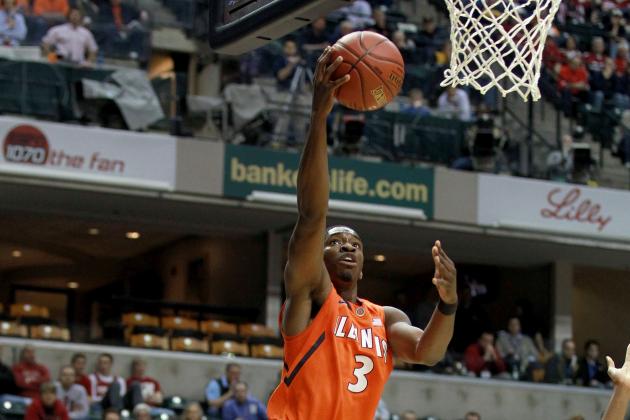 Andy Lyons/Getty Images

Illinois wasn't considered one of the good teams in college basketball at the beginning of the season, but the Fighting Illini have kept on fighting
The team won the Maui Invitational in style, beating Southern California by 30, Chaminade by 23 and Butler by 17.
The team is now 6-0 this season and is making a legitimate case to enter the Top 25.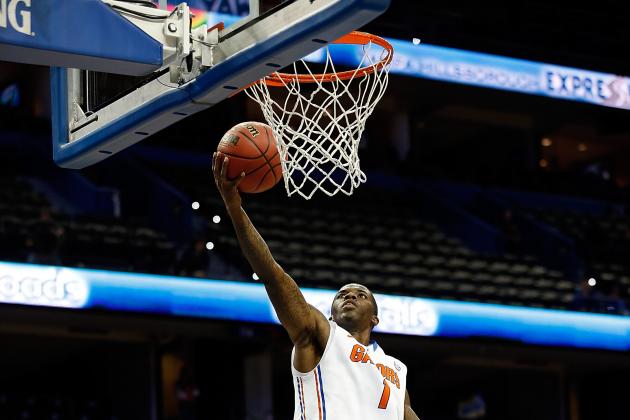 J. Meric/Getty Images

Kenny Boynton's first game this week was the worst he's had all season. He scored just five points while turning the ball over three times.
Boynton struggled to score against Savannah State, proving that even he has off games every once in a while.
Boynton came back and dropped 24 in his next game, and everything was right with the world once more.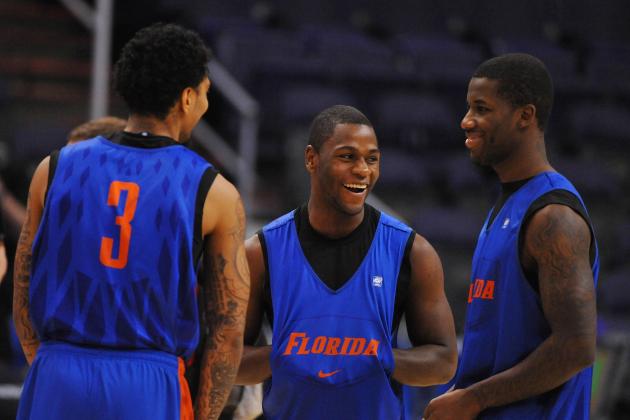 Christopher Hanewinckel-US PRESSWIRE

This week we saw just how deep Florida's backcourt is.
In the first game of the week, Kenny Boynton was shut down, but Mike Rosario picked up the slack, scoring nearly a quarter of Florida's points in the game.
In the second game, Rosario was shut down, but Boynton and Scottie Wilbekin both stepped up.
Once Braxton Ogbueze becomes a true threat, this backcourt is going to be truly unstoppable.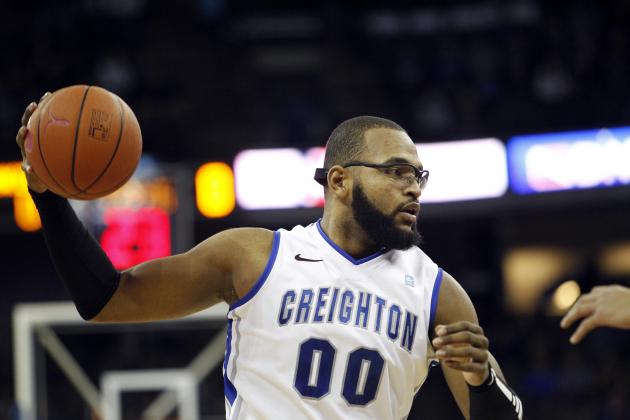 Matt Ryerson-US PRESSWIRE

Creighton has one of the nation's top offenses, and it isn't just because of National Player of the Year candidate Doug McDermott.
The team scored 105 points against Longwood this week, but only 17 came from McDermott. Eighty-eight of the team's points were scored by other players—including Greg Echenique, Ethan Wragge and Will Artino, all of whom scored at least 13 points.
Creighton has a lot of offensive weapons, which makes this team dangerous.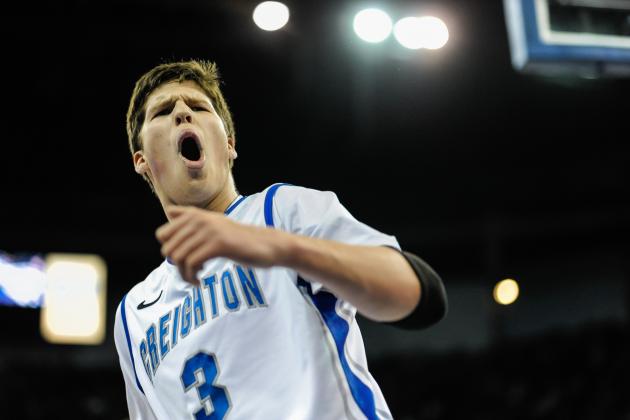 Eric Francis/Getty Images

While Doug McDermott isn't Creighton's only offensive weapon, he's still the best.
The elite scorer proved that no one can stop him this week as he picked apart a Wisconsin defense that is among the best in the nation, scoring 30 points.
McDermott was the difference in Creighton's 10-point win over the Badgers, proving just how good he is.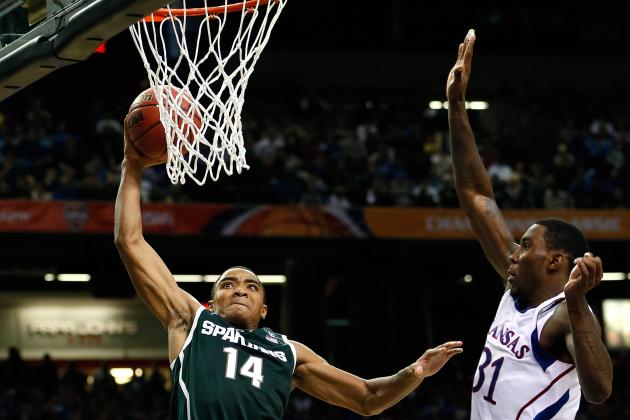 Kevin C. Cox/Getty Images

Michigan State star freshman Gary Harris hurt his shoulder early in the team's game against Boise State this week and was taken out of the game.
The injury looked like it could be terrible for the team, but he will only miss 2-3 weeks.
Luckily the team has a guy stepping up in Harris' absence.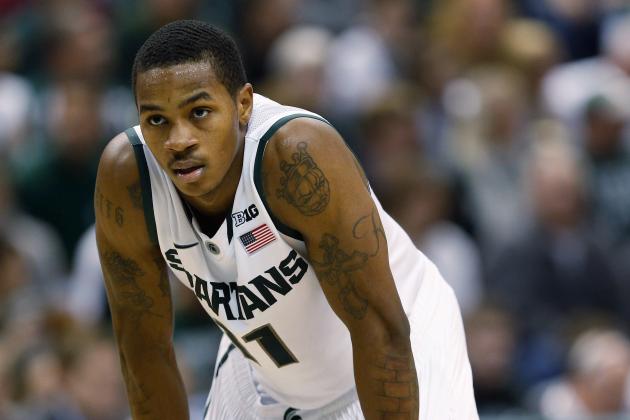 Gregory Shamus/Getty Images

Keith Appling has been a man among boys as of late, absolutely killing it this week.
In Gary Harris' absence, Appling has been averaging 21.0 points, 5.5 rebounds and 4.5 assists per game.
Appling is leading the Spartans right now, and this has become his team.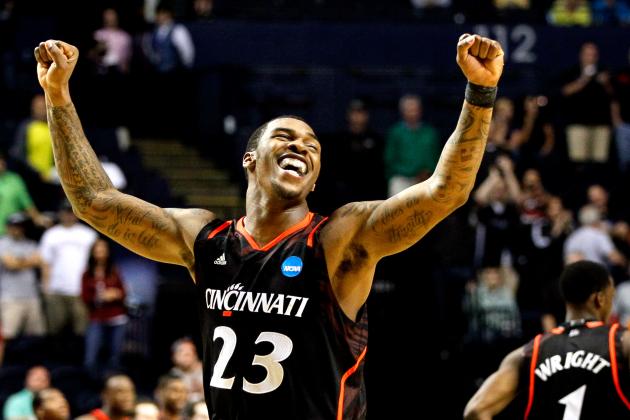 Kevin C. Cox/Getty Images

Sean Kilpatrick had a great week in terms of scoring, averaging 21.0 points per game, including a 32-point effort against Iowa State on Friday.
However, he proved that he can do more than just score by averaging 7.7 rebounds per game as well.
With 6.7 per game this season, Kilpatrick is second on the team in rebounding, which is huge for such a small team that lacks a true big man.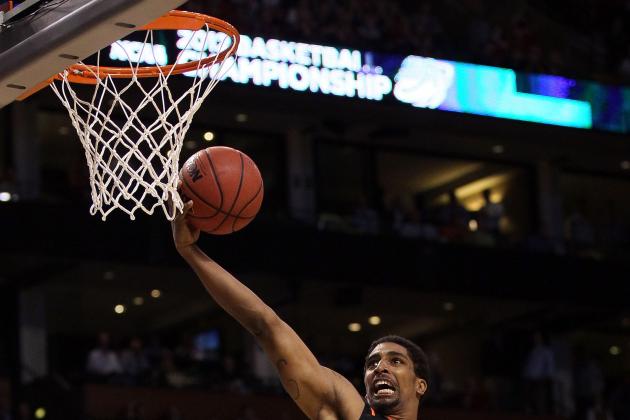 Elsa/Getty Images

JaQuon Parker showed us this week that the offense of the Cincinnati Bearcats is more than just the scoring production of Sean Kilpatrick and Cashmere Wright.
Parker went for 21 in the team's first game of the week against Campbell and went for another 16 against Oregon.
If Parker becomes a consistent offensive weapon, this team is going to be filthy.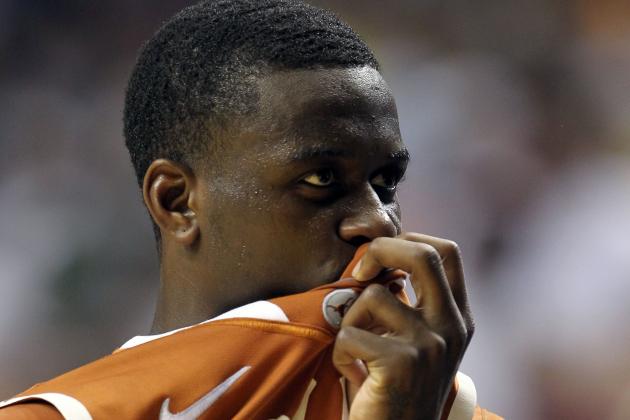 Jamie Squire/Getty Images

Texas was considered one of the fringe-Top 25 teams at the start of the season but has been a huge disappointment.
Without point guard Myck Kabongo, the team has gone 3-2, including losses to Chaminade and Southern California this week before finally beating Mississippi State.
The team ranks No. 255 in the nation in assists with 11.4 per game. The team truly needs its point guard if it is going to live up to expectations this season.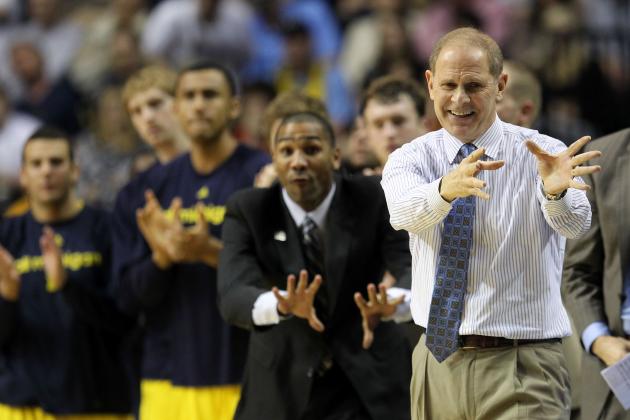 Jamie Squire/Getty Images

Michigan showed just how good it is this week in the preseason NIT. The team shrugged off Pittsburgh before owning a Kansas State team that was 5-0 and could have been in the Top 25.
With the 14-point victory, Michigan won the preseason tourney by a landslide, thanks to its impressive backcourt.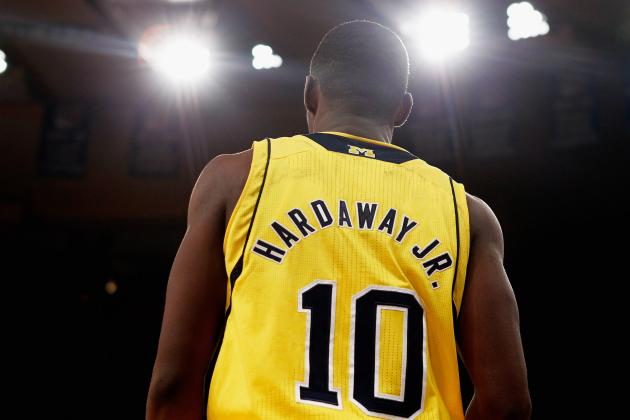 Mike Stobe/Getty Images

Tim Hardaway Jr. had a great NIT tournament, averaging 18.7 points and 5.7 rebounds per game for Michigan, leading the team to its impressive showing in New York.
Hardaway Jr. lit up MSG, and next year we could see him do it once again with the New York Knicks.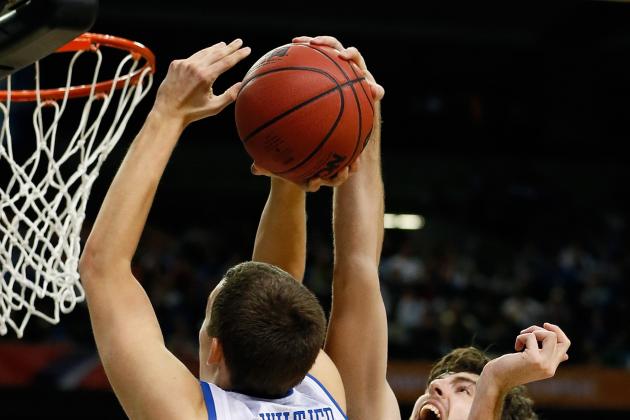 Kevin C. Cox/Getty Images

Kyle Wiltjer was supposed to be a star for Kentucky this season, but he has failed to be one.
Wiltjer is underperforming, with his entire game relying on his ability to shoot the three. He has shot it well in two games but has been awful in the other three.
This week Wiltjer had two bad shooting games, averaging just 8.0 points per game. He is still a good player, but he is far from great.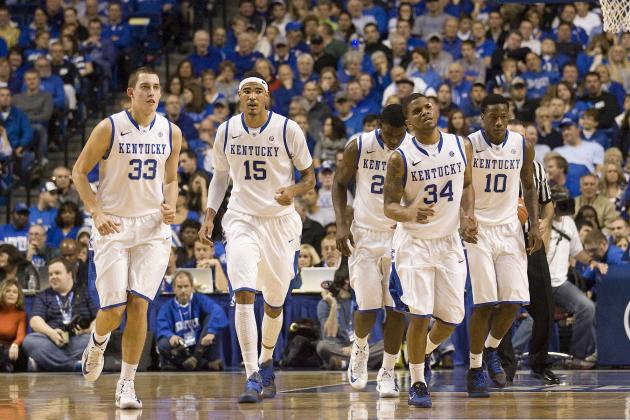 Mark Zerof-US PRESSWIRE

Archie Goodwin and Alex Poythress are playing exceptionally well for Kentucky this season, being the top two scorers on the team.
Goodwin also leads the team in assists, while Poythress is second in rebounds.
These two are the reason the Wildcats are still considered a formidable team and will be key in the coming week.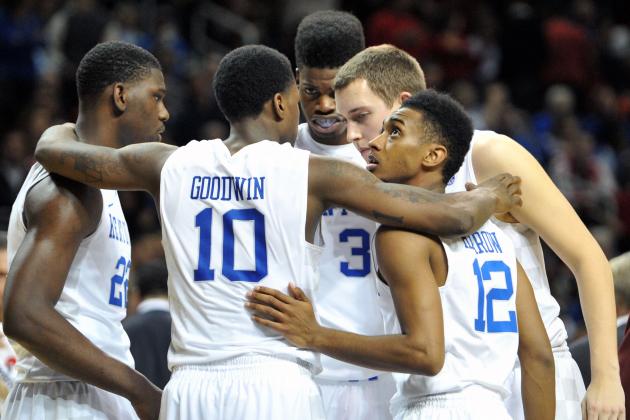 Jason Szenes/Getty Images

This next week will be a telling one for Kentucky, as the team takes on Notre Dame and Baylor, both of whom rely heavily on their frontcourt.
Kentucky's biggest weakness is rebounding, and this week we will find out if the team can overcome that weakness against quality opponents (after already losing to Duke).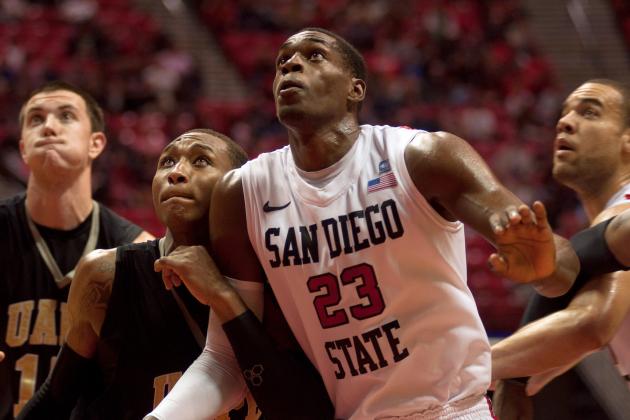 Kent Horner/Getty Images

San Diego State opened up the season with a matchup that couldn't be more difficult. The team played outside on a windy day that halted shooters and had an opponent with more big men than almost any other in the country in the Syracuse Orange.
The Aztecs were embarrassed by Syracuse but have bounced back and have yet to lose a second game.
The team beat Arkansas-Pine Bluff and USC in blowouts this week, continuing on its path to glory.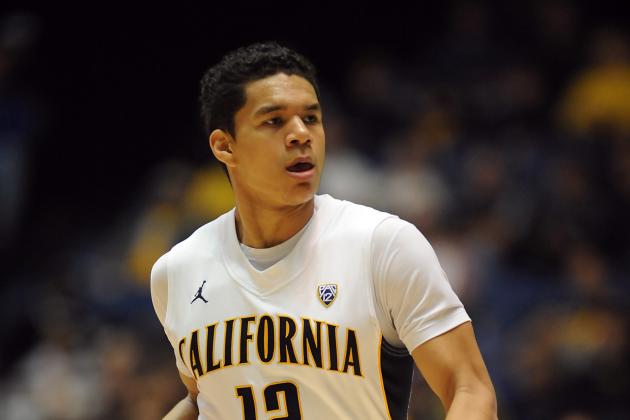 Jayne Kamin-Oncea-US PRESSWIRE

Cal has gotten off to one of the best starts in the country this year, winning three more games this week to go to 6-0 on the season.
The team is led by Allen Crabbe and Justin Cobbs, who are averaging 21.6 and 20.0 points per game, respectively.
The team will receive its biggest test of the season thus far—against Wisconsin next week on December 2—before playing No. 14 Creighton and No. 18 UNLV in back-to-back games as well.
We're about to find out what this team is made of.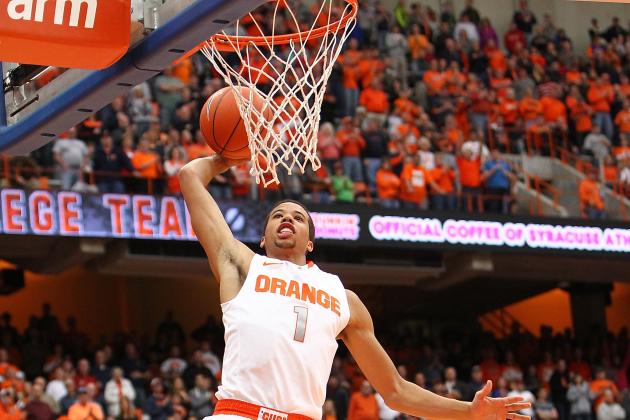 Nate Shron/Getty Images

Michael Carter-Williams has been impressive all season, but this week he proved that he is among the nation's elite point guards.
In Syracuse's two blowout wins, MCW went for 11.0 assists per game, helping his teammates win big for the Orange.
His 9.0 points and 6.0 rebounds were also very impressive for the 6'5" point guard, but it is his ability to pass the ball that makes him special.
Nate Shron/Getty Images

Another big guard for Syracuse, James Southerland stands at 6'8" and can play shooting guard. His defense on the perimeter is incredible, and this week he coupled it with great offensive play.
Southerland averaged 20.0 points per game this week, scoring 22 against Princeton and 18 against Colgate on a combined 14-of-23 shooting.
If this guy can come off the bench and still be a great guard/wing, this team is going places.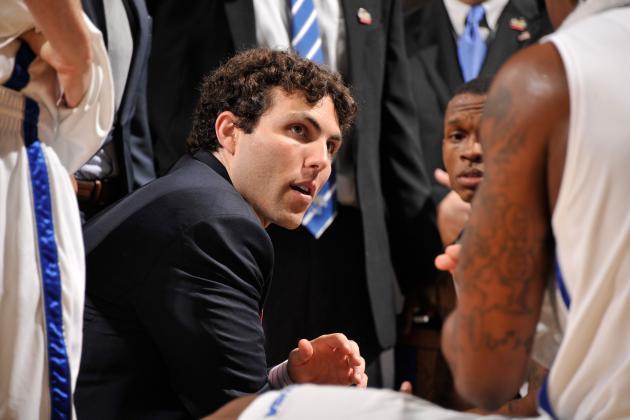 Jamie Sabau/Getty Images

Memphis had a horrible week and will plummet in the rankings because of it.
The Tigers entered the week ranked No. 19, but after losing to both VCU and Minnesota by an average of 11.0 points this week, the team will fall out of my top 30.
Memphis finally got a win in the Battle 4 Atlantis by beating Northern Iowa in the seventh-place game, but the team still only won by five.
This week couldn't have been much worse for the Tigers, who had a chance to vault up the rankings with an impressive showing during the tournament.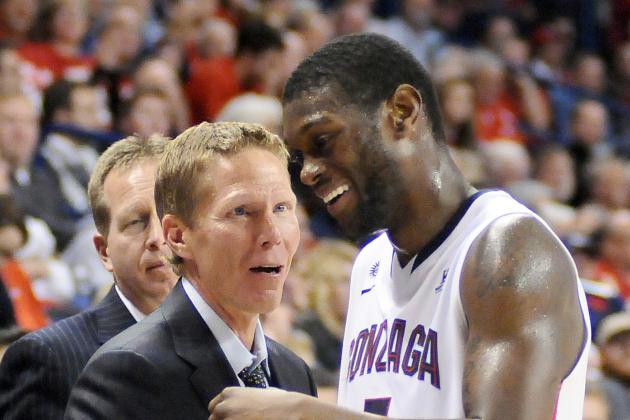 James Snook-US PRESSWIRE

Mark Few's Gonzaga crew has been incredible this season. The team has been on fire, going 5-0 with everything going right.
We knew that Gary Bell Jr., Kevin Pangos and Elias Harris would all be weapons, but with the emergence of 7'1" 305-pound behemoth Przemek Karnowski and impressive showings from center Sam Dower, the team looks virtually unstoppable.
The team beat Clemson by nine and Oklahoma by 25 this week thanks to offensive production and a stingy defense that held both teams to shooting 32 percent or less from the field.
This team is going to have a great season, and the college basketball world needs to take notice.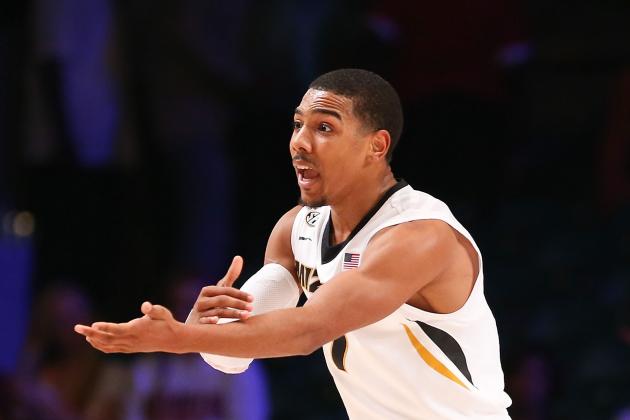 Kevin Jairaj-US PRESSWIRE

Louisville's defense gave Missouri fits when the two teams met, with the Cardinals winning the game by 23 because of it.
Mizzou turned the ball over 21 times compared to just 10 by Louisville, including eight turnovers from point guard Phil Pressey alone.
The Tigers need to do a better job of hanging onto the ball if the team is going to be elite.
Kevin Jairaj-US PRESSWIRE

It wasn't an easy week for Missouri, but not because of Phil Pressey. The team's elite point guard averaged 13.7 points and 7.7 assists per game this week, but the Tigers struggled.
The team won narrowly over unranked Stanford and VCU but fell to No. 2 Louisville in a blowout. Pressey needs more help if the team is going to work its way back into the middle of the Top 25.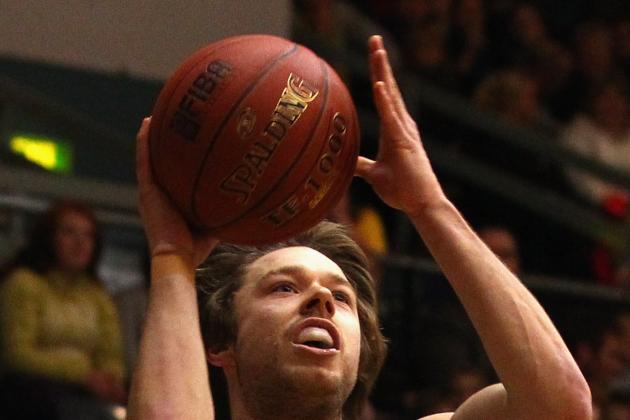 Robert Cianflone/Getty Images

Matthew Dellavedova took advantage of Drexel this week, going for 32 points in 38 minutes.
Drexel tried to take away Dellavedova's options as a point guard, but he beat the team himself, shooting 10-of-16 from the floor and 10-of-12 from the line.
Dellavedova proved that he can lead his team to victory with his hot hand, and he is now averaging 19.6 points per game on the season.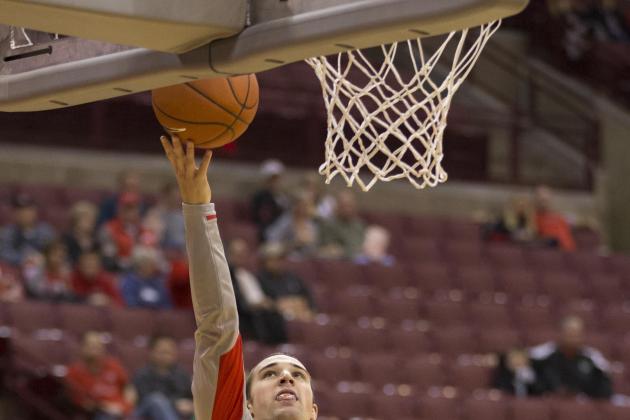 Greg Bartram-US PRESSWIRE

Ohio State played just one time this week, beating UMKC 91-45, more than doubling the Kangaroos.
The team was led by DeShaun Thomas' 21 points. Five players scored in double figures, and the team looked great.
Now the team is ready for a matchup with No. 5 Duke in the ACC/Big Ten Challenge on Wednesday.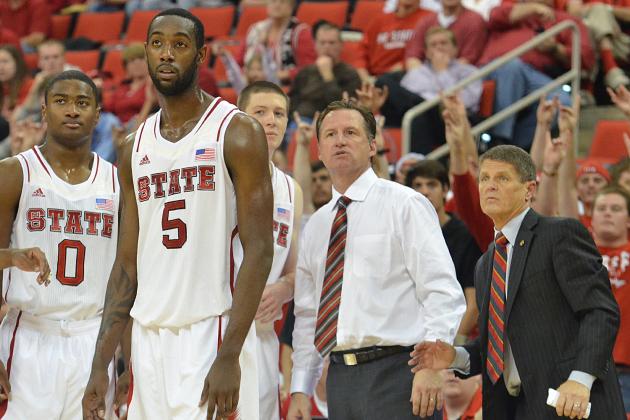 Rob Kinnan-US PRESSWIRE

North Carolina State lost its first game last week against Oklahoma State, and it didn't quell any critics this week.
The team beat UNC-Asheville by just two points, turned the ball over 19 times and missed 11 free throws.
The team struggled and could be in a lot of trouble against No. 4 Michigan in the ACC/Big Ten Challenge on Tuesday if it can't turn it around fast.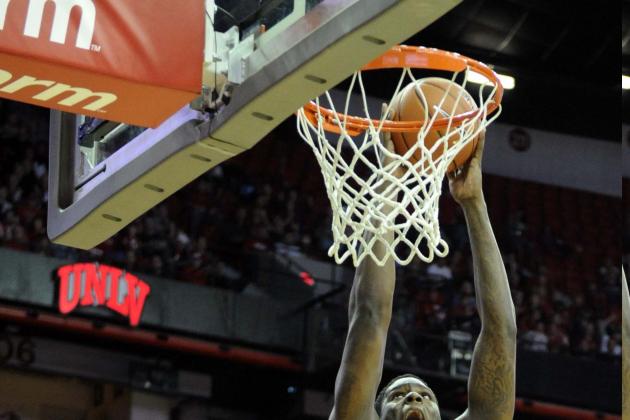 Josh Holmberg-US PRESSWIRE

UNLV had a difficult week, losing to Oregon before beating Iowa State. The team was out-rebounded in both games and struggled with turnovers.
Anthony Bennett did his part, however, averaging 22.0 points and 8.5 rebounds per game. But the freshman didn't get enough help for the team to win both games, and he will need more assistance soon.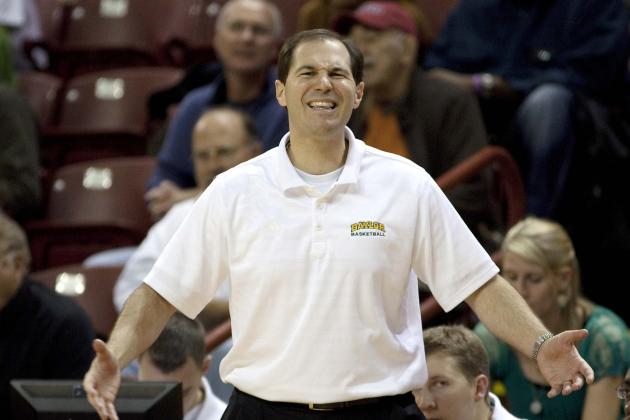 Joshua S. Kelly-US PRESSWIRE

Scott Drew can't be happy with his Baylor Bears right now; the team lost their only game of the week to the College of Charleston.
The Bears' formidable frontcourt was out-rebounded by the Cougars. They still lost despite winning the turnover battle by nine.
The team shot 24-of-61 from the floor, including a pathetic 4-of-17 from three. Pierre Jackson led the Bears with 21 points, but he shot 8-of-21 from the floor and only had five assists.
Baylor struggled mightily at home, and this was the team's second loss on the season, both coming in Waco.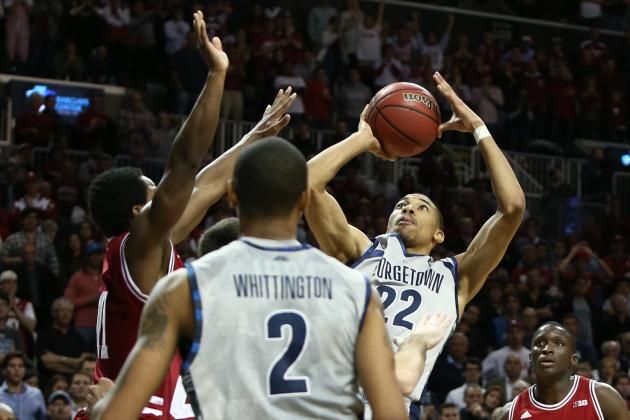 Debby Wong-US PRESSWIRE

Georgetown proved to be a tough opponent in the Legends Classic this week.
After upsetting No. 13 UCLA, the team pushed No. 1 Indiana to the brink, eventually losing in overtime.
With Otto Porter, Markel Starks and Greg Whittington all playing well, the Hoyas proved to be a tough out.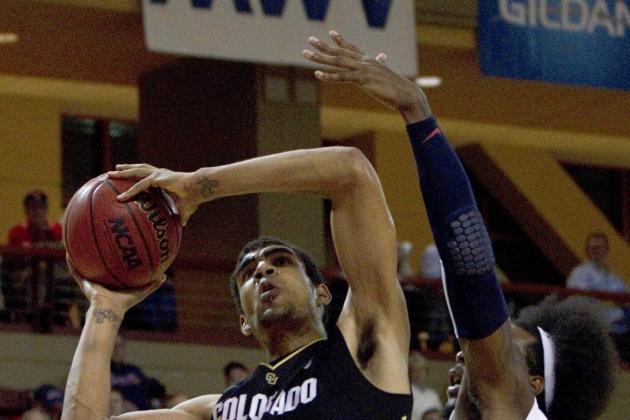 Joshua S. Kelly-US PRESSWIRE

Josh Scott is Colorado's top freshman this season, and the big man proved just how good he is this week in the team's only game.
Scott went for 20 points and seven rebounds against Air Force. He completely dominated inside and showed that he has a bright future.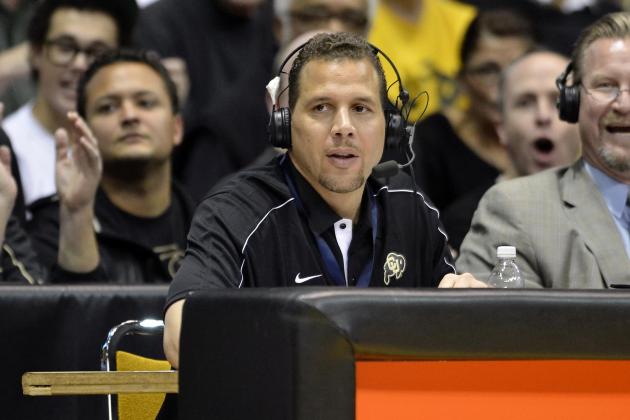 Ron Chenoy-US PRESSWIRE

Colorado has been incredible this season, going 5-0 and beating teams like Murray State and No. 16 Baylor.
The team played just once this week, but four different players scored at least 15 points.
This Buffaloes are deep and talented, and they should make a lot of noise in March.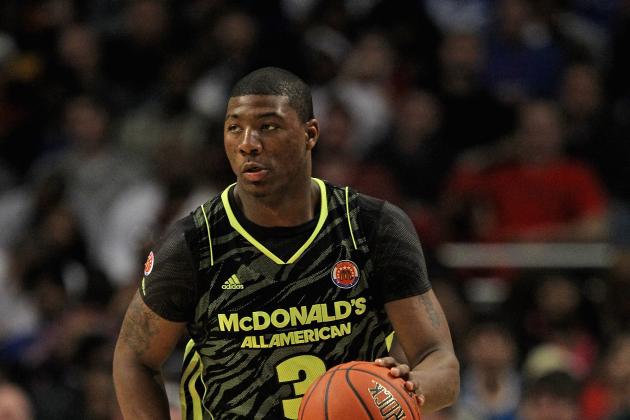 Jonathan Daniel/Getty Images

Oklahoma State climbed into the Top 25 this week at No. 20. This week the team impressed me once more, showing flexibility.
The Cowboys have relied heavily on Le'Bryan Nash and Marcus Smart to carry the load on offense, but against Portland State, Smart was shut down.
Smart then took a facilitator's role, dishing out nine assists. Nash went for 20, and Markel Brown led the team with 23 points.
A team is usually in trouble when it relies on two players to score when one doesn't reach 10 points, but OK State did just fine, winning by 23.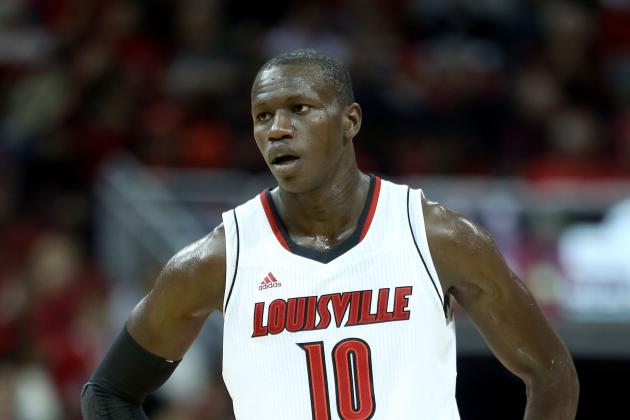 Andy Lyons/Getty Images

Gorgui Dieng didn't play in Louisville's game against Duke this week due to a wrist injury.
The Cardinals started Zach Price in the place of Dieng, but Price struggled against the Blue Devils, going for just four points and three rebounds as a center.
Louisville might have won this game with Dieng, but Price let the team down.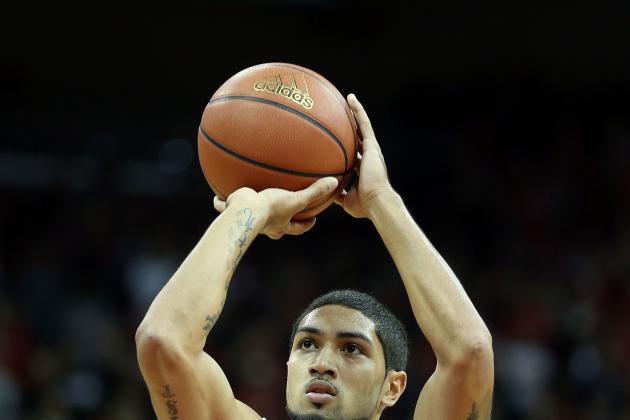 Andy Lyons/Getty Images

If anyone doubted Peyton Siva's ability to be clutch, they won't anymore.
Against No. 13 Missouri and No. 5 Duke, Siva averaged 16.0 points and 5.0 assists per game for Louisville.
Siva was the team's best player in its two biggest games of the season, but he needs some more help.
Andy Lyons/Getty Images

Louisville fouled Duke 17 times when the two teams met, with most coming in the second half.
The Blue Devils shot 27 free throws in the game, making 23 en route to a 76-71 victory over the No. 2 Cardinals.
Louisville fouled too many times, and Duke capitalized.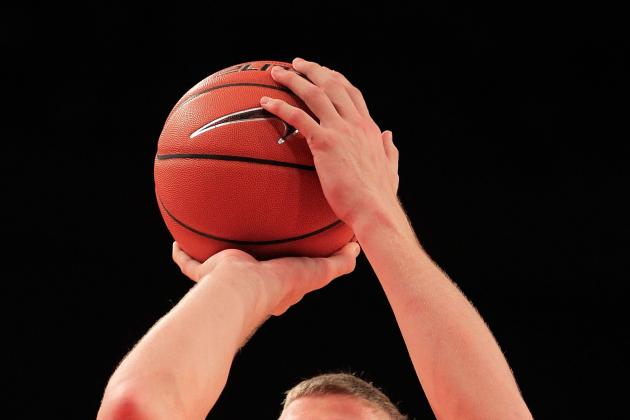 Chris Trotman/Getty Images

Mason Plumlee was one of the worst free-throw shooters in the nation in his first three years at Duke, shooting 54.3, 44.1 and 52.8 percent from the line in his first three seasons, respectively.
However, this season he is capitalizing on his freebies, shooting 80 percent. They're also a big reason why he is averaging an impressive 19.7 points per game this season.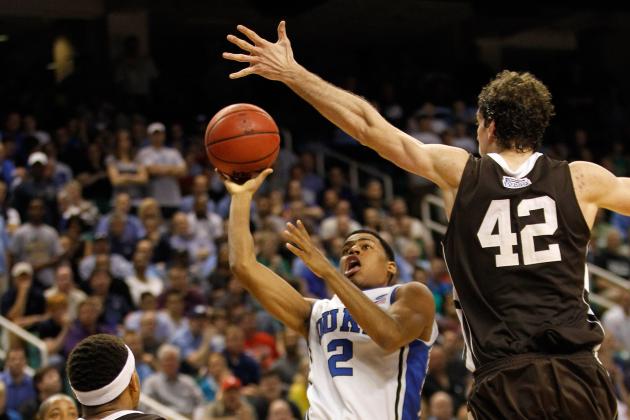 Streeter Lecka/Getty Images

Quinn Cook is having a great sophomore campaign for Duke this season, and he is a big reason why the Blue Devils are playing so well.
He is averaging 10.7 points and 5.5 assists per game. He even had six against Peyton Siva and Louisville in the final of the Battle 4 Atlantis.
Speaking of which, Cook actually led the field in assists during the tournament, topping Siva and Phil Pressey for the honor.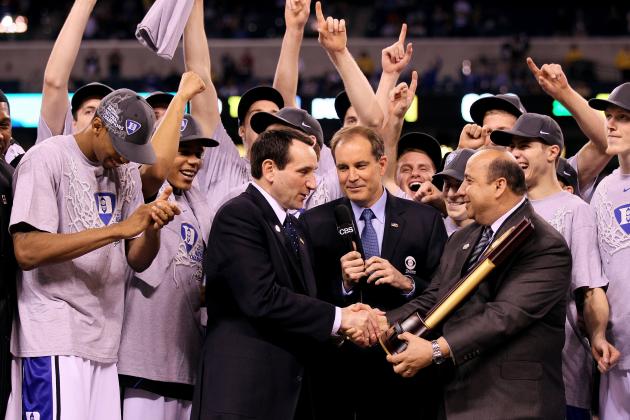 Andy Lyons/Getty Images

Duke has been having an incredible season thus far, going 6-0. The team has beaten two Top Five opponents in No. 2 Louisville and No. 3 Kentucky.
The Blue Devils now play No. 3 Ohio State on Wednesday. With a win, they will prove just how good they are.
This team has shown that it can make a deep run in March, and a national championship is not out of the question.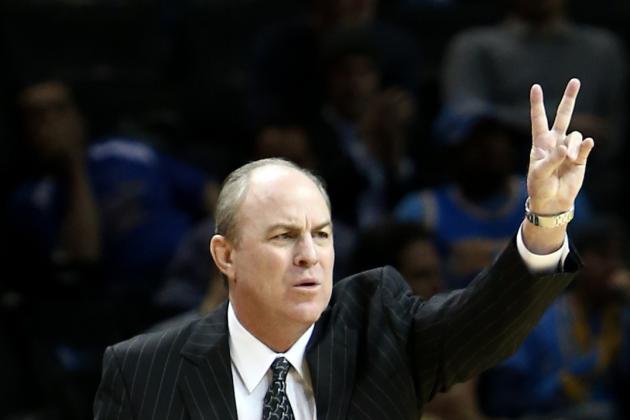 Debby Wong-US PRESSWIRE

Ben Howland's UCLA team had a tough week, struggling mightily in the Legends Classic.
The team lost to Georgetown because it allowed the Hoyas to shoot lights out, making 54.5 percent from the field and 50 percent from three.
The Bruins simply allowed Georgetown to get into a rhythm, and the Hoyas took advantage of sloppy defense (especially in transition).
If UCLA is going to live up to the hype, it needs to turn up the intensity on defense.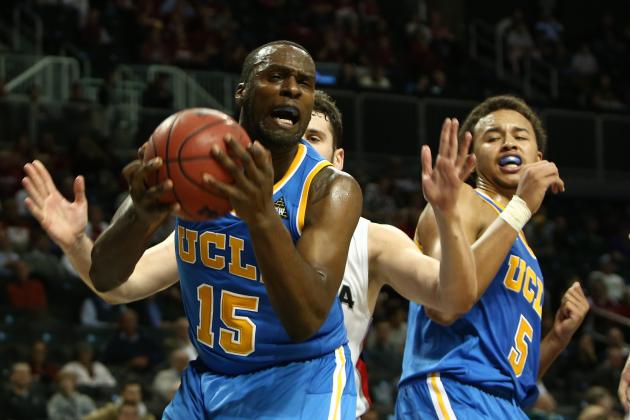 Debby Wong-US PRESSWIRE

We finally got to see Shabazz Muhammad this week when he made his collegiate debut for UCLA in the Legends Classic.
While the team did lose his first game back against Georgetown, Muhammad played well, scoring 15 points off the bench despite not being at 100 percent.
In his second game, he got the start and went for 21. What was most impressive was the fact that he shot 3-of-6 from three and played tight defense in both games; those were two areas of concern for the 6'6" wing.
The kid has a ton of talent, and once he completely heals from an ankle injury, he is going to be a star.