Erik Spoelstra and 10 NBA Coaches Who Don't Get the Respect They Deserve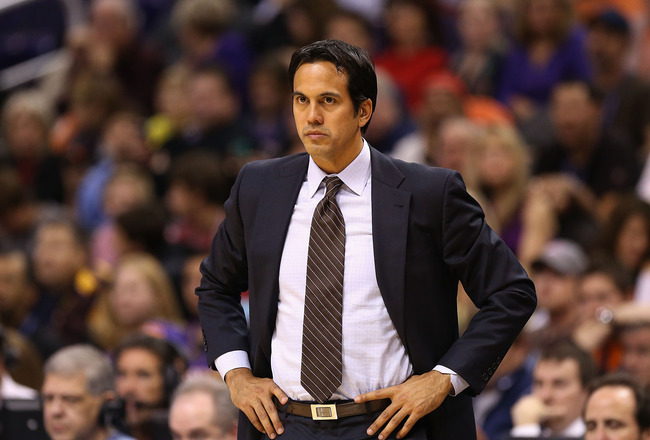 Christian Petersen/Getty Images
With all of the athleticism and talent to praise in the NBA, it's no surprise that great coaching often flies under the radar.
Just look at the Miami Heat head coach Erik Spoelstra. Between his defense-first mentality and commitment to small-ball, Spoelstra has done an outstanding job. But overshadowed by his trio of superstars, coach Spo rarely receives credit for the Heat's success.
Let's examine Spoelstra and nine other great basketball minds, giving them the praise they don't get but certainly deserve.
Note: All statistics via Basketball Reference
Rick Carlisle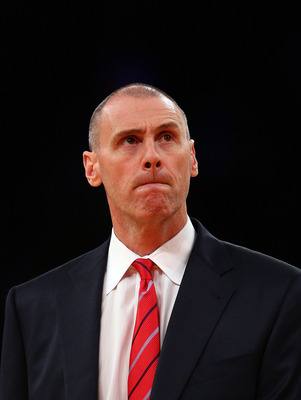 Elsa/Getty Images
While he rarely gets mentioned among the NBA's best coaches, Rick Carlisle's resume certainly says he should be.
Carlisle has a 59.4 winning percentage (486-332 record) and has been to the postseason with three different teams (Dallas Mavericks, Indiana Pacers and Detroit Pistons) in nine of the 10 seasons he's coached (103 playoff games). He has a Coach of the Year award under his belt from the 2001-02 season with the Pacers and, of course, won an NBA championship with the Mavericks in 2011.
While Dirk Nowitzki, who was playing at an unbelievably high level during the 2011 postseason, deserves much of the credit for the team's championship, the Mavericks couldn't have gone all the way without their head coach.
Carlisle neutralized LeBron James with his defensive schemes and made risky but rewarding lineup changes—like starting J.J. Barea over DeShawn Stevenson—as the series progressed.
The Jim Carrey look-alike is an all-around great coach, with the current version of his Mavs averaging the fourth-most points per game in the league, even with Dirk Nowitzki still recovering from injury.
Rick Adelman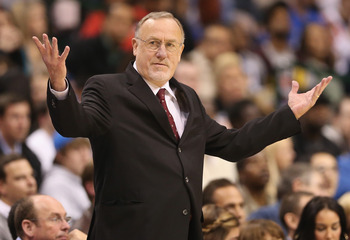 Ronald Martinez/Getty Images
Among active coaches, only George Karl has coached more career games than Rick Adelman, and for good reason.
Adelman has enjoyed tremendous success in his 21-plus seasons in the NBA, having a career regular-season winning percentage of 59.5 (976-663) along with 16 postseason appearances with three different teams. While he's never won a title, Adelman has made two trips to the NBA Finals and two more Conference Final appearances.
Adelman is now with the Minnesota Timberwolves, a team that won 17 of his first 34 games as coach after winning only 17 total games in the season prior.
Had it not been for Ricky Rubio's season-ending injury, Adelman may very well have led the Wolves to their first postseason appearance since the Kevin Garnett era.
With his successful version of the Princeton offense in its second year in Minnesota, expect Adelman's team to be a factor all season long, regardless of injury.
Mike D'Antoni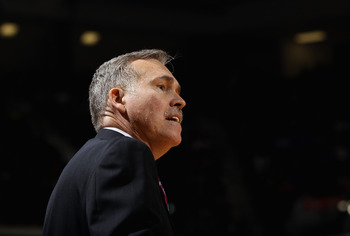 Ezra Shaw/Getty Images
The knock on Mike D'Antoni has always been that he's strictly an offensive coach.
However, D'Antoni's defensive struggles have been greatly overstated.
Excluding his first season as the team's head coach in 2003-04, D'Antoni's Phoenix Suns finished in the middle of the pack every year in defensive rating. The misconception stems from the fact that D'Antoni's Suns routinely ranked among the league's worst in points per game. However, this statistic can be attributed to his up-tempo offense creating more possessions for other teams.
Regardless of how you feel about D'Antoni's defensive coaching prowess, there is no denying that he is an offensive mastermind. Coach D's pick-and-roll offense engineered by Steve Nash led to the Suns finishing either first or second in offensive rating in the final four years of his tenure.
Still, D'Antoni had little success when he left Phoenix to coach the New York Knicks, as the team's rosters did not fit his style.
Now, back with Nash on the Los Angeles Lakers, expect D'Antoni to have great success once again.
Frank Vogel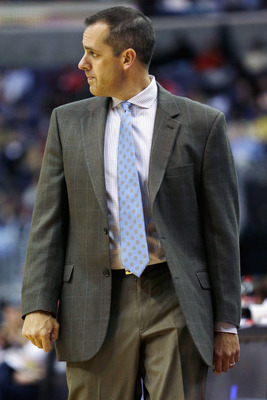 Rob Carr/Getty Images
Frank Vogel has only been the Indiana Pacers' head coach since 2011, but he's already had a tremendous impact.
In 2011-12, Vogel's first full season as head coach, the Pacers finished seventh in offensive rating after finishing 23rd the year prior. Vogel's Pacers also finished in the top 10 in defensive rating and were a top-five rebounding team.
What's particularly impressive about the way Vogel has turned the Pacers into serious contenders in the East is that he's done so without a star player in a league that seemingly requires them for success.
Vogel's Pacers play unselfishly and with a team-first mentality, which should result in another playoff run in 2013.
Doc Rivers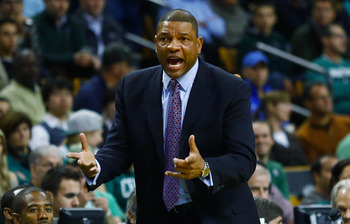 Jared Wickerham/Getty Images
Doc Rivers deserves a great deal of credit for the Boston Celtics' success since the team's "Big Three" era began in 2007.
Rivers is one of the NBA's top defensive coaches, with the Celtics finishing either first or second in defensive rating in four of the past five seasons (they finished fifth in the 2009-10 season).
And while Kevin Garnett, Paul Pierce and the now-departed Ray Allen weren't nearing the end of their careers when they won an NBA title in 2008 with Rivers, two-thirds of the trio is now and the Celtics are still thriving.
Rivers did a particularly incredible job in the 2012 postseason, with the Celtics taking the Miami Heat to seven games in the Eastern Conference Finals even though Avery Bradley missed the entire series and Ray Allen was severely hobbled.
Rivers isn't just an excellent in-game coach. The former 13-year pro excels at building relationships with his players, which is especially important considering he coaches the enigmatic Rajon Rondo.
With Rivers at the helm, the 2012-13 Celtics have a great chance to make the team's fourth trip to the Eastern Conference Finals in six years.
Lionel Hollins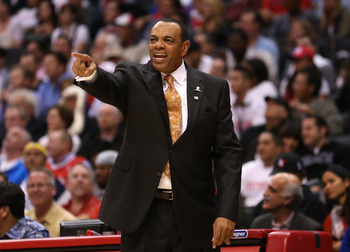 Stephen Dunn/Getty Images
Lionel Hollins hasn't enjoyed tremendous success throughout his entire career. But lately, he's proving himself to be one of the better coaches in the NBA.
In 2011, his Memphis Grizzlies dominated the No. 1-seeded San Antonio Spurs, beating them in five games in the opening round of the playoffs.
Still, Hollins' best coaching job was probably last season, in which the Grizzlies finished with a 41-25 record and the seventh-best defensive rating in the league.
Hollins had to overcome a season-ending injury to big man Darrell Arthur before the season started and then quickly lost double-double machine Zach Randolph for much of the season.
The defensive-minded head coach currently has the Grizzlies at a record of 9-2, looking like legitimate championship contenders.
Scott Brooks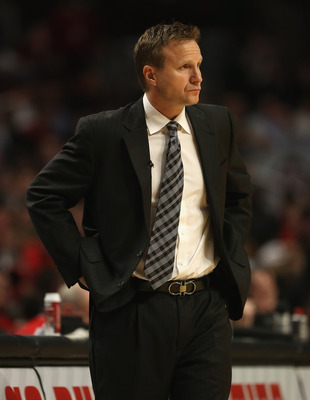 Jonathan Daniel/Getty Images
While Scott Brooks (and Russell Westbrook) seems to have a lot of the blame placed on him after every Thunder loss, he's done a truly exemplary job in his four-plus years as Oklahoma City's head coach.
The year prior to Brooks' first full season, the Thunder finished 29th in offensive rating. Since then, OKC has improved every season, finishing 12th in 2009-2010, fifth in 2010-11 and second in 2011-12.
Also, Brooks has shown excellent decision-making over the years, notably thrusting James Harden into the sixth-man role when he joined the team in 2009, even though he was vastly overqualified. The move strengthened the starting lineup's defense with Thabo Sefolosha, while creating one of the NBA's most dynamic second units.
While there was a lot of outside noise about the Thunder taking a step back this season due to their trade of Harden, Brooks has kept the team together mentally, placing them atop the Northwest division at 10-4.
Doug Collins
Drew Hallowell/Getty Images
Taking over the team before the 2010-11 season, Doug Collins has overachieved as the Philadelphia 76ers' head coach.
Collins inherited a core group that finished 27-55 the year prior, yet the 76ers finished the 2010-11 season with a 41-41 record, a top-10 defense (based on defensive rating) and made the playoffs.
The 76ers enjoyed even more success last year, making it to the Eastern Conference Semifinals behind a top-three defense.
Collins has gotten the most out of a not-so-stellar roster in Philadelphia, turning them into a defensive-minded team capable of grinding out ugly wins.
The 2012-13 Sixers have hit a stroke of bad luck with Andrew Bynum now out indefinitely, but Collins has proven he can overcome obstacles in the past, so Philadelphia can't be counted out just yet.
Stan Van Gundy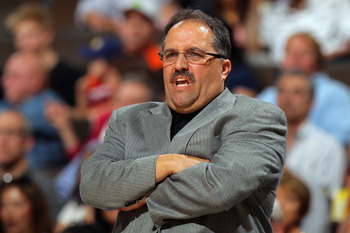 Doug Pensinger/Getty Images
Despite getting fired from the Orlando Magic at last season's conclusion, Stan Van Gundy deserves a head-coaching job.
While it's gotten swept under the rug because the team won a championship in 2006 without him, Van Gundy did an excellent job in Miami. Notably, in the 2004-05 season, he led the Heat to 59 regular-season wins and a trip to the Eastern Conference Finals.
And while it ended poorly with the "Dwightmare," Van Gundy's time in Orlando was a huge success. Stan Van's Magic teams routinely finished among the league's best in defensive rating and at their worst finished 15th in offensive rating (in 2011-12).
If Van Gundy were still in the league, he would have to be considered one of the top coaches, which raises the question: Why doesn't this guy have a job?
Erik Spoelstra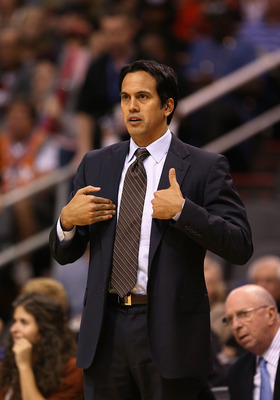 Christian Petersen/Getty Images
There's no denying that Miami's "Big Three" was going to win the Heat many, many games whether they had a very good coach or not.
That said, Erik Spoelstra has done a great job as head coach and deserves a lot of credit for the team's championship run this past June.
Spoelstra's best coaching adjustment during the 2012 postseason was clearly his embrace of small-ball, which involved Chris Bosh starting at the 5 with LeBron James at the 4.
With that move, Spoelstra turned the Heat's biggest disadvantage (size down low) into an advantage due to the matchup problems Bosh and LeBron create in those respective roles.
But Spoelstra had been enabling the Heat to win long before the small-ball era, instilling a defense-first attitude that has led to many grind-it-out victories over the years.
Spoelstra is one of the better defensive coaches in the NBA, with the Heat finishing in the top five in defensive efficiency in the past two years.
And if you think his defensive success is due only to the Heat's excellent players, you'd be wrong.
The Heat allowed the second-fewest points in the NBA in the 2009-10 season when the team's second-biggest minute-getter was Michael Beasley, who, let's just say, isn't renowned for his defensive ability.
Spoelstra is never going to receive much credit for the Heat's success, but his principles and decision-making have played a large part in creating it.
Keep Reading