New York Knicks vs. Houston Rockets: Postgame Grades and Analysis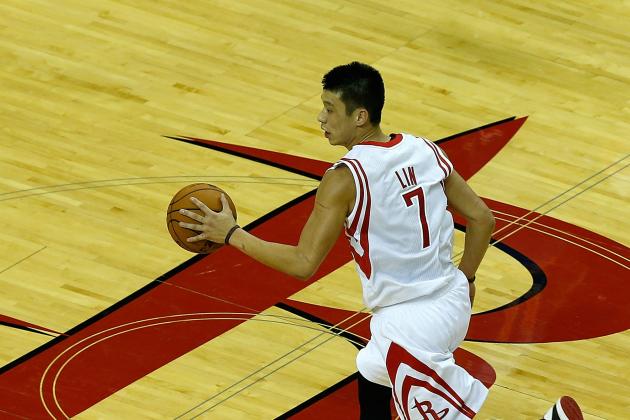 Scott Halleran/Getty Images
All eyes were on Lin, but Bearded Man and Parsons stole the show.
Going into Friday night's game vs. the Houston Rockets, the New York Knicks had the ninth-best defensive efficiency rating in the league. That all went out the window in Houston.
The Rockets went bonkers, especially Chandler Parsons and James Harden, on the way to a 131-103 victory. The threes were falling, the trips to the free-throw line often and the pace of the game fast and erratic. The Knicks defense was porous, and Harden shot 15 free throws in the first half (making all of them).
The Rockets didn't play stellar defense either, but they flat-out played more impressive offense, and it resulted in a nice lopsided victory in Jeremy Lin's first game against his former team. The offensive exhibition was as exciting for Rockets fans as it was excruciating for the Knicks' defenseless players.
Let's take a look at the postgame grades for both the Rockets and Knicks.
Begin Slideshow

»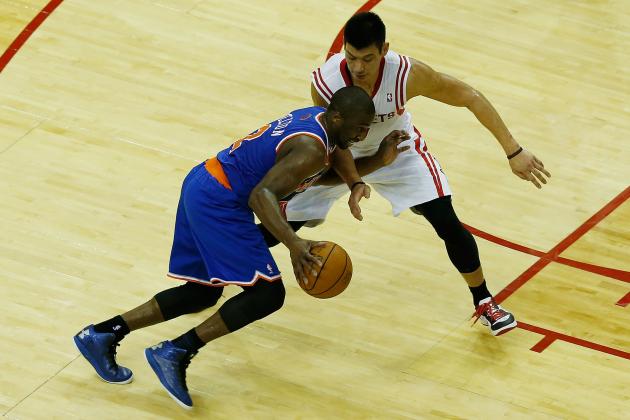 Scott Halleran/Getty Images
Lin frustrated the cold shooting Felton all night.
Jeremy Lin wanted to play well against his former team, and he did. He began the game on a good note, hitting his first field goal on a drive to the basket with 10:45 in the first quarter. The ball fake he used to shake Carmelo Anthony to get there was impressive, and he used an array of ball fakes throughout the game to clear space for his own shots and for his teammates. Lin's ball fakes are a thing of beauty.
Lin penetrated often and ignited several fast breaks, leading to his 13 points and three assists. He did have four turnovers, but that is quite excusable given the fast pace of the game. In the second quarter, the Knicks went on a 7-0 run, and it was Lin who put an end to the run, as he made a layup at the six-minute mark of the quarter. The Rockets never looked back after that.
Grade: B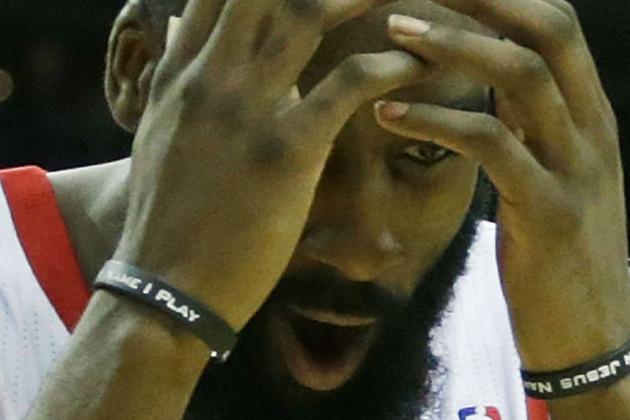 Scott Halleran/Getty Images
It's OK to look James, you blew them out.
James Harden did all the right things tonight. He took what the defense gave him and took full advantage of both the poor perimeter defense and lack of shot blocking on the Knicks (especially so when Tyson Chandler was out of the lineup).
When he wasn't getting to the basket at will, he was nailing threes. Harden had already shot 11 free throws with over nine minutes still remaining in the second quarter, and by the half he had amassed 15 free throw attempts—hitting all of them.
Harden had 25 points at the half and he played the entire way. He scored only three points in the third quarter, but the Rockets were well on their way to a total stomping of the Knicks at that point. Harden finished the game with 33, on a night it looked as though he may go for 50.
The fact was, the Rockets didn't need Harden to continue the insane play in the second half because the entire team was rolling and the game was in hand.
Grade: A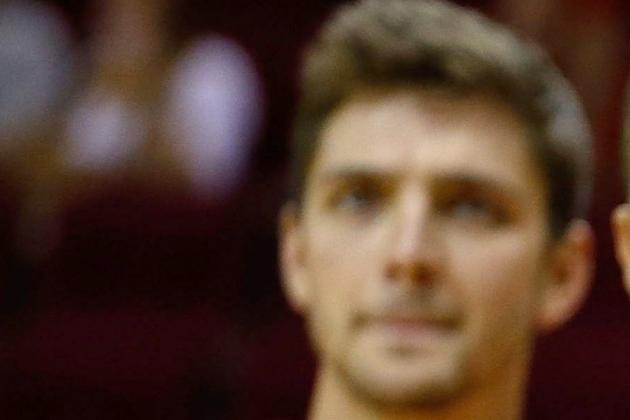 Scott Halleran/Getty Images
Smile, Chandler, you just had the game of your life.
It's hard to describe how beautiful of a thing it is when a player is truly in the zone. Parsons was in the zone tonight. He hit all seven of his first-quarter shots, and he didn't miss until well into the second quarter, as fatigue started to kick in.
The stats he had put up by that point were amazing. He scored 16 in just the first quarter, matching Carmelo Anthony basket per basket, and his teammates contributed more than Melo's, which enabled the Rockets to take a 35-32 lead after one quarter.
Patrick Patterson was in foul trouble and Marcus Morris suffered an injury, so when Parsons checked back in after his breather, he drew the defensive assignment of Anthony. While he couldn't cover Melo, it was just fine, because Melo couldn't cover him either.
The game became a Houston Parsons versus New York Melos affair, as both players took control of the game and put on an exhibition. By the half, Parsons had 26 points on 11-of-13 shooting, with three steals, two assists and four rebounds.
He returned to earth in the second half, but only because he sought to let his teammates in on more of the fun. He hit two of his four second half shots to finish 13-of-17 from the floor and ended the game with a career-high 31 points, a mark he had reached with over six minutes to go in the third quarter.
Parsons' performance tonight was near legendary, and it's a pity it wasn't a nationally televised game to give the second year star the exposure he deserves, as he continues to develop into one of the best players of the 2011 NBA draft class, and he was taken in the second round.
Grade: A++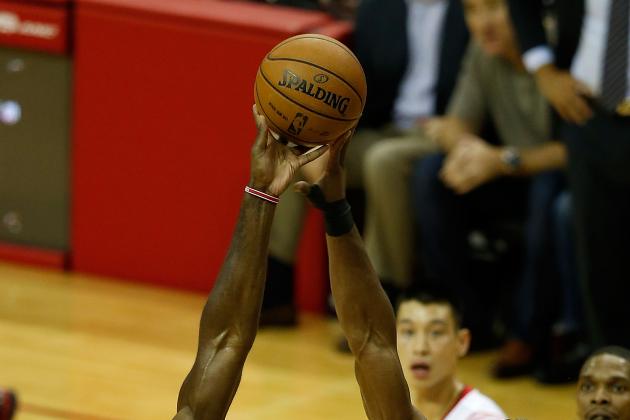 Scott Halleran/Getty Images
Patterson fouled too much.
Patrick Patterson managed to pick up three first-half fouls in just 2:24 of play. This limited his effectiveness and production, to make a bold understatement.
He played most of the second half, and did so well, but his poor first half makes it hard to give him a good grade on a night when most every Rocket played outstanding basketball. Patterson finished the game 5-of-7 from the floor, with 10 points and five rebounds.
Patterson's baskets came after the game had swung heavily in the Rockets favor, and little defense was played by New York anyway.
Grade: C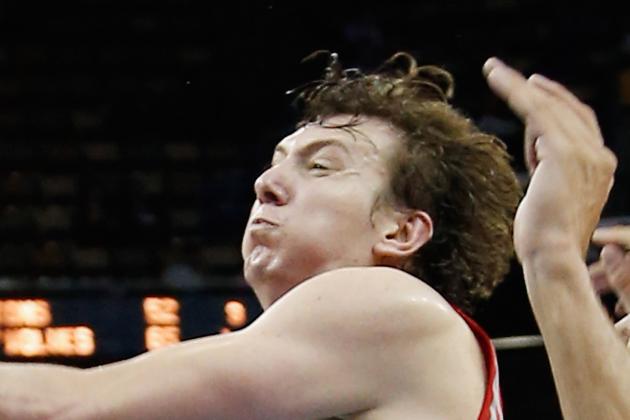 Chris Graythen/Getty Images
Asik took a hard foul from Chandler, but stayed strong.
Omer Asik was impressive tonight. Though not the most coordinated seven-footer in the history of the game, he passed the ball well, ran the court hard and he finished strong when he got the ball around the basket.
The league's third-leading rebounder grabbed another 14 tonight, while scoring 18 on 6-of-11 shooting. He also hit 6-of-8 from the line, which is a very good mark for Asik. The most impressive part of his game may have been that he was able to absorb a blatant and intentional elbow from Tyson Chandler, and did so without retaliating. Chandler was called for a flagrant I foul, but likely should have got at least a Flagrant II—if not an ejection.
Asik received a nice ovation when he exited the game in the fourth quarter, and though many criticized his hefty contract that he was given this summer, he earned every penny of it tonight with his tough play.
Grade: A+
Scott Halleran/Getty Images
Cook's defense was good tonight.
Daequan Cook has made a living by spotting up for threes, but tonight showed he has a little more to his game than just the ability to jack up jumpers. He had a really nice blocked shot that ignited a fast break and he did his best when covering Carmelo Anthony for the brief time he had to, though he is at least four inches shorter than Melo.
His 3-of-9 shooting wasn't the greatest, and he is mostly a shooter as an NBA player, but he had a nice all around game tonight in 26 minutes of play. Statistically, he didn't make a huge impact, but his steal and block were both nice and both led to easy Rockets baskets.
Grade: B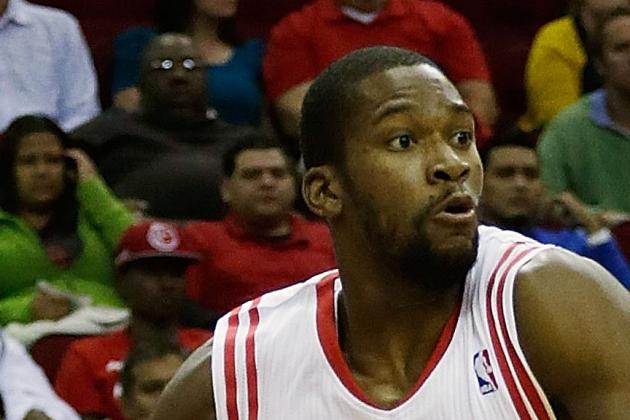 Scott Halleran/Getty Images
Toney Douglas was excited to face his former team.
The Rockets bench didn't do much outside the contributions of the aforementioned Cook and Toney Douglas. For all the hype about Lin playing against the Knicks again, Douglas had his own little scenario of greatness playing out in his mind as he faced his former team.
Douglas contributed 11 points on 3-of-6 shooting, but he hit three of his four three point attempts. His four turnovers were a black spot on an otherwise good game, but as I said in the slide regarding Lin, the pace of the game led to some sloppier play.
Outside of Cook and Douglas, the rest of the bench contributed six points on 3-of-12 shooting, as the trio of Marcus Morris, Terrence Jones and Greg Smith did little of value.
Grade: C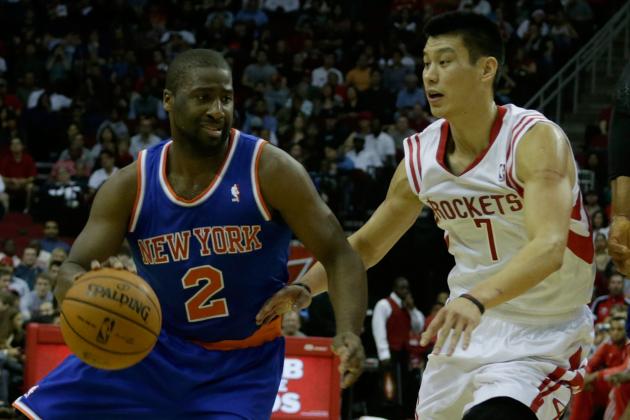 Scott Halleran/Getty Images
Raymond Felton had nice stats, but so did everyone else.
Raymond Felton started the game with two of the ugliest bricks in the history of the NBA. OK, so that's an overstatement; they were just as ugly as any other errant jumper, but his first missed the rim altogether and ricocheted violently off the backboard. It didn't look like Felton was in for a good night.
He did get it together, though, and went 6-of-11 for the game, finishing with 17 points and eight assists. His speed looks a lot better this year, as he is in much better shape following a full training camp. He had eight assists to his four turnovers, which was pretty solid considering the fast pace of the game. His defense was awful, but so was that of the rest of the Knicks team...and Felton has never been much of a defender, at any rate.
Grade: C+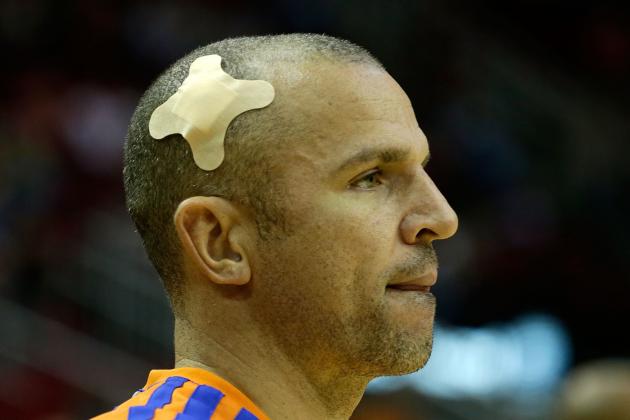 Scott Halleran/Getty Images
Kidd's ridiculous bandaid and stole the show from him.
Jason Kidd had another very Kidd-like game. He posted a well-rounded line of seven points, five assists and five rebounds, and his defense was better than most of his teammates' (though that isn't saying much). He had a tough time with Harden, but part of the blame there can fall on the poor interior defense that was behind him when Harden beat him to the hoop.
Kidd's getting slower by the minute, but he is still able to do a fair job on defense—somehow, some way.
Kidd's best contributions did come and have come from being a leader, anyway, and he did that as usual. His 2-of-5 shooting is a pretty small sample size, but about par for the course for Kidd. And his entire performance was pretty standard for what can be expected from him at this point in his career.
Grade: B-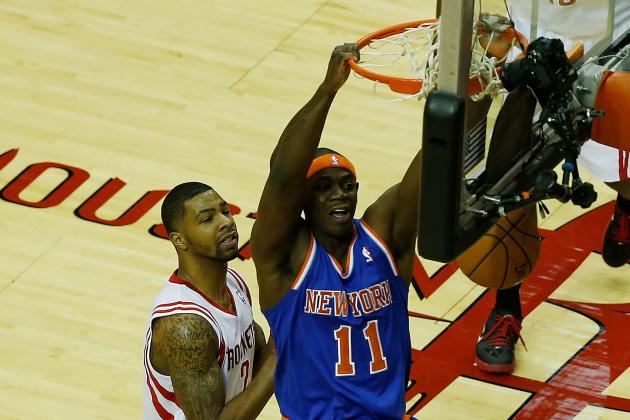 Scott Halleran/Getty Images
Brewer's lone highlight of the game.
Ronnie Brewer only played 15 minutes in tonight's game, despite getting the start. His contributions were minimal and could pretty much all be broken down to one nice dunk on a fast break and a steal. He finished with four points, two rebounds and, yes, the steal.
It's hard to criticize Brewer because he isn't a focal point in the offense and taking three shots in 15 minutes is about on pace with what he does most nights. But the fact that he did only play 15 minutes can only get him a substandard grade at best, because he is a starter and should be playing at least half the game if making a reasonable contribution.
Grade: C-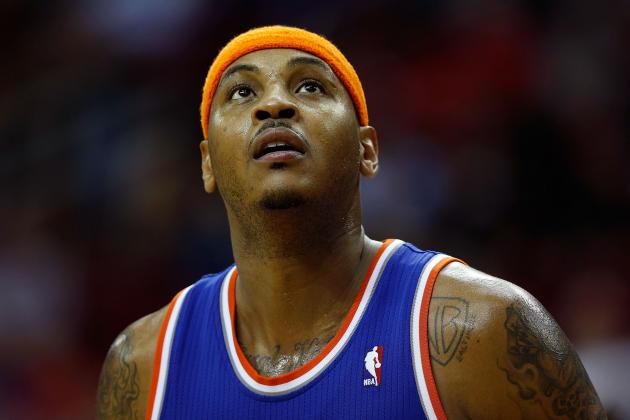 Scott Halleran/Getty Images
Melo did his thing tonight, his teammates did not.
Not too many Knicks players had good games tonight, but one did: Mr. Carmelo Anthony. He opened the game by hitting a three, and it set the tone for him offensively for the rest of the night. He got Patrick Patterson into foul trouble, and Marcus Morris wasn't able to do anything with him either. By the time Chandler Parsons got to him, he was rolling along, and it had become a one-on-one affair, at least for a while, between Melo and Parsons.
Anthony kept the Knicks in the game for most of the first half and, like Parsons, finished the first quarter with 16 points. By halftime, Melo had 24 points on 9-of-13 shooting, including 4-of-5 from downtown.
The rest of his teammates had an additional 33 points, which would be enough on most nights, but not when they are allowing the Rockets to score 72 points in a half.
Melo finished with a game-high 37 points, and though the Knicks lost, it was everyone's fault except his.
Grade: A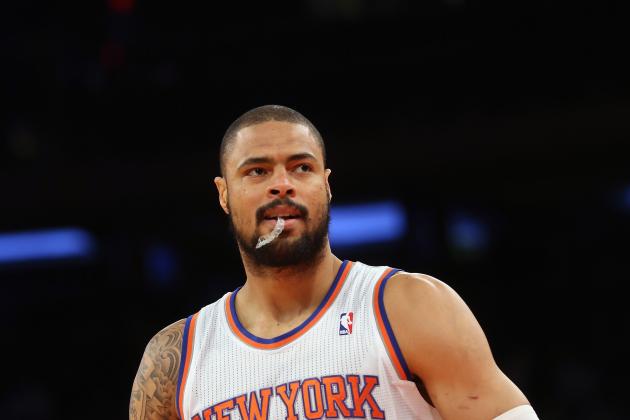 Bruce Bennett/Getty Images
Tyson got dirty tonight.
Just looking at his three blocked shots and efficient shooting line (3-of-4), one would think Tyson Chandler had himself a standard and decent game. But he didn't.
He threw a horrible and dirty elbow at Omer Asik out of frustration, and he didn't (or couldn't) cover the blunders of a perimeter defense that was repeatedly beaten both in transition and in the half court. It's not really fair to lay all that blame on Chandler, but he was in over his head tonight with his teammates providing so little help on the defensive end for the reigning Defensive Player of the Year.
Chandler will likely draw a fine for the elbow to Asik, and that's really all that can be drawn from this game in light of the fact that the Knicks only hung with the Rockets for a quarter and a half. While Tyson would likely give himself an F for his performance tonight, we're going to be a little more generous and give him a passing grade.
Grade: C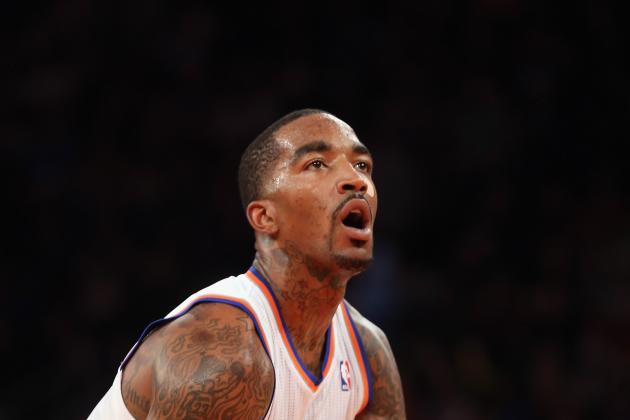 Bruce Bennett/Getty Images
JR couldn't find the range tonight.
J.R. Smith just couldn't get it going tonight, and it's unlikely it would have made the difference if he had. He shot 2-of-13 from three point range but still finished with 12 points due to his eight free throw attempts (of which he made seven). For a player whose value is so intrinsically tied to his shooting, it's hard to give him a good grade on a night in which he neither hit shots nor did anything defensively.
Grade: D-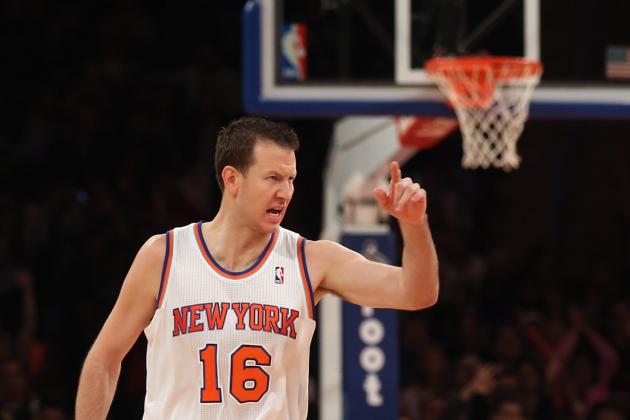 Bruce Bennett/Getty Images
Novak shot well tonight, but what else is new?
Throwing out J.R. Smith's horrible performance as a sixth man, and Steve Novak is really the only Knick that did much of anything. After you remove Smith's poor shooting, and Novak's good shooting, the rest of the Knicks bench still shot the ball horribly, combining to go 5-of-14.
And most of that was in garbage time, anyway.
Teams have trouble winning when their benches play horrible, and the bench played even worse than the starters, because it was sans Melo most of the time.
The bench players actually had better plus-minus ratings than the starters, but all were still negative, so it's not much of a consolation when you're losing but just not losing quite as badly. Is it?
Grade: F