L.A. Lakers vs. Memphis Grizzlies: Live Score, Results and Game Highlights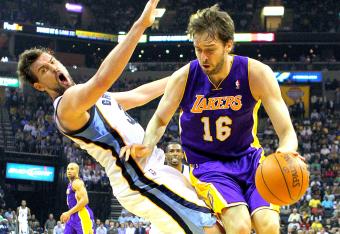 The game is over at the FedEx Forum, where the visiting Los Angeles Lakers never caught up to an impressive Memphis Grizzlies team.
Final Score: Memphis 106, Los Angeles 98
Check out the live blog below for a game review and other important information!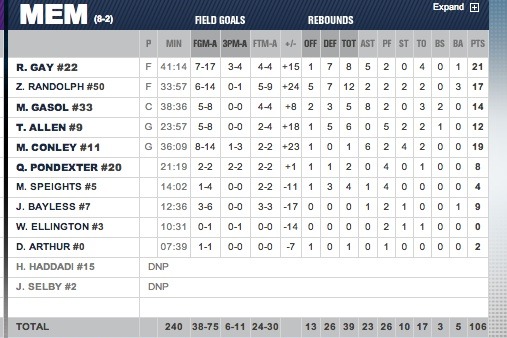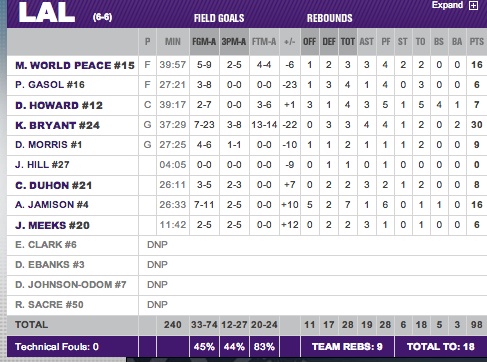 A look at the final box scores for both teams:
Game Recap:
Final Score: Memphis 106, Los Angeles 98
The Grizzlies dominated most of this game, killing Los Angeles on the glass and in the paint. No Lakers starter had more than four rebounds.
Los Angeles had minimal offensive flow, while Memphis looked sharp throughout. As time wore down, Kobe attempted to revert to his heroic form but was unable to get quality looks at the basket.
Coach Mike D'Antoni has to emphasize minimizing turnovers in the upcoming practices, as the Lakers shot themselves in the foot with 19 total on this night.
Interestingly, Pau Gasol didn't see the floor much at all in the fourth quarter. Could something be afoot?
Mike Conley, Zach Randolph and Marc Gasol were excellent all game, but none so much as Rudy Gay. The Grizzlies' small forward continues to lead them to wins.
Most of all, a shift in power seems to be occurring in the Western Conference. At no point tonight did it ever appear that the Lakers were better than a hungrier, deeper Memphis team.
More free throws on the way for Kobe Bryant, as Quincy Pondexter left his feet a bit too soon.
Bryant knocks both home to bring his total up to 28 points on the night. Don't be fooled, he is shooting a poor 7-21 from the field.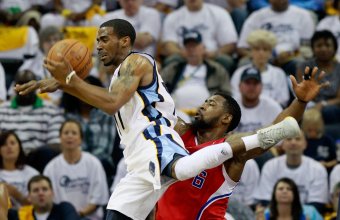 Kevin C. Cox/Getty Images
Marc Gasol with a rare mishandle gives it back to the Lakers, but another bad look from Kobe sends it back Memphis's way.
Mike Conley is playing like every bit of a superstar tonight, knocking down an ice-cold step back at the end of the shot clock.
This game is all but over in Memphis, and the crowd is loving it.
MEM 104, L.A. 98; 0:36 to play in regulation
Antawn Jamison's nice night ends too soon, as he just fouled out by hacking Marc Gasol to save an easy bucket.
Gasol drains both ensuing free throws, and the Grizzlies have scored 100 points at home.
MEM 100, L.A. 92; 2:00 to play
Memphis has turned up the defensive effort and is now milking the clock on every possession.
A turnover and an outlet pass to Kobe will send the Lakers' late-game hero to the line for two shots.
A T.V. timeout will give both sides a chance to catch their collective breath.
MEM 98, L.A. 90; 2:24 to play
The Memphis crowd is rallying behind the Grizz, amplified by Marc Gasol drawing a foul on Dwight Howard while trying to get post position.
Yet, Zebo turns it over with an offensive foul, and picks up another on the ensuing Lakers possession.
MEM 98, L.A. 90; 3:22 remaining
Another bomb from Kobe brings the Lakers within 5.
Arbitrary degree of difficulty: 8.7 out of 10
MEM 96, L.A. 90; 5:00 to play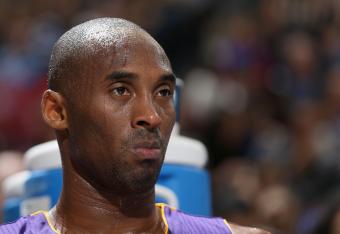 Rudy Gay beats the shot clock, much to the enjoyment of the FedEx Forum faithful.
That makes 19 for Gay, who will look to help the Grizz close this thing out at home.
Kobe knocks in a three to keep the Lakers breathing.
MEM 95, L.A. 87; 5:38 to play
Just when things are starting to turn the Lakers' way, Jamison blows a chance at a fast break bucket by charging through a helpless defender.
On the other end, Pondexter hits a wide open look from the corner to send the Grizzlies back up to a nine-point lead.
MEM 91, L.A. 82; 7:25 remaining in the fourth quarter
Could we see this kind of comeback tonight?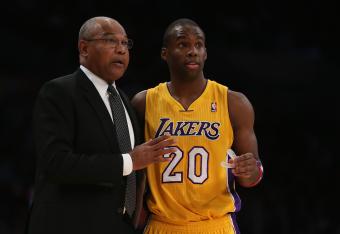 The Grizzlies continue to double team Dwight Howard in the post. He finds Jodie Meeks on consecutive possessions, and the sharpshooter knocks in two deep three balls.
A third try by Memphis allows Chris Duhon to knock one of his own in, and suddenly the Lakers are within six points.
A monster swat by Howard has the Lakers feeling primed for a late-game push.
MEM 88, L.A. 82; 8:45 remaining in regulation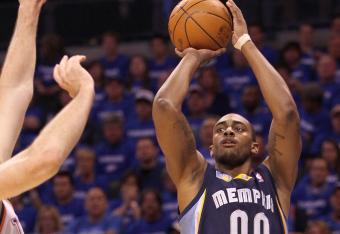 Antawn Jamison is having himself a night. The reserve small forward knocks in his thirteenth point on a corner three ball.
On the other end, Darrell Arthur scores his first NBA points in over a year.
MEM 86, L.A. 73; 10:30 to go in the fourth
The most obvious course the Lakers can take to get back in this game is turning up the defensive tenacity. They appear outmatched at both ends of the floor, as Memphis continually brings pressure.
Side note: Dwight Howard just made both free throws on a trip to the line! Congratulations big fella!
Antawn Jamison hits a ridiculous fall-away buzzer-beater to end the third.
MEM 82, L.A. 70 after three quarters
Closing quarters is very important at the NBA level. The Lakers need to cut into this 12-point deficit with a minute remaining in the third.
Sending Pondexter to the line won't help.
Grizzlies 80, Lakers 66; 1:00 to play in the third
Mike Conley does not get the league-wide attention he deserves. He looks like one of the best players on the floor tonight, and there is no shortage of talent around him
Question: How does a team with Dwight Howard and Pau Gasol in the same lineup get so heavily outscored in the paint?
Answer: Lack of defense and a poor offensive strategy. The two towers have hardly been noticeable in the post all game.
Zebo records his eleventh consecutive double-double, snagging a rebound following a Bryant miss.
Metta World Peace bulls over Mike Conley for an offensive foul. Here go the Grizzlies again!
A backdoor cut by Conley balloons the lead back out to 15.
MEM 75, L.A. 60; 3:00 to play in the third quarter.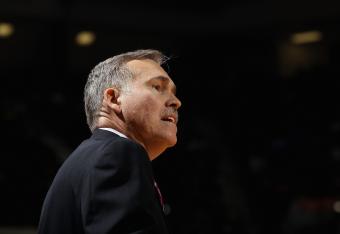 Another Lakers turnover brings us to our first timeout of the second half.
Is the problem with the coaching, or is this team just out of sync without Steve Nash?
Pau Gasol finally hits a mid-range jumper to bring his game total to six points.
On the other end, Marc shows as much skill as his brother and knocks one in to answer.
Where's the defense for Los Angeles?
MEM 69, L.A. 55; 6:40 to play in the third quarter
The second half is off to a bit of a slower start, as neither team has established offensive rhythm.
13 Lakers turnovers so far have led to 20 Memphis points.
MEM 62, L.A. 53; 8:45 to play in the third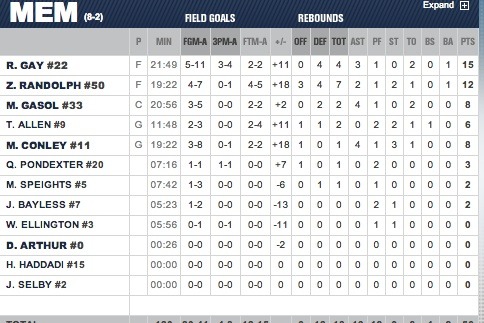 And for the Memphis Grizzlies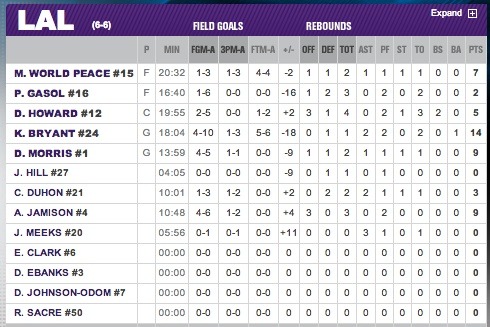 Here's a look at the first half stats for the Los Angeles Lakers
The crowd at the FedEx Forum then falls silent after a monstrous slam from Kobe Bryant with four seconds remaining until halftime.
That dunk should send the Lakers into the locker room with some confidence.
MEM 56, L.A. 49; Halftime
The crowd at the FedEx Forum gives a warm welcome back to Darrell Arthur, who will get his first 25 seconds of playing time on the season.
Arthur missed all of last year with an achilles injury.
Marc Gasol continues to thread passes through the interior of the Lakers defense, feeding Conley for a layup to answer a Kobe Bryant three ball.
MEM 54, L.A. 43; 1:00 remaining in the first half
This article is
What is the duplicate article?
Why is this article offensive?
Where is this article plagiarized from?
Why is this article poorly edited?