Michigan Basketball: 5 Biggest Lessons from the Wolverines' NIT Tip-Off Title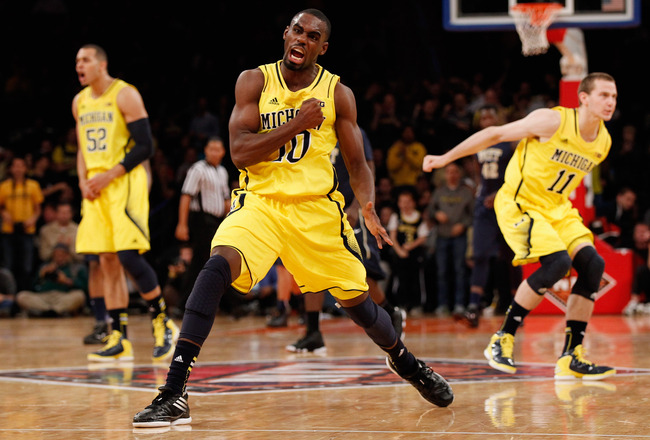 What did we learn from the Michigan Wolverines Preseason NIT Tip-Off title?
Mike Stobe/Getty Images
The Michigan Wolverines took Madison Square Garden by storm this week and took down the Pittsburgh Panthers 67-62 and topped the Kansas State Wildcats 71-57 to win the 2012 NIT Season Tip-Off for the first time in school history.
Junior shooting guard Tim Hardaway Jr. earned tournament MVP honors and led the Wolverines with 39 points in two games in New York.
What did we learn from Michigan's tournament title?
Click ahead to find out!
Michigan Will No Longer Be Dominated on the Glass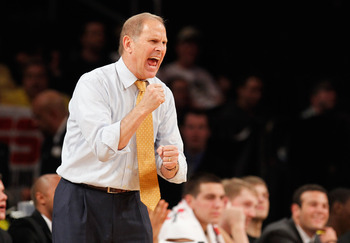 Mike Stobe/Getty Images
Perhaps the biggest takeaway from the Michigan Wolverines' two games at Madison Square Garden is how much better the Maize and Blue are at securing rebounds and not allowing bigger teams to dominate the glass.
It came as no surprise that Michigan out-rebounded the likes of the Cleveland State Vikings, IUPUI Jaguars and Slippery Rock to open the 2012-13 season, but the fact that the Wolverines finished with a 12-plus rebounding margin against Kansas State and were 10-plus against the Pittsburgh Panthers was a bit of a shock.
True freshman power forward Mitch McGary and a much improved Jordan Morgan were not even the primary rebounders for the Wolverines.
The tandem of big men only combined for 16 rebounds in Michigan's two victories in New York, while junior shooting guard Tim Hardaway Jr. and true freshman small forward Glenn Robinson III averaged a combined 13.5 rebounds per contest.
Sophomore point guard Trey Burke also managed to pull down 10 rebounds in the Wolverines' wins over Kansas State and Pitt.
Nik Stauskas Is More Than Just a Shooter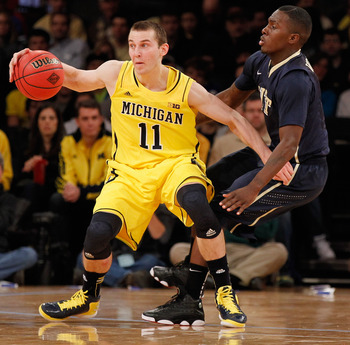 Mike Stobe/Getty Images
True freshman shooting guard Nik Stauskas draws a lot of praise for his abilities to knock down three-pointers at a high rate, but the Mississauga, Ontario native proved he is much more than just a shooter in Michigan's two wins.
Stauskas shot 50 percent from the field and found several ways to score the basketball, despite the fact that seven of his nine made field goals on the season were three-pointers prior to the Wolverines' trip to Madison Square Garden.
The 6'6", 190-pounder showed the ability to get to the basket in traffic for layups and drew some fouls on the drive as well, which he converted at the free-throw line by going 8-for-8.
Stauskas also pulled down nine rebounds and had a block to go along with his 25-point total against the Pittsburgh Panthers and Kansas State Wildcats.
Tim Hardaway Jr. Needs to Shoot Fewer Three-Pointers
Mike Stobe/Getty Images
Tim Hardaway Jr. is playing more and more like his father every game, but make no mistake about it, the junior shooting guard is beginning to separate himself from the family legacy and make his own imprint on the basketball world.
The only knock on Hardaway's game right now is that he has a tendency to fall in love with the three-point shot and fails to take opposing players to the basket or even pull up from the elbows (which is where the 6'6", 205-pounder is at his best).
From inside the arc this season, Hardaway is shooting 75 percent and has knocked down 24-of-32 shots.
Hardaway can get hot from behind the three-point line as seen in games against Slippery Rock (5-for-5) and the Cleveland State Vikings (3-for-6), although he has a higher tendency to go 1-for-7, like he did against the Pittsburgh Panthers.
The Miami product scored 23 points in the championship game against the Kansas State Wildcats, and did it by knocking down just one three-pointer on three attempts.
Hardaway, who was named the Preseason NIT Tip-Off's MVP, needs to avoid jacking up too many bad threes, as he did a year ago, and pull up from mid-range where he is much deadlier as a shooter.
The Wolverines Are No Longer Reliant on the Three-Point Shot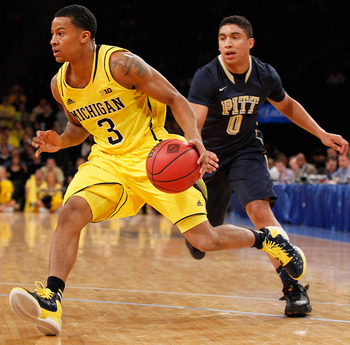 Mike Stobe/Getty Images
In the past, head coach John Beilein's offense has revolved around the ability to make a bunch of three-pointers and spread the floor against much bigger teams as a result of not having the most talented athletes in the country.
But the Michigan Wolverines proved they are no longer dependent on draining shots from behind the arc to win basketball games.
Michigan only made seven three-point field goals in two games at Madison Square Garden, which last season probably would have amounted to the Wolverines leaving New York 0-2.
Instead, the Wolverines have been able to get to the basket at will—thanks to the driving abilities of Trey Burke, Tim Hardaway Jr. and Glenn Robinson III—which has made their offense even tougher to defend.
The three aforementioned players, along with freshmen guards Nik Stauskas and Spike Albrecht, have all proven they can knock down shots from long range and have forced teams to defend the perimeter.
However, the Wolverines no longer live and die by the three, and have plenty of other ways to score.
Michigan Is Not Overrated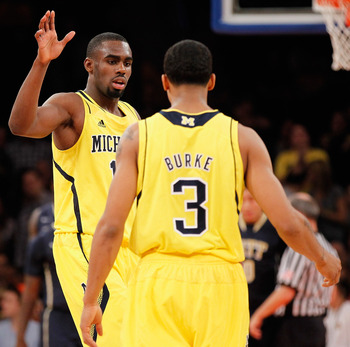 Mike Stobe/Getty Images
The Michigan Wolverines sent a loud and clear message to anyone who thought its preseason No. 5 ranking was undeserved by beating Pittsburgh (who look like a Top 25 team) and Kansas State.
Trey Burke leads an array of scorers and the Wolverines have future pros in Glenn Robinson III and Tim Hardaway Jr. to help take the scoring load off of last year's Co-Big Ten Freshman of the Year.
The Wolverines are no longer a three-point shooting team that fails to crash the glass, either.
Michigan is out-rebounding teams and are forcing less shots from behind the arc, which has led to a more efficient offense.
The chemistry of this group has been on full display through Michigan's first five games of the year, and that is only going to get better over the next four months of the 2012-13 season.
It's way too early to say this team could make a run at a Final Four, but even Michigan's biggest doubters have to admit that the Wolverines are going to contend for a second straight Big Ten title, and will be a tough out in the NCAA tournament come March.
Keep Reading

Michigan Wolverines Basketball: Like this team?