2013 MLB Awards Predictions: All Dark-Horse Edition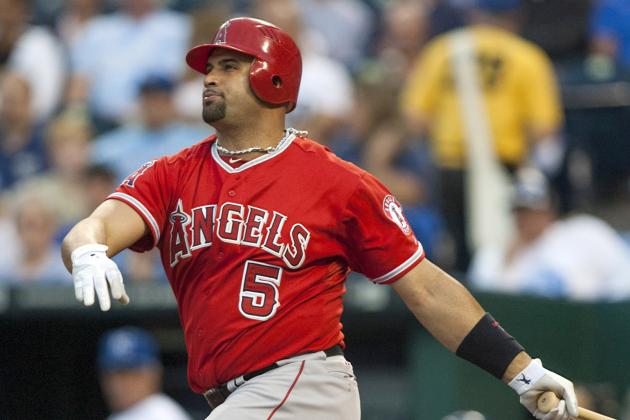 Tim Umphrey/Getty Images

Best rookie season ever?
Meh.
First batting Triple Crown since 1967?
Yawn.
That's not as interesting as seeing an MVP elected from a last-place team as Andre Dawson of the Cubs was in 1987.
Or how about an average third baseman moving to a new team at age 30 and riding a rather modest .319 average to the NL batting title and an MVP crown, as Terry Pendleton did in '91?
Modern baseball analysis pretty much guarantees we'll never see another Joe Gordon-over-Ted Williams MVP scenario, but that doesn't mean the underdog can't sneak away with a bone or two.
Without further ado, our predictions for the All-Dark Horse 2013 MLB Awards.
Begin Slideshow

»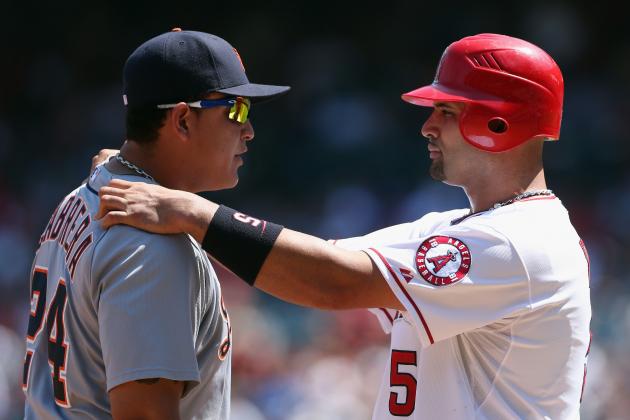 Jeff Gross/Getty Images
From one MVP to another.
Baseball fans can universally agree that Albert Pujols is an historically great player.
Throughout his career, he has brought high-batting average, power, production, defense and desire to his game, making himself the best player future Hall of Fame manager Tony La Russa ever saw.
He is probably among the top five greatest right-handed sluggers in baseball history along with Jimmy Foxx, Hank Aaron, Rogers Hornsby and the Yankee Clipper, Joe DiMaggio.
Even as he declines, Pujols is cruising toward a career that may include 600 home runs, 3,000 hits and 2,000 RBI.
And like many of the great ones, Pujols likely has one more MVP season left in him.
His first season in the American League was not a bust, but no one expected him to be sitting on one home run nearly a quarter into the 2012 season. His season on-base percentage of .343 was easily the worst of his career and stunningly bad in contrast to his career .414 mark.
But if any player in the modern era knows how to get motivated, it's El Hombre.
Albert will be much more comfortable in his second season in California. The Angels will enjoy a full season of Mike Trout's top-of-the-order production, which will only benefit Pujols. And the entire Angels organization knows that missing the playoffs in 2013 isn't an option.
I predict Pujols rolls back the clock to 2005 and has an outstanding season, leading the Angels to a Wild Card berth and picking up his fourth career MVP award.
His "raw stats" won't be as good as others, like Miguel Cabrera. But as with most MVPs, Pujols' story will be the most compelling—the Return of the Machine.
Predicted 2013 Stats: .323 AVG, 41 HR, 135 RBI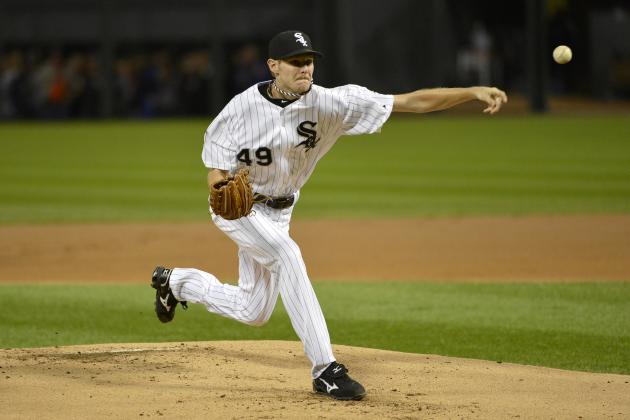 Brian Kersey/Getty Images
Chris Sale was stellar in his first full season in Chicago.
MVP-winning batters and Cy Young Award-winning pitchers are mirror opposites in many ways, even beyond the obvious difference that one guy is trying to cause runs while the other is preventing them.
Their career arcs, in general, are usually different as well.
MVP batters tend to develop over their first few seasons, usually leading up to that "magical" age-27 season when they "put it all together."
Pitchers, on the other hand, often explode onto the scene like a shooting star, dominating early in their career and then declining slowly as they approach age 30, if they aren't felled by an arm injury altogether.
Simply put, it's not unusual to see a great batter win an MVP award around or even after age 30. It's much less likely that Cy Young-winning pitcher will be that old.
Some recent Cy Young winners include Tim Lincecum, who won at ages 24 and 25, Johann Santana (25), Zack Greinke (25), Felix Hernandez (24) and Clayton Kershaw (23).
Of course, Justin Verlander won both the MVP and Cy Young last year as he sat smack dab in the middle of both age groups at 28.
Chris Sale will turn 24 just prior to the 2013 season and looks poised to become the toughest left-handed pitcher in baseball.
He was stellar this season, compiling a 17-8 record, 3.05 ERA while striking out 192 batters in exactly 192.0 innings.
In the mediocre AL Central, the White Sox should be in a position to win his starts more often than not, as long as their veteran offense can produce for one more year.
Predicted 2013 Stats: 21-6 record, 2.74 ERA, 217 K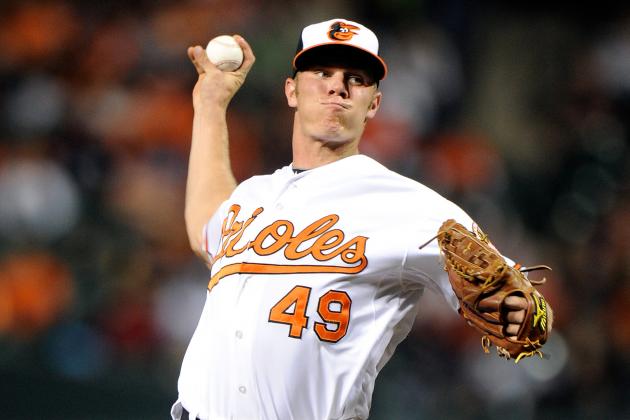 Greg Fiume/Getty Images
Dylan Bundy appears ready for the majors.
The 2012 Cinderella Orioles were certainly no flash-in-the-pan squad. They boast a young, talented and maturing ballclub that is guided by the terrific Buck Showalter.
But Baltimore knows it has many areas to improve on if it wants to continue to succeed in the AL East.
It's hard to believe the O's won 93 games, yet had only one pitcher win more than 10 games. That was done by their ace Wei-Yin Chen, who went 12-11. No pitcher on their roster was able to accumulate 200 innings as Chen came closest (192.2).
Wunderkind Dylan Bundy will become the Orioles' ace the moment he walks into Baltimore's dugout. The only question is, when will that be?
Bundy will in all likelihood start 2013 at Triple-A. But once he is called up, he may be here to stay. The confluence of a wide-open AL East paired with a shaky Oriole starting rotation may create too much pressure to keep Bundy in the minors.
I predict that Baltimore will bring Bundy up in late May and baseball's top prospect will help carry the O's back to the playoffs.
Predicted 2013 Stats: 12-4, 3.60 ERA, 149 Ks in 140 innings pitched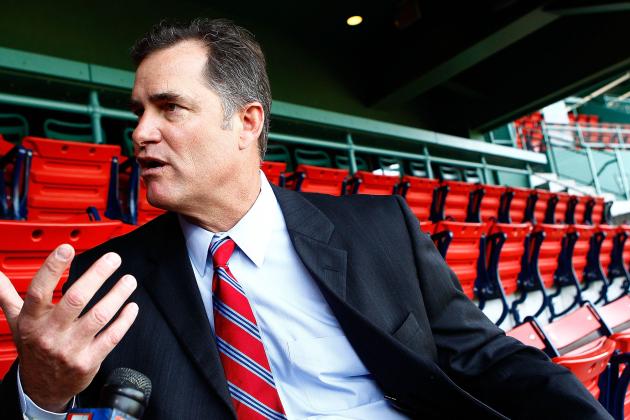 Jared Wickerham/Getty Images
For pitching coach John Farrell returns to Boston as manager.
Months afterward, it's almost impossible to look at the Red Sox's record of 69-93 and not shake your head in disbelief.
Really, 93 losses?
The Sox don't pass the "eye test" as a club that bad and the metrics agree. Their Pythagorean record was 74-88. About a thousand things went wrong for the team in 2012 and 90 percent of those will not re-occur in 2013.
Clearly, GM Ben Cherington will be busy this offseason to make over a roster that is in no way in full rebuilding mode.
His best move may have already been made by naming former Red Sox pitching coach John Farrell as the team's new manager.
His calm and steady demeanor is just what their clubhouse needs after a year under human caricature Bobby Valentine. The Red Sox need to get back to the business of winning, and Farrell will take them.
It will be too much to ask for the Sox to return to the postseason, but a 20-win improvement is possible and probably expected by the Boston front office.
Farrell will be the manager that leads the Red Sox back to respectability. If the team is within spitting distance of a Wild Card spot in September, the Manager of the Year award is his.
Predicted 2013 Record: 87-75, third place in the AL East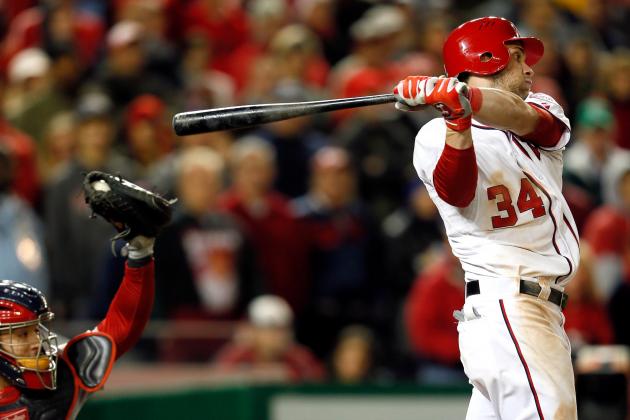 Rob Carr/Getty Images
Bryce Harper hasn't even scratched the surface of his talent.
It is easy to argue that 20-year-old Bryce Harper should have finished higher than 30th in the National League MVP voting this year. If you look at his stats from August 28th to the end of the regular season, he surely was a top-10 candidate.
In the 130 at-bats during that 35-game finish, Harper batted .338 with 31 runs scored, 10 home runs, 22 RBI and slugged .677. He even stole five bases.
Ryan Zimmerman's ability to stay healthy the entire season is always a bit of a question.
And even if Adam LaRoche re-signs with the Nats, he will most likely regress from his 33 home runs and 100 RBI in 2012.
That leaves Harper as the the key cog in the Nationals' lineup—a young slugger who has realized just a fraction of his athletic potential.
Mature beyond his years and toting a plus bat and glove, Harper will help push the Nats to a second-straight NL East title.
He will have a Barry Bonds-type MVP year—well, before Barry turned into the Michelin Man.
Predicted 2013 Stats: .319 AVG, 29 HR, 102 RBI, 24 SB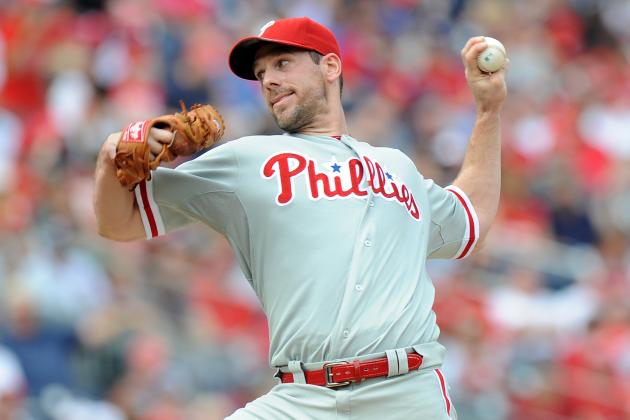 Greg Fiume/Getty Images
Cliff Lee was an elite pitcher with a poor record in 2012.
Like the the Red Sox, the Phillies were one of the unluckiest teams in baseball this past year. To their credit, they rediscovered their championship form in the second half, going 34-22 in August and September.
But in the end they finished right at .500. And like the Red Sox, the Phillies are a team in transition that still has a lot of talent. So as they look to rebound in 2013, they'll be looking for Cliff Lee to have a huge year.
Compare the stats of two Phillies starters in 2012:
| | | | | | |
| --- | --- | --- | --- | --- | --- |
| ERA | IP | H | HR | BB | K |
| 3.05 | 215.1 | 190 | 24 | 52 | 216 |
| 3.16 | 211.0 | 207 | 26 | 28 | 207 |
Considering they are both lefties, they are amazingly similar. In fact, I would rather have the second pitcher who has a phenomenal strikeout-to-walk ratio of more than 7-to-1.
Yet, the first pitcher, Cole Hamels, went 17-6 while the second, Cliff Lee, went just 6-9.
If Lee's luck simply evens out next season, he should top 15 wins. But we have to remember, he was as good this past season as he's ever been. His WHIP of 1.11 was exactly what he achieved in 2008 when he won the AL Cy Young in Cleveland.
I predict Lee will have a bounce-back season of epic proportions as the Phillies push to get back near the front of the pack in the NL East.
Predicted 2013 Stats: 19-9 record, 2.49 ERA, 220 K
Jamie Squire/Getty Images
2B Kolten Wong is major league-ready.
The Cardinals' minor league system is brimming with prospects who are a year or two away from making an impact on a major league roster, either with St. Louis or elsewhere as blue-chip trade bait.
One such position prospect is infielder Kolten Wong, who made an impression in this year's Arizona Fall League.
The AFL is baseball's finishing school for elite prospects and Wong looked right at home, batting .324 in 17 games with 12 RBI and five stolen bases. In fact, if the league handed out a "Most Ready for the Bigs" award, Wong would have walked away with it.
As reported by SI.com's Tom Verducci, other managers have commented on how smooth the Hawaiian-born infielder is compared to his peers. Wong will get the chance to win the Cardinals' second-base job out of spring training.
If he does, he'll finally be a long-term solution at second, and not just with his glove a-la Daniel Descalso, but also with his ability to set the table with this extra-base pop and speed.
Predicted 2013 Stats: .278 AVG, 9 HR, 68 RBI, 18 SB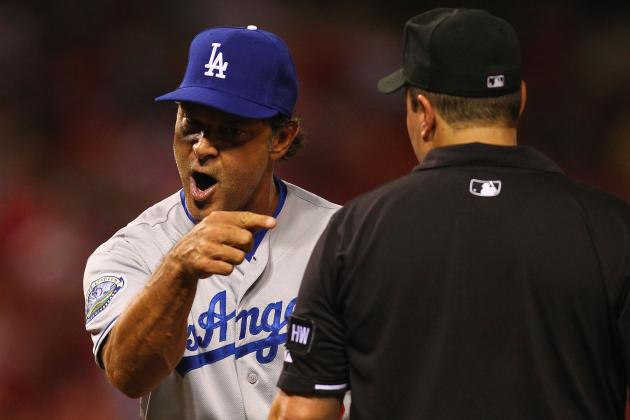 Dilip Vishwanat/Getty Images
Mattingly is still Donny "Ballgame".
The Dodgers underachieved for much of 2012.
They scuffled offensively. Even blockbuster trades with the Red Sox and Marlins for multiple All-Stars did little to improve the team.
Of the team's 76 losses, 22 came at the hands of the Giants and Diamondbacks, which cost them the division.
But the Dodgers are in great shape going into 2013, with a stout rotation and a remade offense that will have the benefit of working together as a unit from Day 1.
It will be Don Mattingly's third season as manager. If he can guide the club to an additional four wins, they will crack the 90-win plateau for the first time since 2009.
Manager of the Year awards notoriously favor the underdog teams. In the Dodgers' case, they'll be viewed as the challenger to the Giants.
If L.A. captures a Wild-Card berth, Mattingly will get plenty of voter support. If the Dodgers take the division, you can hand him the award early.
Predicted 2013 Record: 92-70, first place NL West